Outlook
How to Merge Outlook Folders with Same Name? – Accurate Solution
Do you have multiple folders in Outlook? Want to combine Outlook folders with the same name into a single folder? If your answer is yes, then this post has everything to do with your problem. In this blog, we will show the complete guide on how users can merge Outlook folders with same name. So read on and get the fruitful solution to merge two or multiple inboxes, archive, sent items, and contacts folders into a single inbox, single archive, single sent items, and contacts folder.
User Query: How to Merge Inbox Folders in Outlook
"Over the years, I have archived my email based on who it came from and so on. As a result, I have many subfolders in my inbox. Since the Outlook search has improved, it now makes sense to use only one archive folder.
Is there an easy way to merge all subfolders into one folder, or do I have to copy and paste all emails in each folder individually into the new main folder?"
After reading the query above, today's topic is now clear. Most users who are looking for a reliable solution to merge two inbox folders into one. So let's start with the step-by-step process.
Steps to Merge Outlook Folders with Same Name
PST Merge Tool is known as the best tool to combine Outlook folders together into one. This software helps you to merge two or merge multiple folders into a single one without losing a single piece of data. It is specially programmed to combine PST files or folders to manage Outlook data in a professional manner and avoid data loss issues.
First, download and install the software, then follow the listed below steps.
1. Click on Add Files, Add Folder, or Search Files options to load .pst files.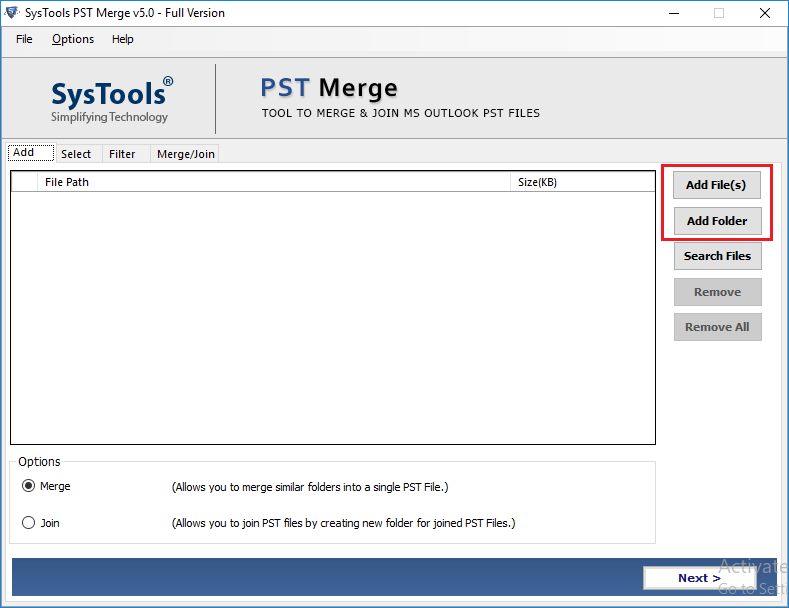 2. Choose the Merge option and then click Next.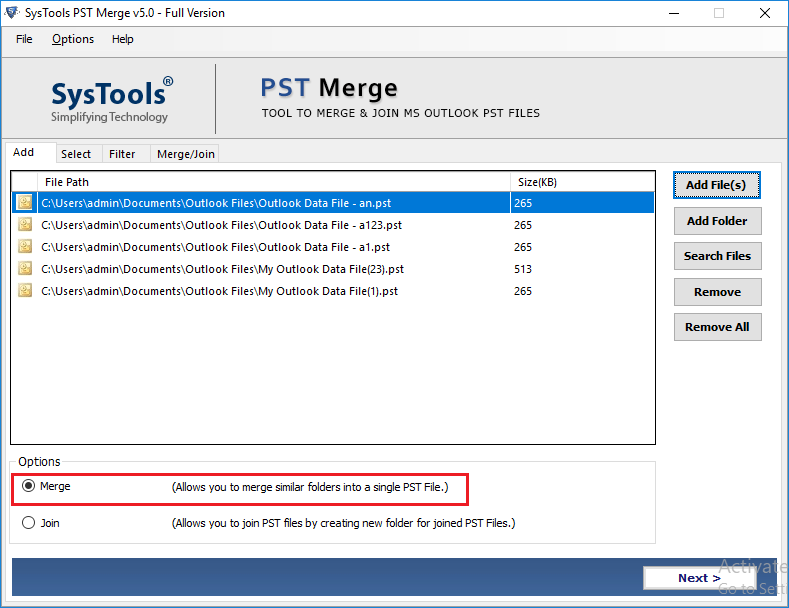 3. Select the folders as per your needs.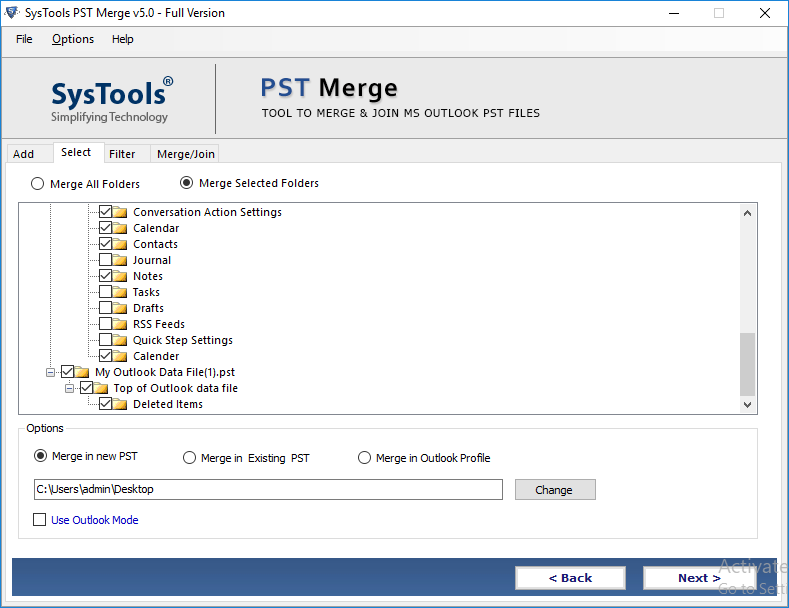 4. Select Merge in Existing PST and click Next.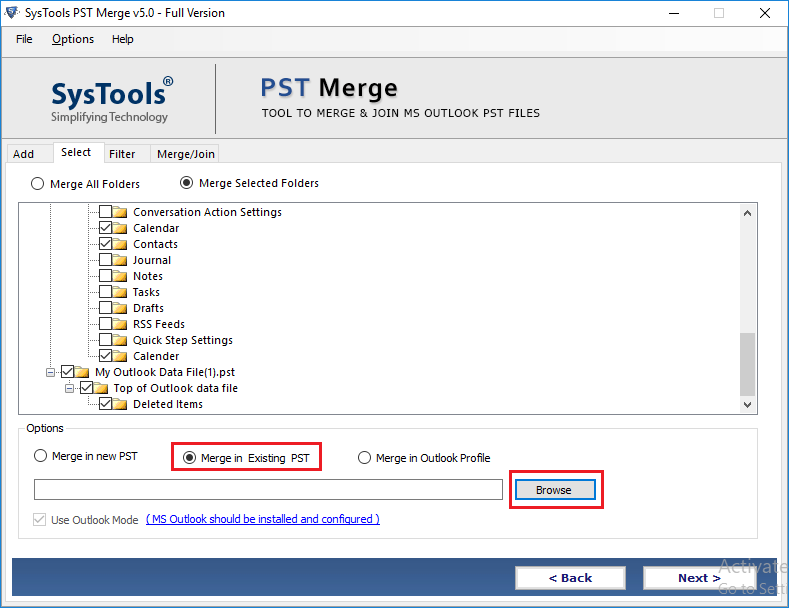 5. Select the items you want to combine like mail, contacts, calendar, task, notes, and journals.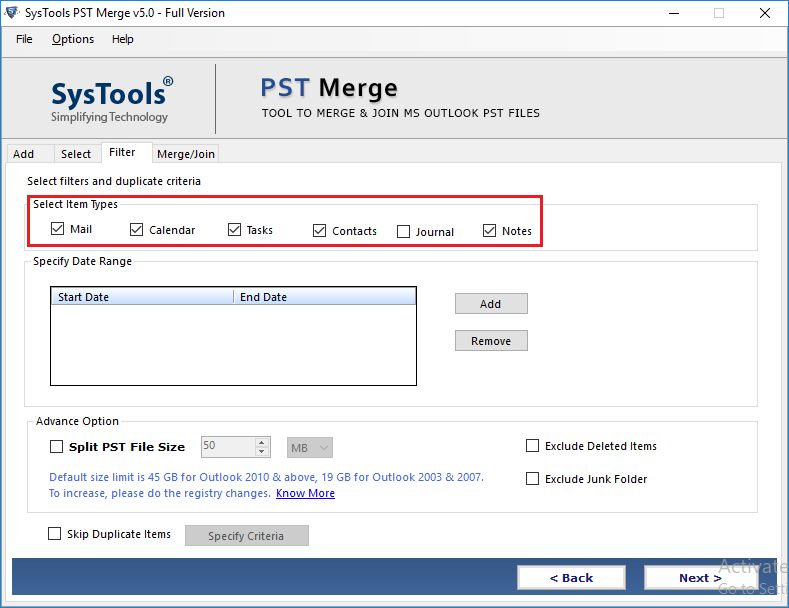 6. Select the Next button.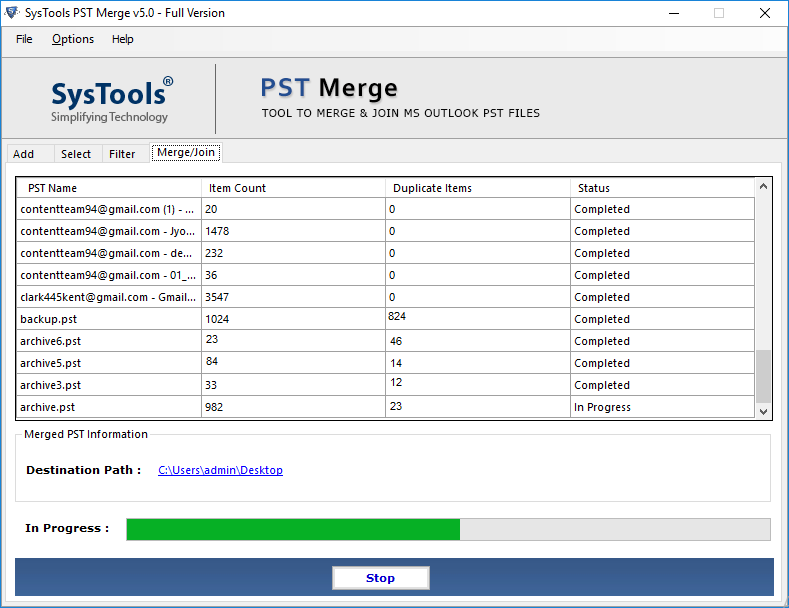 Done! This is the complete work of this tool to merge Outlook folders with same name into a single one. Now, you can easily review the folder in Outlook.
Let's Take a Look at Tool Features
As you can see, this software can easily combine Outlook folders. In addition, it offers many useful functions for ease of use. Some of them are:
Combine folders in Outlook with the same name in an accurate manner
Maintains folder structure after combining folders
Able to merge Outlook contacts folders, inbox folders, and sent items folders
Facility to merge Outlook PST files and remove duplicates items
Option to join only selected folder without wasting much time and effort
Supports Outlook 2019 (32-Bit & 64-Bit) and Windows 10 versions
No issue of data loss, duplication, and 2 GB file size limitations
Merge archive PST files as well as password-protected PST files
Last Verdict
Multiple folders in Outlook create a critical situation for users, which is why they need to merge two Outlook folders into one. For this reason, we have explained the instant method that the user can use to combine folders in Outlook 2019, 2016, 2013, 2010, and other versions. Now, it is no more difficult to merge Outlook folders with same name using the method discussed above.
Frequently Asked Questions
How do I merge Outlook folders without duplicates?
The task to merge two or multiple Outlook folders become easy with the PST file merge software. It allows the facility to combine Outlook folders like inbox, contacts, archive, and sent items into a single inbox, contacts folder.
How to view multiple inboxes in Outlook at once?
To view inboxes at once in Outlook 2019, 2016, 2013, and 2010, you need to merge them into one. For this, you can take the help of the above-mentioned tool that enables you to merge several inboxes together in an accurate manner.
Can I merge PST Files without Outlook?
In order to combine PST data files without Outlook, use the mentioned software. This will allow you to consolidate unlimited data files without Microsoft Outlook.