Thunderbird
How to Import Sent Files From Thunderbird to Outlook?
Trying to know how to import sent files from Thunderbird to Outlook without data loss? Well then, fellow Thunderbird users, dig in here and get the complete stepwise guide to securely transfer the Thunderbird sent folder emails to MS Outlook 2019, 2016, 2013 and lower versions. Let us start with the method.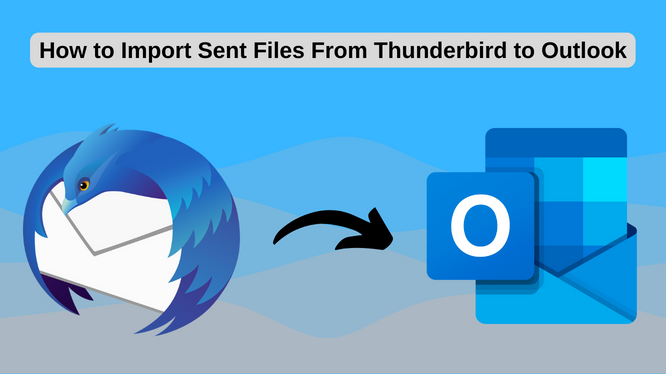 Identical Queries That People Tend to Ask:
The solution provided in the upcoming sections is versatile. It not only excels in importing sent files from Thunderbird to Outlook. but can also be applied for all the given queries.
The Practical Way to Import Thunderbird Sent Folder to PST for Outlook
It is important to know about the data files of both the concerned email clients before continuing with the solution. On one hand, Mozilla Thunderbird stores its mailboxes in MBOX format. These files do not have an extension and are saved with the same name as present in the Thunderbird interface. For example, the Sent folder will be saved as Sent (MBOX file with no extension). Also note that, if users have created subfolders inside Sent, then Thunderbird will also create an SBD file (Sent.sbd) containing all subfolders data.
On the other hand, Outlook works on PST file format and is unable to comprehend the MBOX files. So, there is a requirement of conversion mechanism which can all data from Sent file to PST. And users who have gone through any sort of email migration knows how difficult it is.
Complex Email migration? Not anymore!
It is true that with no similarities in data files, incompatibility issues and other factors, accessing Thunderbird sent emails is difficult in Outlook. However, there are unique applications that help users to know how to import sent files from Thunderbird to Outlook while tackling all compatibility issues.
MBOX to Outlook Converter is a powerful solution to achieve the same. It is a flexible utility that yields favorable results and excels in transferring mailbox emails be it, Inbox, Drafts, Sents, Archives, or local folders. Once all the messages and attachments from the mailbox folder are converted to PST, users can simply export this file in Outlook 2019, 2016, 2013, and other versions.
Direct fetching of Thunderbird Sent files and other mailbox items are possible via this smart tool. This results in faster and accurate conversion without hindering the folder structure and data integrity of emails. Users can also convert any orphan MBOX files easily.
For Windows
For Mac
Other than preserving hierarchy and integrity of Thunderbird emails, the tool also retains all the attachments and inline images along with the messages. Simply go through the guide of the tool below for an effortless and feature-rich conversion experience.
How to Import Sent Files from Thunderbird to Outlook – Stepwise Procedure
Users can get familiar with the process using the free trial version of the software. The only limitation it has is exporting 25 emails/folder. However, this is enough to know the worth of this solution in the long run. Once you have the tool installed on your system, follow the given stepwise procedure diligently.
On the initial screen, select the Add file button in order to know how to import sent files from Thunderbird to Outlook

Now, for automatic conversion go for Default Profile Configured option while selecting Thunderbird in the list.

Users can also browse for MBOX files by selecting the MBOX file option from the list
Next, simply select any of the email accounts from where you need to export the Sent files. Users can also choose all identities at once for scanning

The Interface will display all the mailbox folders (including Sent files) along with its emails and attachments. Click Export button

In the new window, select the Sent folder to convert only the Sent emails and choose PST from the export list

Set the preferred location to save the files after conversion and finally hit the Export button

Users can access the PST files by navigating to the set location once the process is complete. To import this file in Outlook 2019, 2016, 2013 and lower versions, users can make use of the free native Import/Export option in MS Outlook.
Bottom Line
This post shows concerned users the perfect way to resolve how to import sent files from Thunderbird to Outlook. A solution which is both powerful and efficient is discussed here. The utility ensures loss-free conversion with proper attachments, inline images, formatting, and other components of emails. Be it transferring Sent items or going for complete Thunderbird data conversion, this smart and flexible approach does it all.