Thunderbird
How to Import Email Folder Structure from Thunderbird to PST?
Admin
| Modified: 2019-05-02T13:14:01+05:30 | 5 Minutes Reading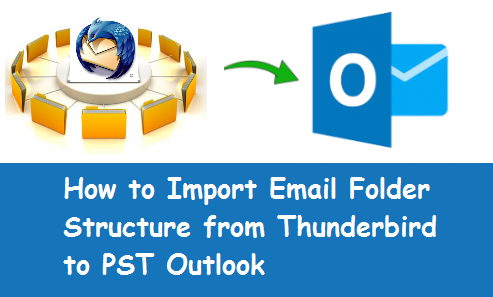 Are you having trouble moving the emails from Mozilla Thunderbird with original folder hierarchy to MS Outlook? No problem, find a proficient way to import email folder structure from Thunderbird to PST. This will help you keep your emails perfectly organized by having the exact folder structure in Outlook as it was in Thunderbird.
A folder structure is the way folders are arranged on the computer. Nesting the folders inside another folder is the creation of hierarchy – something of high importance when it comes file management. Email clients also make use of this hierarchical system for better email management. Users can customize folder structure at will so as to store emails in particular categories or subfolders. This ensures that the emails are organized as per the user's taste so that he/she can search and access messages easily.
Issues of Folder Structure During Thunderbird to Outlook Migration
Mozilla Thunderbird makes use of SBD format to maintain its subfolders directory. While the main emails and attachments are stored in the MBOX files within these SBD folders. The user can create and categorize emails in folders/subfolders as per requirement. However the real problem starts when Thunderbird users look to switch to other platforms such as MS Outlook. Since Outlook has no native support of Thunderbird MBOX file, importing this file in Outlook is not possible.
The first issue arises when using manual workarounds for this task. Users have to transfer emails manually which leads to complete loss of folder hierarchy. Other risk factors involve loss of images, attachments and header addresses.
Then comes using specialized tools to convert MBOX to PST format which is easily readable in MS Outlook. Although this is the recommended way of conversion, not all utilities actually maintain the Thunderbird email folder structure after conversion.
That is why it is advised to go for a trusted solution to import email folder structure from Thunderbird to PST. And view the emails with complete hierarchy in MS Outlook platform.
Proficient Way to Import Email Folder Structure from Thunderbird to PST
With powerful capabilities, MBOX to PST Converter ensures that complete folder hierarchy is maintained while converting Thunderbird emails to PST format. Furthermore, it also makes sure that no data loss occurs during the entire conversion period.
Be it inline images, attachments, email addresses, date or the message content itself, this tool specializes in retaining all these details after conversion. It is also available for a free trial in case users wish to get familiar with the tool's working. This intutive tool works in both scenarios, with and without Thunderbird, for converting orphan MBOX files as well as Thunderbird associated files:
It lets you retain folder hierarchy by directly fetching the Thunderbird mailbox into its interface.
Alternatively, it also supports fetching of MBOX files and Thunderbird SBD folders directly while maintaining the complete underlying structure of folders.
Folder Structure in Mozilla Thunderbird Screenshot:
Below is the folder hierarchy in Thunderbird application. We will be converting this profile to Outlook and see exactly how to import email folder structure from Thunderbird to PST.
Steps to Transfer Thunderbird Emails with Complete Folder Hierarchy to Outlook PST
Download and Install the software solution on your system

Run the software and hit the Add File button to continue
If Thunderbird is configured on the system which you want to migrate to Outlook:

Choose Thunderbird from the list along with Default Profile configured option
In the next window, select the configured profile which you wish to migrate. You can also choose all the identities.

If you have the Thunderbird MBOX/SBD files locally stored and wish to import them in Outlook:

Choose MBOX files from the list along with Select file/folder from local system option
In the next window, use folder mode to add the Thunderbird files (MBOX or SBD) in the interface

Now the tool will display all the emails and attachments of all Thunderbird files imported in it. You can also view the folder hierarchy on its left pane. Hit Menu Export button
Here select the PST file option along with multiple other customizable settings
Now, Export the files to PST format. The tool will convert the entirety of Thunderbird data in output PST file.
This marks the end of step by step procedure to import email folder structure from Thunderbird to PST. Now users can simply open/import this PST file in MS Outlook and view its content in proper folders.
 To open this file in Outlook, first launch MS Outlook application
 Go to File menu and hit the Open/Export option
 Here select the option Open Outlook Data File
 Now, locate the converted PST files and hit Open button
 All the Thunderbird emails and attachments in original folder hierarchy will be shown in MS Outlook interface.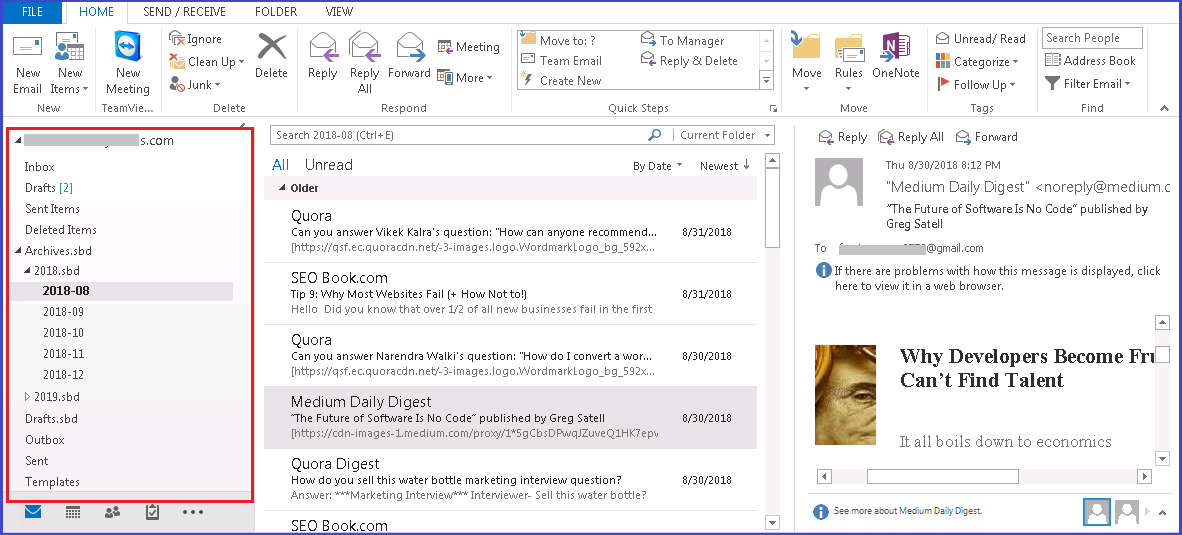 Conclusion:
Due to multiple reasons which involve migration of users from one platform to another, there arises a need to switch from Thunderbird to Outlook. Insuch cases, not only retaining the emails and attachments, but preserving the entire folder structure also takes importance. Therefore, we introduced a proficient solution to carry out such task with utmost precision. With this tool, users can easily import email folder structure from Thunderbird to PST. This file can be easily imported in any Outlook version including Outlook 2019, 2016 and below. Once done, users can access their emails in MS Outlook with complete folder hierarchy.