Thunderbird
How To Backup Thunderbird Email To Hard Drive Efficiently?
This blog will help users who want to backup Thunderbird emails to hard drive whether its internal or external. There are both manual and automated methods available to copy the Thunderbird mailbox. We have defined both the methods in detail for user convenience.
Due to increasing data theft and loss, data security has become a major concern among users. Backup is considered as a secure method to protect data from any loss or theft.
Even for desktop-based clients like Mozilla Thunderbird, email backup has become necessary. Thunderbird saves user data in the system or local server.
However, system crashing and unauthorized hacking can cause the data to become corrupt or can lead to data loss. Users must know how to backup Thunderbird email to Hard Drive to face such situations.
This write-up will describe different techniques to do the same. But first, let us have a look at the importance of saving Thunderbird message to computer system.
How to Restore Thunderbird Data Files to Internal/External Hard Drive
"Hello, I need to know the procedure to back up all my emails from Thunderbird profile to an external hard drive or cloud storage. I am currently using an up-to-date version of Windows 10 on an HP computer. The Thunderbird edition is 60.3.3. Also, the mailbox size is quite large, so please suggest a reliable solution. "
Due to the defined reasons, it is important to backup Thunderbird email to hard drive. Now we will know about different methods to backup Thunderbird email messages.
To conduct manual method, users need to know about the location of Thunderbird profile in system. Mozilla Thunderbird stores three types of data in our system. These are:
Copies of local or server messages,
Thunderbird user account password,
Preferences and settings modified by user.
All these data types are saved in a Profile. During the Thunderbird installation, A default Profile is created and saved within the system. The Thunderbird folder saves all the profile folders. Profile use following name convention:
(8digit_string).(Default_profile)
Users can find Thunderbird Profile in the following location:
User>AppData>Roaming>Thunderbird>zzzzzzzz.default
Method 1: Manual Method to Backup Thunderbird Email to Hard Drive
After locating profile folder of Thunderbird, let us proceed with manual technique. It is divided into two segments:
Profile Backup: Follow the manual steps to create profile backup:
Exit Mozilla Thunderbird if it is opened. Suppose the profile folder is zzzzzzzz.default
Locate profile folder at this location:
User > AppData > Roaming > Mozilla Thunderbird> zzzzzzzz.default
Right-click this folder and select copy option
Go to saving location like CDRW disk, USB, etc. Right-click and Paste to save the copied Thunderbird profile folder.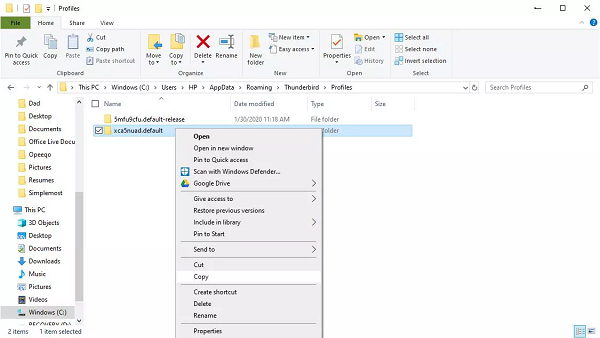 Restore Backup Profile: To restore backup profile manually, simply replace the Thunderbird profile folder with the copied one on the same system or new computer as per requirements. Thus, users can access the backed up data in Thunderbird any time they need it.
Manual Method 2: Using Add on to Backup Thunderbird Emails
Run Thunderbird and install ImportExportTools NG add-on in it.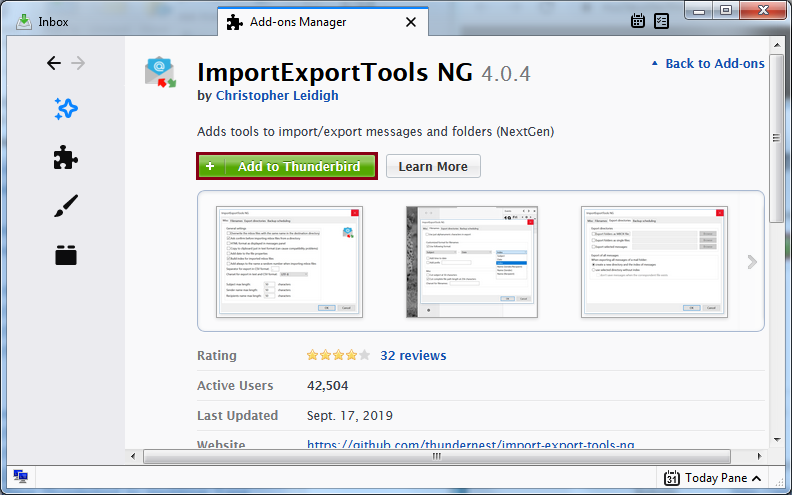 Once the add-on is installed, restart Thunderbird.
Now, choose a folder you want to backup (such as Inbox) and right click on it.
Select ImportExportTools NG, then Export folder, then EML format to backup Thunderbird emails on hard drive in EML format.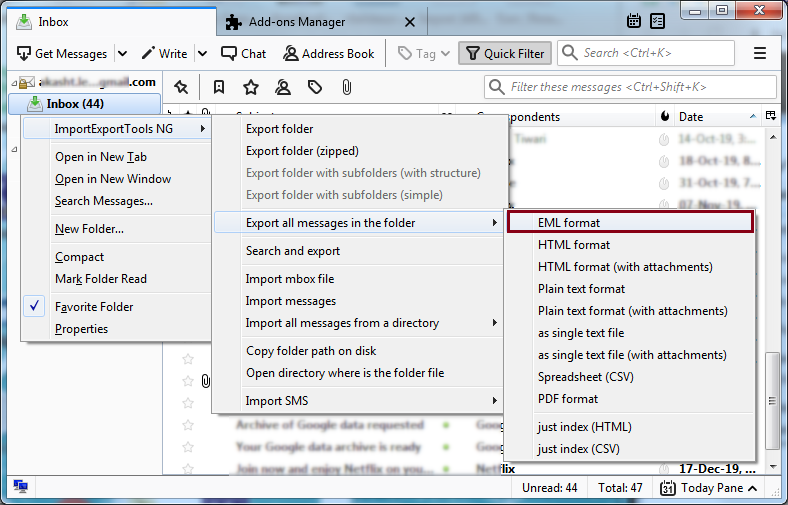 Choose a location to save the files and click Select Folder.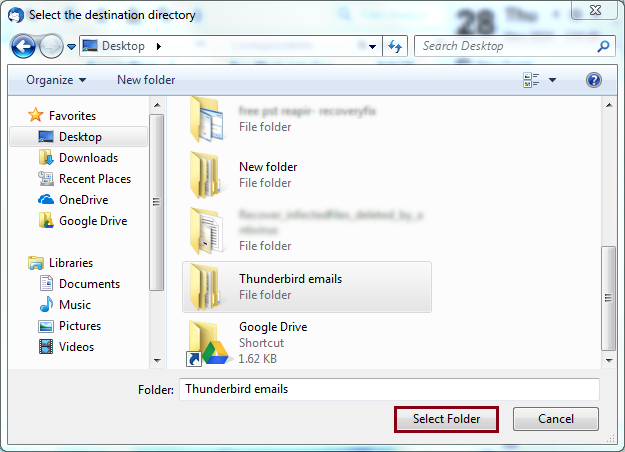 Now all the emails are saved as a back up on your hard disk. These files can be directly opened in Mozilla Thunderbird at any later date.
Limitations of Manual Method:
Users should keep in mind the limitations of performing the backup process manually. Some of its drawbacks are:
Time-Taking Process: Manual method to backup Thunderbird emails is time-consuming. The complete process takes a considerable amount of time and effort.
Multiple Steps: This method contains multiple numbers of steps. Users have to be alert to perform all steps sequentially.
Supervision Needed: The technique cannot be processed unsupervised. Users have to actively administer the entire process.
FIle Formats: The manual methods often binds you with simple formats. You cannot backup your data in major formats such as PST, MSG, PDF (with attachments), etc.
The above-mentioned drawbacks lead many users to perform Thunderbird email backup using automated method.
Method 2: Automated Method to Backup Thunderbird Emails
Users can apply automated method to avoid drawbacks of manual method. Using third-party applications to restore Thunderbird data by automated MBOX to Outlook Converter is a reliable tool to backup Thunderbird email to hard drive.
It provides one-stop solution to Thunderbird backup problems. Users can preview all Thunderbird emails using this software. It can save mailbox in several file formats:
EML (Use for restoring in Thunderbird)
PST, MSG (Use for restoring in Outlook)
PDF (for secure backup and legal issues)
HTML (for viewing emails in browser)
NSF (Use to restore in IBM Notes)
This program also has ability to detect MBOX data even without appended extension. Users of Windows 10 and all below versions can use this software on their system. This program automatically performs backup so that users do not need to supervise continuously.
Importance of Backup Thunderbird Email to Hard Drive
Users might think that Mozilla Thunderbird does not require backup because its data is saved in the system. This idea is not correct at all. In the case of hacking or system crash, Thunderbird emails will become unrecoverable. Saving Thunderbird mailbox files is important for a number of reasons. Some of these are:
Enhanced Performance: After copying the Thunderbird emails to local storage, one can delete the data from the server. When the local server has got less space occupied, the performance of the server enhances significantly.
Protection From Hacking: Hackers can cause users trouble if they get access to their Thunderbird emails. But with a backup, you can prevent permanent loss of data.
Uninterrupted Business: Local server failure hampers any business that does not have data backup. Saved copy of Thunderbird emails helps organizations to continue their regular business process.
Safeguarding Data Loss: Thunderbird email data backup safeguards your data from all types of accidents. In case you unintentionally delete some emails, these can be recovered from backup file.
Effortless Data Migration: If Thunderbird emails are saved in Hard Drive, it is easy to transfer them. When users need to export Thunderbird data to another system, this backup turns out to be very useful.
Also Read : Advanced Search MBOX Files
Conclusion
This post describes the methods to backup Thunderbird email to Hard Drive in a seamless manner. Users can choose the manual method but it has some limitations.
Therefore, an automated method is also suggested. Users can use either of the given techniques to perform the task without losing attributes..