MBOX
,
Thunderbird
Advanced Search MBOX Files Effortlessly – A Instant Solution!
Raj
| Modified: February 2nd, 2022 | 3 Minutes Reading
"I am working as a Sales Executive in a reputed multinational company. Throughout the day, I receive thousands of emails exclusively from the client's side. Thus, my Thunderbird application is loaded with these bulk email messages.

However, I need to find a couple of important emails from the bulk, which is consuming my valuable time to a greater extent. Hence, I am looking for some professional tool that can advanced search MBOX files data seamlessly from the bulk emails. Could someone help me out in finding the right tool? Please suggest!"
This is one such scenario, which is taken from a famous tech forum. There are numerous such users who are looking out for finding the best tool, which can perform advanced-level searching in the easiest way.
Taking this increasing concern of the users into consideration, this blog lets users in knowing one of the best and trustworthy tools, which enables them to perform the searching in an advanced manner.
So folks, let's make the search process easy… with the FreeViewer tool!
A Top-Notch Solution to Advanced Search Specific Emails Instantly
A user has to face troublesome times in finding a particular email from the large set of MBOX emails. Well, this mind-scratching searching process can be made easy with the advanced MBOX to PDF Converter. It is standalone software, which can smoothly undergo the searching process without the need of configuring any MBOX supporting email applications.
It renders the option to perform advanced search MBOX files to obtain the relevant or desired emails by consuming the least time. Because of this, one can easily fetch the emails without facing a cumbersome time.
Finally, it's time to diminish all searching related issues with the FreeViewer tool!
How Does the Tool Perform Advanced Search MBOX Files?
In order to search only the required emails from the large set of MBOX emails. All you need to do is simply provide some relevant details in the fields, which are available in the software interface.
The different criteria include Subject, To, From, Body, etc. Apart from that, one can also add the criteria so as to fetch the most relevant or probably the resultant email message in a customized way.
In addition to all these, it also lets users apply different operators like AND, OR, etc so as to acquire the most precise results. Furthermore, the tool is designed to take the mind the different requirements of the user.
Hence, it can be easily operated on the latest Windows 10 OS and all the previous versions for the advanced search MBOX files process.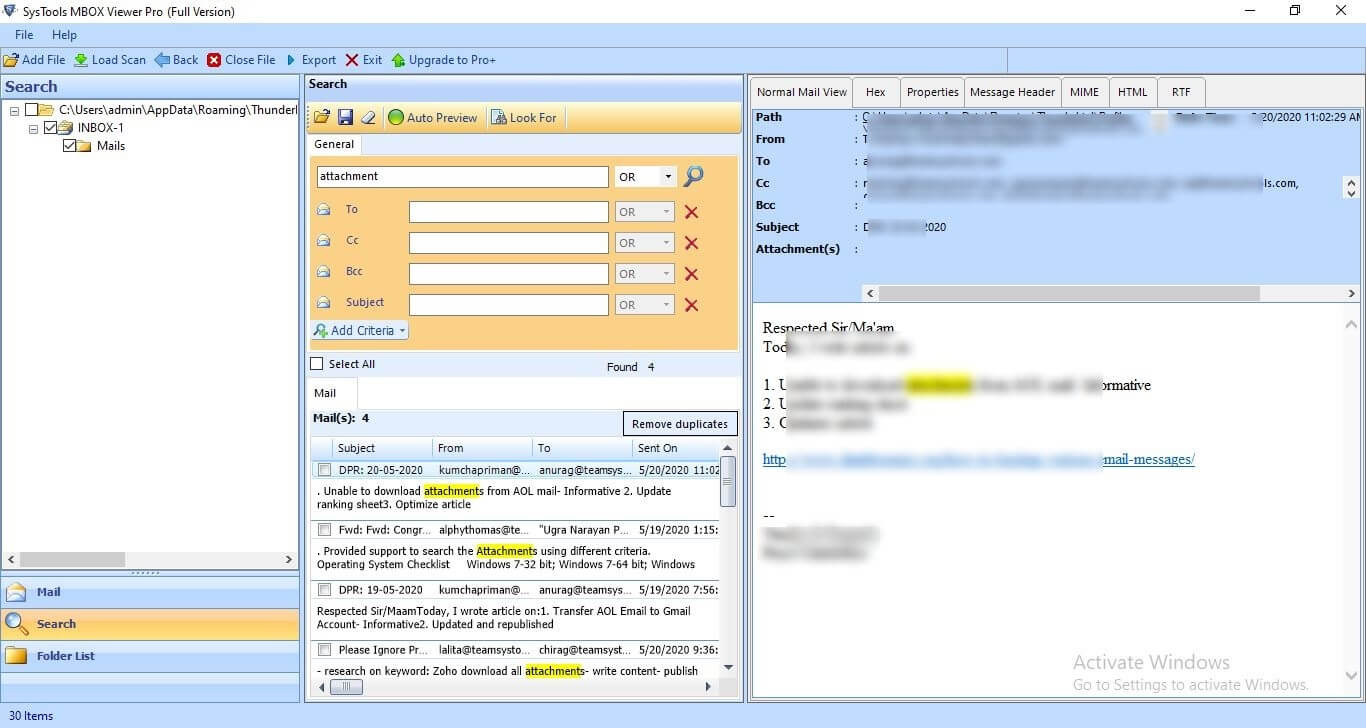 Read more : Explore MBOX Files Using Multiple Preview Modes
Time to Conclude
Oftentimes, users who are using MBOX supporting email applications have to face different challenges, particularly while searching a specific email. Moreover, searching an email message out of multiple email messages is no more a complicated task now. Under such circumstances, without any hesitation, a user can completely depend on this tool. This tool bestows the best set of features for advanced search MBOX files data instantly in all respect that will definitely blow our mind.