MBOX
Want to Print MBOX Files in Portable Format: Check Out Here!
Due to the availability of numerous email clients, most organizations are dependent on them for data management and communication purposes. It becomes difficult for organizations to manage emails, contacts, notes, etc., and the client-based communication process without an email client. The most commonly used email clients are Thunderbird, Entourage, Eudora, etc.
Table of Content
When it comes to choosing a file format, the MBOX file format is supported by them. Basically, the MBOX file format is a mailbox that holds email in a plain text format. Moreover, the MBOX file contains the email messages as 7-bit ASCII text. One can easily print MBOX files with the supporting email client.
Sometimes, the user needs to print their MBOX file due to multiple reasons without any email client dependency. Now, most users search for a simple and reliable way to solve the problem.
However, they are not able to find an instant and prime way to print MBOX messages. Thus, we are going to discuss an efficient approach to printing MBOX files into portable document formats without the need for any email client. But, first, let us see the manual method.
Manual Method to Print MBOX Files with Attachments Using Thunderbird
There are two different ways by which you can manually solve the issue. The first one is by using the Thunderbird application, and the second is by using the Print option.
Start Thunderbird on your PC. After that, download and install the ImportExportTools NG add on.
Next, select emails from the existing mailbox folder, you want to print in a PDF.
Finally, tap on Save Selected Messages >> PDF format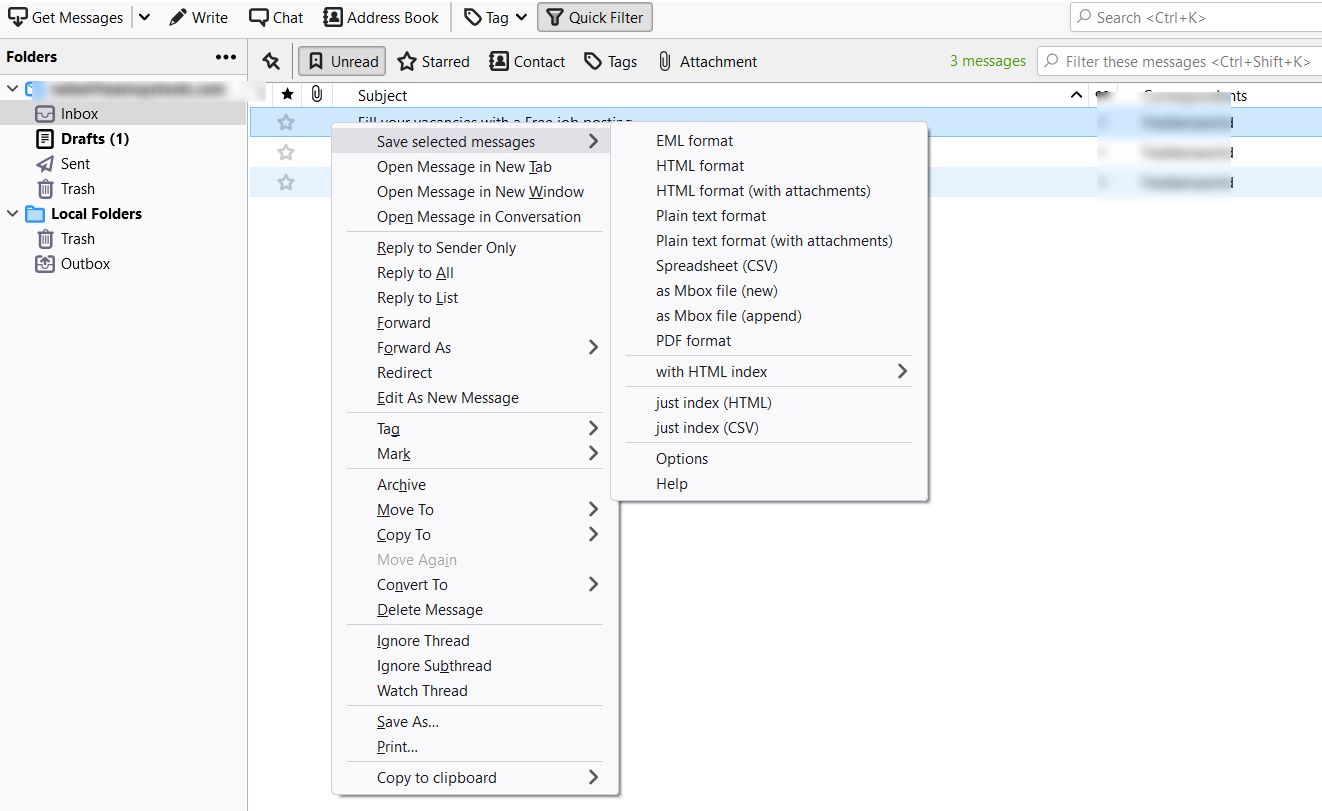 The Thunderbird email application will save the selected MBOX emails to portable file format.
Use Print Option
Start Thunderbird application and select an email
Right click on the selected email
Now, you will see the Print option
Tap on the Print icon to print MBOX files.
Considering A Real-World User Scenario:
"I am Forensic Investigator, a few days back I got a case in which I need to carve evidence from MBOX files. Moreover, I need to present the evidence in court in PDF file format. The major problem is that I am not having enough time to investigate MBOX files in a proper way and print them into PDF. format. Thus, I need a solution to analyze and print MBOX files. Please suggest me an all-rounder software using which I can perform all my tasks."
Automated Solution to Batch Print MBOX Files
Grab this solution to make it a user-friendly and trustworthy MBOX to PDF Converter utility for investigating and printing MBOX files in a hassle-free way. It supports both Win & Mac Operating Systems.
The software permits the user to perform the in-depth analysis of MBOX files with the help of multiple preview modes. Moreover, the user can easily print MBOX emails as portable format. After the conversion, the user can easily print a PDF file. The software is designed with robust features which makes it an all-rounder utility for all the users.
Note: If your MBOX file is corrupted or damaged then, you can easily go with this FreeViewer MBOX Viewer Pro Plus Tool. This utility allows users to easily export multiple MBOX files into single PST files without losing any data. It also provides batch file views like Properties View, Normal, Hex, etc.
Guide Working Steps of the Software
Step 1. Download and start the converter tool
Step 2. Click On Add File option
Step 3. See the multiple preview modes: Normal, Hex, Message Header, etc.
Step 4. You have to upgrade to PDF for Export, Search and Print options.
Also Refer: Explore MBOX Files Using Multiple Preview Modes 
Advanced Features of Conversion Tool
Analyze and Print MBOX Files
The software is capable to print mailbox message into PDF format along with attachments. Moreover, the user can print all the mailbox files into PDF all at once using the batch conversion.
Different Naming Styles
While saving file format, one can select an appropriate naming style to print the PDF file as per choice. The software provides multiple naming convention patterns such as Subject, From+Subject+Date(YYYY-MM-DD), Date(YYYY-MM-DD)+Subject, AutoIncrement etc.
Save Output PDF At Desired Location
Sometimes, the user needs to store resultant PDF files at a specific location on the system. Thus, the software permits the user to select any convenient location of the PDF files.
Why There Is A Need to Print MBOX Files?
Nowadays, users are concerned about their data security. So, they prefer to print their data such as emails, contacts etc. into a secure and versatile file format that is PDF. It is a platform-independent file format which allows the user to print multiple MBOX files into PDF irrespective of the device, operating system etc. Moreover, when it comes to the security factor then PDF is one of the most reliable file formats.
Read More: How to Extract Emails From Thunderbird Files to Various Formats?
Observational Verdict
When it comes to save and print MBOX files as a portable file format it's a challenging task for every user. Thus, we have discussed a brilliant yet robust approach to analyzing and printing MBOX files without any data loss and security issues. The user can make use of tools to investigate and print MBOX file messages without any email client dependency.
Frequently Asked Questions
Q 1: Is it possible to print multiple MBOX files at the same time?
Yes, you can print bulk MBOX files using the above professional tool.
Q 2: Can I Manually print MBOX Files?
Yes, you can easily print MBOX files using a manual method but it doesn't allow you to print multiple MBOX files at a time.