Thunderbird
How to Convert Thunderbird to Outlook? Go Free or Go Safe!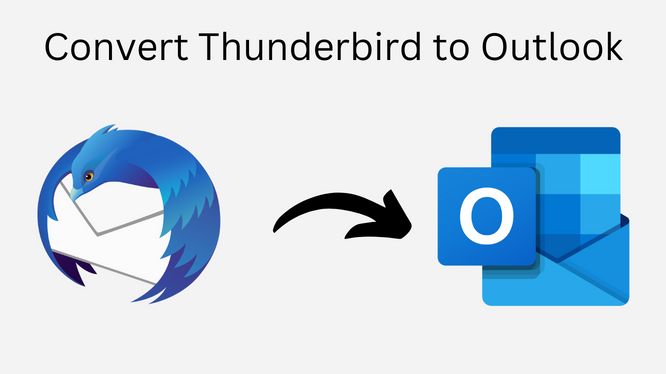 With the growing popularity of MS Outlook, people are converting Thunderbird to Outlook 2019, 2016, 2013. Here, we will be defining two processes to convert Thunderbird to Outlook: one free, one safe.
Available for multiple platforms, Mozilla Thunderbird is a free open-source application that helps in managing emails. It possesses a variety of features that can be further extended using extensions. This makes Thunderbird a popular choice among users, especially home users. When it comes to organizations and professionals, Thunderbird is just not enough. And that is where MS Outlook comes in. With security details and functionalities surpassing most other email applications, MS Outlook has emerged to be the global leader among email clients.
Export Thunderbird Profile to Outlook has now become a common phenomenon. But, if you have actually tried to do it, you know exactly how complicated it can be. Without specialized solutions, the chances of failure are too much. You may end up with missing data while managing to waste all your efforts and time with the so-called free workaround solutions.
Common Issues To Convert Thunderbird to Outlook
Lost Headers
Missing Folder structure
No Dates
Messed up Order of File/Emails
Broken Images & Links
Missing Attachments
There is no point in giving so much time and effort into methods to convert Thunderbird to Outlook that disturbs the originality of data and generates incomplete results.
So think hard before you go for any approach:
Let us start with the secure method first.
How to Convert Thunderbird to Outlook – The Secure Way
Opt for a specialist application for such a purpose. MBOX to Outlook Converter – One that has the ability to convert Thunderbird emails to Outlook 2019, 2016, 2013, 2010, 2007 & 2003 without exposing a single bit of data to risk factors. What do you get in return? Just some perks which are sure to excite you to convert Thunderbird to Outlook:
No loss of data, whether it is: message content, embedded images, formatting, attachments, message status, or email headers like address, from, subject, date, etc.
Original folder structure with no manual effort or involvement required.
Either directly fetch data from the Thunderbird application or scan the associated Thunderbird MBOX file.
Converts to UNICODE PST – compatible with all Outlook versions i.e., Outlook 2019, 2016, 2013, or lower.
For Windows OS:
For Mac OS: 
Run the software and click on "Add file"
Select the MBOX file or Auto-detect the Thunderbird file
Preview all the emails in the "Mail view" tab
Click on "Export" to convert Thunderbird to Outlook PST
Having doubts? View Video and See How Easy it is!
Still, Want a Free Way to Convert Thunderbird to Outlook? Well, Here it is
This is by far the most successful free manual procedure among all that you can find on the internet to convert Thunderbird emails to Outlook. All those workarounds involving external applications will give you nothing but a headache with a large and complicated procedure. And even after that, the conversion success rate is too low to consider.
Open the Mozilla Thunderbird application on the local system.
Now open the mailbox folder(say, Inbox) that contains all your messages to be moved to Outlook.
Select the emails as per requirement. You can do this one message at a time or in bulk with Ctrl+A.
Now save the email messages by right-clicking and choosing to Save as an option.
Afterward, select the folder and convert the emails into EML format.
Once you have the EML files, run the MS Outlook application to proceed to convert Thunderbird to Outlook.
Now, create a new folder in the Outlook program and name it accordingly.
Then, select all the EML files you converted earlier from Thunderbird.
Drag and drop all these messages into the newly created folder in MS Outlook.
Wait for the files to move. The total completion period depends upon the number of messages to be transferred.
Finally, all the emails will be moved from Thunderbird to MS Outlook.
This free process even after being better than other workarounds is still far from perfect. Success only defines the email message part. It does not show the sheer amount of time and effort put in by the users. And this is just one of the risky traits.
What about folder hierarchy? Of course, it will be all messed up. It just involves moving the messages. No special conditions or anything that can ensure structure maintenance.
Bound by Technicalities? The drag-and-drop files are treated as attachments in Outlook, rather than emails. This is the reason why Outlook does not preview these "email messages". So, you can already guess the end result.
Is it suitable for large-scale transfer? Again the answer is no. In normal cases, the conversion of emails from Thunderbird to Outlook via drag-drop takes long hours to complete(for emails numbering in hundreds). So anything more than that is a waste of precious time and effort.
And, Loss of Data? A process such as this to convert Thunderbird emails to Outlook has more often than not resulted in some sort of data loss. Be it missing SMTP headers, messed up characters, or even corrupt email messages.
So ultimately the choice is yours to make – a free method with low-quality convert Thunderbird emails to Outlook or a specialized tool with high-class migration.
Ready to Download & Try the Tool for Free?
Yes for free! This intuitive utility is available on a free trial basis as well to convert Thunderbird to Outlook. You can simply download it and convert 25 emails from Thunderbird to Outlook 2019, 2016, and 2013 easily. Afterward, just compare the emails before and after conversion to see how effective this tool is.
While the free solution reels on the edge unable to perform, the tool makes it possible for Outlook to import Thunderbird local folders. So, download it now to test the conversion process yourself.
(Updated) Queries Asked by Visitors:
Q. Are the given methods applicable to other versions of Outlook?
A. Yes, the provided solutions work with all Outlook versions including 2019, 2016, 2013, 2010 & 2007.
Q. I work on Windows 10. Are the solutions compatible with it?
A. Yes, both the given methods can easily be executed on Windows 10, 8.1, 8, 7, XP, and Vista systems.
Q. Can I Convert Thunderbird to Outlook 2019 without losing email attributes?
A. Of course! It is possible to convert Thunderbird data into MS Outlook without losing attributes and folder structure. To do so, simply follow the safe steps given in this article.
Q. Is it possible to convert the Thunderbird database files of MAC origin to Outlook?
A. Yes, it is possible to do so. You will need to either move the data files from the Mac system to windows and perform the given procedure. Or you can use the Mac MBOX converter wizard to convert the files on Mac itself.
Also Read: How to Convert Thunderbird to Lotus Notes NSF Files