Thunderbird
In Outlook Import Thunderbird Local Folders
Raj
| Modified: April 15th, 2022 | 5 Minutes Reading
If you are searching for a method to resolve "Outlook Import Thunderbird Local Folders?" query then stop your search here. In this write-up, a complete step-by-step method will describe how to accomplish the migration of Local folders into Microsoft Outlook 2019/ 2016/ 2013/ 2010/ 2007. Now without further ado, let's get started!
Table of Content
Well Rounded Technique for Outlook to Import Thunderbird Local Folders
Before initiating the process, we first need to understand the file structure of both email clients. Thunderbird, a free email client, supports MBOX whereas Outlook supports PST file format to store the email messages.
Hold On! There is a turning point
There is no direct method through which one can know in Outlook to Import Thunderbird Local Folders. To resolve this issue, it is mandatory to convert Thunderbird to Outlook readable file format. It means there is a requirement to change the MBOX file type into a .pst extension file (supported by MS Outlook).
Rejoice, Users! A Smart Utility already exists
To achieve the same, users can take the help of  MBOX to Outlook Converter. An innovative and adept tool that excels in transferring local folders into Outlook supported file (PST). After that, you can easily move this file to any version of MS Outlook and can access the messages.
Software directly fetches the local folders from Mozilla Thunderbird and generates an equivalent UNICODE PST file. This allows users to access all emails and attachments of local folders in every Outlook edition including 2019, 2016, 2013 and lower.
Besides this, you can also export the Thunderbird MBOX file into multiple other formats like NSF, EML, MSG, and HTML format. It even identifies the sub-folder hierarchy by importing SBD files to Outlook. Now explore how the tool accomplishes this task effortlessly.
Complete Guide for Outlook to Import Thunderbird Local Folders
Initially, you need to either install the demo or licensed version of software on Windows system. The free version is good to analyze all the functionalities before purchasing the full edition of converter software. However, it has a limitation that it can import only first 25 items per folder into desired file format.
Once you set up the software in a system, go through the below instructions.
Step 1. Click on Add File button to initiate the process as shown in the screenshot.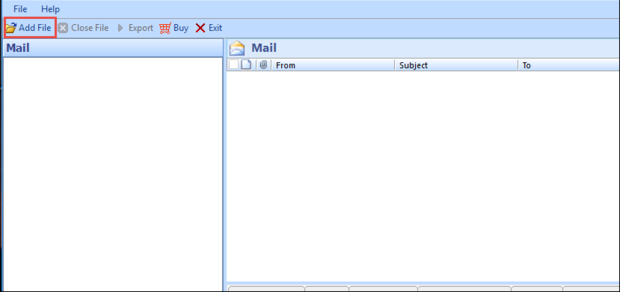 Step 2. In the next pop-up box, select Mozilla Thunderbird application and Default profile configured radio button to transfer folders. Then, click Next.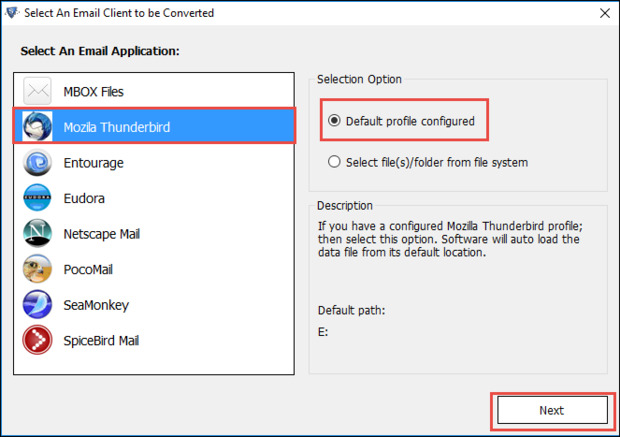 Step 3. Click on Select Identities drop-down button and opt for Local Folders. This will enable the software to fetch those folders automatically thus providing users with a simple approach for Outlook to import Thunderbird local folders. In addition, a user can also select the Thunderbird setup identities.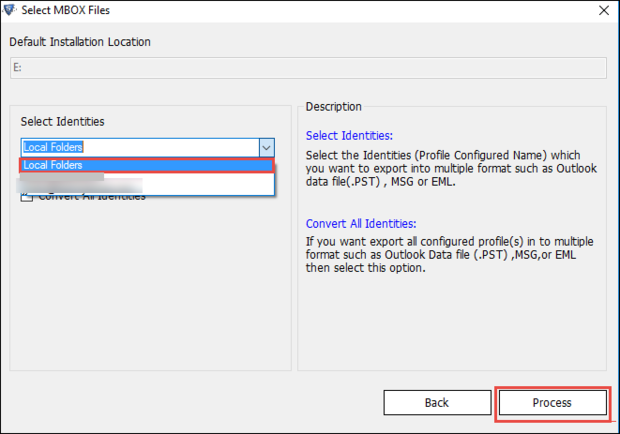 Adding to it, Convert All Identities option is available that transfers all the configured profiles data into Outlook format in one shot. Afterward, click on Process to continue the conversion.
Step 4. After completion of scanning, all the folder comprises under the Local Folders get displayed on the software interface.
Step 5. To check the local folders emails, just click on any folder from the panel and its email get appeared on preview pane. Here, multiple email view options are present such as Normal Mail View, Hex View, Properties View, MIME View, Attachments, Message Header View, Email Hop View, RTF View, and HTML View to display the message in different formats.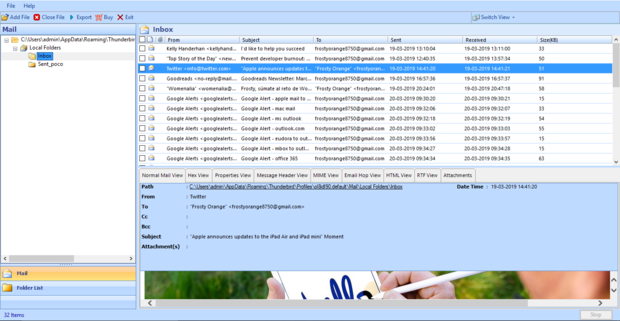 Step 6. Once you are done with the above step, click on Export from menu.
Step 7. On Export Options wizard, you have two options Export All Folders & Export Selected Folders. If you want to import data of all the Local folders, then go with the Export All Folders option. Else, for selective conversion, opt for Export Selected Folders and select the desired folder for conversion.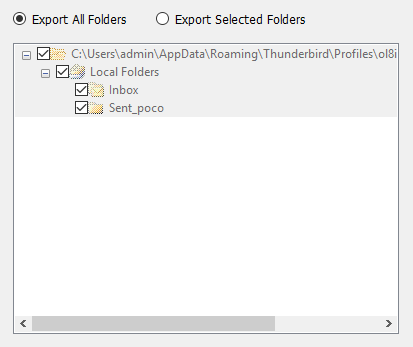 Step 8. In Outlook import Thunderbird local folders by selecting the PST format under "Choose the option to export the File as" section. Here, PST Split option is available to break the oversized resultant Outlook data file into equivalent smaller files to overcome the data corruption issues.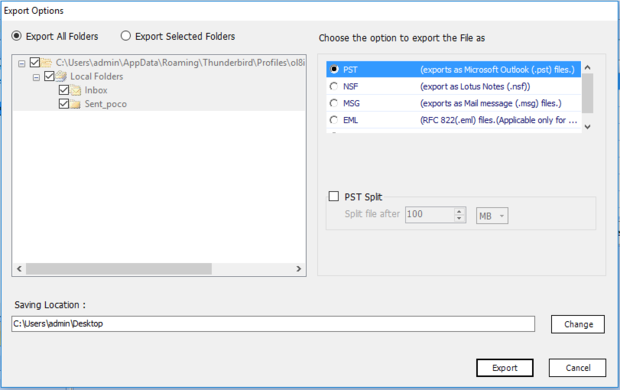 Step 9. After that, browse a safe location where the output file will save by clicking on the Change button.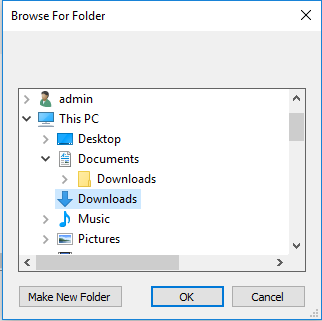 Step 10. Finally, click on Export to mark the end of the solution for Outlook importing Thunderbird local folders.
Step 11. After the completion of process, a summary report gets saved in the system in HTML format. It provides information like Source File Name, Success Count, Fail Count.
Got PST File? Now Transfer them to the MS Outlook folder
The above procedure enables a Thunderbird user to get the local folders as Outlook data file. Now, use the below instructions and transfer this PST into Microsoft Outlook.
Go to File and select Open & Export >> Import/Export.
Then, you need to opt for Import from another program or file and hit Next.
After that, opt for Outlook Data File (.pst) and click on the Next button.
Upload the PST file using the Browse button.
Next, select Import items into the current folder option.
At last, click on Finish.
Few Closing Thoughts
This write-up shared a solution for the most searched query – In Outlook Import Thunderbird Local Folders. Here, we have discussed a direct and easy workaround that can be easily used by any type of user without any problem.