File Conversion
Import Thunderbird SBD to Outlook 2019, 2016, 2013 Without Losing Properties
Want to know how to import SBD files to Outlook in order to access all the Thunderbird emails and attachments in it? Transfer SBD folders to PST and import into Outlook without losing the folder structure.
Mozilla Thunderbird is a cross-platform email application and personal information manager. It is a desktop email client available to users as an open-source and free application. Thunderbird utilizes an SBD extension to store its emails and attachments in subdirectories. By default, this SBD directory stores two kinds of files: One with no extension(also referred to as MBOX file) and the other being MSF files. Sometimes, users have a need to import Thunderbird SBD to Outlook platform. It can be due to any personal or professional reason. However, in order to carry out such a task, there is a requirement for SBD to PST conversion.
Here in this article, we will be providing users with a detailed step-by-step solution to import .sbd files to Outlook without losing any attributes whatsoever. But before that, let us understand what exactly is SBD folder.
About Thunderbird SBD folder
Thunderbird utilizes a number of extensions to store data. The default file is MBOX(with no extension) which contains emails and attachments. While an MSF file corresponding to each MBOX is created containing headers and summaries but no message content. Other than these two, Thunderbird also creates an SBD file. SBD is actually short for SuBDirectory. Thunderbird uses this SBD extension for subfolder management. If you create subfolders in the Thunderbird mailboxes, SBD files are automatically generated at the backend to support this folder hierarchy. For example, if you create a new folder(say., xyz) within the Inbox folder, then Thunderbird will create an Inbox.sbd folder containing all the files related to xyz i.e., xyz.msf and xyz(with no extension MBOX).
To know the location of Thunderbird SBD files on Windows,
Go to Tools > Account setting > Server Setting(corresponding to the email account)
Here you will find the local directory containing the address of SBD file storage.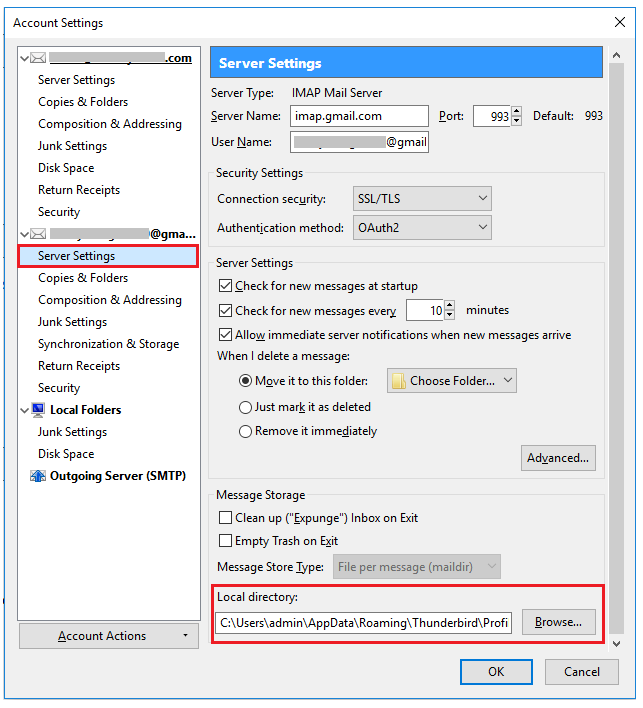 How to Import SBD files to Outlook PST with Complete Hierarchy?
There is no available direct manual approach to move files from Thunderbird SBD to Outlook. And most other workarounds do not maintain the folder hierarchy defined by the .sbd files. Hence, a specialized MBOX to Outlook converter is required for this purpose. This utility converts the entire SBD folder and its content to PST format without losing any attributes. Not only that, but it also allows users to directly export their Thunderbird data without having to locate the SBD files.
For Windows
For Mac
Some other beneficial features during SBD to PST conversion is as follows:
Import SBD files to Outlook PST format with the original structure
No file size limitation during SBD to Outlook conversion
Create a single PST for all the SBD folders
Create separate PST for each SBD by adding them one at a time
All emails and attachments of Thunderbird .sbd folders are preserved
Convert Thunderbird to Outlook w
Easy to use interface for stress-free conversion
Convert Thunderbird to Outlook versions: Outlook 2019, 2016, 2013, 2010, 2007, and 2003
Steps to Export Files From SBD to PST for Outlook
Download and Run the tool to import SBD files to Outlook
Now, click on Add File, select Thunderbird with Select file/folder from file system
Next, add the necessary SBD files into the tool's interface with folder mode
The tool will generate a detailed preview of all SBD emails and attachments
Afterward set the export type as PST and customize your transfer options
Finally, Export the SBD folders to PST for Outlook
Once done, you can import the resultant PST file(s) into MS Outlook application. This will enable you to access SBD folders content inside Outlook platform.
How to Import the converted file in MS Outlook?
After converting MBOX files to PST, it is time to import them into Outlook.
Run MS Outlook on your Windows system
Go to the File menu
Here select Open and Export
Now move your cursor to Import/Export
Select Import from another file or program
Choose Outlook Data file(.pst)
Navigate to the PST file you want to import
Set radio button to Import items into the current folder
Hit the Finish button and check all the messages in Outlook interface
Conclusion
Thunderbird SBD is generated for the purpose of subfolders management. It contains both the MBOX and MSF files with a proper folder hierarchy. In case users want to move to Outlook, careful conversion of this SBD to PST file becomes necessary. The article comprises an efficient solution that specializes in importing SBD files to Outlook without losing any hierarchy of subfolders. Moreover, a stepwise procedure is given for easy data transfer.