File Conversion
How to Convert MBOX to PST Manually – Free Step-by-Step Guide
Admin
| Modified: 2020-02-27T18:34:41+05:30 | 7 Minutes Reading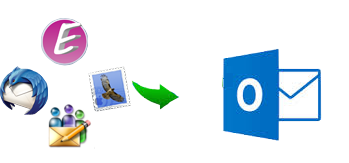 MBOX file is one of the flexible file formats and can access in various email applications such as Thunderbird, Pocomail, Apple Mail, Spicebird, etc. On the other hand, PST is the most organized file format, which saves all Outlook mailbox data in it. Everybody knows the various advantages of the Outlook as it provides various services that are beneficial for the business environment. Therefore, most of the users are querying about how to convert MBOX to PST manually using a free solution. As MBOX file stores only emails but PST stores entire mailbox data, so it is always beneficial to use PST file format over MBOX format. Thus, in this blog, we are providing different solutions to convert MBOX to Outlook PST without any loss of data.
Instant Expert Approach to Convert MBOX to PST
Import MBOX to PST is a powerful and safe solution to convert multiple MBOX files into Outlook PST in a single go even without facing any data loss or manipulation issues. So, download the tool now and perform a safe MBOX file to PST conversion:
Benefits to Convert MBOX to PST File Format
Before directly jumping to the file conversion process, it is necessary to understand the need to MBOX to PST conversion. So let us take a look at some of the possible reasons in here:
In MBOX file format one can only store email messages. On the other hand, PST of MS Outlook stores all emails, journals, contacts, calendar, tasks, notes, etc., for each mailbox.
The structure of the PST file in Outlook is always in a systematic manner like inbox, sent items, contacts, etc. While the MBOX file only stores emails and attachments in a sequential manner
PST file is more secure than MBOX file format and provides password protection like encoding email for security purposes.
MS Outlook supports 96 languages, which is really high when compared with MBOX supporting applications.
In PST file there is no internet connectivity required to access the email or data that is opened earlier.
Convert MBOX to PST Manually
To export MBOX to PST file format, both professional and free manual solutions are available and are discussed below. You can choose among them as per your requirements.
The manual method contains a free step by step approach towards exporting MBOX files to PST format. While the automated solution is a third-party application which specializes in accurate and efficient conversion.
Users are advised to keep a backup of all their mailbox files before trying any approach.
Alert
No manual solution is completely secure and so is this. Following are the risks associated with manual solution to convert MBOX files into PST files:
Missing SMTP Header After Conversion
Disturbed Original MBOX Folder Structure
Broken Images after MBOX File Conversion
Bulk MBOX to PST Conversion Not Supported
Requires Technical Expertise to Execute
Lengthy and Time-consuming Approach
Professional Solution to Export MBOX to PST
The manual procedure discussed above is the quite lengthy and time-consuming process. Moreover, it is not all a direct solution to perform the conversion. Apart from this, It requires so much extra email application installation, which can create trouble for the users. Thus, to overcome all such limitations, one is advised to switch to a third-party solution i.e. MBOX to Outlook Converter. It is a tool that exports all MBOX file data to PST format without any hassle. One can also export selective data items from MBOX file to Outlook PST format. Moreover, it does not impose any file size limitation.
To perform conversion using this method, you can follow 4 simple steps.
Step 1: Open the software interface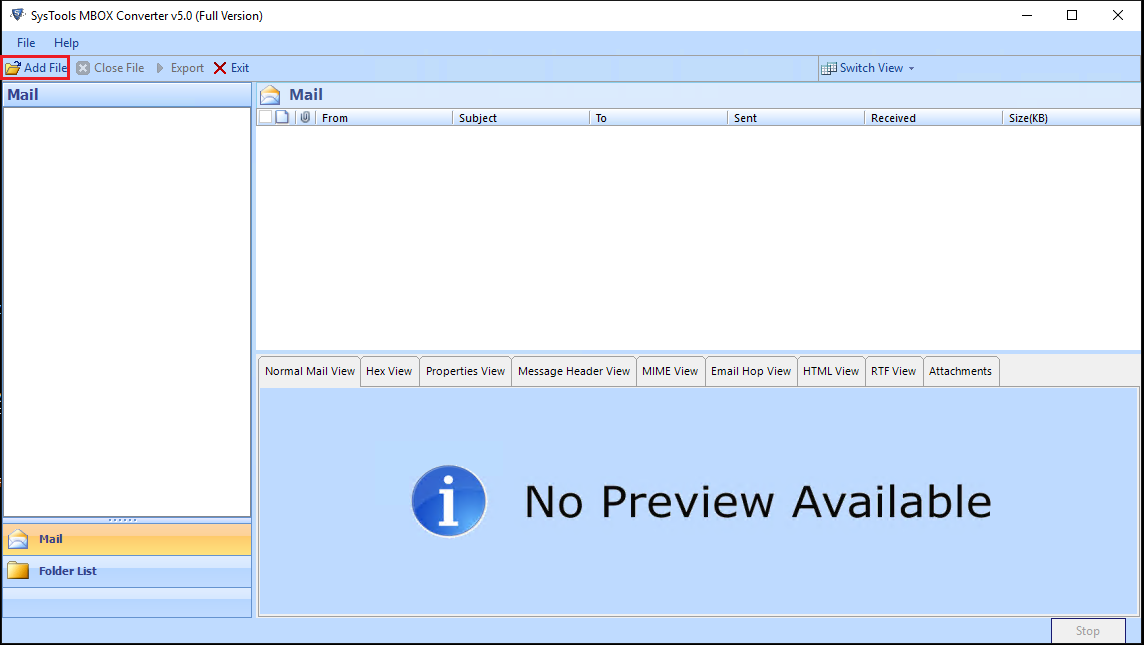 Step 2: Add MBOX files with file/folder mode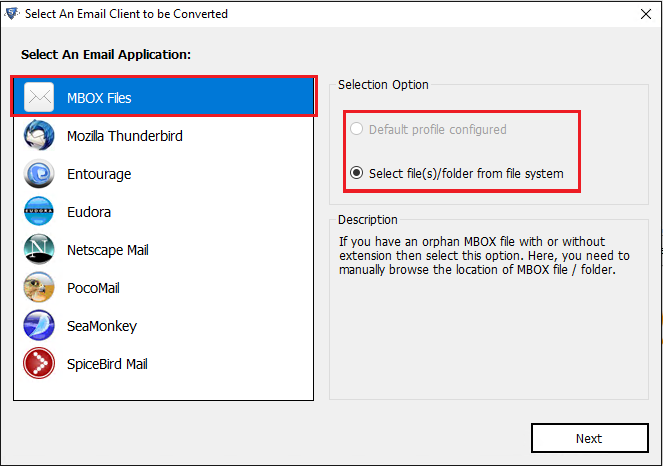 Step 3: Preview MBOX emails and attachments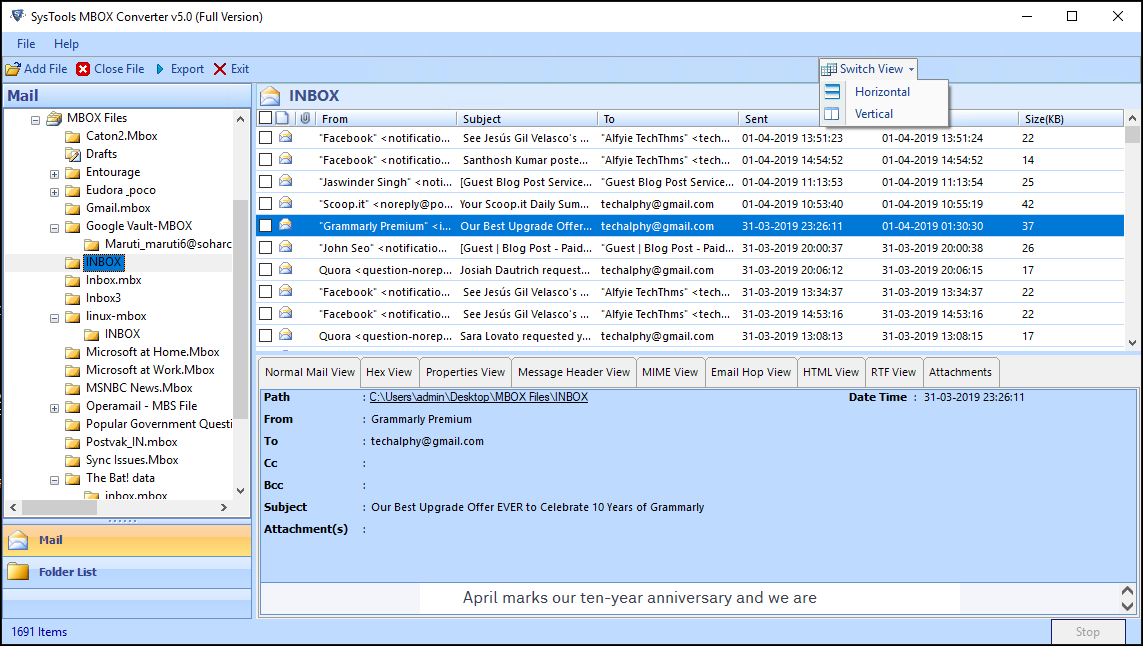 Step 4: Export MBOX files to PST format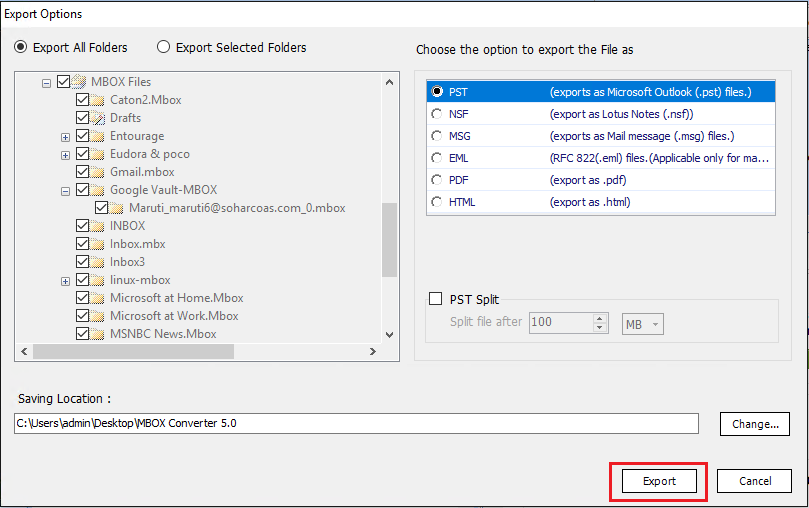 And that's it..!!
With 4 simple steps you can save all your data as PST files without losing attributes.
Convert MBOX to PST Manually with Free Solution
There is no direct manual solution available to perform MBOX to PST conversion. The whole conversion process is divided into four different parts that need to be performed carefully one after another. It is because a single mistake can also result in permanent data loss and maintain data integrity. Thus, before, beginning the manual conversion process, it is recommended to backup MBOX file data. The free conversion involves the following steps:
Step 1: Use Apple Mail to Move MBOX file
Open Apple Mail and goto File >> Import option
Choose the option from where you want to import the data i.e. File in MBOX format
Click on Continue button and manually select the MBOX file location
From the location, choose the MBOX files and click on Choose >> Continue option
As the import process completed, click on Done button
Step 2: Use Eudora Application
We will need to add this MBOX file into Eudora email client. This process is necessary for the execution of the next steps. To do so, follow the given methods:
In order to begin, add file extension i.e. .mbx to the imported MBOX file (Inbox.mbox –> Inbox.mbx)
After that, copy the file to the Eudora default directory by going at the default location i.e.

C: \Documents and Settings(user)\Application Data\Qualcomm\Eudora
Or.
C:\Program Files\Qualcomm\Eudora\

Now, start the Eudora and double-click on the MBOX file and exit the application.
Step 3: Use Outlook Express to Import Messages
In this step, we will be taking advantage of an inbuilt import option in Outlook Express to directly transfer the Eudora files into it.
Open Outlook Express, click on File >> Import and choose Messages
After that, select Eudora and click Next
Now, browse the .mbx and click on OK
In last, click on Next >> Next >> Finish and now, you can view the imported MBOX file in Local Folders of MS Outlook Express
Step 4: Import Messages from Outlook Express to Outlook
Now we will use the native option in MS Outlook to import the emails directly from the Outlook Express application. The steps to do so are as follows:
In this to begin, navigate to File >> Open option in MS Outlook
After that, click on Import and Import & Export window will open
Now, choose the Import Internet Mail and Addresses option and click on Next
Then, select Outlook Express or Window Mail option and click on Next
Next, click on Import button to begin the import process
Now, you can easily access all MBOX file data in MS Outlook.
The Bottom Line
Moving MBOX file to PST file format is always an advantageous activity. Therefore, most of the users are searching for the solution for the same. Understanding the requirement of users, a free step by step method to convert MBOX to PST manually is discussed. However, manual sometimes becomes very clumsy to perform so, to overcome that a third-party tool is also suggested. Users can go for any solution as per convenience. Also, if you wish to perform conversion on Mac OS, you can try using free version of Mac MBOX Converter.