Data Migration
Export SeaMonkey Mail to Outlook by Converting Emails to PST Format
Know how to convert emails and attachments from SeaMonkey Mail to Outlook in bulk. A solution for both individuals and organizations for error-free and data loss-free conversion. Read the article to know more.
SeaMonkey is not as much popular as other email applications like Thunderbird & Outlook. But has a considerable number of users worldwide. It is a free and open-source community-driven desktop email application. Although SeaMonkey has multiple capabilities like junk mail detectors, filters, feed reader, and multiple-account support, it still lacks the security and advanced email management system that Outlook possesses. That is why users, individuals, and organizations alike, tend to switch to MS Outlook. Hence, generating a need to convert emails from SeaMonkey to Outlook PST format.
However, migrating emails is always a complex task, especially if it involves incompatible email applications such as SeaMonkey & Outlook. This keeps users from converting emails unless there is no other choice left. And if it has become a necessity for you as well, then read this article and know how to export SeaMonkey Mail to Outlook PST without losing attributes.
Related Posts:
Exporting Data for SeaMonkey to Outlook Conversion
For any email migration process, there is a requirement of data on which the conversion is to be carried out. In case of SeaMonkey, knowing its storage location reveals different file formats which it uses to save all its mailbox items. And among them lies our file of interest i.e., MBOX file which stores the emails and attachments. In Windows, you can find its location by going through the following steps:
Open SeaMonkey email client
Select the mailbox folder containing emails
Click on View Settings for this Account
Here, go to Server Settings
Now copy the file location corresponding to Local Directory
Paste the location on File Explorer navigation bar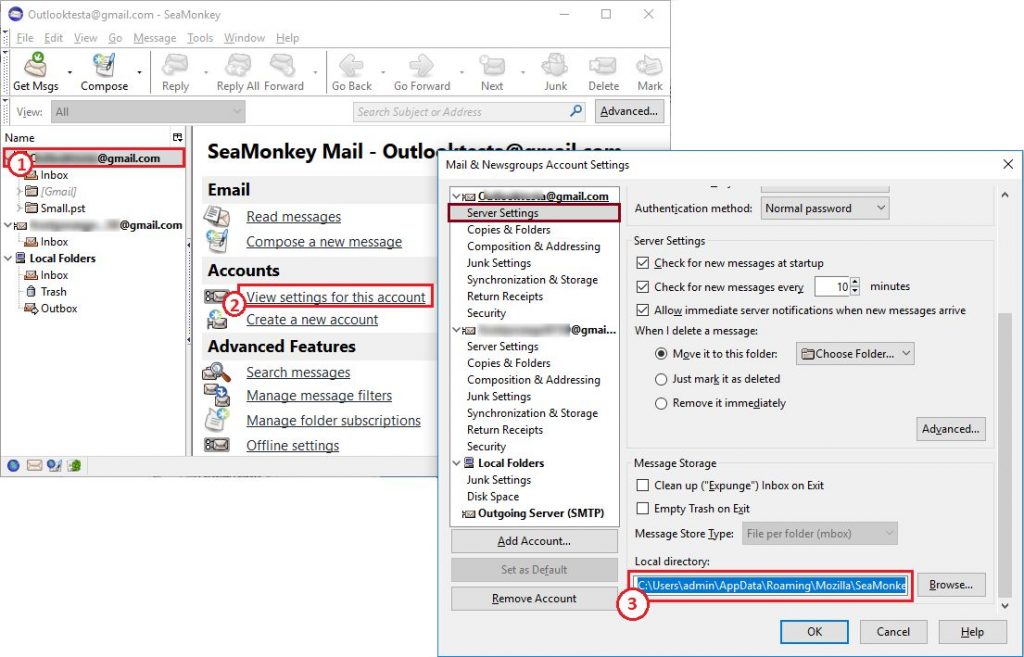 Here, you will find several files with no extension (there may be subfolders with more of these files). These are our storage files of interest.
Convert SeaMonkey Mail to Outlook with Attachments
There are no native export options present in SeaMonkey. Also, Outlook uses a proprietary format i.e., PST as its database file. This makes SeaMonkey to Outlook conversion much more complicated. However, there are utilities which excel in such ordeals and provides an automatic platform to handle such conversion.
Among the various tools available online, only some come close to actually be called the best. MBOX to Outlook Conversion Tool is among them. It operates on the data level and works to export SeaMonkey Emails to Outlook by converting its mailbox into PST file format. It can not only operate upon the MBOX files from local system but can even auto-detect all the SeaMonkey emails without any external help.
For Windows
For Mac
Here's how users can make use of this proficient utility for error-free conversion:
Steps for Automated SeaMonkey Emails to MS Outlook PST Conversion
Download, install, run the software and click on Add File
Select SeaMonkey email client with Default Profile Configured setting
Choose the SeaMonkey identities that you wish to export to Outlook
View the emails and attachments in the tool's preview pane
Set format to Microsoft Outlook PST and choose the folder to save output files
Additional settings include splitting the large mailboxes into several smaller ones for better management. You can also choose to export selective emails and folders
Finally, Export emails from SeaMonkey to Outlook PST format.
This concludes the overall procedure for dedicated loss-free conversion in minimum time. Several related queries are answered in the following section for easy SeaMonkey migration.
Some Common Queries
1. What if I want to directly upload SeaMonkey Emails to Office 365 account?
The SeaMonkey emails can be directly uploaded to Office 365 via another efficient MBOX to Office 365 Migrator program.
2. Is there a way to convert SeaMonkey mail on the Mac platform?
Yes, a macOS version of the software is also available for users.
3. Once I have the PST files, how do I import them in Outlook?
You can use the native Import/Export option in MS Outlook for such task. Read More
4. I have old SeaMonkey files which I backed up a year ago before uninstalling SeaMonkey. Can I access these files in Outlook without SeaMonkey?
Yes, the presence of SeaMonkey MBOX files is enough for exporting SeaMonkey Mail to Outlook via the software application. For this, use Select File/folder from local system option.
5. Do I strictly require to know the store location of SeaMonkey for a successful migration?
No, the tool incorporates an auto-detect feature which can automatically locate the mailbox items of SeaMonkey if the SeaMonkey email client is configured on the system.
Conclusion
In the arena of email migration, specialized software is generally preferred for its ease and comfort. And in cases where there is a lack of manual means like exporting SeaMonkey Mail to Outlook, the use of such automated means becomes somewhat mandatory. With the software given in the article, it is possible to achieve accurate email migration without risks and hassles. All of this in minimum time within a few simple clicks.