Google
,
Google Workspace
Google Vault Export Stuck at 95 – Easy Solution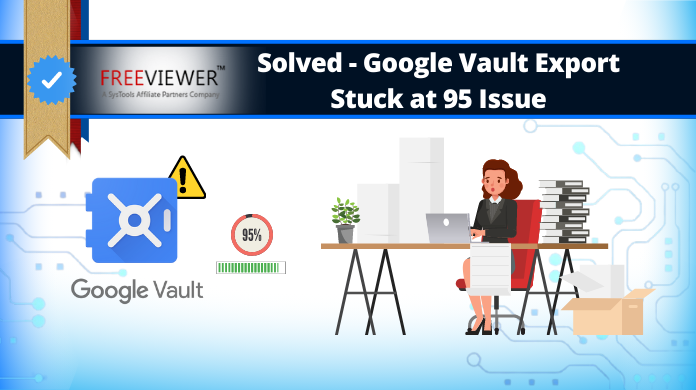 Google Vault is undoubtedly the best solution for users to archive data files with crucial information in them. Now, we are going to mention that Google never officially confirmed this. As per them, there is no such issue while using the compliance or e-Discovery for exporting vault data. However, users claim to face this Google Vault export stuck at 95 error a lot of times. This ultimately leads to failure in Google Vault email export to PST operation quite often.
This quick blog has all the answers regarding this trouble from minor to major ones. However, before we jump into the solutions, let's have a look at an actual user query to understand the matter in a better way. It can help users to solve the Google Vault export stuck at 95 issues in a smart manner.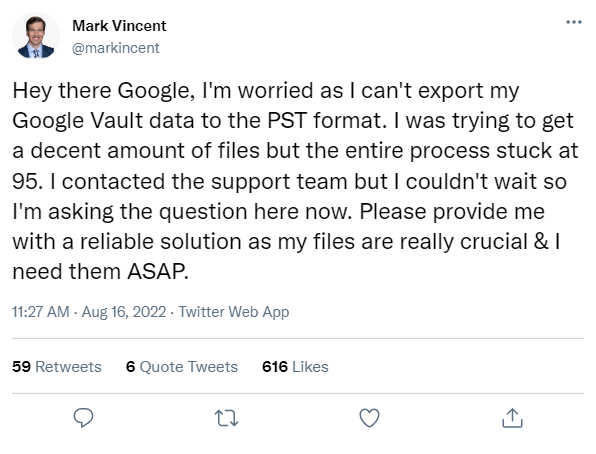 Here we can see how irritated the user was that he had to go to Twitter with his problem. Now, that we know the severity of the matter, let's quickly come to a solution. 
Minor Fixes That Users Can Give A Try
As we said, when Google came to know about this situation, they rejected this claim immediately. They said that the export process works fine without issues. However, plenty of users were still complaining about such issues.
Alright so here are some minor fixes that users can take into use to solve this Google Vault export stuck at 95 issues. Keep in mind that these are all manual tips & tricks that users can take into consideration.
Split your search query into smaller ones to reduce the chances of error.

Try to use a different super admin account for this export task if possible.

You can switch to the chrome browser for better compatibility with export.

Use MBOX file for the destination if the task fails with the PST file format.

Give a try to change your IP using VPN services to the US/UK/India, etc.
If you chose to get the files in the MBOX format but ultimately need that file in PST, then you can definitely use the MBOX converter software to convert MBOX to PST file format.
Solve Google Vault Export Stuck at 95 Issue Automatically
Now, to be very honest with the users, we can say that the above-mentioned manual solutions are not as effective as we assume. They possess several drawbacks that always make users go through a lot of trouble & stress.
Therefore to get rid of all this hassle, they must simply trust the Google Vault Downloader to get their desired results in just five steps. The reason for mentioning this utility is the recommendation from Top IT experts & even Google's top most valuable persons. Download the tool & then follow the below steps to simply get rid of this Google Vault Export Stuck at 95 issues smartly.
Step-1. Launch the Tool then Activate the License to begin.
Step-2. Set the File Format as PST or MBOX as per the need.
Step-3. Select the Categories like Emails & Documents here.
Step-4. Enter Google Vault Credentials to Log in & continue.
Step-5. Select Users & Click the Start Download button here.
Automated Tool Features to Solve Google Vault Export Stuck at 95 Issue
Now we know the best method for solving the issues of Google Vault stuck in between the export process. It's time for us to simply go through the features of this automated utility. This is important for users to know in order to get detailed knowledge of the tool.
In addition, these features can help users utilize the maximum potential of this tool.
Export the data files of Google Vault in two file formats:

PST & MBOX

formats.

This software has a date filter that can help users selectively to export the data.

It's possible to select the emails & documents using a category filter of this tool.

This latest tool splits large-sized data files into small files and prevents corruption.

The tool offers an advanced dashboard having an interactive GUI for the users.

Users can preview entire data in their Google Vault without searching file names.

It generates the summary report for users to analyze the entire process for R&D.
Bringing It All Together
The Google Vault export stuck at 95 problem is quite difficult to manage. However, with the right tool & technique as mentioned above, users can get the perfect solution without any hassles. All they need to know is the right solution.
If experts can trust the automated solution then you too will like this utility. Until google officially confirms this issue & provides a solution, it is the best-known method.