Google Workspace
Ways to Export Emails from Google Workspace?
Providing security is the job of Google, but how we keep ourselves secure depends on us.
Out of the many reasons that urge users to export their email from Google Workspace, making a copy of data remains on top. Protecting our data and keeping them safe from unwanted deletions, hacking, or data loss is our topmost priority.
I should not stress how important emails are. You know it very well! Whether it is of an individual or an organization, a major chunk of our day goes into exchanging emails with our clients, teammates, etc.
Don't you think so?
With so much data stored in Google's house, should you let Google take control of your ship completely? Don't you feel it is important to have a copy of it with yourself too?
Thus, it is a mandate to save and keep your emails from Google Workspace aside from future references.
How can you do that? This is what this article is for, to guide you on the ways to export emails from Google Workspace.
Different ways to Export Emails from Google Workspace
There are three ways using which a normal user can export their emails from Google Workspace.
Google Takeout
Google Workspace Export Tool (Recommended)
Note: Google Takeout method will not be discussed in this article because of the following reasons:
It can save only the data of a single user.
If the data is too large, Google Takeout-facing failures are very common.
Google Takeout is a Gmail export solution and not of Google Workspace'.
It is a very long process as users may take days to receive the link.
Method 1: Expert-recommended Tool to Export Emails from Google Workspace
Google Workspace Backup Tool is the best software to save your emails from Google Workspace. This tool provides an option to save data from Google Workspace all at once using the concurrent migration option. It even saves data from multiple user accounts. The emails can be converted to PST file format. Apart from emails, it also backs up contacts, calendars, etc.
Note:- If you looking for a solution to convert G suite data into MBOX, EML, MSG, and PST file format. Then, users can use G suite exporter software. This application is capable enough to convert your data to desired file format easily without any trouble. 
Following are the brief steps that tell you about the working methods of the tool:
Step-1: First, download the tool on your system and then launch it.
Step-2: Since you want to export your emails from Google Workspace, tick the email box and apply filters as required.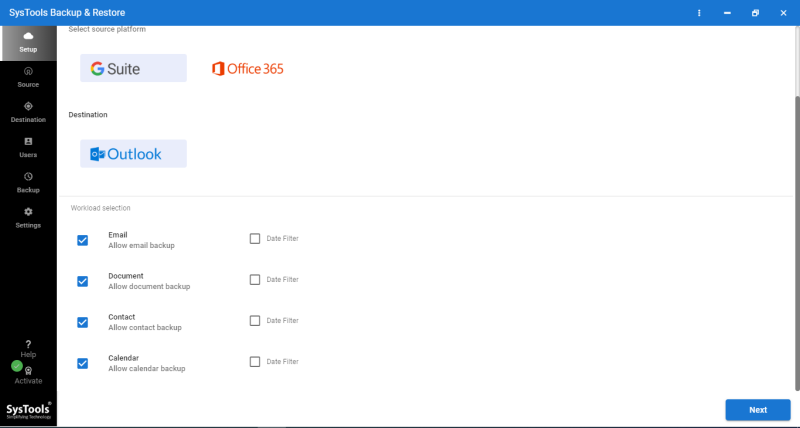 Step-3: Enter the required details of the Google Workspace account.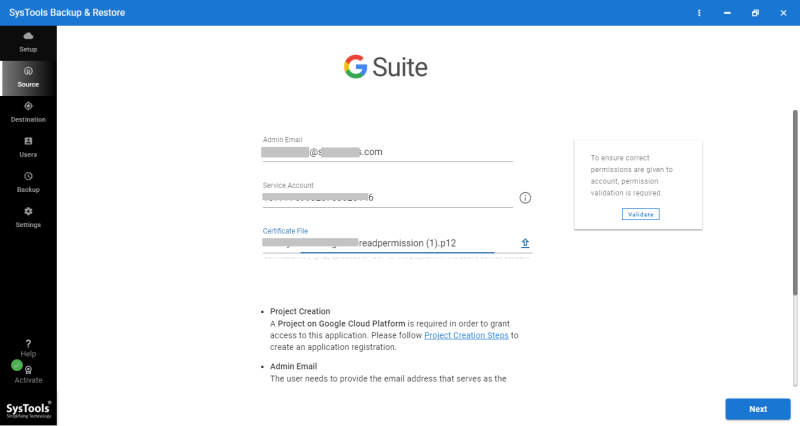 Step-4: Select the folder path that will save the resultant PST file.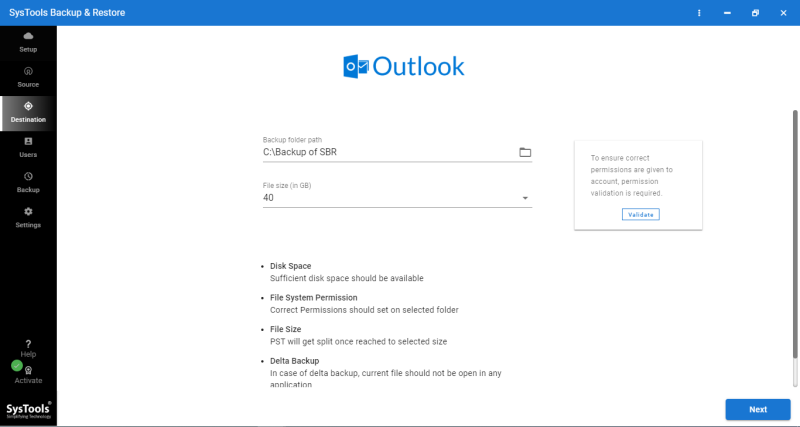 Step-5: Select the fetch users option to fetch all users and choose among them later or simply import CSV file to add the user accounts.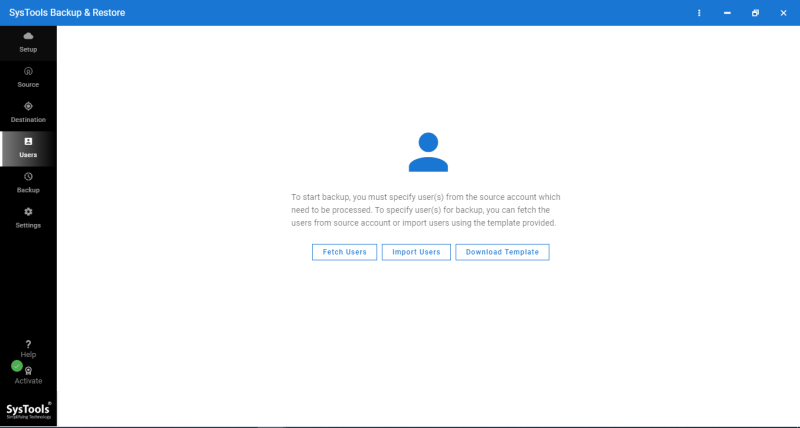 Step-6: Finally click on the "Start backup" option to export the email of Google Workspace.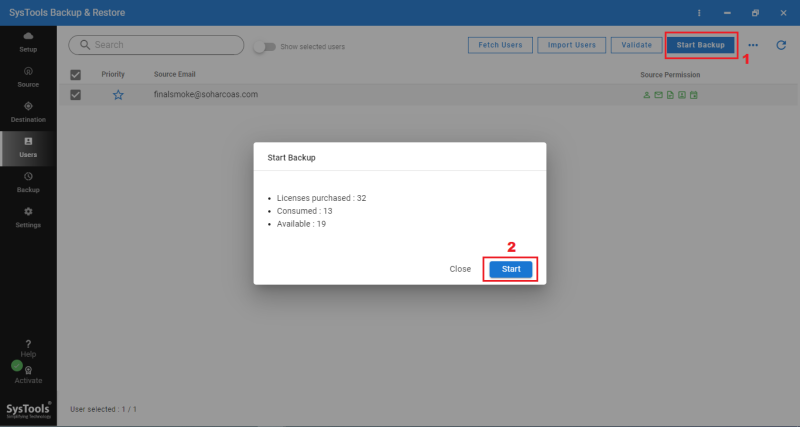 Method 2: Export Google Workspace Emails using Google's In-built Tool
For all those of you who don't know Data Export Tool is an in-built tool of Google. It allows the super administrators of the company to move the data of the user to a Google Cloud archive.
Prerequisites for using the Data Export Tool:
The domain needs to be 30 days older to use this tool.
It requires the 2-step verification to be enabled by the super admins.
The number of Google Workspace user accounts must be less than 1000.
Only super admins of the organization's Google services domain can use this tool.
Working Steps of the Data Export Tool
Step-1: Sign in to your Google Workspace account using your super-admin credentials.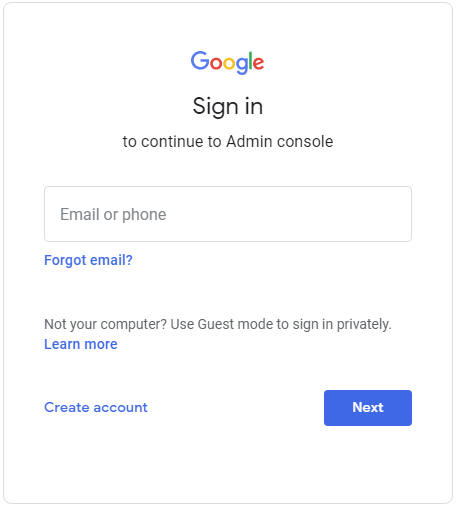 Step-2: Now, go to the Admin Console and click the "<" arrow in the upper right corner of the screen.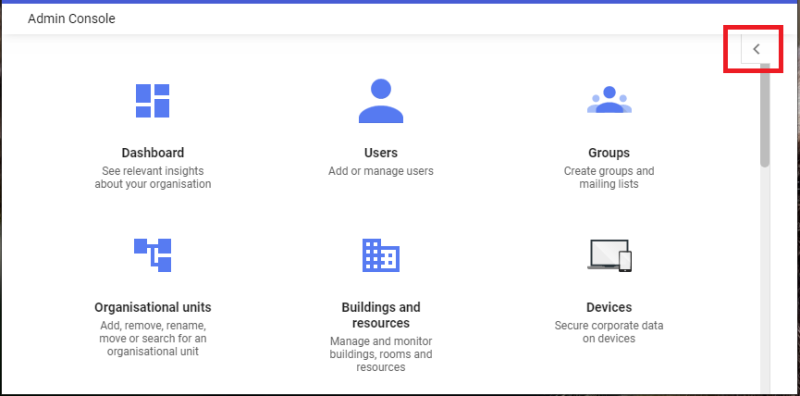 Step-3: Next, go to the Tools menu and select the Data Export option from the drop-down menu.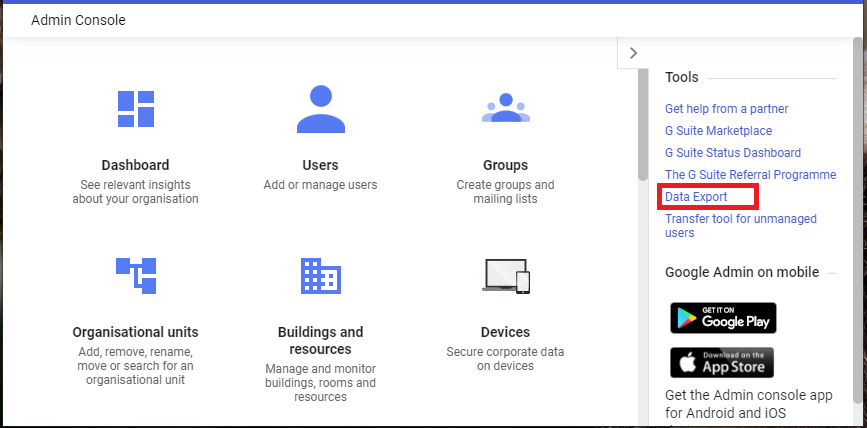 Step-4: In the Data export box, click on the Start Export button to begin the export process.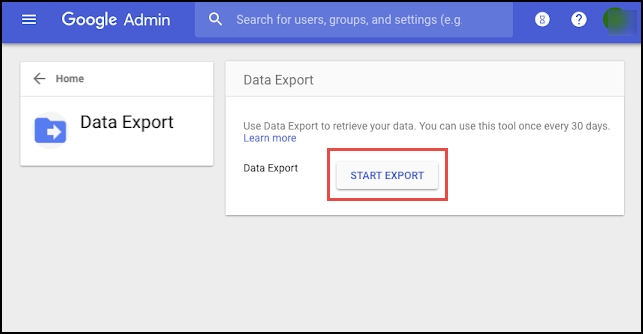 Depending on the extent of your data, you will have to wait for Google to process all of your Google Workspace accounts and email you a confirmation code for your exported data. It usually takes 72 hours, but it might take up to 14 days. At the conclusion, you will receive an email informing you that the procedure is complete.
Step 5: After receiving the confirmation link, open it and select the Access Archive option to gain access to the processed data.
Step 6: In Google Cloud Storage, navigate to the root folder in the archive to see a list of user folders. Each user folder contains a zip file containing the user's data.
Step 7: Double-click the zip file.
Step 8: Unzip the file to view the product info for each user. The exported data can be accessed for 30 days before being permanently deleted.
Constraints of the Manual Method
After selecting the "Start Export" option, there are high chances of obtaining errors.
The program only allows you to repeat the export procedure once a 30-day period has passed since your last export.
It does not allow you to export only your selected data, and this is true for certain users. Without exception, the program exports all of the data from all users.
If you do not unzip your files to the user's data, they are erased after 30 days.
There are times when users wish to halt the export process in the middle, but this utility does not provide that option.
This is a lengthy procedure. You don't know how long it will be until you get the link.
Last Words
By now you might have surely realized how important it is to keep a copy of your data. Along with that, the ways in which you can do it are also explained in this article. We suggest using a professional tool. The reason for it is explained clearly in the limitations of the manual tool.