Data Migration
,
Google
Migrate Email From One G Suite Account to Another in Bulk
Raj
| Modified: May 11th, 2023 | 8 Minutes Reading
Google provides many services to G Suite users for storing emails, contacts, calendars, documents, etc. However, when Google Apps users, have to migrate email from one G Suite account to another account or domain, they encounter a problem. Though there is quite less number of solutions available to change the G Suite account or domain, we will elaborate on them in a simplified way.
Let's start with the first one, which can be accomplished by using data migration services available for G Suite users. The second is, to use an automated tool that is easy to implement. So, you can try any of the services for transferring data between two G Suite accounts. In this blog, we will guide you using a step-wise approach to complete this task. You may go through the users' query so that you would be able to relate with others, who are sailing in the same boat.
"Hello, I am looking for an easy method to migrate email from One G Suite account to another account. My organization is merging with our partner firm, and now, we have to use a single G Suite domain for all of the employees in the company. We have already made an account with the same name on the new domain. I tried to find a reliable solution to transfer Google Apps data to another domain but didn't find any. If anybody knows any quick approach to solve this issue, then please let me know. Thanks!!".
Note: Admin credentials are necessary for transferring G Suite account data of multiple users in both methods.
Automated Approach to Migrate Email from One G Suite Account to Another
To deal with the problem of the manual approach, we have found an automated tool to migrate emails from One G Suite account to another. You can perform the task using the Google Workspace Migration Tool. It is one of the most trusted tools to transfer G Suite email to another account or domain.
This software allows the user to transfer emails easily while overcoming the limitation of the manual approach. You can try the demo version which provides two complete user licenses for free, without any limitations. 
Important Note: If you are using Mac operating system and planning to transfer from G Suite account to another account. Then, the best solution to help yourself is to use an IMAP to IMAP migration tool. This software will do the migration instantly without data modification.
List of Features of this Automated Tool
The tool provides some of the best features which make it the perfect answer for – How to migrate G Suite to G Suite?
Automated solution provides option to allow priority to the user account.
Delta migration option to migrate new email data in the next attempt.
The tool will generate the list of the user account associated with Admin accounts.
Re-Run migration option to migrate failed and skipped items of the last attempt. 
Multiple options for source and destination account selection to migrate.
This software automatically generates the entire migration report, you can download either summary report or detailed report.
Moreover, this software even facilitates the batch migration of users in a short span of time.
Pre-requisites:
Before beginning, the migration fulfills the basic prerequisites of the tool.
Click here
.
Steps to Transfer G Suite Account to Another via Tool
1. Download and Launch the Migration Tool & Activate the software on supported Windows OS version.
2. Then, select the Source and Destination platforms as G Suite option.
3. Select the workload email category and apply date-range filters for the category as required.
4. Enter the Source G Suite Admin Id, and Application Id & validate both of them.
5. Now, just provide the Destination G Suite Admin Id, and Application Id & validate it as well to move further.
6. Select the User mapping option from "Fetch User" and "Import CSV" for batch migration.
7. Validate the user mapping and click on the Start Migration button to begin the selected user accounts migration.
8. After completion of migration, click on the Download Report button to download the migration report as summary report or detailed report.
Manually Migrate Email from One G Suite Account to Another
The method provided by the G Suite community to migrate emails from the G Suite account is by using Data Migration Service, 
1. Open your Admin G Suite Account and from the Admin console select Data Migration Service.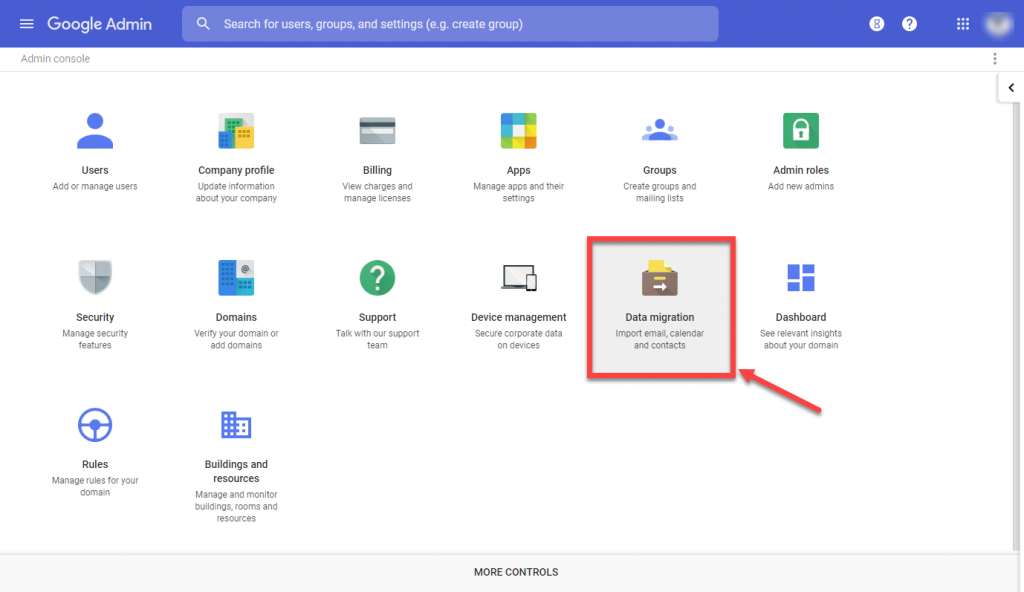 2. In the Migration window, click on the Emails checkbox and click on the Continue button.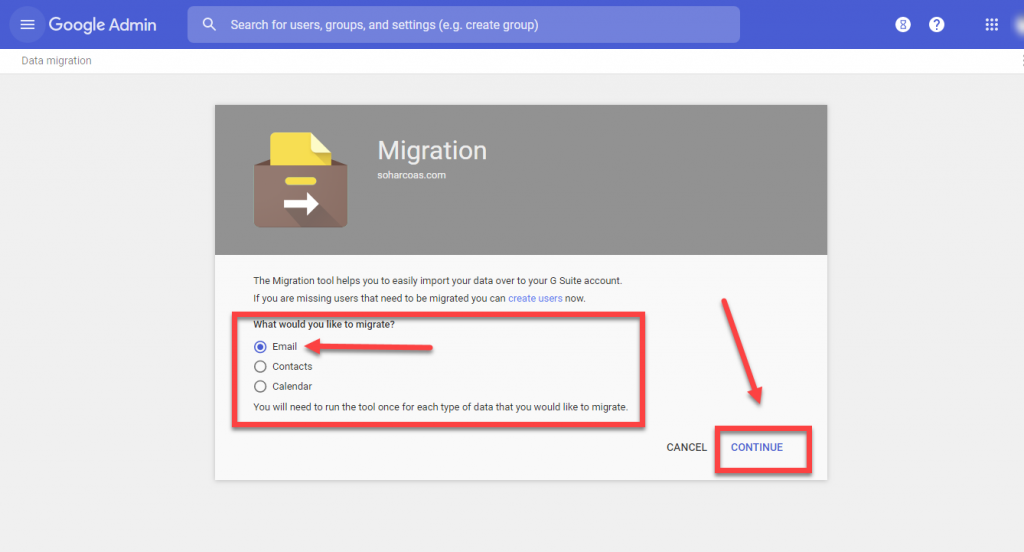 3. From the Drop-down select source as G Suite / Gmail.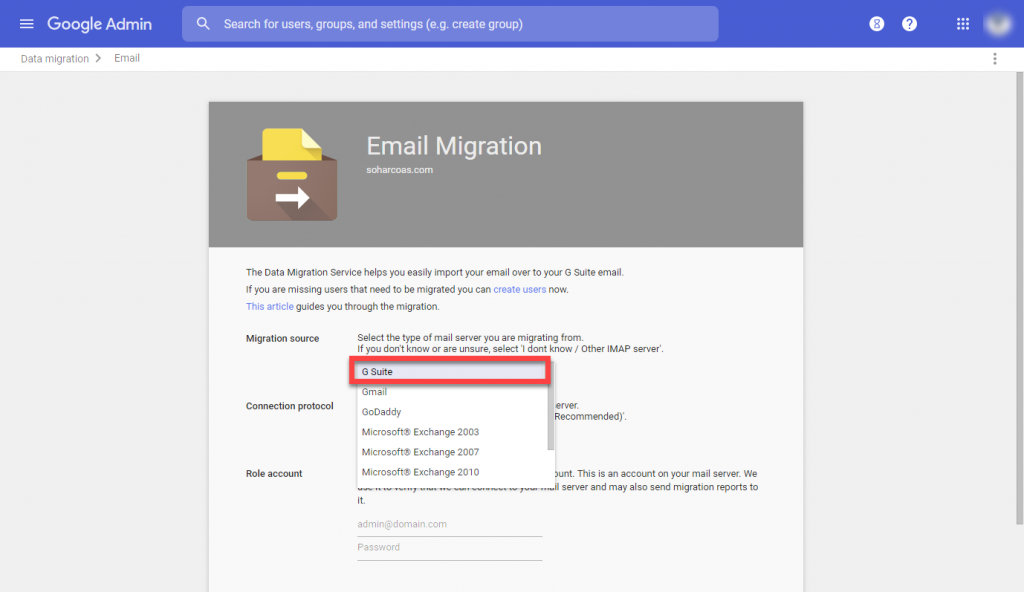 4. In the Connection protocol drop-down choose the "Auto-select(recommended)" option. Now enter Admin credentials in the role account. Then click on the Connect button to migrate email from one G Suite account to another account or domain.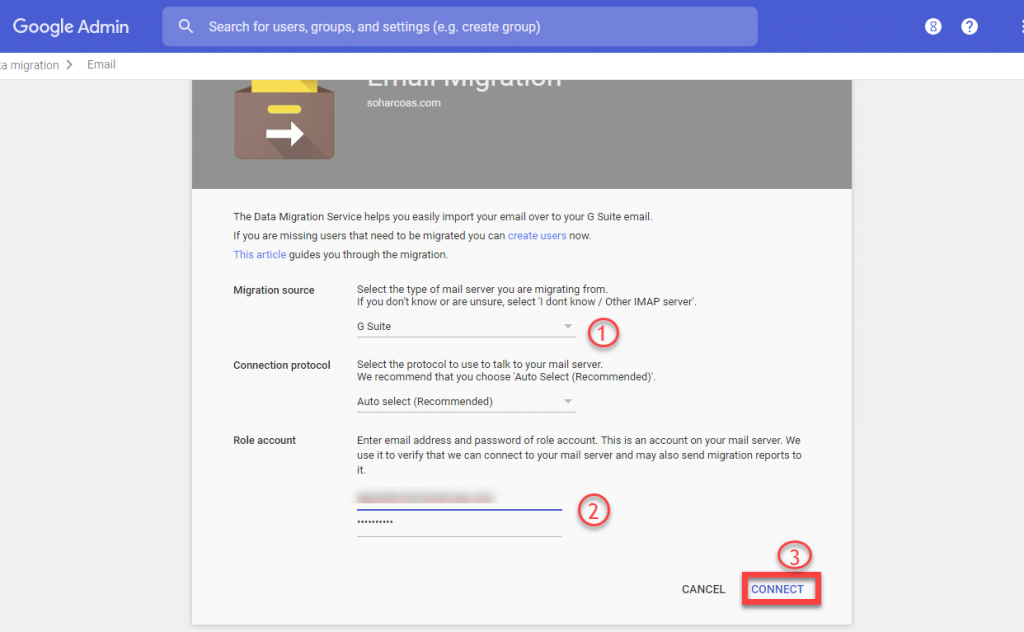 5. Use the filter option to select the Start date of migration, this will transfer the emails from the selected date to the till date. You can also migrate deleted emails and junk emails. Now click on the select user Button at the bottom.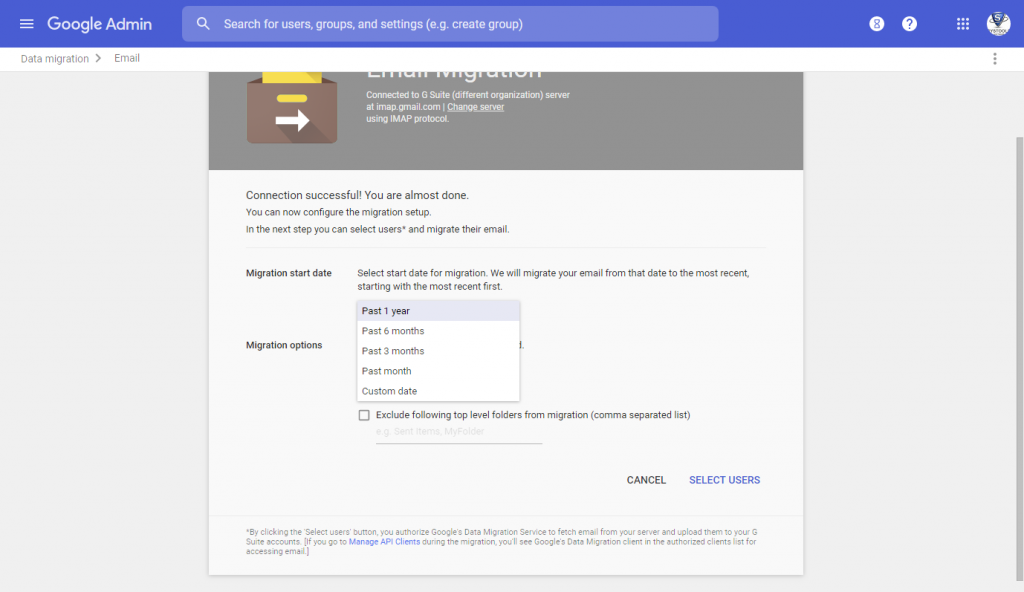 6. Click on User Button to select single/multiple user options to move emails from one Google account to another.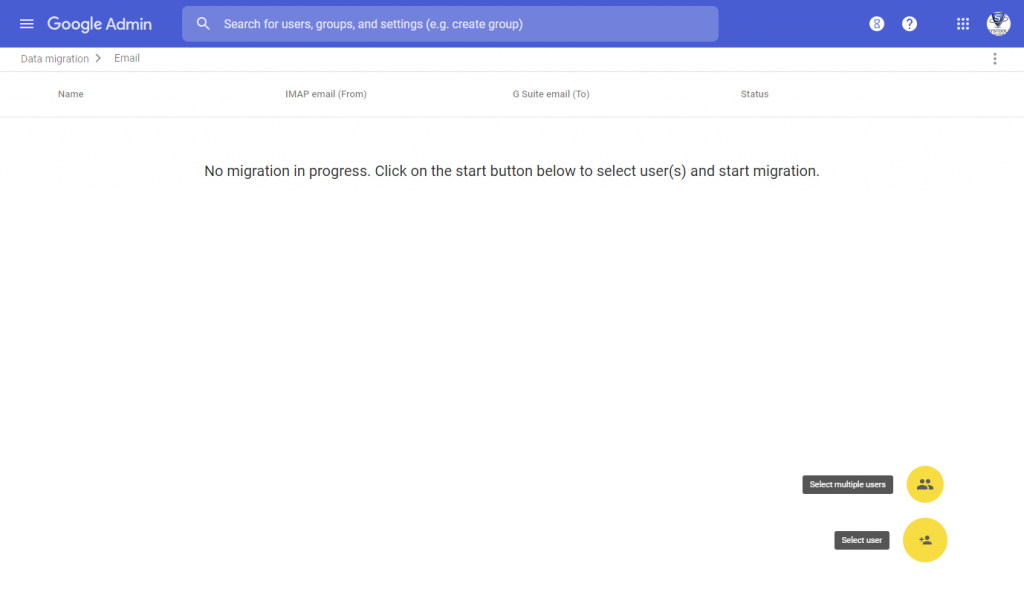 7. If you select the Single user option then the steps will be as follows:
Enter source account credentials in Migrate from the box
From the drop-down menu in Migrate, select the destination account.
Click on the Start button to begin the migration process.
8. If you want to Migrate multiple user accounts then the steps are as follows:
Create a CSV file containing the destination id, source id, and source password without any header.
Now click on the 'Attach File' option to upload the CSV file.
Then click the 'Upload and Start Migration' option to migrate the G Suite email from one account to another account or domain.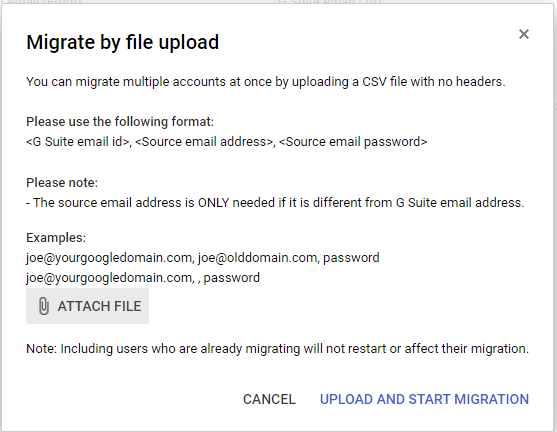 9. After the uploading is finished, migration services will start transferring and the progress can be seen in the Admin console.

List of Disadvantages of the Manual Method
The migration process using this manual method is very slow.
Moreover, the steps for the manual migration process are a little bit tricky. So, if your are a novice user and processing the migration task manually then you must be technically sound.
Likewise, there is no option to resume migration in case of loss of connection or power off. Hence, chances of data loss if the process gets interrupted in between.
It doesn't provide incremental migration or delta migration.
Manual adding every user account to migrate will take a long time to complete the process. 
Also, if your mailbox is too large to migrate then you must wait for multiple hours or several days to complete the migration task.
Concluding Words
The manual approach to migrate email from one G Suite account to another is a bit lackluster method. Although it is a free method, there are also some disadvantages to using this method such as, taking more time to transfer multiple user accounts, no error handling functionality, and also the risk of losing data. The results of using a manual method to migrate emails from one Google Workspace account to another are not satisfactory. On the other hand, an automated solution like the above-featured Migration Tool is risk-free and overcomes every limitation of a manual method. We have carefully tested this tool for transferring the data. You can use this tool without worrying about anything.
FAQs
Q- How do I transfer G suite account to another Securely?
Answer- Steps for G Suite to Another Account Migration –
Download the tool on Windows desktop.
Select the G Suite as source and target account simply.
Apply date filters for migrating specific emails.
Fetch users for a batch users account migration.
Click the Start Migration option to migrate emails from one G Suite account to another.
Q- How to merge Google Workspace accounts?
Answer- In practice Google does not provide a service to merge separate Google Workspace accounts. However, if you want to migrate your data from one account to another then use the software recommended above.
Q- What are the limitations in G Suite?
Answer-  Google allows to have 300 users. In short, you can add up to 300 users to your Google Workspace account as needed.
Q- Is Google Workspace migration safe and secure with this tool?
Answer- Keeping data secure in transit is a high priority for this automated software. During migration, your data remains on your network and the tool asks only for login credentials to migrate directly to the target account.