Outlook Tips
How to Merge Outlook PST Files 2019, 2016, 2013, 2010, 2007, 2003 Manually?
Personal Storage Table or PST File Format is basically used by MS Outlook to store lots of information such as emails, contacts, calendars, etc. However, Outlook application is one of the popular email clients used in any organization to exchange lots of information. Therefore, when a user moves from one Outlook version to another or it becomes difficult for a user to manage several PST file, there is need to combine them into one. Now, the question arises, how to merge Outlook PST files 2019, 2016, 2013, 2010, 2007, 2003. Hence, in this, all the possible ways to consolidate PST files into one are discussed.
Why Combine PST Data Files 2019, 2016, 2013, 2010, 2007, 2003?
There are various situations where there is a need to combine data files into single PST file. Here, the most common query asked by the users are discussed:
"I just moved from Outlook 2003 to Outlook 2007 and now I want to import my both old and new PST file into single PST file to have an easy to both old and new PST files. Can I combine all of them into one file without doing much efforts."
We will shortly present you with a tool that perfectly suits your requirements. It is an affordable tool specifically designed for this type of Outlook PST data merge challenge. However, we would also like to inform you about a free method for getting out your merge process done.
The free method is great when money is tight. The other is better if you estimate your time and accurate results. For a quick and easy process to consolidate PST files that doesn't affect quality, consider only one tool: PST Merge Software. 
You can download and install the software for free by clicking on the button below:
How to Merge Outlook PST Files – The Simple Way
Step 1. Add PST files in the software panel.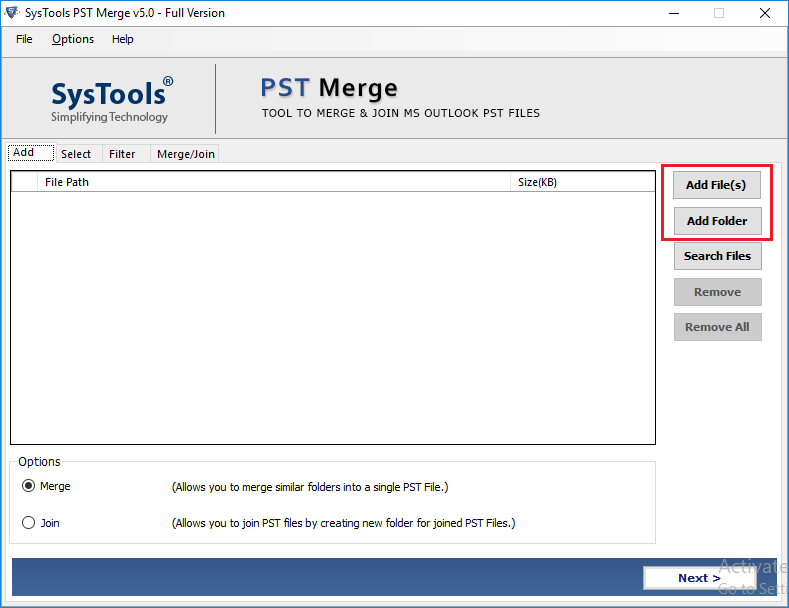 Step 2. Choose the Merge Options and click Next.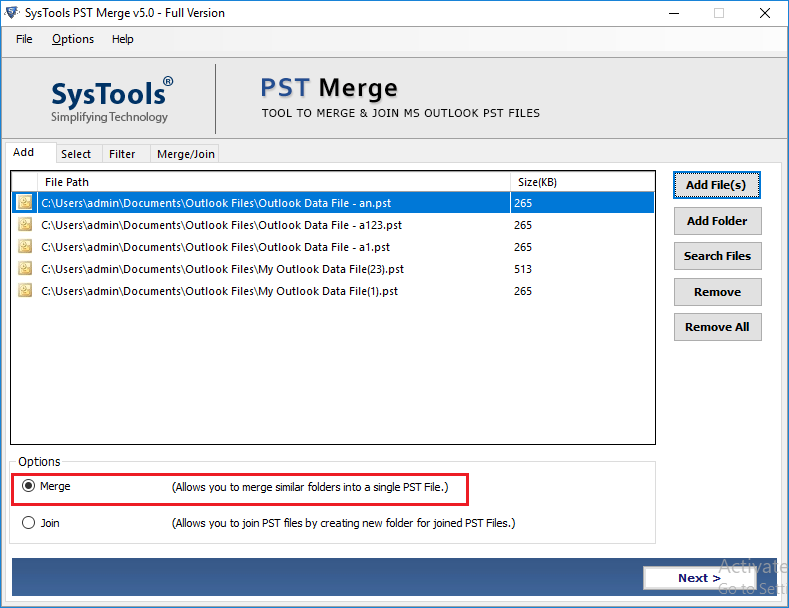 Step 3. Select the option merge all folders or selected folders.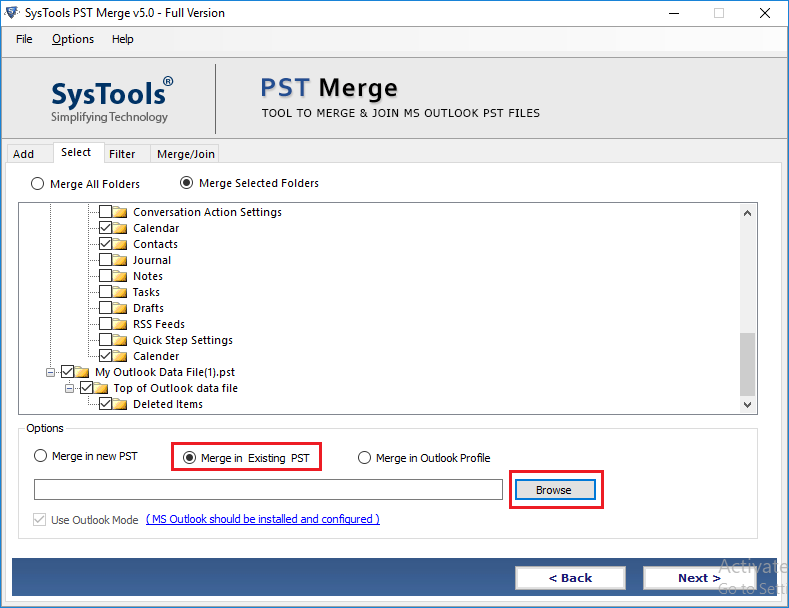 Step 4. Select the items you want like Mail, Contacts, Calendars, Tasks, Notes, Journals.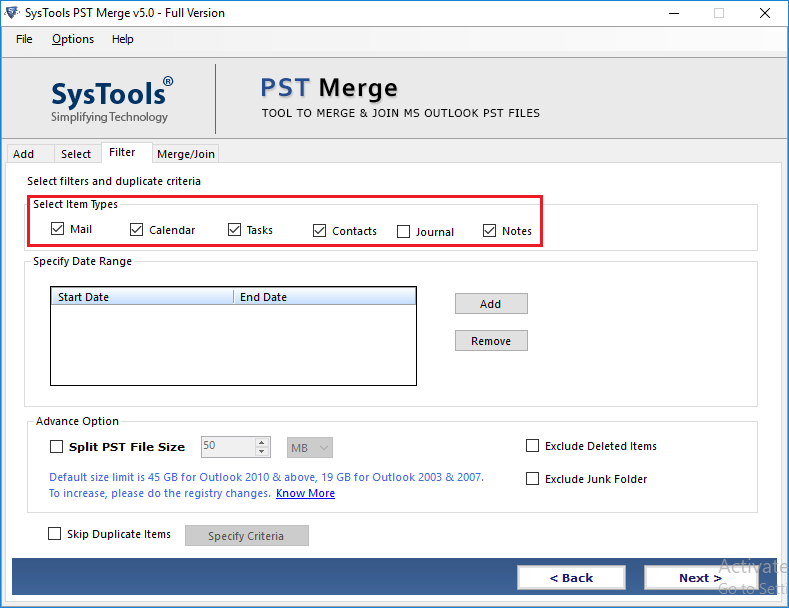 Step 5. Hit the Next button.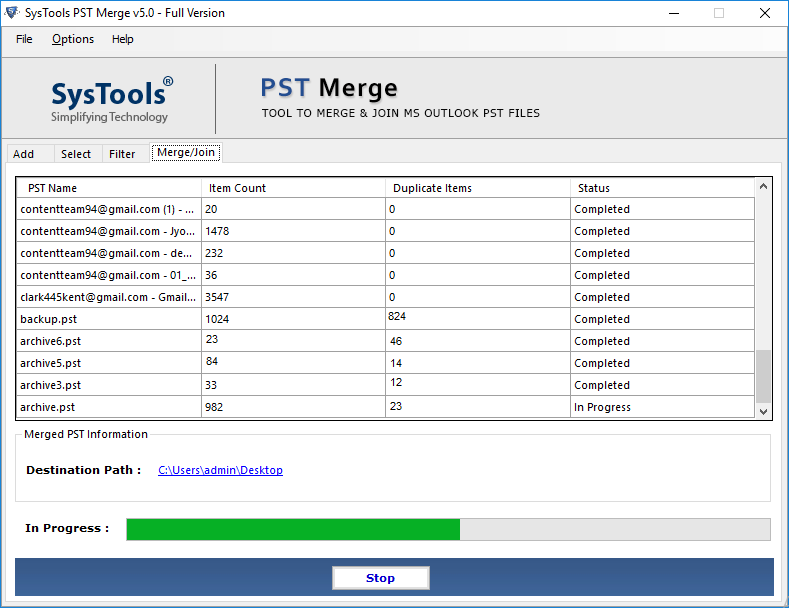 Some Additional Features of the Tool
How to Merge Outlook PST Files Manually?
As nowadays, most of the users are querying about how can consolidate PST files in Outlook 2019, 2016, 2013, 2010. We are going to discuss all possible manual ways to combine multiple PST files.
Note: While "free" initially appears to be a cost savings, consider the hours it takes to merge your data and poor quality results. You can actually save money with an inexpensive tool.
Using Drag & Drop Option
Open the PST files within Outlook 2007 and follow the steps mentioned below:
Go to File tab
After that, click on Open and then on Outlook Data File
Now, select the Outlook PST file that you want open and click on OK button
Repeat these steps for multiple PST files that you want to join
Now, change the navigation pane to Mail or Folder View to access the PST file that you just mounted in MS Outlook
Folder list button is found in bottom left of the Outlook user interface
In the navigation pane, all Outlook accounts are displayed in alphabetical order by name
Now, you can easily move the Outlook content between PST files either by dragging and dropping or by selecting the content and choose Move To option by right-clicking on it
After that, go to the destination and click on OK button. The content is removed from the Source PST and rewritten to the destination folder.
Using Import & Export Feature
To know how to merge Outlook PST files manually, one can also use the Import & Export feature by following the steps mentioned below:
Open MS Outlook application and create a new Outlook data file
Click on New Items >> More Items and then on Outlook Data File
Give a name of your choice to new Outlook data file and click on OK button
New Outlook data file (.pst) is displayed in the navigation pane
After that, click on File tab and then on Open >> Import option
In the Import and Export Wizard, select Import from another program or file from the list and click Next to continue
Select the file type to Outlook Data File (.pst) and click on Next to continue
After that, select the PST file that you want to export from Import Outlook Data File window
Now, Browse the file that you want to import and check Do not import duplicates option and press Next
Choose the folder to import and check the Include subfolders and Import items into the same folder in boxes
Finally, click on Finish to start the process and wait until process gets completed
Limitations of Manual Procedure
There are various limitations that a user may face through manual procedure and are mentioned below:
Both manual procedures depend entirely on the size and quantity of the PST files you want to combine.
Required technical knowledge in depth.
The manuals are not completely secure solutions for merging data files.
Conclusion
As most of the time users migrate from one Outlook version to another, there is a need to combine several data files into one to have an easy access to both PST files. Therefore, after completely understanding the need of users, we have discussed two different manual procedure of how to merge Outlook PST files. One can choose any of them according to the preference. As discussed above, the manuals are not full proof methods to accomplish this task. So, one should prefer automated solution to consolidate PST files in accurate way. It also has the capability to easily combine password protected PST files without entering the password.
Frequently Asked Questions
How to combine two folders in Outlook?
You can use the professional tool that enables you to merge two inbox, archive, sent items, contacts into a single inbox, archive, contacts, and sent items folder.
Can I combine ANSI files with UNICODE PST files?
Yes, you can easily combine both ANSI and UNICODE PST file into a single UNICODE file.