PST
How to Reduce PST File Size Without Outlook – Query Resolved
A large PST data file is not a common issue. There are so many users who are facing this issue while working on MS Outlook. After encountering large PST file issues, users start searching for an instant and effective solution for how to reduce PST file size without Outlook application. So, we consider this problem and come up with this flawless article. Today, we are going to disclose a perfect technique to split large PST file by sender's email id. So, keep reading!!
User's Real-Time Scenario
Yesterday, one of my friends send me a massive PST data file and wanted to cut that into multiple smaller pieces. As I am not an MS Outlook user. So, I am looking for an easy way to split PST files without Outlook. Is there any solution available if yes? Then, please provide me. I will be grateful to you. Thanks in advance.
Important Note**

There is no free method is available to decrease PST data file size without Outlook on Windows OS. Now, in this situation only a proficient third-party tool can work efficiently. However, in the upcoming segment, we are going to mention steps to split oversized PST file without Outlook installation.
Third-Party Application to Reduce PST File Size Without Outlook
After considering the above-mentioned user's scenario, we would like to provide you with an effective solution named "PST Splitter Tool". Using this amazing utility, one can easily reduce pst file size without Outlook. As we know, there is no direct free method available so, this application proves helpful in terms of breaking up PST files instantly.
However, it comes with multiple enhanced features which makes it perfect in comparison to others. It permits to decrease in the number of damaged and corrupted Outlook data files without any hassle. To do so, it provides 5 different options such as cutting PST by date, year, folder, size, and sender's email address. All in all, it is an efficient software to resolve large size of PST file issues within a few clicks.
Also Read: Outlook Archive Does Not Reduce Mailbox Size
How to Reduce Outlook PST File Size – Get Step-by-Step Procedure
Here, in this segment, we will discuss the steps to cut Outlook PST files after corruption. You just have to follow all the instructions to execute the procedure properly. Let's begin:
Step 1. Download and run the proficient third-party utility.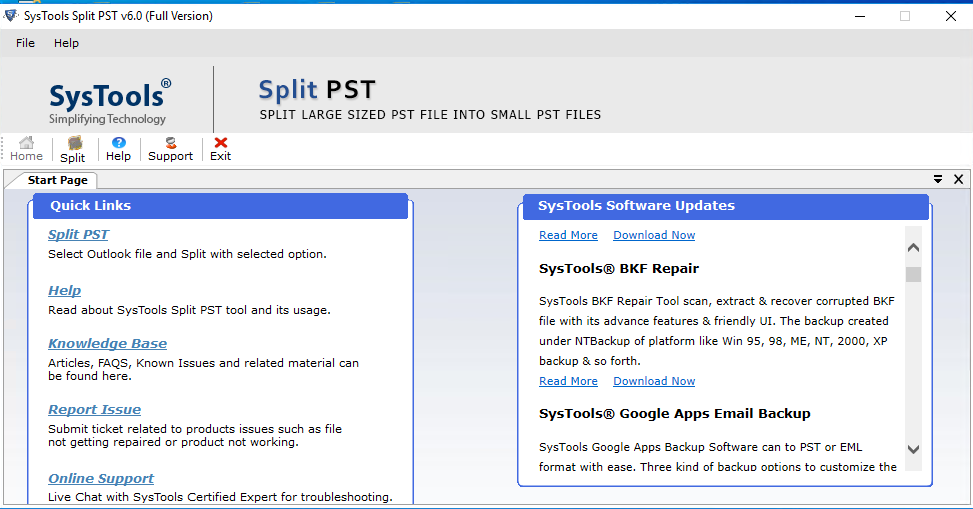 Step 2. Then, hit on the Split button to decrease PST size without MS Outlook.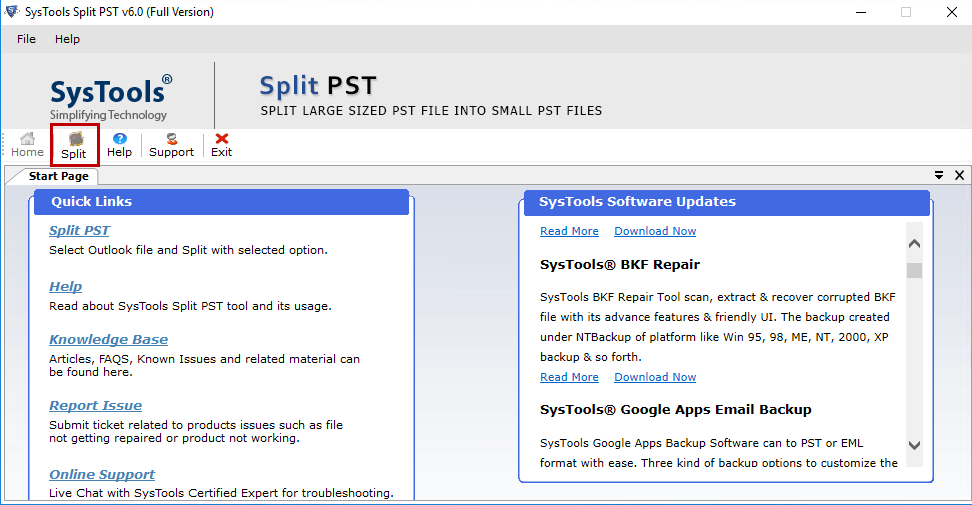 Step 3. Now, you have to choose the version of the PST file i.e. MS Outlook 2003/2007/2010/2013/2016/2019 or Microsoft Outlook 2000/2002. Also, choose the filter from the following:
Cut PST by Size
Cut by Date
Cut by Year
Cut by Folder
Cut by Email ID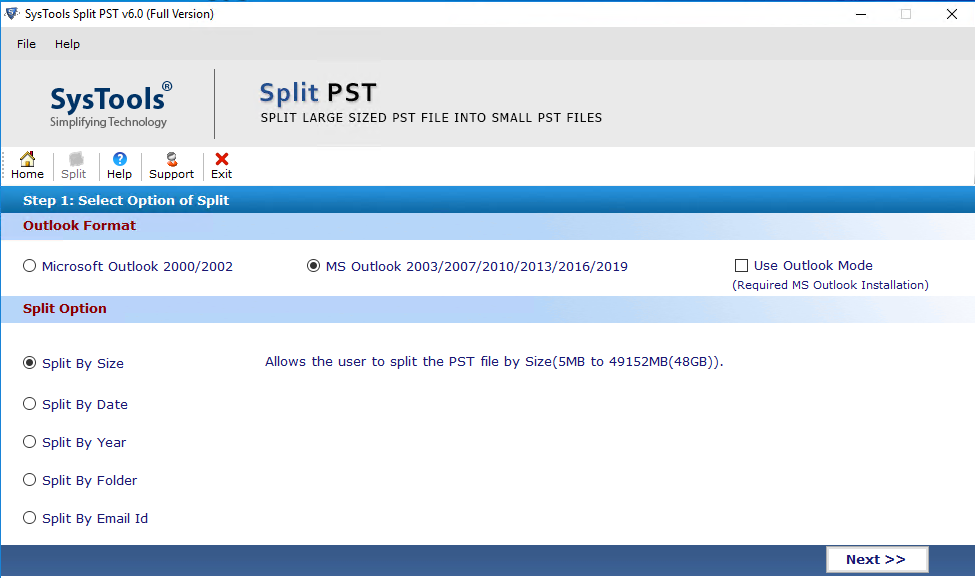 Step 4. Click on the Browse button to add the desired PST file.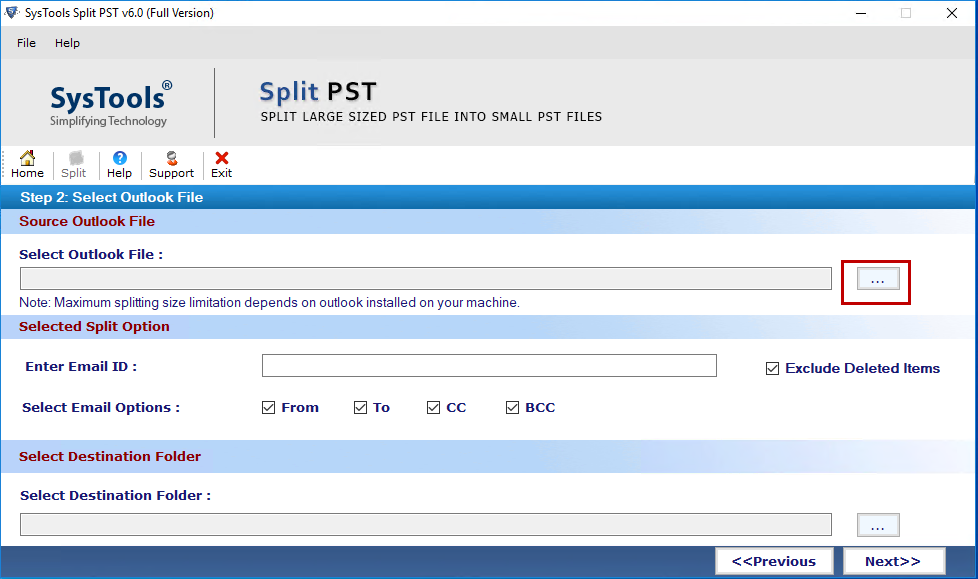 Step 5. Here, you have to choose the preferred PST file and hit on Open button.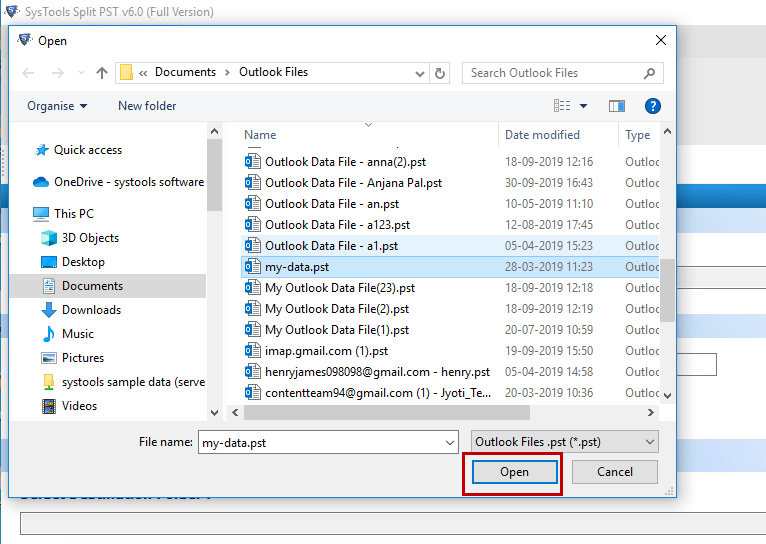 Step 6. After that, the path of the opted file will appear on your screen. You just have to add the sender's email id which you need to divide.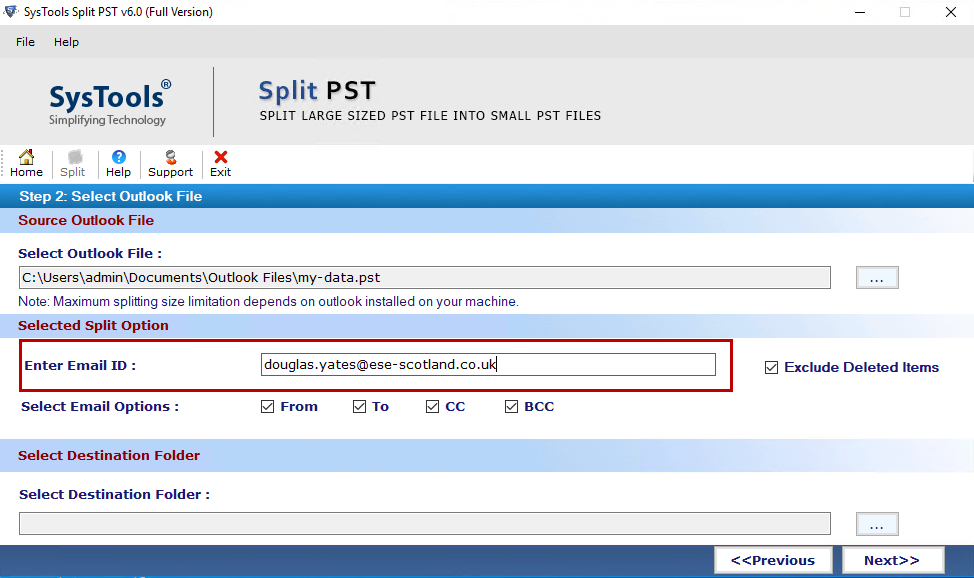 Step 7. After adding the email id, you can check or uncheck any option as per your requirement.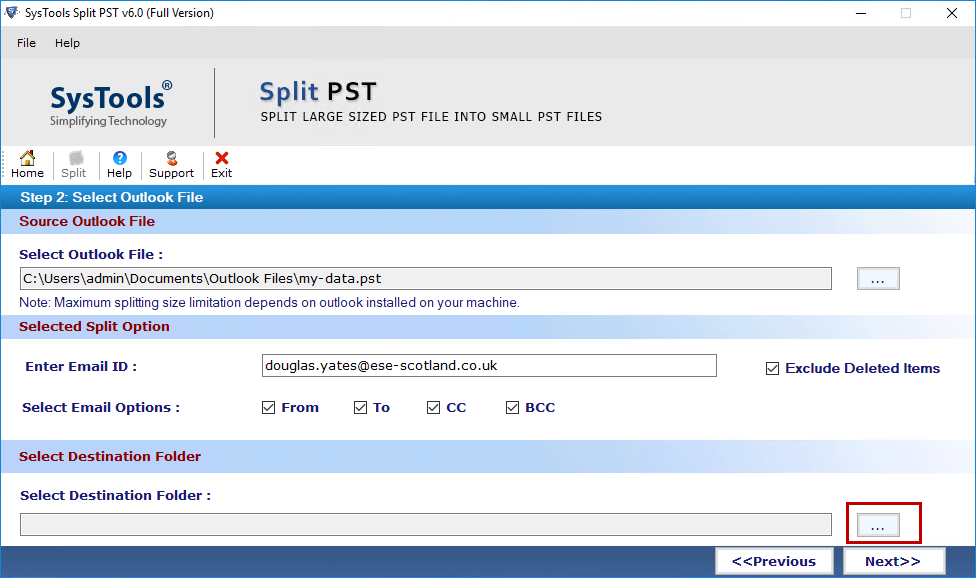 Step 8. Here, choose the destination folder by selecting the Browse button. After that, hit on the Next button to proceed further.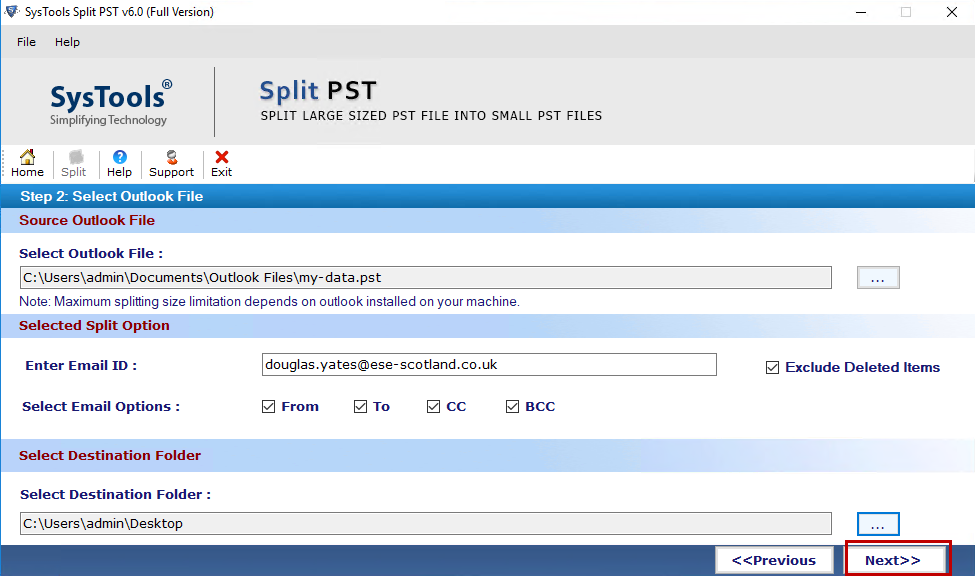 Step 9. Then, on the summary wizard, you have to hit on the Split button.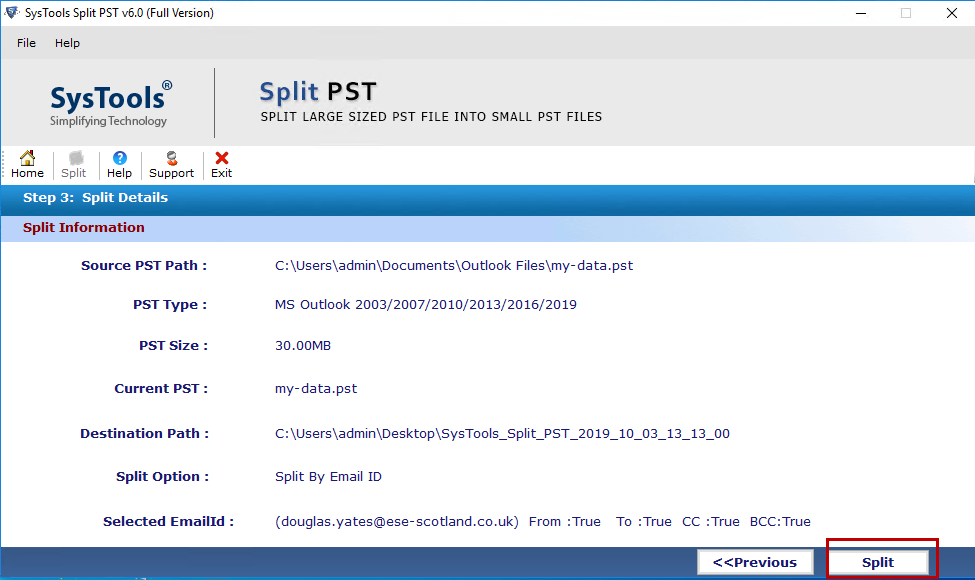 Step 10. The size reduction procedure of the Outlook data file will begin.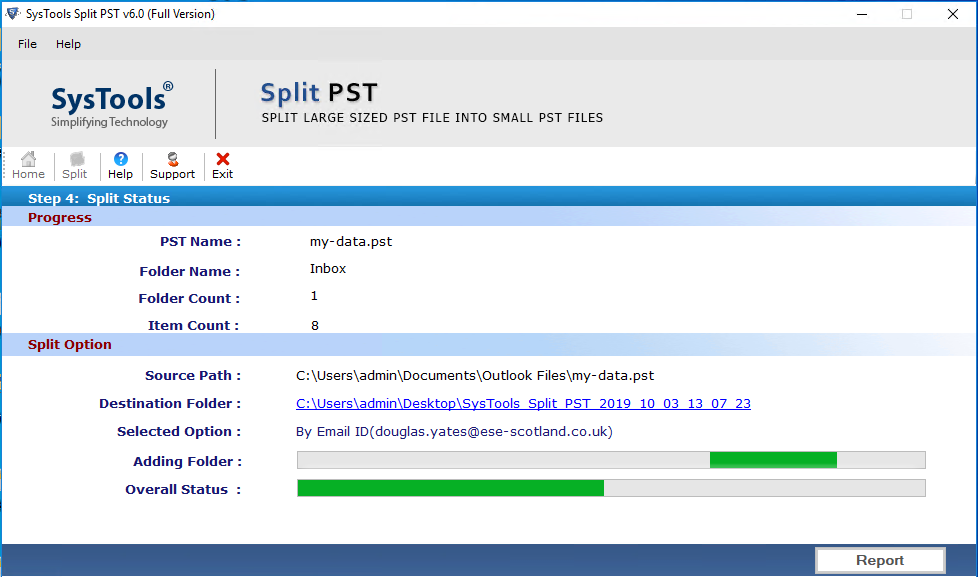 Step 11. Finally, a wizard appears on your screen after the successful completion of the procedure.

Final Verdict
How to Reduce PST File Size Without Outlook is a commonly asked query by many users. But, we just want to know every user that there is no manual solution available to cut PST files into multiple pieces without Outlook. So, the above-recommended solution is the finest way to resolve this issue without losing a bit of crucial data.