Outlook
Outlook Archive Does Not Reduce Mailbox Size [Fix Error]
Almost all Outlook users may be familiar with the 'Outlook archive does not reduce mailbox size' issue. This error will occur when the PST file exceeds the recommended size and users must reduce the size of the PST file using the archive option.
This blog will describe the six simple techniques to resolve this error outlook archive reducing mailbox size. Before accessing the solution to compress Outlook data, users should check the maximum size of the Outlook PST file.
Table of Content
What is Outlook Mailbox Size Limit?
The size limitations of the PST file vary depending on the different versions of Outlook. Below is the PST file size limit mentioned:
In Outlook 2002 and earlier, you can only save data up to 2 GB.
The maximum size for Outlook 2003 and 2007 is 20 GB.
In Outlook 2010, 2013, 2016, and 2019, the file size is limited to 50 GB.
How to Check Outlook Mailbox Size Limit?
After you know the size limit for Outlook PST files, let us know about the steps for checking the size limit of Outlook data files. Just follow these steps:
In the Mail view, click your account.
Click Folder >> Folder Properties.
Click the Folder Size option.
Now, you will see the size of the mailbox.
Why MS Outlook OST File Gets Oversized Know the Causes
Microsoft OST file keeps the data that the has created or received since the MS Outlook account is activated. This file includes emails, attachments, contacts, tasks, and notes. When the Outlook users forgot to delete the unused data. Then, OST file size increases its limit and will cause several issues to Outlook users. Also working with the large OST file is a difficult task. It might affect or slow down the overall performance of the PC.
We will the Problem Faced by Many Users because of Oversized OST Files
You will get the error message during the synchronization procedure of the OST file.
Issues in reading or loading .ost file document.
Synchronization process failure between the OST file and MS exchange server.
Pause in MS Outlook email client.
Ways to Fix Outlook Archive Does Not Reduce Mailbox Size Error
When Outlook is archived but the mailbox is still full, then it becomes necessary to reduce the size of the PST file to maintain the performance and speed of Outlook. If the Outlook mailbox still full after archiving and the PST file exceeds its size limitations, users face many problems such as the cessation of receiving and sending emails, the PST file too large to open, the data file personal folders was not closed properly, and more.
To solve all these problems, Microsoft provides an inbuilt feature in Outlook that helps users manage and reduce the size of their Outlook mailboxes.
#Trick 1. Delete Large Outlook Emails and Attachments
If your Outlook archive not clearing the space of the mailbox, then try to reduce the size of the PST file using this technique. You can delete large Outlook data files after the archive mailbox is full. Follow the steps below to do this: –
Step-1. In the folder list, click Search Folders.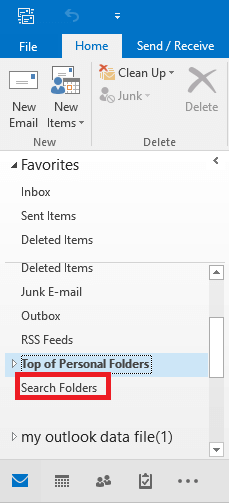 Step-2. Under Organizing Mail, select the Large Mail option. Then, click on Choose under Customize Search Folder.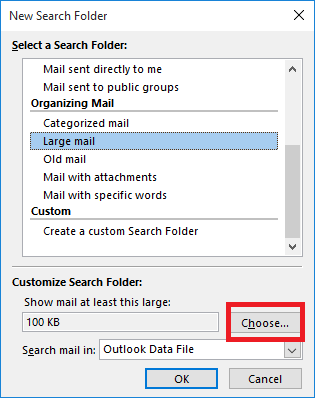 Step-3. Now, specify the size in the "Show mail greater than" box (like 5000 or 6000 KB) and click OK.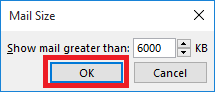 Step-4. Now, a folder named "Larger than 6000 KB" is created under Search Folders.
When your Outlook mailbox is full after archiving and you encounter a large PST file problem, then go to the search folders. Then click on the folder you just created and delete your emails, which is unimportant. By doing so, reduce Outlook mailbox size and continue to do this until the mailbox has enough space for new emails.
#Trick 2. Use Outlook Mailbox Cleanup Tool
You can reduce PST file size with Mailbox Cleanup options to fix Outlook archive not reducing mailbox size issue using these steps:
Step-1. Go to File menu >> Info >> Cleanup Tools >> Mailbox Cleanup.
Step-2. Using this tool, you can View Mailbox Size and also find items older/larger than a specified limit.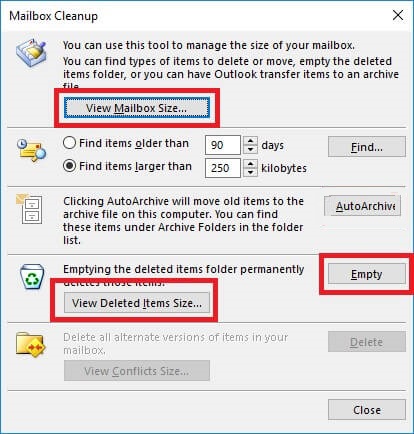 Step-3. The mailbox Cleanup tool also offers an Empty option. Here, you can delete all items present in the Deleted Items folder permanently. You can view deleted item sizes before deleting them.
#Trick 3. Compress Outlook PST File
If the Outlook archive doesn't free up space, then you can compress the Outlook data file which helps to restore some space in the mailbox. Follow the instructions below to fix Outlook mailbox full after archiving:
Step-1. Click File tab >> Account Settings >> Account Settings.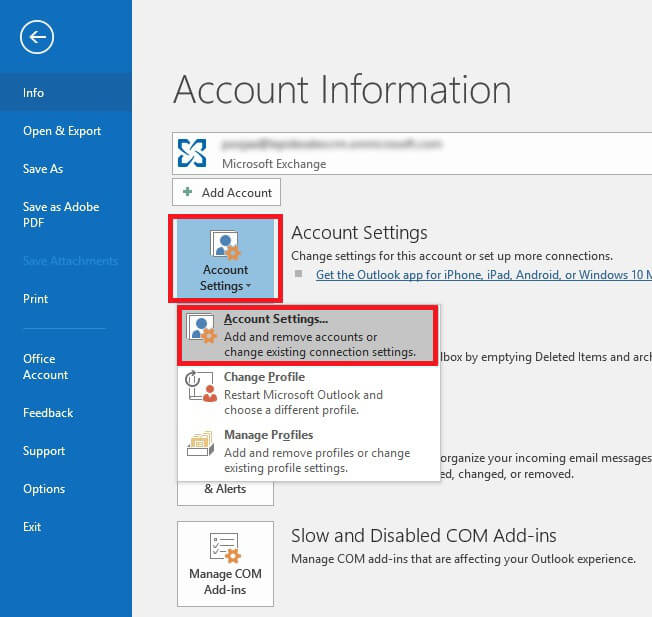 Step-2. Click on the Data Files tab, select the PST file then click Settings.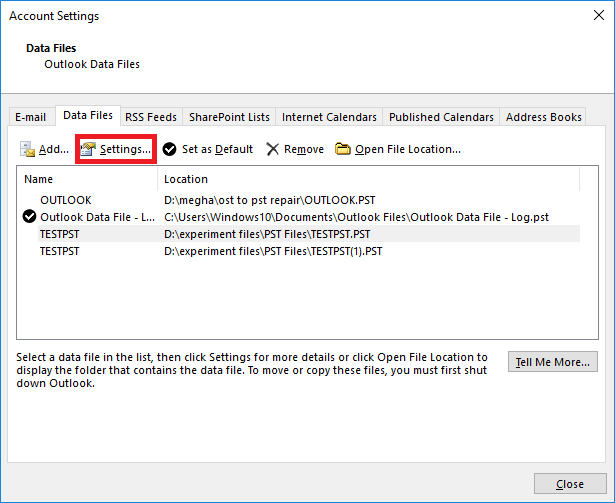 Step-3. Then, the Outlook Data File window will open. Here, click on the Compact Now option.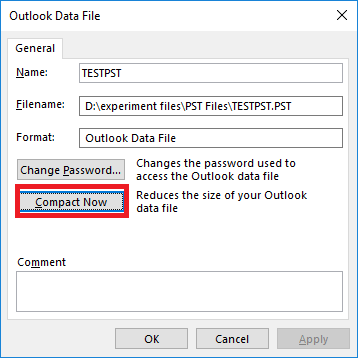 Step-4. Now, click OK and that's it.
Compress PST File When MS Outlook Data File in Full
MS Outlook has a built-in feature to compact Outlook data files. It can assist users in freeing up storage by deleting unused space from the file. Compacting a PST file can also assist in resolving the Outlook Mailbox size not reducing after archiving" error. For compacting all the PST files, follow the below steps:-
In Outlook hit on the file option. Then, choose Account Settings.
Hit on data files and choose all those PST files that are associated with the email profile from the list.
After that, double hit settings>> Go to advanced.
Now, tap on the Outlook data file settings option.
Finally, hit on the compact Now button.
Archive MS Outlook Data
Before executing this process, users must ensure that MS Outlook is not attached to the exchange server. Archiving mailbox data is another workaround to resolve Outlook does archiving reduce mailbox size?
Archive Data in Microsoft Outlook 2021, 2019, 2016, and 2013
Run MS Outlook
Hit on File >> Info. In Outlook 2013 hit on cleanup Tools section>> Archive.
In MS Outlook 2019/2016 hit File>> Info after that Tools.
Now, select the clean-up old items>> Archive this folder option.
In the archive items older than that section, choose a date.
Choose all the folders that users want to archive by hitting on browse.
Check the box that has Do not AutoArchive checked Archive individual items excluded from automatic archiving, and then hit OK.
Archive Mailbox Data in Microsoft Outlook 2010
Run MS Outlook.
Hit on the file option & select Cleanup Tools >> Archive.
Choose Archive this folder and all subfolders, then select all those folders that users require to archive.
Then, open Archive data in the older section particularly a date.
Navigate the saving destination for the resultant file.
Check Include items with the "Do not AutoArchive" button.
Finally, hit on the OK button.
Automatic Solution to 'Fix Outlook Archive Does Not Reduce Mailbox Size' Issue
If your Outlook mailbox size not reducing after the archive then, you can simply go to the automatic solution, One such tool is Outlook PST Splitter Tool. This software lets you reduce PST file size by splitting large PST files. It provides 6 options to reduce the size of an Outlook mailbox by Size, Date, Folder, Year, Email ID, and Category.
With this application, users can decrypt corrupted PST files with or without installing Microsoft Outlook. Moreover, you can share locked Outlook data files. Provide the exact password associated with the PST file, and the program will divide the password-protected PST file. With this tool, you can split large PST files into smaller parts without any file size restriction. It supports the PST of all versions of MS Outlook such as Outlook 2021, 2016, 2013, 2010, 2007, etc. 
Few Easy Steps to Reduce Outlook Mailbox Size Without Outlook
Step-1. Download and Install the software.
Step-2. Add PST file/folder(s) and provide Destination Path, then click Next to proceed.
Step-3. Now, choose the desired Split Option and provide the required information.
Step-4. Check the summary of Split Information and click Next.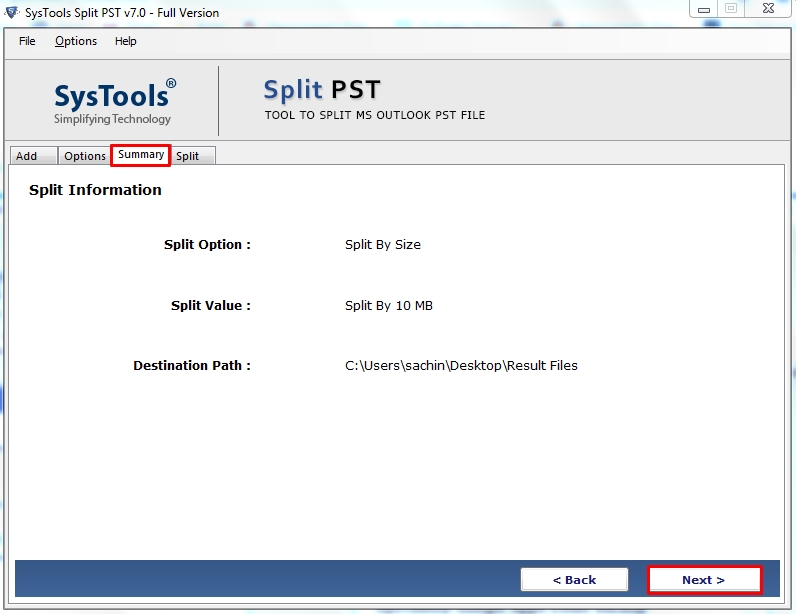 Step-5. The process to split the Outlook PST file is completed.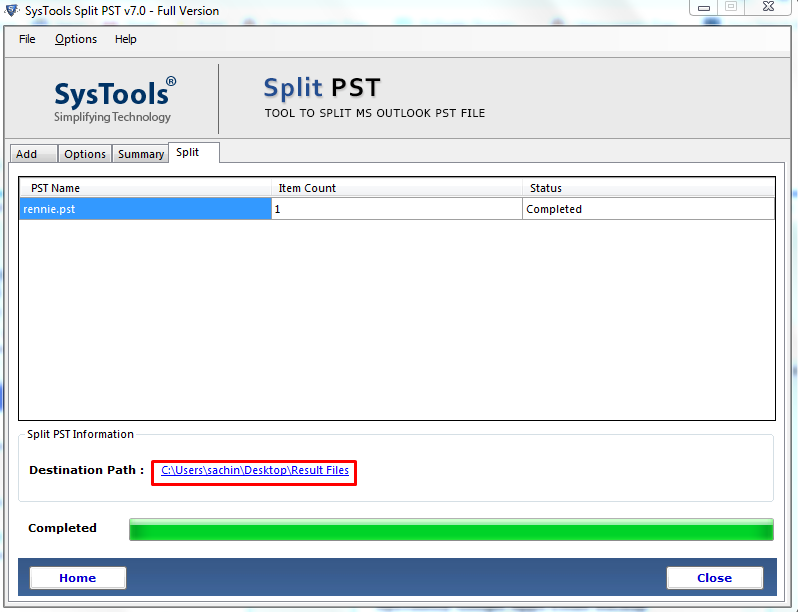 After completing the task, just go to the selected location and verify the final multiple PST files saved at the provided destination location.
Final Words
Large PST files create many problems such as 'Outlook archive not reducing mailbox size'. Thus, it is necessary to reduce the size of the Outlook mailbox to eliminate any errors. The Outlook archive does not reduce mailbox size errors is a common mistake due to the excessive size of the PST files. In this blog, we have described three manual tricks to reduce the size of Outlook mailboxes. If the manual process to compress Outlook data does not meet your needs, we also mentioned the third-party tool, which makes this task very easy for all types of users, without any problem of data loss.
Frequently Asked Questions
Q: Does your software split severely damaged PST files?
Ans: Yes, this utility supports corrupted PST files and lets you share them easily.
Q: Is there a size limit for this Tool?
Ans: No, there is no file size limit. You can easily split PST files of any size.
Q: How to reduce the maximum size of PST files in older versions of Outlook?
Ans: The application supports both ANSI and UNICODE PST file types and can split large PST files without errors. However, the software automatically detects MS Outlook and PST file versions.
Q: How to reduce PST file size without Outlook?
Ans: The best option to reduce Outlook PST file size without Outlook is to use a professional tool. This tool helps you split a large PST file into several smaller ones.