Outlook
How to Export iCloud Email to Outlook Windows or Mac?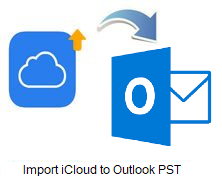 Are you looking for a way to export iCloud email to Outlook platform? Are you trying to access the emails in Outlook for Mac or wish to migrate from iCloud to Outlook Windows? No matter what your OS is, read this article and find the easiest way to export iCloud emails on both Mac and Windows platform.
Apple Inc. provides iCloud as a cloud computing service to its users. In addition, it also acts as a cloud storage media. Among its services, it includes an email account service as well. This email account can be accessed via an IMAP-based email client like Apple Mail, and web browsers at icloud.com.
A number of situations arise when users need to export iCloud email to Outlook PST. Although the reasons may differ, the end requirement remains the same.
iCloud provides limited free storage space. And considering the fact that this 5 GB free space is shared between the documents, images, videos, and other files don't leave much for email messages. So, archiving all these emails as PST file to access them later in Outlook is a realistic scenario.
Other factors include situations where iCloud users have to provide email messages in the form of Outlook data files to their clients.
In this article, we will be providing a way to add iCloud to Outlook and access all its emails, contacts, calendars in MS Outlook for Mac & Win without fail.
Covered iCloud to Outlook Migration Segments As per OS
User Query: "Hi, I manage all my email messages inside my iCloud email account. My work requires me to archive some of my iCloud messages and transfer them to my clients. So far, I used Apple Mail for this purpose. However, now an important client of mine requires me to provide him with PST files. Being a Mac user I do not have to way to comply with his request. Any ideas as to how I can export iCloud email to Outlook PST on Mac itself. The email messages I have to process is around 1000+ mark."
Export iCloud Email to Outlook PST on Mac
There are two important aspects of this process. One is first accessing the iCloud emails in free Mail.app in order to get a mailbox containing all its emails. And the second one is to use convert this mailbox into PST format.
Some people may argue that iCloud account can be set up directly on MS Outlook. Yes, it is possible. However, Outlook for Mac does not support to export in PST format (but rather works with OLM). Also, in a number of situations, the need for accessing iCloud emails is not the user system itself, as depicted by the above query.
I. Access & Archive iCloud Emails in Mac Mail
For users looking to set up iCloud in Apple Mail, follow the given steps:
Select the System Preferences option from Apple Menu/Dock
Here, select iCloud, next check Mail, contacts, calendars, and other options and Save them.
An iCloud mailbox will appear on the Mac Mail interface along with other email folders.
Now export the iCloud emails from here into a single mailbox file:
 Select the iCloud mailbox folder from the Mail app interface
 Navigate to the Mailbox menu and select the Export Mailbox button
 Save the file in any location of your choice.
If you need to move only selective emails, simply copy them into a newly created mailbox and export this mailbox using the given steps.
II. Convert Emails of iCloud to Outlook PST
Now, we will be converting this iCloud mailbox into PST format on the Mac OS with the most trusted conversion utility. Mac MBOX Converter ensures that the emails get converted into PST format without even requiring MS Outlook installation. Furthermore, all the email properties along with attachments remain completely intact after conversion. You can even use date filters during the export process.

Simply download the free version of this remarkable utility and take it for a test run before even considering it for purchase. Other than PST, this tool also provides 5 other file formats: EML, EMLX, MSG, PDF & HTML. Once you have the output PST, you can import it in Outlook or share it with your clients without any worries.
How to Export iCloud Email to Outlook Windows
There is a fairly easy way to access the emails of iCloud in Windows Outlook. It involves the iCloud for Windows application to sync all your data directly to an installed MS Outlook app. For this, follow the given steps:
1. Launch iCloud for Windows application on your PC
2. Log in with your iCloud email account credentials
3. Checkmark the Mail option and hit the Apply button.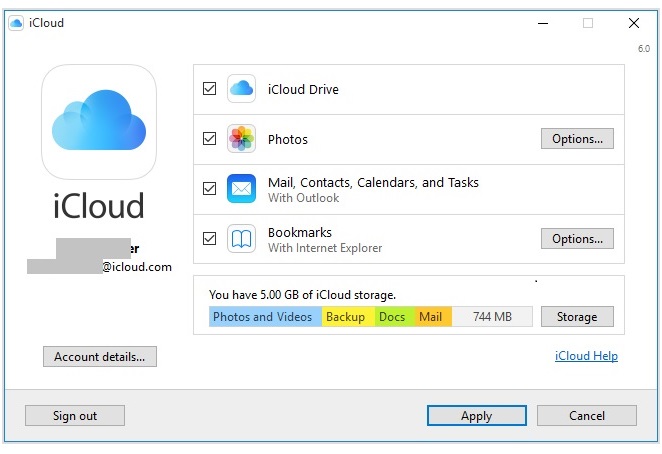 Once done, open your Outlook application to verify the appearance of iCloud mailbox containing all your required iCloud emails.
Ending Note
Finding a solution to export iCloud Email to Outlook can be a challenging task. Especially if you require to generate PST files containing all iCloud emails. We tried some approaches and came up with efficient methods to migrate from iCloud to Outlook on both Mac & Windows.