Outlook
Remove Forgotten Password from PST File Outlook 2019, 2016, 2013, 2010, 2007, 2003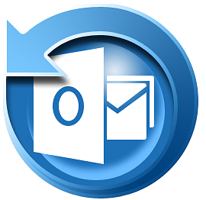 If you are using MS Outlook, you must be aware of PST file that stores email with attachments, and many other items on a local system. Due to this reason, most of the people tend to set the password for Outlook PST files.
However, a password may be locked out of .pst file in Outlook as it protects the file. That's why sometimes you may want to remove password when you do not need it anymore.
How you can set or change password, then how you can remove it. Now the question arises, what you will do if you forgot a password unable to open Outlook PST file. Thus, in this blog, we are going to discuss a complete procedure to remove forgotten password from PST file Outlook 2019, 2016, 2013, 2010, 2007, 2003.

Best Approaches to Remove Password from Outlook PST File
To reset the password in Outlook PST, you want the old password. However, you forgot about it. Thus, firstly you have to look at several ways to remove forgotten password from Outlook .pst file. Just go through them:
Technique to Remove Password from PST File Outlook
In this approach, you can unlock Outlook PST file by using some simple manual tricks. But, you should know the password by which you can remove or set the password from your data file.
Run MS Outlook application and choose Account settings under the Tools option in the menu bar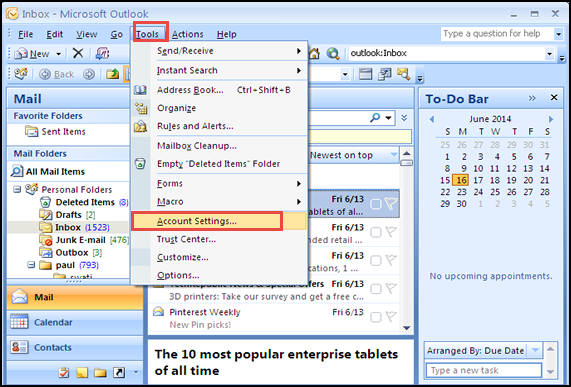 If you are using Microsoft Outlook 2010, you can navigate to Account settings under the File menu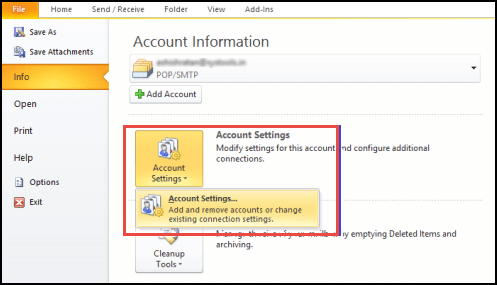 Under the Data files option, go to Account settings and select PST file from which you want to remove password and then, click Settings option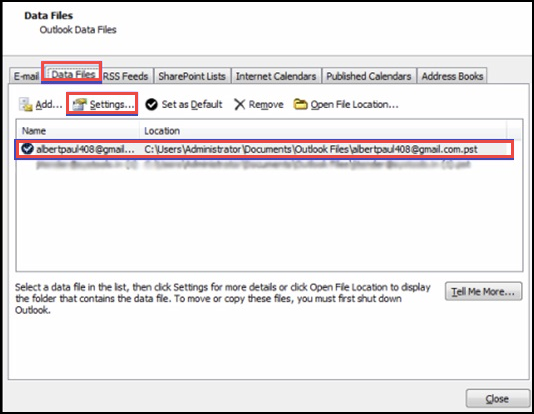 A new window screen will be opened, click change password option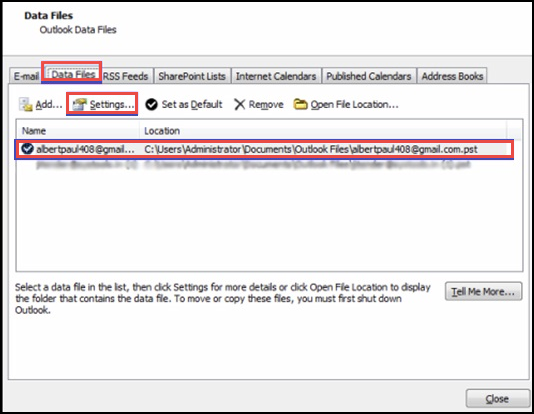 In the next window screen, apply old and new password so that you can remove the password from Outlook PST file. Press OK button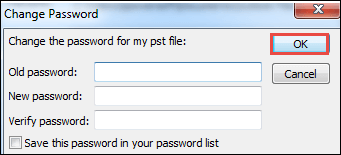 Delete PST Password Using pst19upg.exe Tool
You can use free utility "pst19upg.exe" along with Scanpst.exe to remove forgotten password from PST file Outlook. Follow the below steps for doing this:
Close MS Outlook and create a backup copy of PST file before you continue
Launch Inbox Repair Tool on Outlook PST file which you have copied and choose repair button
Next, click Windows + R cmd to open the command prompt and input path of pst19up along with name of PST file. Now, click Enter button
After that, you can create a copy of PST file with a name as filename.psx.
Rename the original file in Outlook PST to avoid the confusion.
Under the command prompt, again you need to enter pst19upg – path of the PST file (filename.psx).
You will get a new PST file without any password.
Finally, you can open this unlocked PST in Microsoft Outlook.
Automated Way to Remove Forgotten Password from PST File Outlook
In case, if the manual method does not work well then, you can use a reliable third-party tool. One such application is PST Password Remover tool. With this utility, you can recover emails from password protected PST without installing MS Outlook application. It is capable enough to retrieve the password of multiple Outlook PST files. This tool is designed to recover PST password of any length and access emails locked within a password protected .pst file. Moreover, it supports to recover all types of password, i.e., whether lost/forgotten or multilingual. It has a graphical user interface that even a novice user can use it without having strong technical skills.
Time to Conclude
Losing or forgetting a password of Outlook PST is very common these days. At times, people try to access files so old that it is normal to not remember the password anymore. If you still facing the same problem and have tried to reset password and failed, so in this blog you will find all possible ways. Along with this, we have suggested a smart and reliable solution that will help to remove forgotten password from PST file Outlook 2019, 2016, 2013, 2010, 2007, 2003.