How to Unlock Outlook PST File & Remove Password in Batch
Remove Multiple Password and Unlock Outlook PST File
MS Outlook provides the function to lock PST file with the secure password which assigned by the end users. Is there many chances to forget assign password or try to import password protected PST file in Outlook, makes it inaccessible to end users. In this blog we are enclose how to unlock Outlook PST file?

Default Outlook Technique to Remove PST File Password
In this post, we have described the manual method to remove password restrictions from an Outlook PST file.
Follow the below mention manual methods to unlock Outook PST File:
Step 1: For Outlook 2010, 2013, 2016 apply these stages:
Click on File Tab >> Account Settings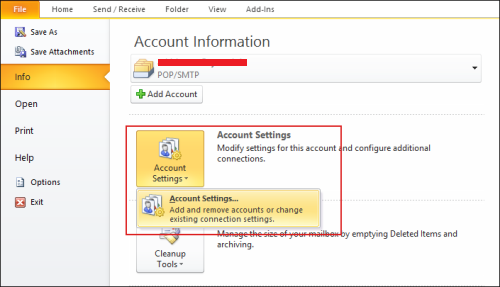 Step 2: "Account Settings" will open in a new window. Now, Click on Data Files Tab >> Select the path which show .pst extension >> Click on 'Settings'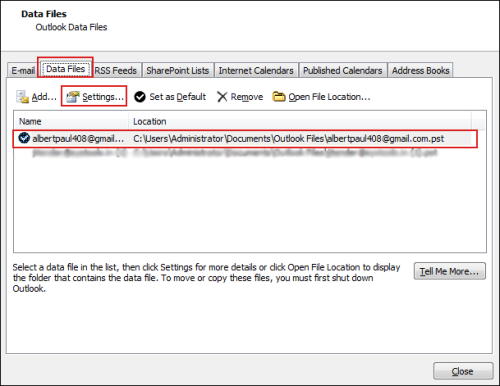 Step 3: A new windows will pop-up named as 'Settings', where you can change the password. To change the password click on 'Change Password'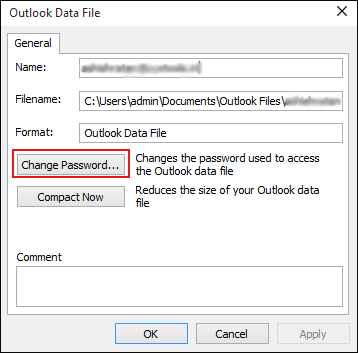 Step 4: Set your desired password and click on "OK" button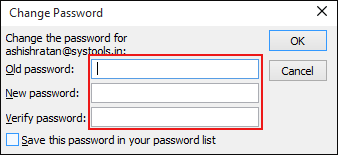 Above given steps will Protect your Outlook PST files and increase the privacy of your PST file,
When Outlook PST File Password is Incorrect
Assign a secure password to an Outlook PST file makes it more secure and private, however, in some situations, where a user may forget the assigned password which he/she build to keep secure the Outlook Data Files. Slip assign password from the mind of PST file prompts dreadful errors and does not permit the client to get in the Outlook. In such situations, when you entered your PST file password to access the MS Outlook, it shows you a message that "the password you have written is wrong. Retype the Password." In this case, you have to proceed for any third party tool, which is suitable to secure Outlook PST File. Subsequent to entering incorrectly secret key, a pop-up box will seem this way:

Use "pst19upg.exe" Tool to Unlock Outlook PST File
Don't worry about the protected PST File because you can easily recover the password and unlock the encrypted Outlook PST File.
Unlock Outlook PST File Password For Free (pst19upg.exe): As we all know that everyone wants to recover the Outlook password without paying for third-party tools. Microsoft provides a free utility named as pst19upg.exe to remove the password from locked and password protected Outlook PST File.
How it Works?
1. Close MS Outlook
2. Go the Location of "scanpst.exe" on your PC
In MS Outlook 2002 and XP:
C:\Program Files\Common Files\System\MAPI\\scanpst.exe
In MS Outlook 2000:
C:\Program Files\Common Files\System\MAPI\\NT\scanpst.exe
In MS Outlook 97 or 98:
C:\Program Files\Common Files\Windows Messaging\scanpst.exe
3. Run scanpst.exe and click on Repair. Keep reinforcement your Outlook PST File, before applying repair process
4. Click on "Start" button >> "Run" OR Press "Window Key" + "R"
5. Type there CMD and press Enter
6. Paste the path of your PST in command prompt
7. This will make a duplicate of PST called "youfilename.psx"(Name will not change PST File)
8. When you have finished this procedure, rename the first PST File as old PST File
9. In Command prompt, type "pst19upg.exe-newfilename.psx" and press enter
10. This will make a Password free Outlook PST File from the PST document
11. Run "Scanpst.exe" and repair the recently made document
12. Open MS Outlook and check Outlook Data File
Drawbacks of "pst19upg.exe"
This program is only compatible with MS Outlook 2003 and its earlier versions. It won't work at MS Outlook 2007, 2010, 2013 and 2016. It implies that this utility has the ability to remove the password from the outdated ANSI PST File, not from UNICODE group PST.
If your protected Outlook File is in UNICODE format, then in this kind of case, you have to proceed for any third party tool because there is no other free utility of Microsoft, which is compatible with UNICODE PST and can also remove the encryption. If the above procedure doesn't work so a user can choose PST Password Remover tool to unlock Outlook PST file.