File Conversion
,
Outlook
Backup Outlook Contacts to External Hard Drive – Know How To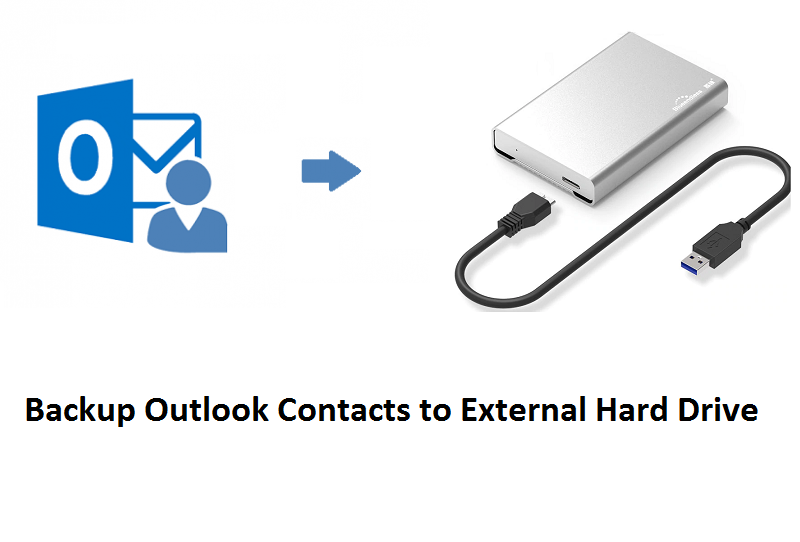 Summary: Here you will know about the ways to backup Outlook contacts to external hard drive. If you are looking for the same, then you must read this post. In this blog, we will provide two effective methods that you can use to backup contacts from Outlook to external hard drive.
Data is always important for all of us and we regularly take backup of our important data to prevent data loss issues. Likewise, most Outlook users want to backup contacts to external hard drive so that it is easy to access Outlook contacts to another computer.
Need to Backup Contacts from Outlook to External Hard Drive
If you accidentally delete your data
When ransomware attacks take place on your account
You cannot access your files while the server is down. In such situations, it is extremely important to have a backup so that it does not interfere with your work.
If someone hack your data, you don't want to lose it forever.
Users prefer to use external hard drives to store information outside of their computer. The main feature of an external drive is to protect important data that can be retrieved in case the source device gets damaged.
Manually Backup Outlook Contacts to External Hard Drive
Outlook provides option to export contacts to CSV file. Follow these steps to achieve this:
Open your Outlook application and click on File menu.
Select Open & Export and then choose Import/Export option.
Select Export to a File and Click Next.
Choose CSV file format and hit the Next button.
Select the Contacts Folder which you want to export.
Choose location to save contacts and map the custom fields.
The CSV file is created successfully that you can easily move to your external hard drive.
What to Do When You Have Outlook PST Files?
As PST file is only accessible with Outlook application and If you have PST file and do not have Outlook on the system. Then the only solution to backup Outlook contacts to external hard drive from PST is PST Export Tool. This software supports to export PST contacts to vCard file format without Outlook installation. It is powerful enough to transfer multiple PST files in a single attempt. The tool supports all Outlook versions including Outlook 2019, 2016, 2013, 2010 and others.
Using this tool, it become easy to transfer contacts from both ANSI and UNICODE type PST. In addition, the software, supports all editions of all Windows OS versions such as Windows 10, 8.1, 8, 7, etc. The tool supports transferring any large sized PST files without data loss and corruption issues.
You can follow the below listed steps to backup contacts from Outlook to external hard drive.
Steps to Backup Outlook Contacts to External Hard Drive via vCard are;
Step 1. Download PST converter tool and launch it on your system.
Step 2. Add PST files to export contacts in the software panel.
Step 3. Preview items and click on Export option from top.
Step 4. Select vCard as file saving format from the list.
Step 5. Choose desired path for saving resultant file.
Step 6. Click on Export button and the process will start immediately.
Done! Once the conversion process is complete, you can review your resultant VCF file from the selected location.
Why Choose PST File Conversion Tool?
Batch Conversion: It supports to save contacts from multiple PST files in a single attempt with accuracy.
No Outlook Required: The tool is a standalone utility and does not require installation of Outlook application to perform conversion.
Scan Option: The software offers the ability to scan and fix corruption issues from added Outlook PST contacts file.
Windows Supportive: It can be easily installed on all versions of Windows operating system including Windows 10.
Choose Destination: With the tool, you can freely choose the target storage location for saving the resulting files. If you do not choose the destination location, the VCF file will be automatically saved on the desktop.
Supports all Outlook Versions: The software supports saving PST files exported from MS Outlook 2019, 2016, 2013, 2010, 2007 and other editions without any compatibility issues.
The Final Words
This blog discussed the top ways to backup Outlook Contacts to External Hard Drive. Manually you backup contacts individually. To overcome this limitation, we also discussed about the PST conversion tool. It allows user to transfer Outlook PST contacts to VCF file format.