Outlook Tips
How to Split Large PST File in Outlook 2019, 2016, 2013, 2010?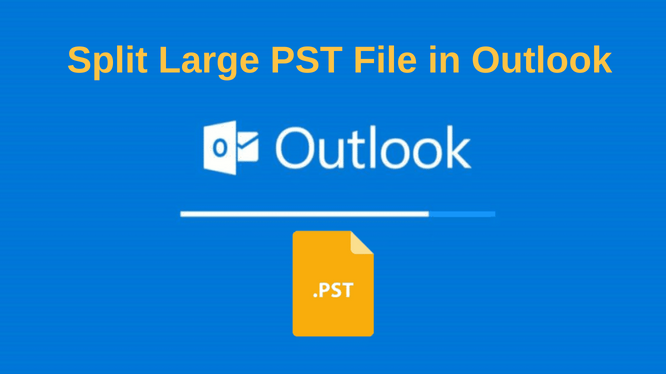 Splitting large PST file is the most common issue faced by MS Outlook users. On Google, it is the most often query asked by the users. As everybody knows, large size PST file creates a problem in MS Outlook. So, it becomes a necessity for Outlook users to split large PST file on time. Moreover, PST file supports two different formats i.e., ANSI and Unicode format according to versions of Outlook. According to the type of PST file type, there file size limits also vary. If a user does not break Outlook PST file before it exceeds its maximum limit, then it may corrupt your PST file also.
Therefore, in order to prevent MS Outlook from all such situations, one must crop large size PST file and access Outlook application in a more synchronized and manageable way. Here, in this situation, we have discussed all possible solution that one can use to split 5 GB Outlook PST file in version 2019, 2016, 2013, 2010, 2007, 2003, etc.
Benefits to Split Large Outlook PST File
After splitting large PST file, one can have various benefits which are mentioned below:
It becomes easier for a user to manage small size PST file in MS Outlook, as split large PST file improves searching process in Outlook.
One can overcome the hanging problem and slow performance issue that comes in MS Outlook due to large size PST file.
Splitting PST file reduces chances of corruption in Outlook data files. Hence, it becomes necessary to split large Outlook PST file in order to prevent corruption.
How to Split Large PST File Manually?
To prevent Outlook from any problem due to PST file too large, one must split large Outlook PST file. In order to splitting larger Outlook PST file manually, there are three different procedures available. One can choose any of them according to their requirement.
1. Split Large PST File Using Archive Feature
This manual will help users in splitting large size PST file by year that help users in managing PST file on a yearly basis. Now, to do the same, follow the steps mentioned below:
1. Open MS Outlook application and directly go to File tab
2. From the File tab, select the Archive option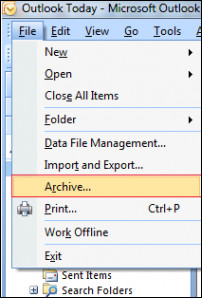 3. In the Archive window, you need to select Archive this folder and subfolders option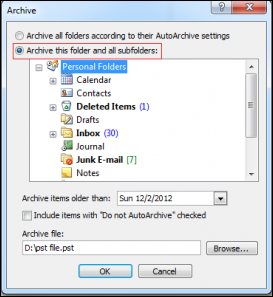 4. From the drop down list, you need to select the date for Archive items older than: option to archive PST files before that date only
5. Finally, click on Browse button to select the desired location to share archive.pst file then, click on OK button to complete the process.
With the help of this process one archive PST file by year but does not reduce PST file size in Outlook 2019, 2016, 2013 or below versions. Therefore, there is a need to decrease PST file size.
2. Compact PST File Size
If a user wants to reduce size of PST file then he needs to follow the steps to split large PST file mentioned below:
1. In MS Outlook application, go to File tab
2. Now, select the Account Settings option
3. Select Account Settings >> Data Files option

4. Select the data files to compact and click on Settings option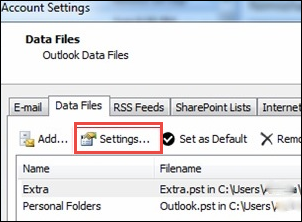 5. Click on Compact Now button and after completion click on OK button.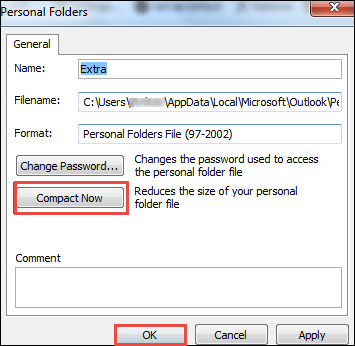 3. Import & Export Option
If a user wants resolve PST file too large issue, he can also go for Import and Export feature offered by Outlook to split large PST file.
In MS Outlook application, navigate to File tab
Go to Account option and select Account Settings option
Provide location and name of a new file in a Create or Open Outlook Data File.
After that, exit Account Settings window by clicking on Close button
Now, again go to File tab and click Open >> Import option
Select Export to a file option under Import and Export window and click on Next option to continue
Now, select the PST file and click on Next option again
From the Expand Folder window, select the folder that you want to export
Now, select the items to export and click Next button to continue
Click on Browse button to select the location to store new file
When exporting is complete click on Finish button.
4. Use Move to Folder Feature
One can go for move to folder feature also offered by MS Outlook. In order to prevent corruption in Outlook PST files you can crop PST file by following the steps mentioned below:
Open MS Outlook and click on File >> New >> Outlook Data File
Go for Office Outlook Personal Folder option from New Outlook Data File window
Provide name for new PST file in Create Microsoft Personal Folder option
After that, click on Edit tab and choose Move to Folder option
Now, from Move Items dialog Box, click on New option
Choose new PST file for Select where to place the folder option and click on OK button
After that, in Move Items option, select the new folder in new PST file and press OK button.
Limitations of Manual Procedure to Split Large PST File
There are various manual procedures discussed above that a user can use to split Microsoft Outlook PST file. However, there are some limitations also while using manual methods that a user may face. All three solutions are very lengthy and time-consuming. Moreover, any of them is not a proper solution to overcome PST file too large problem in Microsoft Outlook 2019, 2016, 2013, 2010, 2007, 2003, 2002, 2000. Therefore, to have an easy-to-use and reliable solution, one can go for a trusted third party tool i.e. Split PST File.
Steps to Split Large Outlook PST Files
Step 1: Download and install software in your machine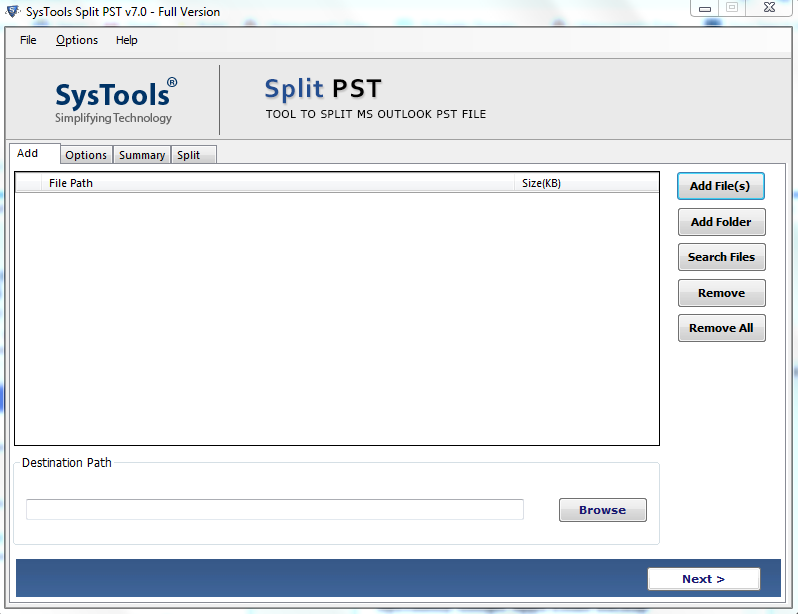 Step 2: Add PST File/Folder(s) and browse desired Destination Path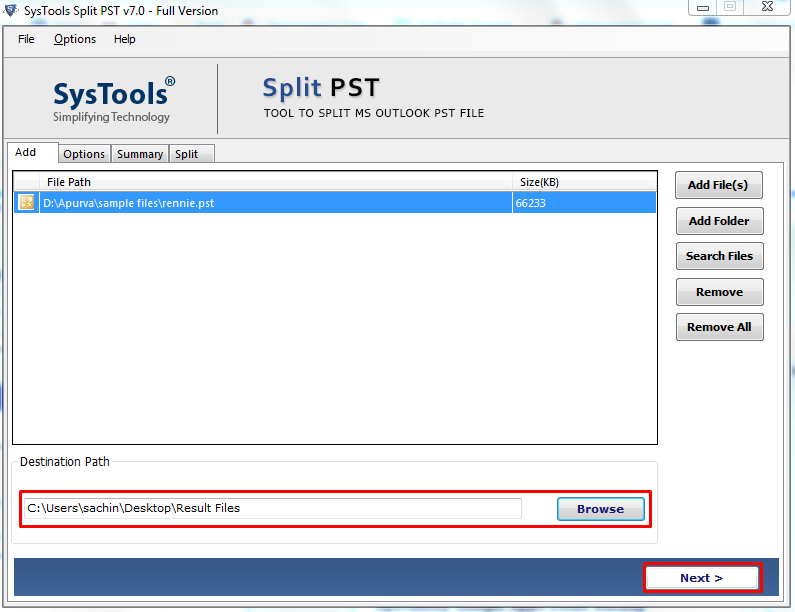 Step 3: Now, choose required Split Option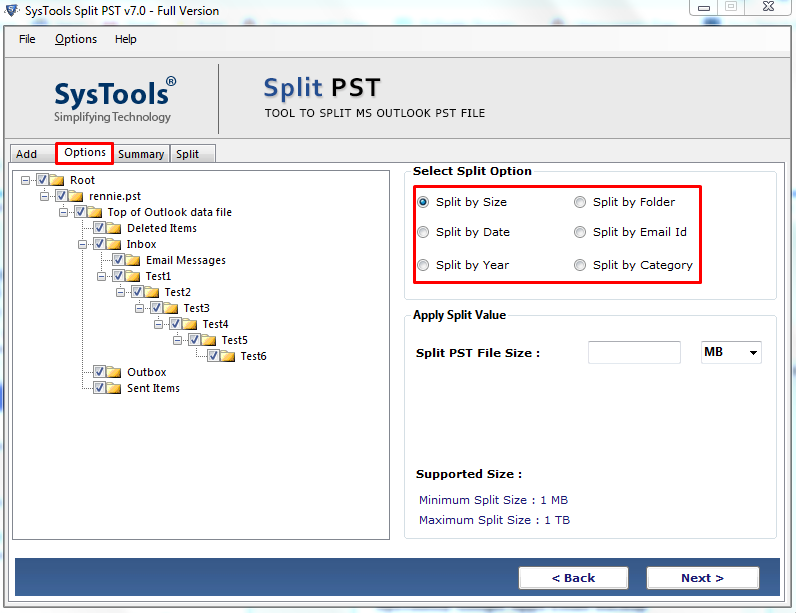 Step 4: Check summary of Split Information and click Next to proceed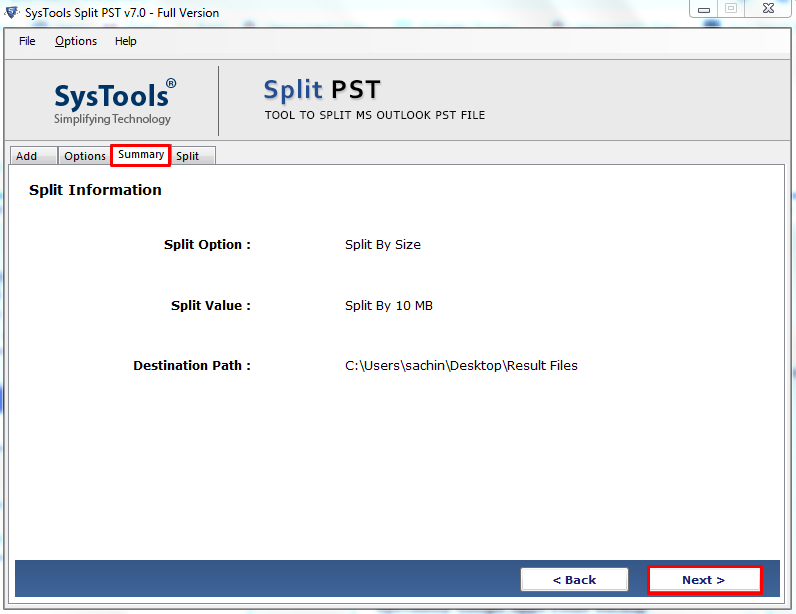 Step 5: Finally, process to split large PST file is completed.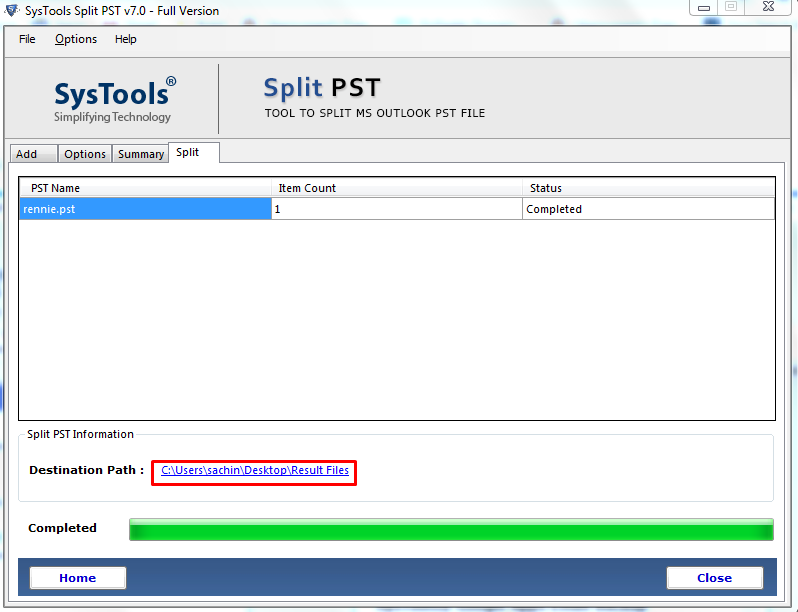 Conclusion
Microsoft Outlook stores all important data files such as tasks, notes, emails, and many more in PST file format. As it is large in size so, if it exceeds its maximum size limit it will become a big issue. To avoid such type of problem, one can split large PST file in Outlook 2019, 2016, 2013, and 2010 versions. After considering all the questions asked by the users regarding how to split 5 GB Outlook PST file, we have discussed the benefits and  different solutions to split large Outlook PST files manually. If a user faces any issues in manual solution, then they can go for an effortless solution as discussed above.