Outlook Error
How to Fix Outlook Archive.pst Has Reached The Maximum Size Error?
Admin
| Modified: 2019-07-25T12:23:27+05:30 | 5 Minutes Reading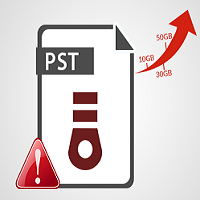 Everybody knows Microsoft Outlook is one of the most popular desktop-based email clients among the business and individual user. But sometimes Outlook takes too long to respond and the user becomes unable to perform any action on it. For example, open a file, copying, downloading any integrated attachments, etc. All these are clear indications that there is an issue with Outlook data file. In most of the cases, it is due to the oversized data file, which results in PST file corruption. This issue mainly depends on the version of Outlook a user is using. However, Outlook 2003 and below versions creates ANSI type of PST file with 2 GB storage limit. In the above versions, the storage space varies from 20 GB to 50 GB and named as UNICODE type of PST file. However, the archive is also a PST file, which represents the user profile. Thus, this oversized PST file is applicable on archive.pst file also. When this situation occurs, a user receives an error message like archive.pst has reached the maximum size. Therefore, this post will let users know how to fix the Outlook data file has reached the maximum size 2016, 2013, 2010, 2007 error and how to reduce the size of PST file in the best possible ways.
Different Methods to Resolve Archive.pst Has Reached The Maximum Size Issue
As explained above that archives are same as a normal profile representing PST file. Thus, it has the same storage limits as Outlook PST file. Most of the times, MS Outlook keeps on moving data from a user account to a defined archive PST either manually or by automatic archiving. All this will result in an oversized archive.pst file. Now, to overcome this issue, a user can use any of the workarounds discussed below in this segment.
Method #1: Delete All Unwanted Data Items
To fix the storage space issue, a user is advised to first get rid of the data items, which are no longer required. This is one of the best possible way to reduce the storage and fix the outlook data file has reached the maximum size 2016 error but by keeping the archive in an organized manner. Now, to do so, a user can open the archive PST file and choose the data items. After that, simply clear the Deleted Item folder and remove them permanently.
Method #2: Create a New Archive File
Another possible way to fix Outlook archive.pst has reached the maximum size error is to create a new archive Unicode type PST file. Now to the same, disconnect the existing archive file from the profile by following the steps listed below:
First of all, go to Data File Management settings. Click on the File tab >> Account Settings >> Account Settings and click on the Data Filestab
After that, click on the Open File Location option and navigate to the folder path on Windows Explorer
Then, select the file and click on the Remove button
Close the dialog box window and exit the MS Outlook application
Now, you need to go to the location of archive file and rename it with a new name than archive.pst
After all this, whenever an archiving is performed, the new file with the name of archive.pst of Unicode type will get created without touching previous archive file.
Method #3: Merge Existing Profile With New Master Archive
If a user combines the archive to a newly created master archive file, then also it will be helpful. However, a user cannot perform this merge task directly but a workaround is available. First of all, create a new PST file, which act a master archive file and after that simply copy the data from archive file to the master archive. This method will keep the data safe in case anything goes wrong while merging process.
Method #4: Automated Solution to Fix Archive.pst Has Reached The Maximum Size Error
If any of the above methods do not work perfectly fix the Outlook data file has reached the maximum size 2016 error, then the only solution is a switch to our tool named as Split PST File Tool. This software allows you to split PST file into smaller parts. If in case your PST file is corrupted, must try Outlook Recovery tool. It is a perfect solution to repair corrupt PST file in just a few simple clicks. Moreover, it also lets users split large PST file into multiple parts by size to overcome large size corruption issue.
Conclusion
Any small issue in Microsoft Outlook can badly affect the normal working of the application. One such issue is archive.pst has reached the maximum size. Thus, in this post, various methods (manual and professional) are discussed that a user can easily use to fix the Outlook data file has reached the maximum size 2016 and other versions permanently.