Outlook Tips
How to Recover Lost Outlook Data Files Items in 2019, 2016, 2013?
Admin
| Modified: 2019-08-13T15:34:45+05:30 | 7 Minutes Reading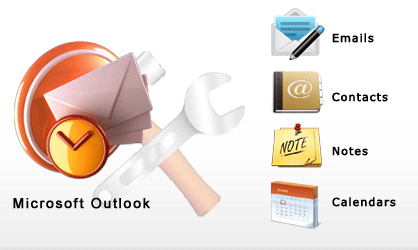 No doubt, multiple users are using Outlook for their Business purpose for accessing the emails easily. Microsoft Outlook stores all the data files in PST (Personal Storage Table) file format. It can save all type of data files such as email, attachments, contacts, and so on. Basically, it allows users to split the backed-up information into smaller parts and managed them properly. In any case, if there is any corruption in Outlook data files then, there will be a loss of multiple folders or data items and it will become quite complex for the user's to recover lost Outlook data files. Therefore, it is necessary to retain the backup of PST data files.
There are some situations in which a user accidentally deletes PST file items like emails, contacts, calendars, tasks, notes, journals, etc. and wants to recover lost Outlook data files items without data loss. If a backup is there then, it will be easy for a user to repair and restore the data items. Now the question will arise from most of the user's side can be, how to restore Outlook emails from PST file?. Hence, in the following section, different methods for recovering lost Outlook data file items in 2019, 2016, 2013 are discussed here.

Reasons To Restore Missing PST File Items in Outlook
Consider a case, a user has deleted some Outlook data or it becomes lost or damaged because of some reasons and then it will be actually difficult for them to retrieve the data items. Nevertheless, if the user does not have a backup, still it is possible to repair Microsoft Outlook PST file. By default, each PST data file has been stored on the local drive. Thus, by using an efficient recovery method, all the deleted data items in a PST file can be getting back easily.
To recover data from PST files, first, verify the Deleted Items or Recoverable Items folder through which a user can access the deleted Outlook data files items like emails, contacts, calendars, tasks, notes, journals, etc. However, if an item is removed/deleted using 'Shift + Delete' then, it is a 'hard deleted or permanently deleted' and will be unable to restore it easily. Those Outlook data file items become lost permanently. There is no another way to restore Outlook emails from .pst file except using any third party software which provides the option to restore lost Outlook data file items easily.
How To Recover Lost Outlook Data Files Items?
A user can recover the missing PST file items that are lost accidentally. Now, there are two methods available to retrieve deleted data from PST file. A user can select any of them as accordingly:
Restore lost Item from Deleted Item Folder
1. First, launch the MS Outlook application
2. Now, move to the email folder list and then, choose the Deleted Items option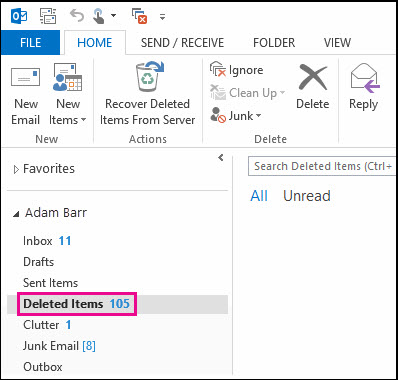 3. After that, check the message is in Deleted Item folder or even not
4. If yes, then right-click on the message and click Move option, then go to Other Folder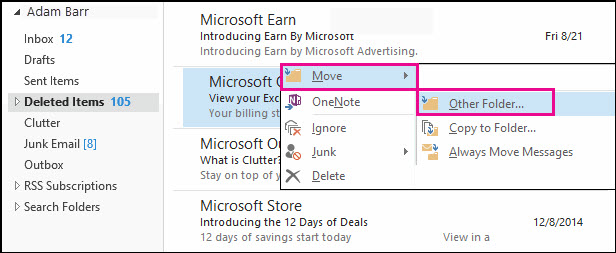 5. Now, if a user needs to move the message back to the inbox, press Inbox option and choose OK button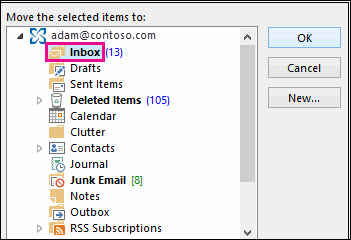 6. In some other case, if a user wants to restore other Outlook data file items such as:
To restore missing Outlook calendar item, double-click on it and select Move >> Other Folder >> Calendar
Inorder to restore lost contacts right-click on it and select Move >> Other Folder >> then Contacts
To restore missing taskbar, double-click on it and choose Move >> Other Folder >> Tasks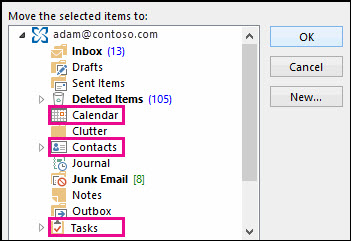 Restore Missing Outlook Data File items that are no longer in Deleted Folder
Recover Lost Outlook Data Files Items from Recoverable Items Folder
If a user needs the Outlook data file items like emails, contacts, calendars, tasks, notes, journals, etc. which are not present in Deleted Item folder, then, one can confirm them in Recoverable Items folder. It is just a hidden folder and knows more about it from the following points:
If a user has completely deleted the item from Deleted Items folder.
When the user makes empty the Deleted Items folder.
When the user has to delete an item by using Shift + Delete.
Recover Deleted Items from Server
Now, to restore the emails from the Outlook file, those are not present in Delete Item folder, a user allows to follow the mentioned steps:
1. Open Outlook application and start to navigate an email folder list
2. Now, choose the Delete Item folder and go to Home option
3. Under the Home, click on the Recover Deleted Items From Server tab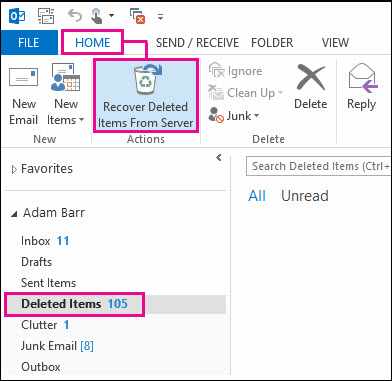 4. After that, point Deleted Items option and select the data files that a user wants to restore
5. Select the Restore Selected Items option and then, press OK button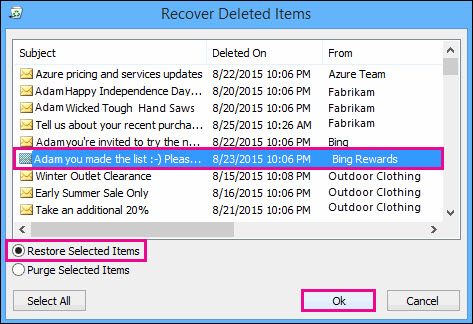 Note: You can find the Recover Lost Outlook Data Files Items From Server grayed out or not there at all, check the following points:
Check whether the users are working online or not. If not, switch to online mode.
Make sure the users are using an Exchange account.
Limitations of Restoring Deleted Outlook Data Files Manually
A user is able to restore deleted PST data file items by using the manual procedure, but they might face some problem while performing these manual procedures such as:
The main limitation of the manual procedure is that it does not restore deleted Outlook data items permanently.
Sometimes users may confuse while using manual procedure and require complete knowledge of MS Outlook
The very lengthy and time-consuming process does not have simple steps as well.
Alternative Solution To Recover Lost Outlook Data File Items
There are multiple limitations that are experienced by a user while performing the manual approach. Hence, to have one such automated solution is Outlook PST Recovery. This tool will restore missing Outlook PST file emails, contacts, calendars, tasks, notes, journals, etc. in a very efficient and reliable manner. The best part of this tool is, it is able to recover lost Outlook Data files items also without any consequences. It can also repair PST files easily. Including all such type of features makes this tool better than other methods of restoring Outlook data files items.
Download and install Outlook PST Data Recovery Tool in your system
Add PST / BAK file, from which you need to recover deleted items
Use Advanced Mode Scanning to recover lost data from PST file
Preview Retrieved lost Outlook data items in Red color
Now Export Recovered data items in PST / PDF / HTML / EML / MSG or in Office 365 format
How to Recover Deleted Outlook PST File?

In order to recover lost PST file (Accidental deletion of Microsoft Outlook PST file from your system / local drive), one needs a recovery option which can retrieve deleted data from Hard Drive. If you are search for a solution to retrieve your Outlook PST file, then Windows Data Recovery software can help you. This utility can retrieve deleted files from your computer.

Conclusion
Sometimes a user may accidentally delete or lost Outlook data files items and wants to retrieve them at any cost. As a result, after understanding the reasons behind restoring missing Outlook file (PST) items and folders; we have discussed manual procedures. There are some limitations of the manual procedure that occurs while a user tries to retrieve lost Outlook PST file emails and other items. If you need to overcome this problem using an alternate solution i.e., Outlook Recovery Tool. It recovers all kind of PST data items i.e. corrupted, deleted or lost file's items easily without any data loss or damage.