Outlook Tips
How to Export eM Client to Outlook? A Complete Description
The eM Client is a Windows-dependent email service including to send and receive emails, managing calendars, contacts, and tasks. Apart from this, a user becomes unable to use the eM Client application by default an email platform and for business purposes as well. eM Client supports all email applications like Gmail, Apple Server, and IceWarp. Moreover, there are numerous of issues thus, it is necessary to import emails in Outlook. Nowadays, most of the users want to move eM Client to MS Outlook as it comes with Microsoft Office suites. It helps to manage the data and offers various functionalities as it allows to work in offline mode without internet connectivity. In the following blog, we will discuss the way to export eM Client to Outlook.

Steps to Access How to Export eM Client to Outlook
One can easily import emails from eM Client to MS Outlook by following a simple approach. The following procedure need to be performed to import mailboxes from eM Client those are mentioned below:
Step 1: First, a user has to open an eM client application on the Desktop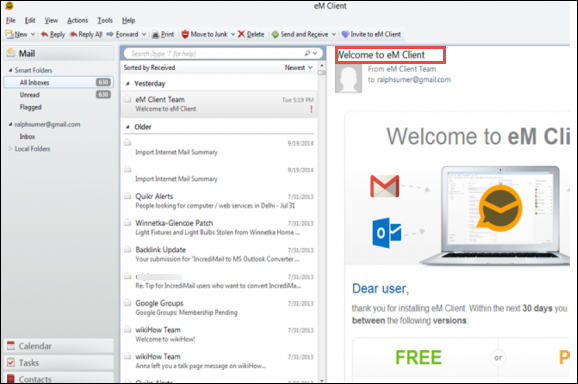 Step 2: From Menu bar, go to File option
Step 3: Now, select "Export to .eml files" option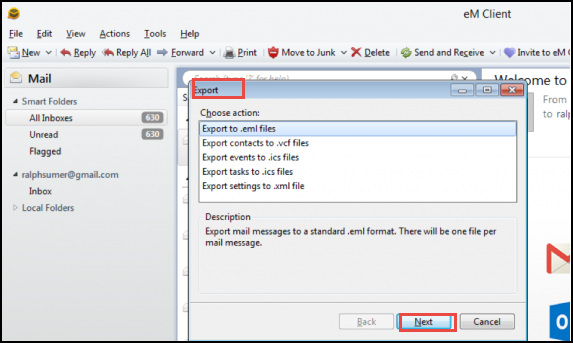 Step 4: Next, choose the folder that a user want to Export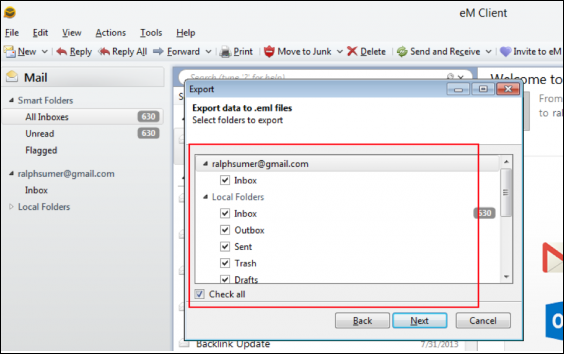 Step 5: Select the path where to save the exported data and then, Click Finish.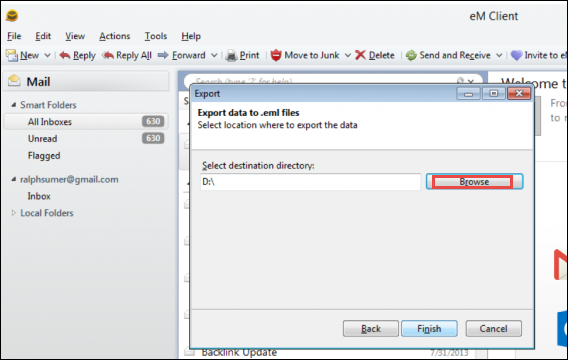 After following such steps, a user will get eM Client emails into their local drive folder, after that, a user will want to import mailboxes from eM Client to Microsoft Outlook 2019, 2016, 2013, etc. Even a user can go for an alternative solution such as EML to PST Converter Tool. It will beneficial for users to export eM Client to Outlook accurately and efficiently without any consequences.
How to Import Outlook Items From PST File?
Assuming these instructions are already help to export Outlook email messages, contacts, and calendars from another instance, now users need to import them into Outlook 2013, 2016 mailbox. The steps are shown below:
Step 1: From Outlook 2019, 2016 or 2013, Select File option
Step 2: Now, to start the Wizard click on Open & Export and then, choose Import/Export tab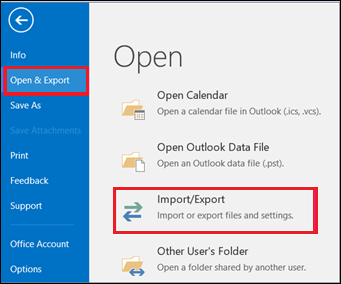 Step 3: After that, go to Import from another program or file option and Press Next tab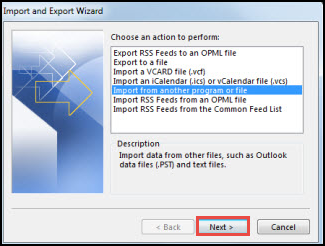 Step 4: Next, select Outlook Data file(.pst) for exporting eM Client(.eml) to Outlook(.pst) and click Next tab
Step 5: Browse the path of PST file that a user wants to import. Under Options, select the applicable option among three how a user want to deal with email messages and contacts. Choose Next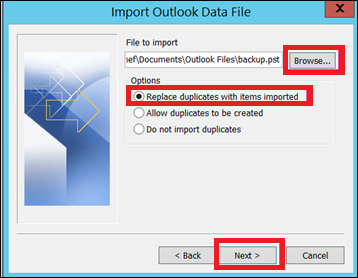 Step 6: In case, if a password was allotted to Outlook Data File (.pst), now enter the password and Click OK option
Step 7: If a user tries to Import the contents of .pst file into Outlook 2016 mailbox. Then, select the mailbox from here
Note: If a user can't import Outlook 2016 mailbox, then, select Import items into the current folder. This will assist to import the selected items into the folder.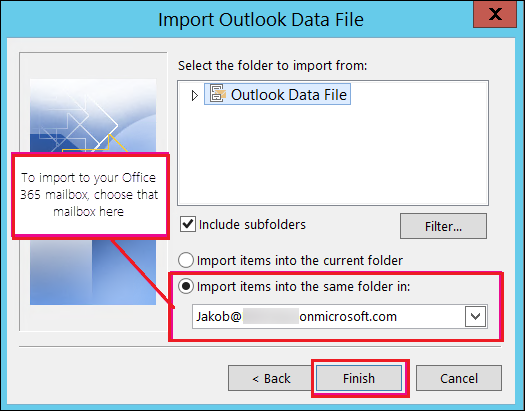 Step 8: In last, choose Finish. Outlook immediately begins to start import the contents of .pst file. It has completed when the progress box go away.
Note: If a user wants to import .pst file to Outlook 2016 mailbox, then, the message shows that it is trying to connect with Outlook 2016. This issue occurs when the Web connection will get interrupted, just for a second. Once, a users internet connection has re-established and continued the process to import .pst file to Outlook.
Suggestion: If a user need to retrieve few emails or contacts from an Outlook data items(.pst), a user can open the Outlook file and after this, in the navigation Window, drag the selected files and then, drop the emails and contacts from .pst file to existing MS Outlook folders.
Conclusion
Considering the ongoing necessity to import eM Client to Outlook, we have described a simplified procedure to let the users understand How to export eM Client to Outlook. Well, it is recommended to first export eM client(.eml) to Outlook(.pst). Else, a user can go for other solution for resolving this issue by using third party tool i.e. eM Client to Outlook Converter.