Outlook
How to Manage Multiple Calendars in Outlook?
Raj
| Modified: July 7th, 2023 | 6 Minutes Reading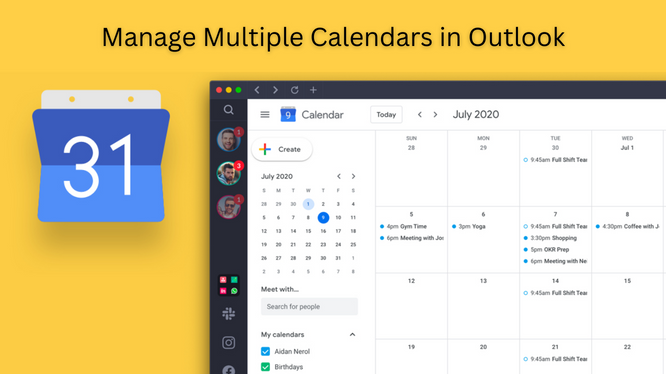 Are you fed up with several Outlook calendars and want to manage them? If yes, then don't worry about it. This blog will describe the entire solution to manage multiple calendars in Outlook by merging them into one. Here we discuss both the solution manual and the automated solution to merge Outlook calendars.
Microsoft Outlook is the most popular and trending email client application for business as well as personal usage. Outlook provides multiple features such as sending or receiving emails, managing contacts, and calendars data, etc. In Outlook, the calendar feature helps users to save reminders with titles, dates, times, and locations regarding any meetings, birthdays, etc. Users can make multiple entries in the calendar effortlessly.
User Queries – How Can Organize Multiple Calendars in Outlook
"Hello, recently I am using Outlook 2016 application and I have multiple calendars in my Outlook to better organize my work. But now, I want to arrange multiple calendars in Outlook and looking for a way how to combine calendars in Outlook into one with all my calendar details. Please guide me how can I do this?"
Zack Poulin, Canada
"Ich habe 4 E-Mail-Adressen in Outlook und möchte nur einen Kalender für meine gesamte Planung haben. Ich kann keine Details zum Zusammenführen von Kalendern finden. Vielen Dank"
Anton Thomas, Germany
Manual Solution to Manage Multiple Calendars in Outlook
The manual process to merge calendars in Outlook is divided into two steps. First, export Outlook calendar and then import Outlook calendar.
Step 1. Export MS Outlook Calendars
Open the Outlook application and click the File tab then click Options.
Click Advanced and choose Export under the Export option
Next, click Export to a file and click on the Next button
Click Outlook Data File (.pst) and again press the Next button
Select the calendar folder that you want to export, mark or unmark the sub-folder box and then click Next
Click on the Browse button and select the location where you want to export the calendar folder
In the end, click the Finish button.
Step 2. Import MS Outlook Calendars
Go to the File tab and click the Open button
Import >> Import from another program or file and then click Next
Select Outlook Data File (.pst) and then click the Next
Click Browse to select the location where exported file is stored and click OK
Now, under Options, select Do not import duplicate items and hit the Next button
Under Select the folder to import from, select the Calendar folder
Select Import items into the same folder and click the Finish button.
Automated Solution to Merge Calendars in Outlook
FreeViewer PST File Merger is an excellent utility to organize multiple calendars in Outlook by merging. It has an easy-to-use interface that allows all novice users to combine multiple PST files into one including calendars, contacts, etc.
The software does not need any external application to combine Outlook calendars. It supports all Microsoft Outlook versions such as Outlook 2021, 2019, 2016, 2013, 2010, 2007, 2003, and all below editions. The application has the advanced option of Remove Duplicates while joining. It is able to merge multiple Outlook contacts folders without duplicates.
Follow the Quick 5 Step Process to Merge PST files into One:
1: Download the Tool.
2: Click on "Add Files or Folder Option to Add PST Files.
3: Select From the given two options: "Merge and Join."
4: Choose Merge in Existing PST, New PST, and Outlook Profile.
5: Select the "Next" tab to Start the process.
Easy Guide to Manage Multiple Calendars in Outlook 2021, 2019
Firstly,  you need to Download and Install the application on your Machine.
Click Add File to Folder to add an entire folder containing the files you want to combine.
This software provides two options to combine Outlook.pst files into one file: combine and merge. Then select the option as per your convenience.
In the Filters section, select the item types you want to combine (Mail, Calendar, Tasks, Contacts, Diaries, and Notes).
Remove duplicate calendars. Select Calendar Fields: Subject, Start Date, End Date, Attachment, Category, To, Cc, Bcc, From, Location.
Finally, click the Next button to start merging Outlook.pst files into one process.
When the process is completed, you will see a message saying "PST files have been combined successfully". Click OK to continue.
The report is generated in CSV file format and lists all the details of the concatenated items.
Features of this Software
Provides the option of Add Files and Add Folder to merge and organize multiple calendars in outlook.
Two options to merge i.e. Join PST file and Merge Outlook PST files.
Able to combine multiple archives .pst files of any size without damaging any information.
Gives the facility to browse and select the location where you want to store merged Outlook data files.
Maintains data integrity of Outlook PST files while merging two calendars in Outlook into one.
Offers to combine or join multiple Outlook data files into a single folder.
Merge Unicode and ANSI PST codes into a single Unicode Outlook PST file.
An advanced option to merge multiple PST files for free with or without Outlook installed.
It is compatible with Windows 11 and Microsoft Outlook 2021.
The Final Verdict
It is not so difficult if you know the right way to manage multiple calendars in Outlook. Here, we described two methods to merge Outlook calendars into one, one manual and the other a third-party solution. However, the task becomes faster with the Outlook Merge Tool. It also has a free trial version to check efficiency.
Commonly Asked Questions and Answers
Q: How can I merge two Outlook calendars into one?
Yes, the application will help you to merge calendars in Outlook 2019, 2016, 2013, 2010, and all earlier editions. It let you combine two or multiple Outlook calendars into a single one with all saved data.
Q: Can I arrange multiple calendars in Outlook without all the saved information?
Yes, this mentioned utility offers the facility to merge Outlook calendars with all details like tasks, meetings, reminders, etc.
Q: How to Remove Duplicate Calendar Items in Outlook 2016?

You can follow these steps to delete duplicate Outlook calendar items.
In the Navigation pane, select the Calendar Folder.
On the View tab, in the Current View group, click on Change View, and then click List.
Click the Subject header to arrange all calendar items by subject.
Hold down the CTRL key while clicking on all the duplicate calendar items in the list.
Press DELETE when you have selected all duplicate calendar items.