How to Combine Multiple PST Files into One? – Immediate Solution
Do you want to manage Outlook data files into one place? Looking for a solution to combine multiple PST files into one? If yes, then your query will be sorted here. In this article, we will discuss some simple and quick tricks to merge PST files in Outlook 2019, 2016, 2013, 2010, 2007 and other below versions. When we start explaining the solution, let's know about the Outlook PST File and why a user needs to combine or join multiple PST Files into one PST file.
Complete Information of Outlook PST File
We all know Microsoft Outlook, the most popular and favorite desktop-based email clients application. All Outlook data stored in the PST file that is a Personal Storage Table. Basically, it is the database of Outlook which contains emails, contacts, calendars, tasks, notes and much more information. Outlook supports PST file in order to export and import data.
Microsoft Outlook launched various versions like 2019, 2016, 2013, 2010, 2007, and others. When users switch from older version to newer version, they have multiple PST files that are difficult to manage and handle.
Why Do Users Need to Combine Multiple PST Files into One?
The user creates several PST files according to their requirement or need. It is easy to manage multiple PST files if they are in a commonplace. Therefore, users want to merge multiple PST files into one file. Here are some reasons for combing several Outlook PST files:
The size of PST file is limited i.e. 2 GB for ANSI and 50 GB for UNICODE
To prevent data from loss or accidental deletion
The user wants to access multiple Outlook PST files on different computers
Avoid opening multiple PST files to save time and efforts.
Solution to Merge Several PST Files Into One
There are two solutions for almost all issues related to data recovery, data migration and merging multiple data. One is manual and the second is the automated solution. Same as there are also two solutions to merge PST files into one. The first is a manual method and the second is a third-party solution. Here we are going to discuss both methods step by step.
Method 1. Manual Method to Combine Several Outlook Data Files
The manual process has two parts to combine multiple PST files into one i.e. create a new PST file and then import PST files into newly created PST file.
Open MS Outlook application in your system
Create a new PST file. Click New Items >> More Items >> Outlook Data File
A new window will appear "Create or Open Outlook Data File". Give a name to this new file and click OK
The new Outlook PST file will be highlighted in the navigation pane
Next, click File tab >> Open >> Import
"Import and Export Wizard" will appear, select Import from another program or file option and click Next
Select Outlook Data File (.pst) option from the list of the file type to import from and click Next
Click Browse and select the PST file to import. If you do not want to import duplicates, click "Do not import duplicates" and then hit the Next button
Select the folder to import from. Check the box "Include subfolders" and "Import items into the same folder in".
Finally, click on the Finish button.
Drawbacks of Manual Way to Combine Multiple PST Files into One
The manual process is completely free, but it is very lengthy and takes a long time to complete the task. There is also no guarantee of a safe & secure result to combine Outlook data files into a single file. So, it is better to go with the alternate method to simply and quickly merge multiple PST files in Outlook 2019, 2016, 2013, 2010, and others without data loss issue.
Method 2. Automated Method to Merge or Join multiple PST files
Outlook PST Merge Tool is an excellent and powerful utility to merge or consolidate PST files together. This application only takes a few moments to combine PST archive files. Any technical and non-technical users can easily access this tool because of its simple and easy to use interface. Here is the working of the software to combine multiple PST files into one.
Download, Install and Run the tool on your machine

Click on "Add Files" to load single PST file and click "Add Folders" to load multiple PST files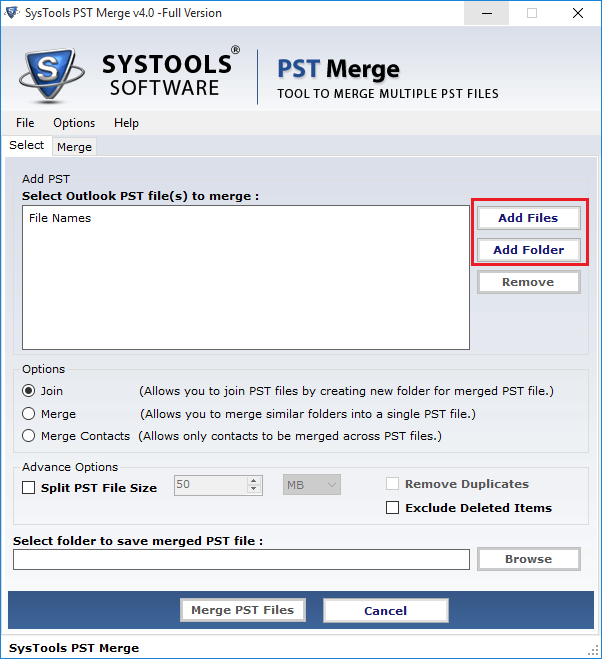 Choose Option – Join PST Files, Merge Multiple Outlook PST files or Merge Outlook Contacts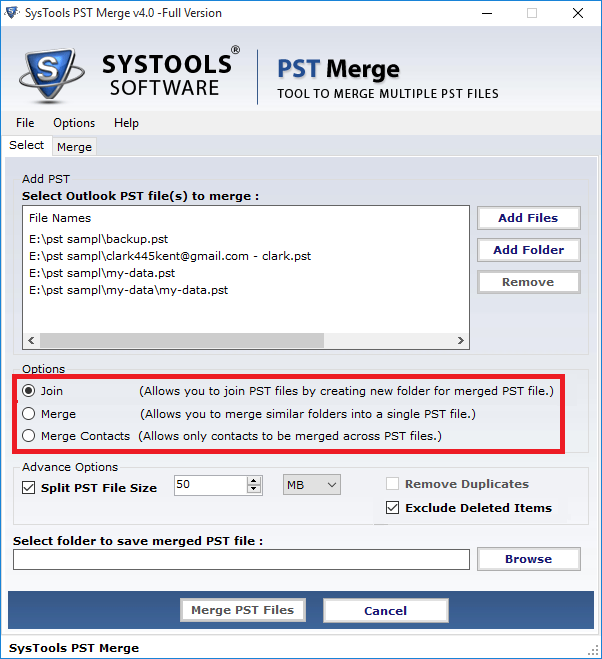 From the Advance Options, select Split PST File Size, Remove Duplicates and Excluded Deleted Items according to your choice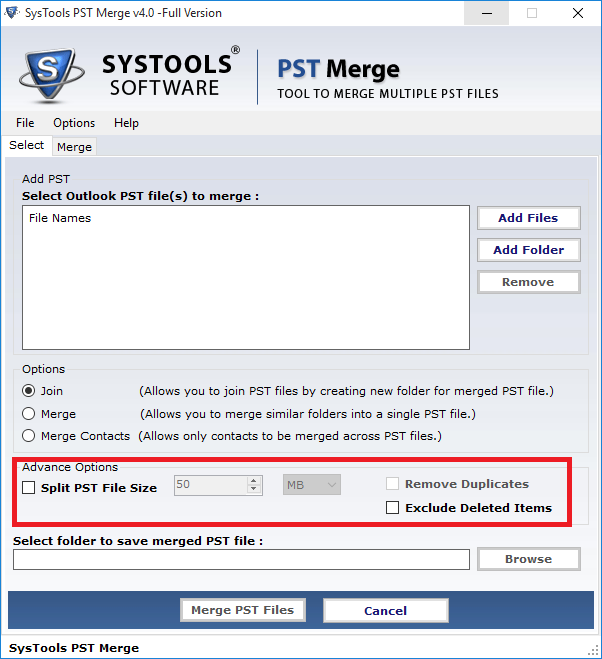 Click on Browse button and select the desired location to save merged PST file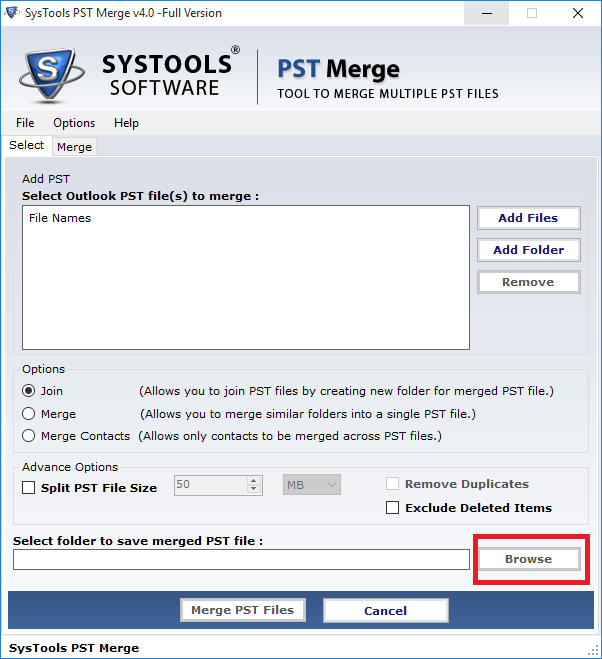 Hit on the Merge PST Files button to start the process.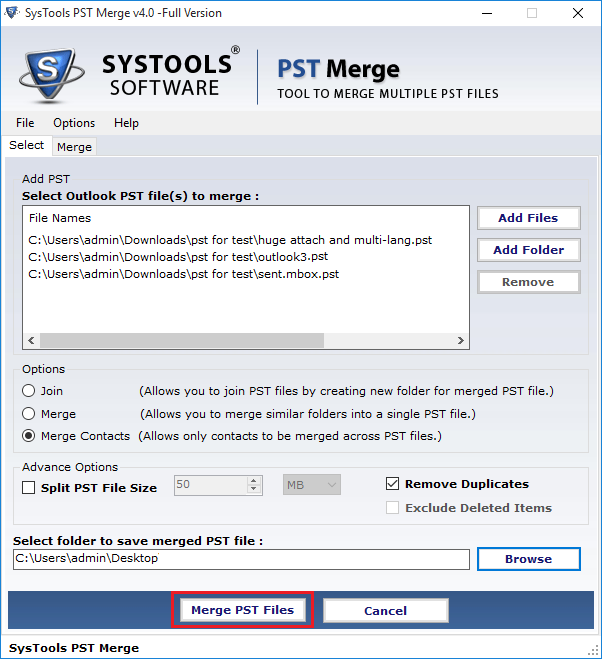 Top Benefits & Features of Outlook PST File Merge Tool
Able to consolidate PST files together with emails, calendars, contacts, etc.
Supports to combine unlimited PST files without any file size limitations.
Facility to merge multiple Outlook contacts folders into one.
Maintains the integrity of data while combining multiple Outlook PST files.
Supports all MS Outlook editions like Outlook 2019, 2016, 2013, 2010, etc.
Ability to combine PST archive files and password protected files.
Works with all Windows Versions i.e. Windows 10, 8.1, 8, 7 and others.
Conclusion
Here we discussed the manual and direct solution to combine multiple PST files into one. We also mentioned the limitations and disadvantages of the manual method. Therefore, to merge multiple Outlook PST files instantly and easily, it is better to use an alternate solution like Outlook PST Combiner tool. This software is able to merge Outlook data files so that you can easily manage multiple calendars in Outlook and also manage multiple PST files and contact folders.