Outlook
Resolved: How Do I Import PST File in Outlook Web Access Without Any Hassle?
This article deals with a commonly asked query such as "how do I import PST file in Outlook web access?" As we all know that Microsoft Outlook is a prominent email application. Mainly, it is preferred by most users all over the world. Outlook can be accessed through OWA when the account is configured with Exchange Online and Microsoft Office 365 applications.
Outlook users can open Outlook online application in Office 365 account for the management of emails. So, if you are looking for an appropriate or manual solution, then Yes! you can execute this task, utilizing the Import/Export feature of Outlook. In this article, we are going to discuss the solution in a descriptive manner. Just go through the complete write-up to know more.

Office 365 Importer Purchase Now
5 Simple Steps to Import PST file in Office 365 Web App

Step 1. Download & Launch Tool
Step 2. Enter User or Admin credentials for login
Step 3. Click on Add File or Folder to Import PST file
Step 4. Select the Category & Apply filter for each Item
Step 5. Click on Import button to finish the Job
Know the Distinction Between PST File and O365
PST File: PST (Personal Storage Table) is a file extension for the Microsoft Outlook email application. It permits its users to access components of several accounts configured to Outlook by a personal Outlook data file to every specific user. After you have configured an account to Microsoft Outlook, when a new element is displayed, it will always store that information in .pst file format.
Microsoft Office 365: In comparison to Microsoft Outlook (a desktop-based application) Office 365 is a web-based Outlook and hence, it is prominently referred to as OWA – Outlook Web Access. Any new components displayed in Office 365 will be stored on its server and can be accessed through the server only over the internet.
Also Read: How to Extract Calendar From PST File? An Automated Approach

How Do I Import PST File in Outlook Web Access Manually?
Note: The Manual method to Import PST in Outlook is quite tricky and the chances of error are quite high. It is advised to use an automatic solution for the import process.
In order, to move PST file in Outlook web access manually. In this segment, we discuss some steps in a sequential manner. You just need to follow them to get a positive outcome:
Step 1. First of all, open your Office 365 and generate an account as an administrator
Step 2. Then, log into Office 365 as another user and add (configure) Outlook Profile into it
Step 3. When you are signed in as another user, you will enable to view and add other user's mailboxes also
Step 4. Now, click on File and then Import and Export or hit on Next to import PST file in Outlook web access
Step 5. Here, choose PST (Outlook Data File) >> click Next >> click on Browse to facilitate the storage location of your PST data file
Step 6. Just below located the Browse button, under Options, you can see three sub-options, select Do not import duplicates
Step 7. Then, click on "Next" if you have encrypted your PST file with the password, then you will be asked to provide them and then enter the correct password and hit on OK button to proceed forward
Step 8. And if the Outlook PST file is not locked with any password, then after you click Next, a prompt-up window will display asking you to select the folder to import from. Here, you can choose the Inbox folder or any folder which are available in your Outlook mailbox
Step 9. Once you have selected the folder to import, check the box indicating to Include Subfolders
Step 10. Just beneath the Include subfolders, you will see 2 options: Import items into the current folder and Import items into the same folder. You have to choose the box guiding to Import items into the same folder in
Step 11. At last, Hit on "Finish" to complete the process.
Is There Any Way to Import PST File in Outlook Web Access Instantly?
The above-stated manual method has some limitations that affect the procedure badly. The free solution is a time-consuming process as compared to this one. Here, is an alternative to overcome all the constraints of manual ways named "Office 365 Import tool". With the help of this software, a user can easily import PST file in Outlook web access.
Moreover, this utility provides complete PST data migration like emails, contacts, calendars, tasks to Office 365 accounts. This Office 365 import application is capable to execute Incremental Import from the same PST file after the first attempt. Moreover, it facilitates an understandable user interface. So, a non-technical user can also use it without any professional help.
Related: How to Extract Emails from PST File Without Outlook Installation?
Procedure to Import PST file in Outlook Using the Automated Software
1. Initially, download and run this software. Then, you will see the sign-in wizard, add the Office 365 account credentials for the admin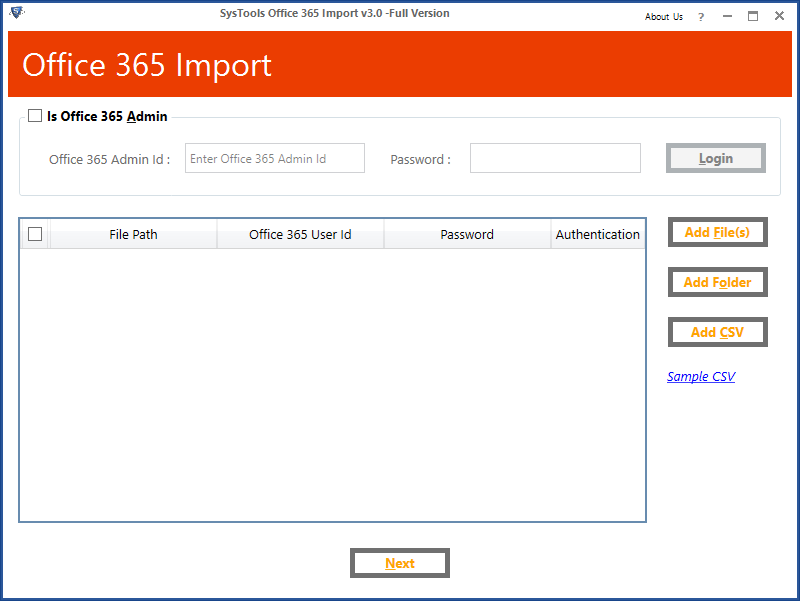 2. Now, choose Add File or Add Folder to import several PST files into Office 365 Mailbox. Here, you can Add a User ID & Password for a specific user account (If the admin account is not impersonated)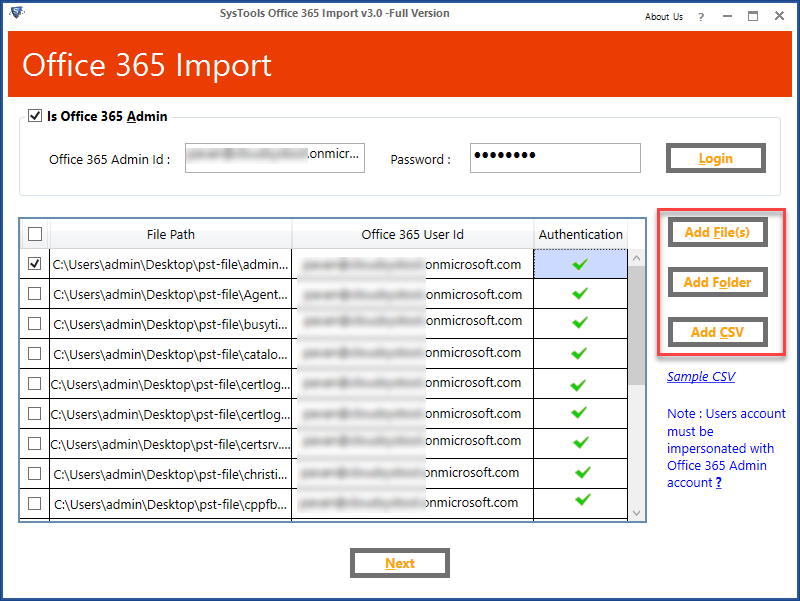 3. Once, you properly browse the PST file, choose File Categories (to import emails, calendars, contacts, tasks PST to O365), and apply "Date Filter Options". You can also choose Incremental Import, Exclude Deleted or Sent Items Folder and so on as Advanced Filter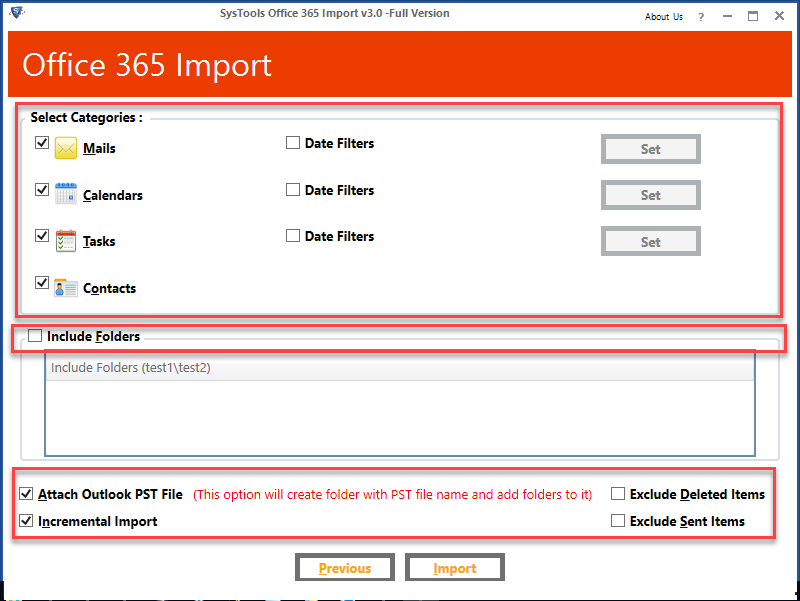 4. At last, Office 365 import application successfully import PST file in Outlook web access.
Final Verdict
To learn how to import PST file in Outlook Web Access, the admin requires to import PST file into Office 365 application. In the above section, we discuss the manual and automated solutions to do the same.
A free technique has some disadvantages. So, it is always the best idea to go with the above-mentioned software. It is an eminent software to perform migration procedures without any hindrance. Thus, a user can opt for any one of them as per their preference.
Frequently Asked Questions
Q. Can I bulk Import PST File in Outlook Web Access?
A. Yes, using the 'Add Folder' option, the user can import multiple PST files simultaneously.
Q. Does the Admin credentials necessary for the Import process?
A. No, if you are importing PST files into your Office 365 OWA then you just need to log in with your Office 365 credentials.
Q. Is it possible to import selective data from my PST file?
A. Yes, use the Category and Filter option available during the import process.
Q. Is there any file size restriction while import PST file in O365?
A. No, there is no file size limitation during the import process.