Microsoft Office 2016
,
Outlook
How to Import PST File Data into MS Outlook 2019, 2016, 2013, 2010, 2007?
Raj
| Modified: February 4th, 2023 | 4 Minutes Reading
Summary: This blog describes the step-by-step method of how users can import PST file data into MS Outlook 2019, 2016, 2013, 2010, 2007 and 2003. If you're looking for ways to add or import PST file in Outlook, this post will help you.
A PST file is called a personal storage table, in which all Outlook mailbox data elements are stored like emails, contacts, notes, tasks, etc. PST files are used as a backup, that can be easily restored in Outlook if data is damaged or deleted.
There is a possibility of PST file corruption for many reasons such as hard drive failure, file header corruption, oversized PST, etc. Don't worry as Microsoft provides the Inbox Repair Tool to fix corruption problems. In addition, you can use professional third-party tools like PST Repair Tool to fix issue like PST files cannot be accessed or others issue related to PST file corruption.
There are many situations in which users need to import PST files in Microsoft Outlook such as after recovery, transferring files from one computer to another, after conversion, and more.
Steps to Import PST File Data into MS Outlook 2021, 2019, 2016, 2013, 2010
To effortlessly import PST files in Outlook, the inbuilt Import and Export Wizard feature is provided by Microsoft. Follow these steps to complete this task:
Step 1. Select the File tab from the top.

Step 2. Click Open & Export >> Import/Export.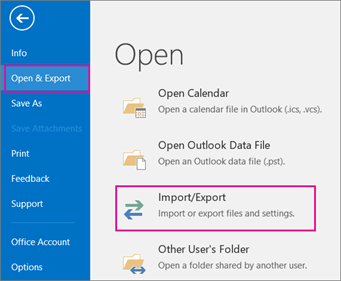 Step 3. Choose "Import from another program or file" and press Next.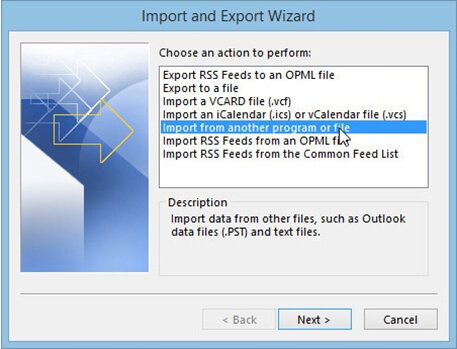 Step 4. Select "Outlook Data File (.pst)" and click Next.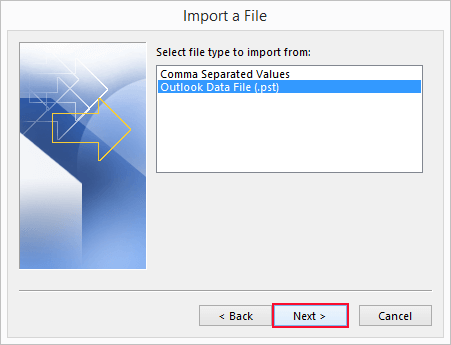 Step 5. Browse to the PST file you want to import. Under options, choose one of the options to manage your data and click Next.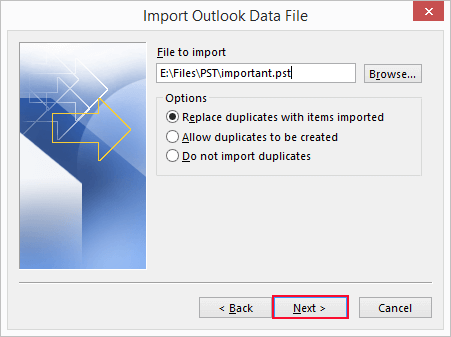 Step 6. If a password has been assigned to the PST file, enter the password and click OK.
Step 7. Select the folder to import from.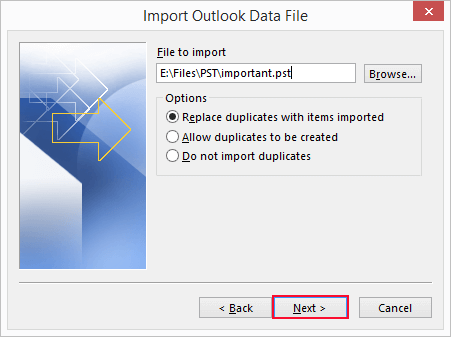 Step 8. Click Finish and Outlook will start importing the PST file immediately.
Import PST File in Microsoft Outlook 2007 and 2003
The method explained is less the same for all versions of Outlook. There is a slight difference in the import procedure from version to version. Here are the steps to import PST file data into MS Outlook 2007 and 2003:
Step 1: Open Outlook application and go to the File menu.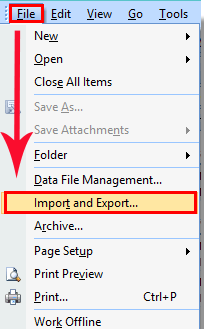 Step 2: Select Import and Export option and repeat the above steps from step 3 to step 8.
That's it. In this way, you can easily import PST file in Outlook using the Import/Export feature.
Professional Tools for Outlook Data Files
If you have problems with Outlook PST files, like damaged PST, multiple PST files, or large PST files, you can use third-party tools. Various tools for Outlook data management are available on the market. In the next section, we have suggested some tools that you can use to manage Outlook PST data files as needed.
This tool is useful to merge multiple Outlook PST files into a single file. It allows you to combine PST files of multiple accounts without losing the original data formatting and folder structure.
This is the best and most trustworthy application to recover corrupted PST files with all data items. The software provides the option to save PST in multiple file formats like EML, MSG, HTML and Office 365.
If you are concerned about oversized PST files and want to reduce the size, this tool is helpful for you. This allows you to break the PST file into smaller parts by size, date, year, folder, or email ID.
Closing Lines
Import PST file data into MS Outlook 2019, 2016, 2013, 2010, 2007, 2003 is not as tough task if you perform the right steps. Microsoft offers an inbuilt feature Import and Export wizard that makes easy to import PST file in Microsoft Outlook. In addition, we have proposed some tools that can be used to manage Outlook data files and make them corruption-free.
Frequently Asked Questions
Can I add multiple PST files to Outlook at once?
Generally, there is no manual method to add or import multiple PST files at once in Outlook. In such a situation, you can merge PST files together into one file, and them import a single PST into Outlook.
How do I browse PST file without the email client?
Manually, you cannot open PST file without Outlook. You need to use PST viewer tools that enable you to view PST files without Microsoft Outlook.
How to backup Outlook PST data files?
1. Select File >> Open & Export >> Import/Export
2. Select Export to a file
3. Choose Outlook Data File (.pst)
4. Select the folder you want to backup
5. Choose location and name for the backup file and click Finish