Apple Mail
Export Apple Mail to Outlook – Step-by-Step
Raj
| Modified: May 15th, 2023 | 7 Minutes Reading
In this article, we have simplified the complete process to export Apple Mail to Outlook. Users can choose from the different approaches to export emails from Apple Mail to Outlook 2019, 2016 & below versions for both Windows and Mac.
Apple Mail is an email client included with every Mac OS X 10.0 and above. It provides multiple features to not only manage emails but also handle contacts, tasks, calendars, etc. It has become one of the most preferred email clients for Mac users. On the other hand, Microsoft Outlook email application is available for both Windows and Mac. With advanced features and better security protocols, it is often preferred over the other email clients. Sometimes Apple Mail users want to switch to Outlook and look for ways to do so. And that is exactly what this article helps users to achieve.
How to Export Apple Mail to Outlook – Instant & Manual Approach
Apple Mail makes use of the MBOX file format to save all its emails and attachments. While MS Outlook stores its mailbox items in PST files. And unavailability of any native means in Outlook to import this MBOX file makes this format incompatible with Outlook.
However, there still are workarounds as well as specialized software solutions to make this conversion possible. Users can go through both the defined methods and choose the approach best suited to their needs.
Do note that since neither MS Outlook, nor Apple Mail provides any direct transfer method, these techniques are currently the best means to obtain desired results. The first technique will make use of an alternative application to act a sintermediate in this process. While the second method will focus on powerful conversion with professional solution. Choose as per your requirements and feasibility.
I. Manual Method to Transfer Apple Mail Mailbox to MS Outlook
This workaround requires users to have four different email clients on the same Mac system. The required email applications are Apple Mail, Eudora, Outlook Express and Microsoft Outlook. After installing these mail clients, follow the given steps carefully as a single mistake can lead to data loss.
Step 1: Firstly, the user needs to locate the Apple Mail MBOX files. In case the user has orphan MBOX files, directly jump to step 2.
Step 2: Next, install Eudora and rename the MBOX files with .mbx extension. Afterward., copy this file to Eudora local directory.
Step 3: In the next step, users need Outlook Express to import the messages from Eudora using its native import option.
Step 4: And, at last, users can transfer the files from Outlook Express to Outlook with an inbuilt feature.
For detailed steps: Visit the complete guide to convert MBOX to PST manually
Limitations of Manual Solution to Convert Apple Mail Emails to Outlook
Lengthy Process: The overall procedure is lengthy and time-consuming.
Difficult to Execute: Any error or mistake on the user's end can result in severe data loss.
Requires Technical Expertise: In order to perform the task seamlessly, a user should have good technical knowledge of all associated email clients.
Successful results not assured: It is not preferred for bulk file conversion since the results are not guaranteed.
II. Migrate Apple Mail to Outlook – The Smart Way
In just three simple steps a user can access all the Mac emails in Outlook interface. First, we need to export the mailbox of Apple Mail, then convert Apple Mail mailbox to PST and lastly import mailbox to Outlook.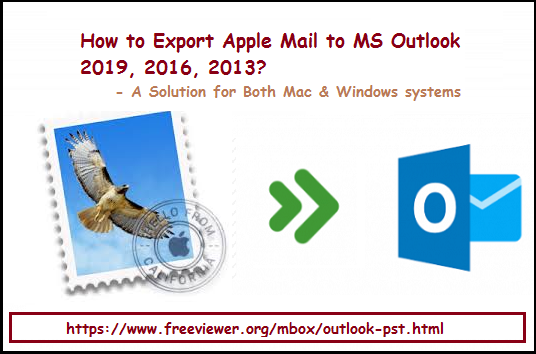 Step 1: Export Mailbox of Apple Mail
The first approach to the export complete mailbox of Apple Mail by some manual steps. Here are the steps to extract mailbox:
Log in to Apple Mail user account
Select the Mailbox which needs to be exported
Right-click on selected Mailbox then choose Export Mailbox

Browse the location where the exported mailbox will save
Select Desktop and click on Choose button to finalize the process
This completes the process of exporting mailbox from Apple Mail, now you need to export this mailbox file into Outlook PST format.
Step 2. Export Apple Mail to Outlook 2019, 2016 – The Smart Way
Apple Mail exports the mailbox file in MBOX format, so in order to access them in Outlook, there is a requirement of MBOX Converter. It allows a quick and secure conversion to PST file format. And since MS Outlook(Windows/Mac) supports PST format, it can easily import the converted PST mailbox afterward.
For Windows
For Mac
This software wizard provides a safe conversion by preventing the loss of attributes during the entire process. It does not matter if you want to transfer emails from Mac to Windows and then perform the conversion. Or simply go for it on the Mac platform itself. We have a solution for everything. A free trial version is also available for users to export Apple Mail to Outlook 2019, 2016, or any earlier version.
Merits of using Professional utility
In order to overcome the obvious limitations of the manual approach, there is a requirement for a specialized MBOX to Outlook converter tool. The software mentioned in this article has various merits over other solutions, some of which are described below:
Migrate multiple MBOX files from export emails from Apple Mail to Outlook
Provides filter emails option according to the specified date range
Create single or separate PST as per user requirement
Split Outlook PST file into smaller Parts of the same size
Compatible with MS Outlook 2019, 2016, 2013, 2010 & Mac Outlook 2019, 2016, 2011.
Step by Step working for Mac & Windows Utility Respectively
Since the software is available for both Mac and Windows, we have separated them in two sections accordingly.
Export Email from Apple Mail to Outlook 2016, 2019 Mac:
Run Mac MBOX Converter and click "Add File"
Select desired files from Mac system to export to Outlook
Click on "Advance Settings" to set preferred email filters
Select "Export" to initiate Apple Mail migration to Outlook
Steps to Export Apple Mail to Outlook on Windows:
Step 1: Start Apple Mail to Outlook converter.
Step 2: Click "Add File" to select desired mailbox files.
Step 3: Preview Apple emails in "Normal Mail View"
Step 4: Click "Export" to start converting Apple Mail to Outlook.
Step 3. Import Mailbox to MS Outlook for Mac & Windows
The last method is to import the exported Apple Mail to Outlook. Here are the steps to import mailbox to Microsoft Outlook on Mac OS.
Open Outlook for Mac, head for File menu and hit Import option
Select the Outlook for Windows archive file(.pst)
Browse the earlier exported PST file and hit Import
Click on Finish when the import process is complete.
---
Users can also import this file in Windows Outlook platform. For such process, follow the instructions given below:
Transfer the converted files to Windows OS
In MS Outlook, select File → Open & Export → Import/Export
Click on Import from another program or file. Click on Next button
Click on Browse button to open converted PST file from the local drive
In next pop up window, click on Finish button to finalize the process
Now use Apple Mail mailbox in Microsoft Outlook with all the attachments. Follow the above mentioned stepwise approaches with any version of Apple Mail and MS Outlook.
---
Take a look at some queries:
Q. Can I use the given methods for conversion to Outlook 2016, 2013?
A. Yes, the given method is applicable to all MS Outlook versions including Outlook 2019, 2016, 2013, 2011, 2010, etc.
Q. Is there a solution available for Mac User?
A. Yes, the illustrated method is applicable to the Mac system.
Q. Can I transfer and convert my Mac emails to Windows?
A. Yes, irrespective of the Outlook version and the Operating system, you can convert your Apple email messages to Outlook on both Windows & Mac.
Conclusion
The article encloses the complete guide on how to export Apple Mail to Outlook on Windows & Mac OS. Both the manual approach as well as the specialized tools are mentioned to fulfill the requirements of Mac users. However, it is recommended to go for the automated approach since there are some limitations associated with the manual solution. But ultimately, it is up to the users to decide which method to opt for.