Apple Mail
,
Data Migration
From Apple Mail Export Mailbox to PST files without Outlook Installation
Data Conversion is a tedious task, especially in the scenarios involving emails. Because there are a wide variety of email clients and each has its own way of storing the underlying data. One such scenario involves the Apple Mail and Microsoft Outlook email applications. The Mail app of Mac OS makes use of MBOX files to store its mailbox items while Outlook relies on the PST format for the same. Moreover, the lack of any native means of conversion further complicates this scenario. That is why here we have the perfect solution of how Apple Mail export mailbox to PST.
A complete stepwise approach that lets a user export mailbox items from Apple Mail and afterward imports them in Outlook. In addition, instead of exporting manually, the database files can also be picked up from the default location on the Mac platform.
How Apple Mail Export Mailbox to PST?
Conversion to PST format is done so as to access the Apple Mail emails in MS Outlook. Also, both Outlook for Mac and Windows provides inbuilt option to import the PST file which makes it a flexible export option. Now, for users to transfer Mac Inbox, Sent and other folders to PST in a hassle-free manner, the completion of following steps are necessary:
In addition, a separate method to Import the mailboxes in Outlook for Mac & Win will also be provided for user convenience.
Step 1 and 3 are manual process with free native options provided in the respective email clients. The second step requires the use of a specialized utility for Apple Mail to Outlook conversion. All these steps are thoroughly described in the below section.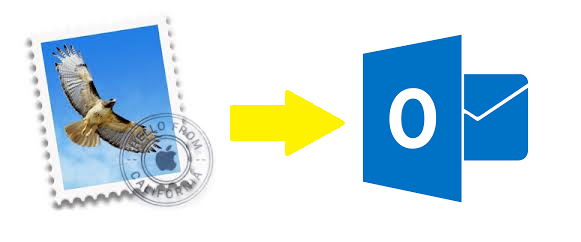 Step 1. Apple Mail Export Mailbox with Attachments
Users can generate MBOX files from Apple Mail folders using this methodology. The steps to do so are as follows:
Launch Mac Mail application and select the mailbox folder that needs to be exported
Go to Mailbox menu and choose Export Mailbox option
Provide a location to save the files in MBOX format by clicking Choose button
Users will have the necessary mailbox files with emails and attachments at the chosen location. Moreover, instead of generating files, users can also directly copy the MBOX files from default location of Apple Mail database.
Default directory: ~/Library/Mail/V(n), where n corresponds to the Mail version user has(V2, V3, V4, V5, V6)
Step 2. Convert Mailbox Items to PST without Outlook Installation
From Apple Mail export mailbox to PST using a utility that specializes in such conversion. Lack of effective methods makes it really difficult for users to obtain preferred results. That is why users look for a specialized tool which can increase their productivity and at the same time provide accurate results. Mac MBOX Converter is one such utility trusted for its high-performance and efficiency. With a feature-rich interface, it provides a variety of customizable options to the users during conversion.

Instructions for Converting Mac Mail folders into PST files
Follow the given step by step procedure for converting Apple Mail mailbox folders to PST file format:
Run the software for Apple Mail export mailbox to PST
Add individual mailbox files or folder using Add File/Folder button
Choose PST as the export type and apply advanced settings
Hit the Export button to start the conversion process
Benefits of Using Specialized Tool
The utility specializes in Mac email conversion and at the same time provides users with a multitude of features while doing so.
Option to add Apple Mail MBOX files individually or in bulk
Ability to combine multiple mailboxes into a single PST file
Filters for converting Mails that fall within a set date range
Saves the original integrity and structure of email data
Attachments, inline images, formatting – the tool maintains them all
Import PST file into Mac Outlook platform
Run Outlook on Mac system
In the menu, go for File > Import
Here, choose Outlook for Windows archive file(.pst)
Locate and select the earlier converted file. Click on Import
After process completion, hit the Finish button
To import the files in Windows Outlook platform, users can take help of the native Import/Export option provided by Microsoft in Outlook.
Bottom Line
The article comprises of methods that can help users know how can Apple Mail export mailbox to PST. Although there are no direct native solutions, the use of specialized software can help users achieve results in no time. A complete guide elaborates all the necessary step-by-step process to perform this conversion easily.