Apple Mail
Resolve Yosemite 10.10.5 Mail Problems Effectively
Is your Mac mail not responding? Do you want to know some manuals and trouble-free method to solve the problem? If yes, go through this article and explore the two most popular solutions to fix Mac OS Yosemite 10.10.5 mail problems. However, before that, let us know more about Yosemite 10.10.5.
It is the eleventh release of Mac OS X. This version of Mac OS X provides matchless features like a split-screen view, space Bar, performance improvement, enterprise features, etc. However, it has been noticed that after upgrading to this Mac OS X version, when users try to open the mails then, they face some problems. One among them is "Mail not responding" or "Application not responding". The reasons for this error message are many. Therefore, in this article, we will describe all possible root causes of the problem. Moreover, we are also going to learn about some possible solutions for the resolution of this issue. Nevertheless, before that let us understand it more clearly with user query:
User Query
"I have updated to Yosemite Mac Operating System version. One day when I try to access the emails, I was encountered the error i.e. "Mac Mail not responding." I searched for the online solution, but could not find any relevant solution. Can you please help me to resolve the mail problem?"

Reason Due to Which Mac OS Yosemite Mail Problem Occur
When users try to open emails they find that Application is not responding or crashing. The major reason behind this problem is, upgrading Mac OS X to the new latest version. As a result, there will be handling issues with the previously saved state of email. At that time, the mail application not responding problem generates. Therefore, to resolve the problem, the prior saved state of mail should be removed and re-launch the mail. Therefore, to delete the previously saved state of mail users have to follow some steps, which are discussed in the next section.
Manual Strategies to Resolve Yosemite 10.10.5 Mail Problems
To delete previously saved the state of emails users have to follow some useful steps that are given below:
Firstly, Force Quit the Mail app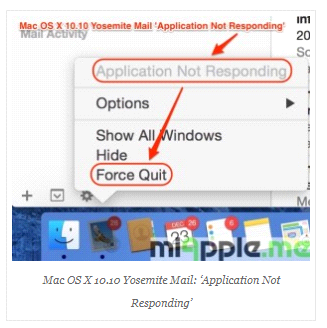 Navigate towards Finder
Then, you need to hold the Option key
After this, choose 'Library' from the Go menu
Next step is to move towards the Container folder
Now, choose com.apple.mail
Then, you have to select the Data option
After this, Go to Library
Then, you have to select Saved Application State
Next step is to move 'com.apple.mail.savedState' to the trash

Then, Empty trash
Now, you need to Restart Mac Machine
Lastly, Relaunch Mail
One thing should be remembered that user has to leave the 'Internet Accounts' present in 'System preferences' open. So that when the user restarts the Mac, Mail launches correctly and 'System Preference' gets window open.
Limitations of Manual Approach
By using above-mentioned steps, users can solve Yosemite 10.10.5 Mail Problems. However, persistent of the issue even after going through manual solutions, indicates that the file must be oversized. In such situations, you can use our software Mac Mail to Outlook Converter. With this software, users can easily fix the problem. The tool provides a matchless features and supports all MAC OS versions. Moreover, the resolution can be done in a more precise manner with its attractive features suite.
The Bottom Line
In this article, we have learned, the root causes for the Yosemite 10.10.5 Mail problems. Apart from this, we have also discussed the manual approach to resolve this issue. However, in case the problem remains unresolved with the manual approach, then it is recommended to use our tool. It works very efficiently and is a reliable solution to resolve the problem.