Apple Mail
Learn How to Deal with No Valid MBOX Files Were Found Error?
One of the most popular Mac OS X email client is Apple Mail, which is also known as Mac mail. It stores the data in MBOX file format that is supported by many email clients such as Thunderbird, Spicebird, Eudora, Entourage, etc. Since this file format is saved on the local computer, there are chances of file corruption. Other reasons of file corruption are improper management, virus attack, etc. Therefore, when users try to open the corrupted files using the application they may encounter with no valid MBOX files were found error or MBOX file error. The following segment will help users to resolve such error.

Reasons For No Valid MBOX Files Were Found Error
There are various reasons due to which users are finding MBOX file errors. Some of them are mentioned below:
Reason#1 Distinct Mac Operating System Versions
When the user is migrating MBOX files from one Mac OS version to another version, at that time the user may encounter the error no valid MBOX found.
Solution: At the time, users try to export MBOX files from one Mac Operating System to another then; there will be the file compatibility issue. This means variations in Mac OS make .mbox files inaccessible. Hence, the user is encountered with the Mac mail no valid MBOX files were found error. Therefore, to resolve the error users have to follow some useful steps. But, before that user should take backup of mailbox. Follow the command:
~/library/mail/and~/library/preferences/com.apple.mail.plist.
Note: if a user wants to open hidden library folder on Mac Operating System then, follow these below-mentioned steps:
Firstly, move to Go
Then, click Go to Folder
Write ~/library/ in the text box
Now, click on Go
Note: For importing MBOX files, it is necessary to access the old messages, by locating files in ~/library/mail/ folder.
After completing above-mentioned steps, follow the set of commands:
Close mail.app
Now, copy messagerules.plist from the old folder of mail
Then, paste in new location i.e ~/library/mail/v2/maildata/
Delete messagerules.plist.backup present in current folder, else you can skip this step
Now, open mail.app
Verify the rules listed in preferences.
Steps to import MBOX files:
First, click on File
Then, select import mailboxes
Now, click Apple Mail option
After this, click on Continue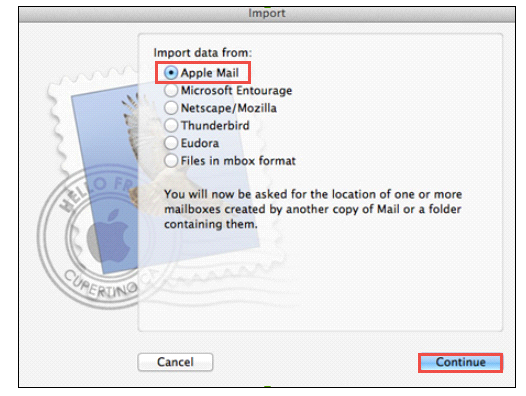 Navigate towards the path where your MBOX file is present, select it, and click on choose
User can preview extracted mailboxes and click on continue
Restart the mail.app application
Now, check the import mailbox and move mailboxes to the original path
You need to check whether the system searching tool is working or not
If not then rebuild the spotlight index via sudo mdutil -e shell command; else you can skip this step
Finally, entire importing procedure is completed and you can take a look at preferences list for analyzing the mail rules
Reason#2 Migrating Files from Apple Mail To Other External Devices
Normally, users save MBOX files to any external storage device such as pen drive, hard disk, etc. However, it has been noticed that when they try to open files directly from external devices, they find the error no valid MBOX files were found error. Therefore, in such case user requires the method to export MBOX files from an external device.
Solution: To import .mbox files user have to follow import steps, described in the above section of MBOX error resolution.
Reason#3 Accessing Inappropriate Directories
When users try to access Mac mailbox from the incorrect directory, then the chances of MBOX file error increases.
Solution: While importing MBOX files from incorrect directory level, this error message gets displayed. Therefore, to resolve the error users have to follow some steps:
Firstly, backup directory level by one
Then, select the mailboxes folder from location: /home/library/mail/mailboxes/
User will see list of MBOX files gets displayed
Now, select the MBOX file that a user wants to import and start the import procedure.
Limitations of Manual Solution
All these manual approaches, help users to rectify no valid MBOX found issue. However, in some scenarios, these solutions do not work. Moreover, manual procedures are lengthy and time-consuming. Therefore, to overcome these limitations, users can opt for our Mac MBOX to PST Converter tool. Which can easily restore Mac mail MBOX files into healthy formats.
The Bottom Line
In this article, we have discussed the main cause of the error Mac mail no valid MBOX files were found. Apart from this, we have also learned manual solutions for the resolution of this problem. However, these manual strategies have some limitations. Therefore, it is recommended to go for a trouble-free method for an accurate and guaranteed result of the problem.