Outlook
Extract Contacts From PST File With and Without Outlook
PST is a Personal Storage Table file that comprises personal user information of Microsoft Outlook 2021, 2019, 2016, 2013, etc. It contains email folders, calendars, contacts, tasks, and other data items. However, there come times when users uninstall the Outlook application or want to access Outlook data from any other platform.
In such cases, it becomes essential to export contacts from Outlook. But, still, several Outlook users have no idea about how to do this.
So, today we have come up with this article and here we are going to discuss how to view and extract contacts from PST files using different techniques that work.
So, let's begin! First, we will discuss the professional approach to extract contacts from PST files and then we will go towards the manual technique to solve the request.
Different Ways to Extract Contacts from Outlook PST File
Basically, there are two ways to resolve this issue. We have both ways in an elaborated manner to have a clear glance on the problem. Below the methods are listed:
Reasons to Extract Contacts from PST File
Transferring Microsoft Outlook data from one email account to another.
Moving Outlook data from one device to another device
When switching Outlook items/PST files from Windows to Mac or vice-versa
Moving Outlook data between local folders or IMAP or exchange server
These were a few of the most common causes why users look for solutions on how to extract contacts from PST files with Outlook.
Extract Contacts from PST Without Outlook With a Professional Solution
If you have uninstalled Microsoft Outlook and ended up having a PST file then, you can export contacts from the PST file. By using an Advanced and trustworthy PST export tool. This tool is capable enough to export all PST mailbox items such as emails, contacts, calendars, notes, journals, and tasks. The best part of this software is that it provides a free demo edition to preview all PST items and export 25 items in each folder.
The software allows the users to save the contacts in CSV or VCF file format. Moreover, it has the capability to extract contacts even if the browsed Outlook PST file is corrupted or damaged.
Note: Another professional solution to preview, search, and export PST files to PDF file format along with attachments by using FreeViewer Best PST Viewer Pro software. The best part about this software is that it supports viewing the contacts of PST files generated in Outlook 2019, 2016, 2013, 2010, 2007, 2003, 2002, and 2000.

Quick Steps to export contacts from pst files without Outlook

Step 1: Download & install the software
Step 2: Add PST File to Export into PDF Format
Step 3: Preview all outlook data items
Step 4: Export Options: PDF & Print Option
Working Steps to Export Contacts from PST Files without Outlook
1. Install and launch the software. Click on Add File button
2. Hit the Browse button and navigate to your system location where your PST file saved and add the file
3. After this, the tool will load a preview of the entire data items saved within the PST. Click on Export
4. From the Export Options window, choose CSV or VCF file format as per your need.
5. Click on Browse and select a destination location for the resultant file and click Export.
The process will begin right after this and once it gets completed you can access the resultant contacts file from any supported application.
Whether you are moving to a different platform or generating regular backups of all your contacts, if Outlook application is installed in your system. And when you extract contacts from Outlook, it saves a copy of your contacts in a CSV file by default.
So, if your contacts are saved within Outlook and you want to extract them then, follow the steps below to do this:
Also Read: Best Approach to Explore Outlook PST Files with Multiple Modes 
Extract Contacts from PST File Using Outlook
1. Launch Microsoft Outlook in your PC and click on the File tab

2. Choose Open & Export option from the opened menu list and highlight Import / Export in Outlook 2013, 2016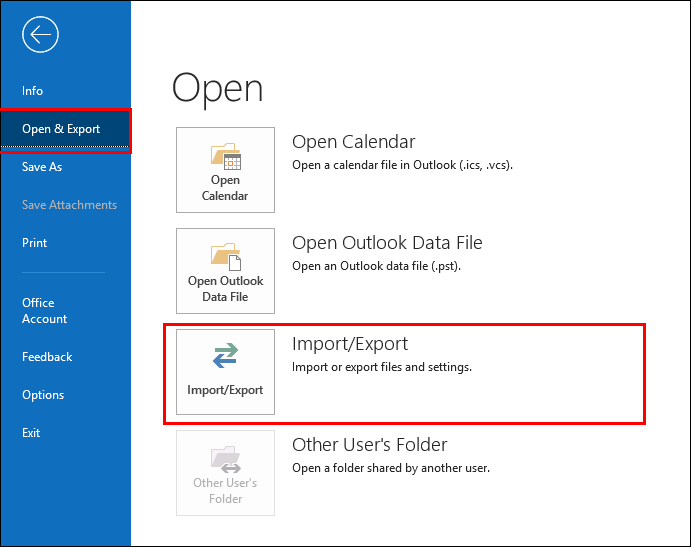 Note: The location of the Import/ Export option varies in different versions of MS Outlook. You can find this option in following locations as per your Outlook version:
If using Outlook 2007, click on File >> Import and Export
If using Outlook 2010, click on File >> Info >> Options >> Advanced >> Export
3. Select the Export to a File option. Click Next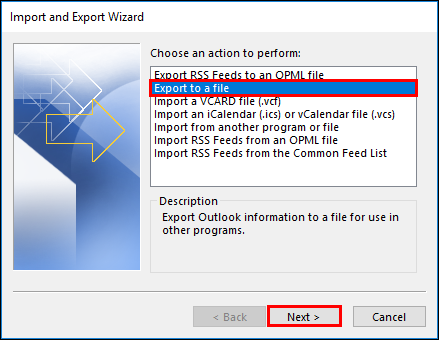 4. Select Comma Separated Values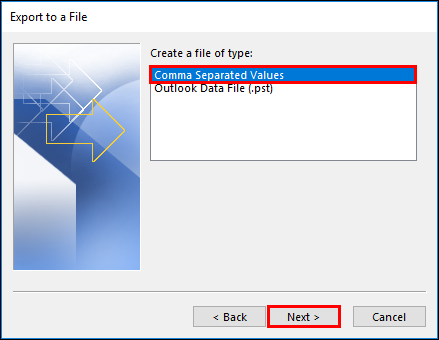 5. Here, in the Select folder to export section, choose the Contacts folder that is within your account. Hit the Next button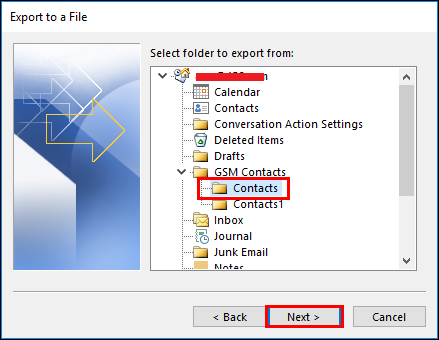 6. Click on Browse and enter a name for your file. Click Next
7. After this, navigate to the location where you want to save resultant contacts in your computer. Click Next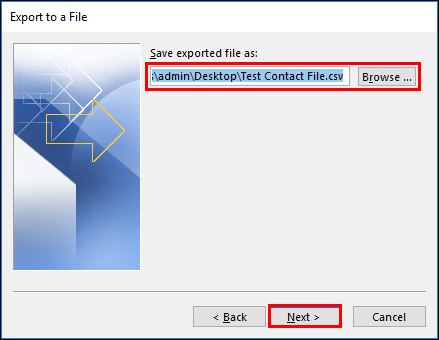 8. Hit the Finish button to begin extracting contacts from the PST file process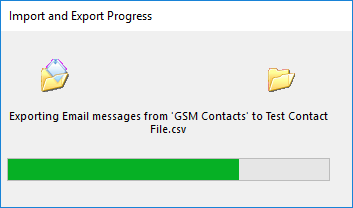 Note: Microsoft Outlook will not display and prompt any notification after finishing the procedure. So, when the process will get finished, the Progress wizard will disappear from the screen.
9. Navigate to the location where the resultant CSV file is saved on your computer and you can open this file with Excel to make sure if the contacts are extracted successfully.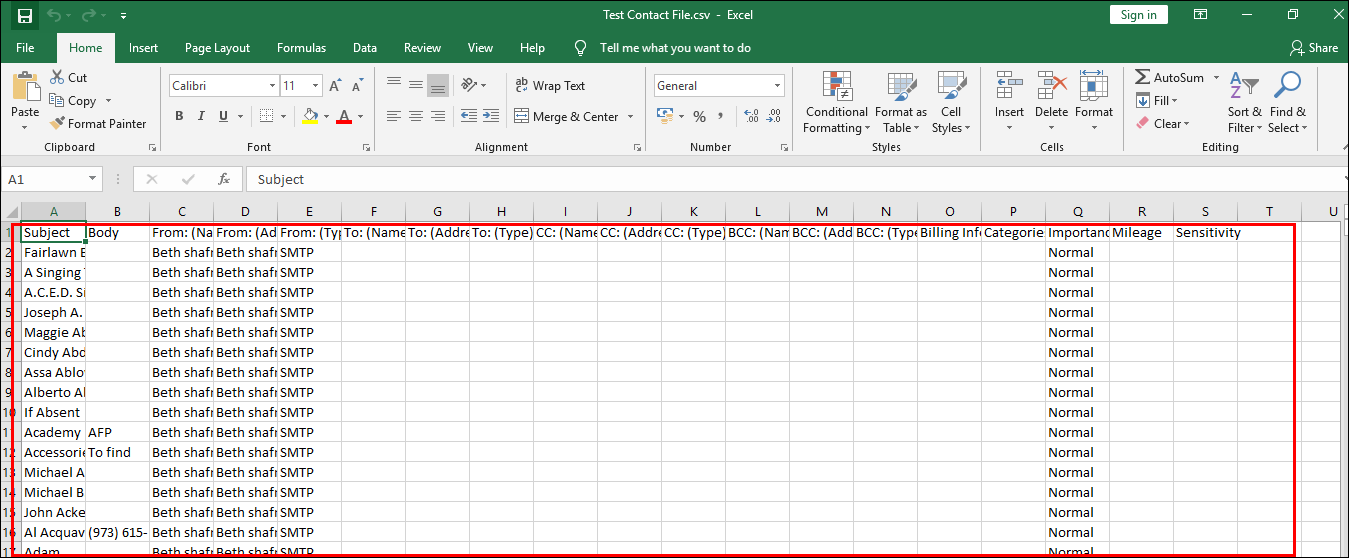 Summing Up
So, this is how you can extract contacts from PST files in a couple of clicks without making so much effort and complexity. Now, you can export contacts with and without Outlook 2021, 2019, 2016, and 2013 applications. If you're using the recommended software then, you can directly extract PST contacts even without installing Outlook or any other application. The software is completely secure to download and it does not conflict with other programs installed on your system.
FAQ's
Que. How can I transfer contacts from PST files without Outlook?
Ans. Users can export contacts from PST files without Outlook by following 4 easy steps.
Download and run the PST export tool
Add PST file to preview Outlook data
Choose the necessary export options
Finally press the export button
Que. Is it possible to extract 1000 contacts from the PST folder?
Ans. Yes, if you are using professional software, this is possible. Because with the help of this application, users can use unlimited contacts from PST files without any limitations.
Que. Is there a free solution to extract contacts from PST files with Outlook?
Ans. Yes, there is a manual solution which is explained in the previous section of this post.