Gmail
,
Yahoo Mail
 How to Transfer Yahoo Emails to Gmail? Solved Query!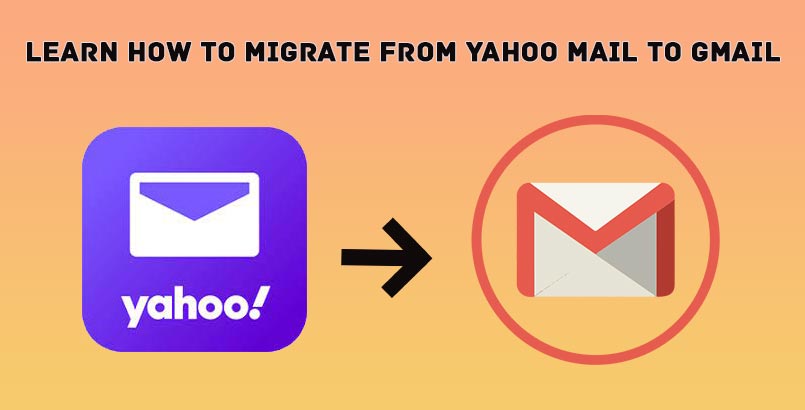 Yahoo Mail is one of the well-known email services that offered multiple integrated features. It has been launched in 1997 and still going on with its great technology and is now called Verizon. The email service offers a bunch of services and is used by most of the users present on the Internet. Apart from all, sometimes there may arise some issues that may force users to migrate to another webmail service that provides better features such as Gmail. Even we had also received a lot of queries by users to transfer Yahoo emails to Gmail. 
Emails are one of the most important parts of every person's life, especially for professional users. Most people migrate emails when they want to free up space in their account or they want to keep emails as a backup in their system. Migrating emails from Yahoo to Gmail is essential for users as Gmail provides 15 GB of free storage space. 
Let us start transferring Yahoo emails to our Gmail accounts using both the manual as well the professional solution. 
Manually Transfer Yahoo Emails to Gmail
Login to your Gmail account. 
Go to the Settings option. Click on Accounts & Import.
Then, choose Import Mail & Contacts. 
 In the new screen, enter the Yahoo Mail login credentials. 
Choose the needed option and then Import. 
Hence, using these simple steps, you can easily transfer Yahoo emails to your Gmail account. But the migration of emails will take a lot of time and it may also take 3-5 days depending on your mailbox. 
Also, the other limitation is that you can choose the migration of a selective number of emails directly to your Gmail account. So, it is better to continue with the second-mentioned automated approach to carry out the task instantly.
Also Read: Migrate Emails From One Gmail to Another
Expert's Solution to Migrate Emails From Yahoo to Gmail
Hence, to overcome those limitations, our experts have designed one of the best and most automated approaches to carry out the migration. Use IMAP Email Migration Tool to instantly transfer emails from Yahoo Mail to your Gmail account.
The tool has been designed with an advanced technological algorithm that offers multiple inherited features. It has the ability to handle a large amount of data with no size limitation and no loss of data. Other than that, novices, as well as tech users can utilize this software and understand its features more properly.
Just continue installing this Yahoo to Gmail Migration Tool and start the process. This solution is available for all Mac OS users.
How to Migrate From Yahoo Mail to Gmail? – Quick Steps
Launch the mentioned Migration tool in your existing Mac system. Read the instructions given in the panel.
Then, from the panel, choose Source IMAP account >> Yahoo Mail. Enter the login credentials of your account there. And, validate it.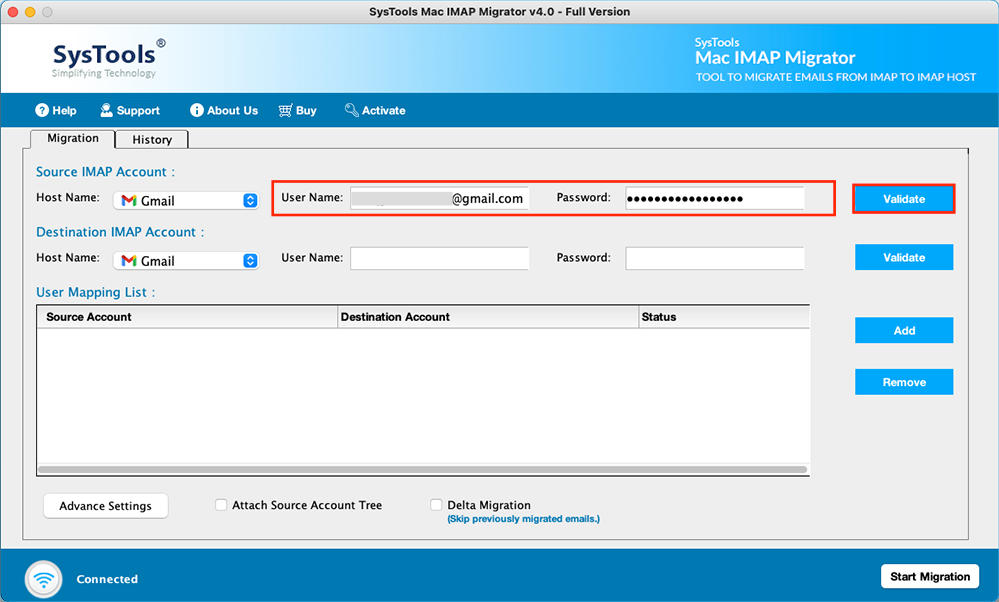 After that, from the destination IMAP account >> Gmail. Enter the login credentials of your Gmail and validate.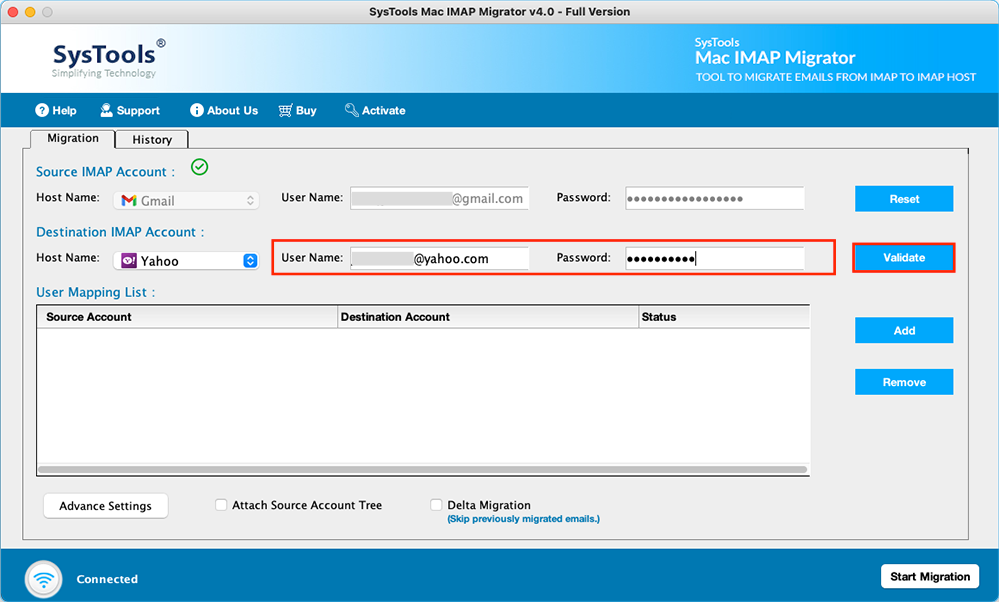 Using the Add option mentioned, you can instantly add more IMAP accounts to migrate the emails.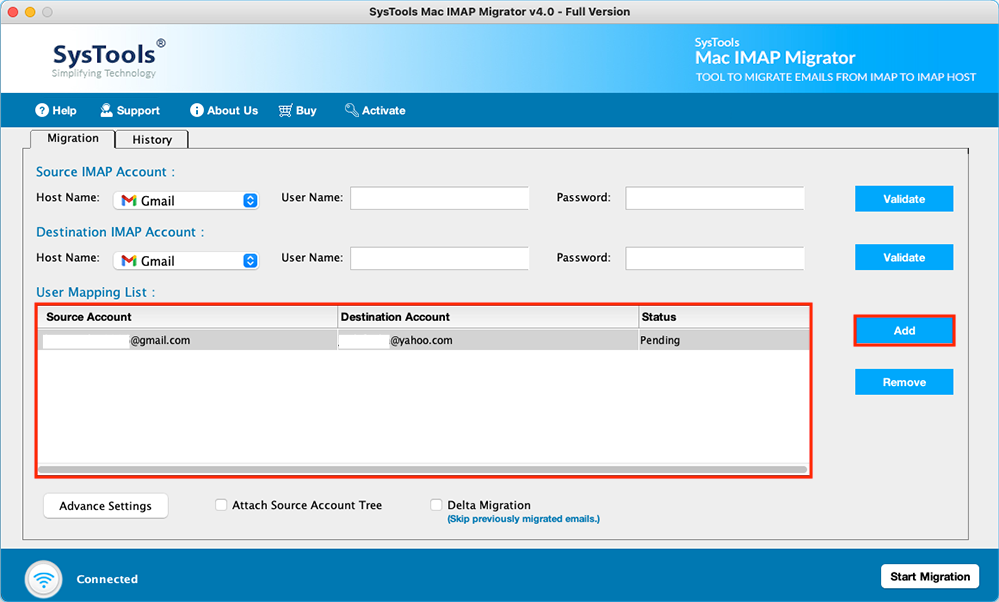 From the Advanced Settings option, you can instantly choose the folders, and using a date range, you will carry out the emails of a particular duration.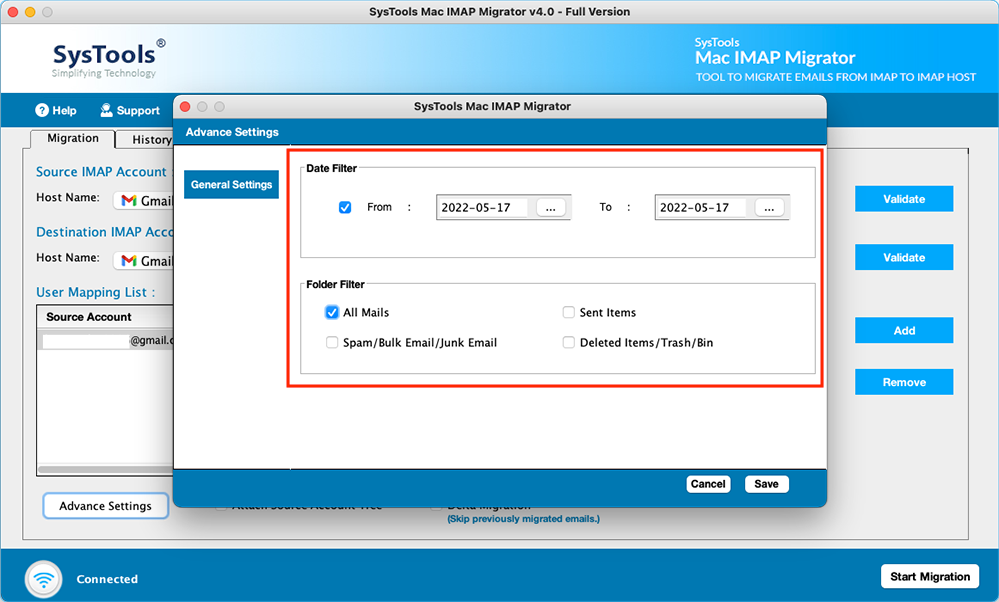 Once you click on Start Migration, the process will automatically start and in just a couple of minutes, the final migration message will appear on the screen.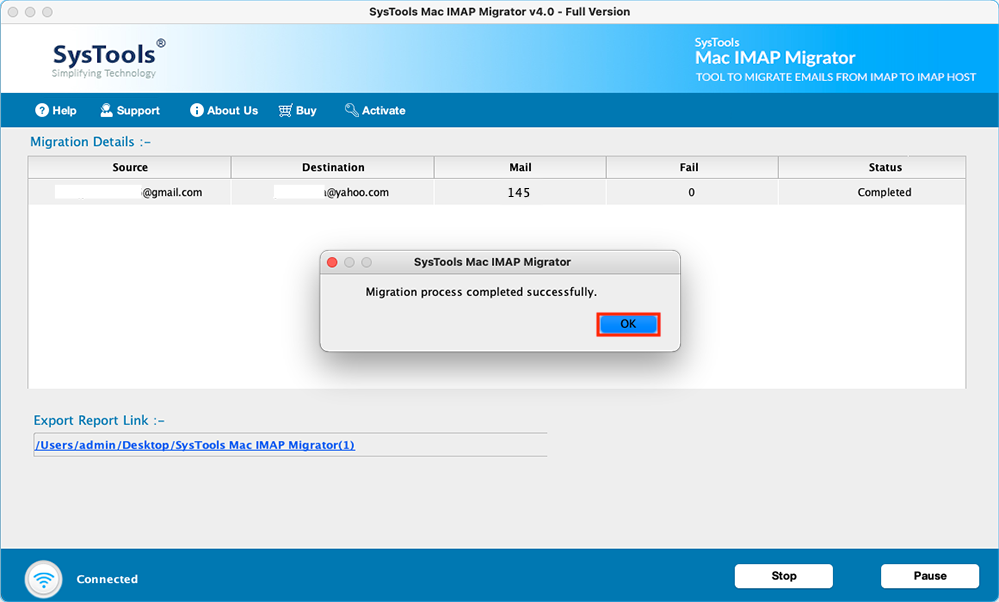 Therefore, by just performing these simple steps, you can easily migrate emails from Yahoo to Gmail in bulk quantity. 
Features of the Tool to Transfer Yahoo Emails to Gmail
The tool is flexible to use and provides an easy-to-use interface that can be operated by all technical as well as novice users. 
Ability to migrate emails from Yahoo to Gmail in bulk quantity without imposing any kind of size limitation. 
Preserves the entire folder hierarchy and structure of the data and keeps the email meta properties properly. 
Generate a Summary Report at the end of the migration process. 
Compatible with all the latest as well as the previous versions of the Mac OS system. 
Migration of emails from selective files or folders such as Inbox, Sent, Spam, and others. 
The End
Hence, we discussed two different solutions to transfer Yahoo emails to Gmail accounts both manually as well as professionally. Moreover, now it depends on you guys to continue with the solution that meets your needs and requirements. We recommend you use this wizard to transfer multiple emails with attachments in just a single attempt. Also, it is one of the effective solutions presented all over the Internet. For more information, you can connect with our technical experts.