Google
How Do I Migrate Emails From One Gmail to Another?
In today's era, a lot number of users are depends on Gmail accounts to manage their data both personally and professionally. Gmail is one of the well-known accounts that has been used by more than 50% of the population. Here, users save their entire data including emails, contacts, calendars, mailbox folders, and other data properly. Even Gmail also provides us Google Apps with 15GB of extra storage space to store documents, contacts, sheets, slides, forms, and multiple others. Sometimes, it also happens that there is an issue such as hacking issues, or spacing issue arises in the Gmail account. At that time, users usually migrate emails from one Gmail account to another.
Other than that, if we talk further then also there are a lot number of reasons for users to export Gmail emails to another Gmail account. And, this is also useful for users who want to free up their storage space by transferring Gmail emails to another Gmail account.
In this write-up, we are going to discuss a freeway as well as the paid way to export the emails instantly without facing any issues.
User Query

"Hi, I am Leena. I was working on a particular Gmail account for the last 3 years and now I have a lot of emails present in my account and I am thinking to transfer them to another Gmail account. It is because it is taking up a lot of my storage space. Is there any solution present that can help me to migrate emails from one Gmail to another Gmail account?"
Transfer Gmail Emails to Another Gmail Account Manually
Here, you can easily transfer emails using the POP option mentioned in the Gmail settings option.
Step 1: Enable POP in one Gmail account
Open your Gmail account.
Go to Settings >> Forwarding POP/IMAP.
Select Enable POP for all mail.
From the above option, select keep Gmail's copy in the Inbox.
Step 2: Migrate Emails to Another Gmail Account
In another account, go to Settings.
Click on Accounts and Import.
Select Add a Mail account and enter the email address of Gmail from which you want to migrate emails.
Click on Next. Select Import emails from my other account (POP3).
Enter the password of your other Gmail account and select pop.gmail.com under POP Server.
Select 995 under Port.
Verify Leave a copy of retrieved messages on the server. And, verify Always use a secure connection (SSL).
Then, select Add Account. And, select Yes, I want to be able to send mail as

[email protected]

.
Enter your name and the Next step.
Select send verification. Close the Window.
Step 3: Verify to migrate emails
Go to Previous Gmail.
From there, copy the verification code.
Then, go to another Gmail >> Settings.
Choose Accounts & Import >> Click on verify.
Enter the verification code and the emails will start migrating.
Read More: Zoho Mail to Office 365 Migration
Expert's Recommended Solution – Migrate Emails From One Gmail to Another Gmail
To clarify, we recommend you use one of the best tools, FreeViewer Mac IMAP Migrator. The tool is one of the highly professional solutions that has been developed by most professional experts. In fact, the software has the ability to handle a large amount of data in itself. Users can easily migrate emails from Gmail to another Gmail account without facing any kind of issue and with no size limitations.
Moreover, while transferring a bulk number of emails, the entire data consistency and hierarchy of files and folders are maintained. The software also provides a Date range filter option to carry out the emails of a particular duration. Once the migration is done, it will automatically generate a SavingLog Report at the end. Just Free Download the mentioned Gmail to Gmail Migration Tool and start the process.
This tool is suitable for only MAC OS users. 
Step By Step Guide to Migrate Gmail Emails to Another Gmail Account
Start the professional Migration Tool in your existing Mac OS system.
From the panel, choose Gmail as the source IMAP account and enter the login credentials of your one Gmail account. Validate it.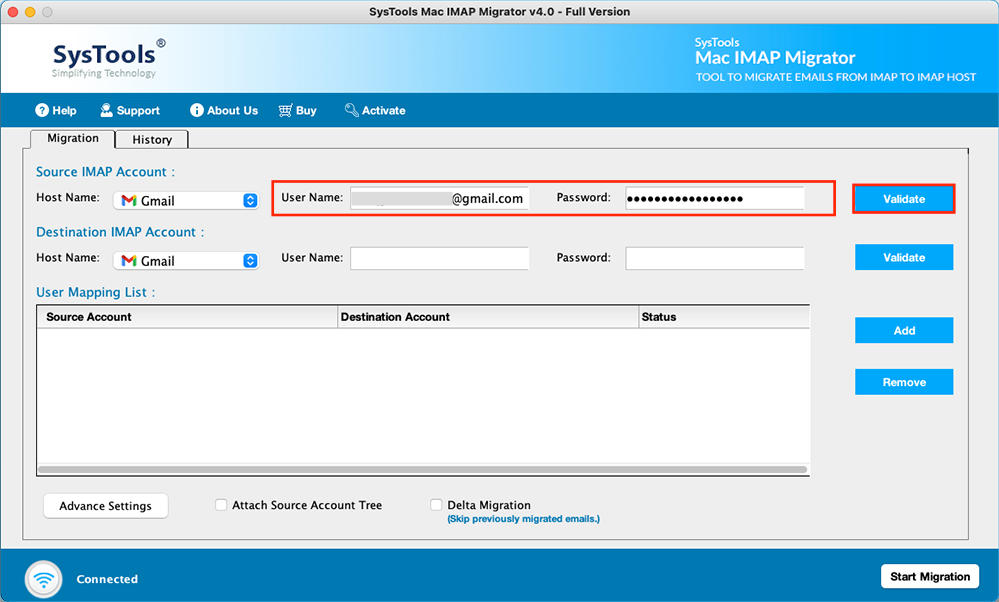 Then, from the destination IMAP account choose Gmail, and enter details of another Gmail account. And, validate it.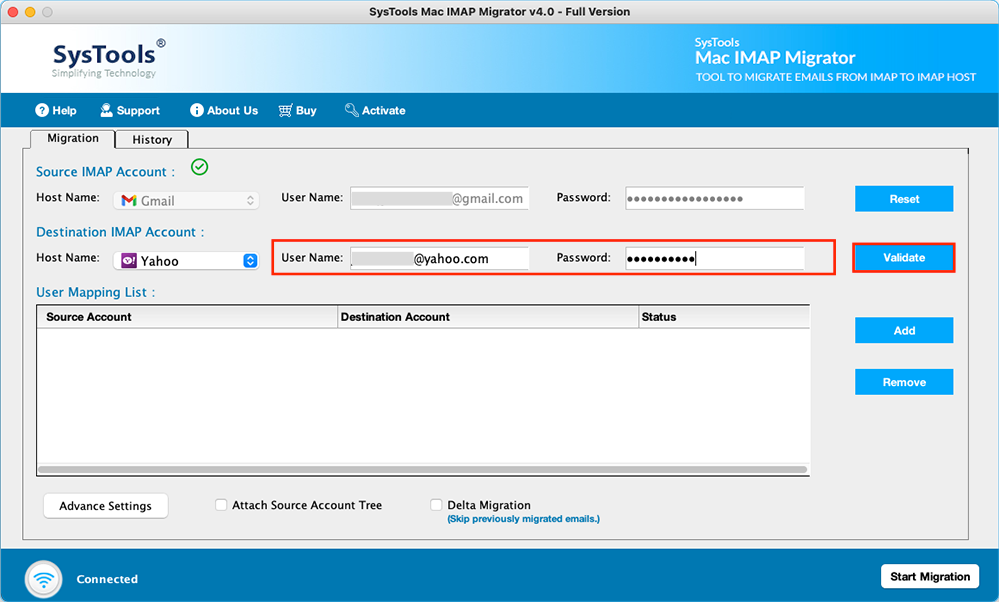 There, from the Add option, you can easily add one or more IMAP accounts.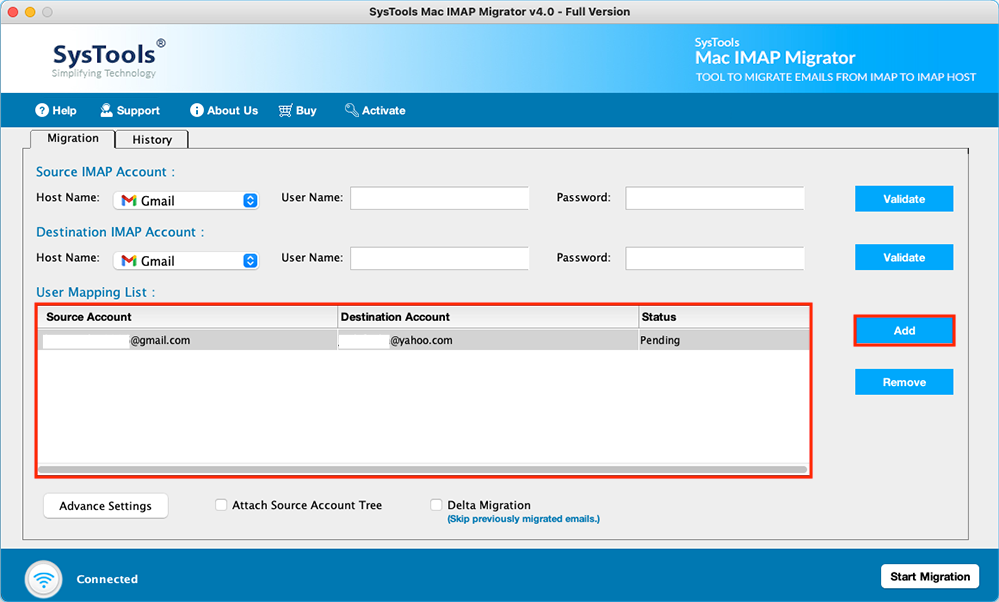 After that, choose Advanced Settings. Click on Start Migration and the email migration process will start automatically.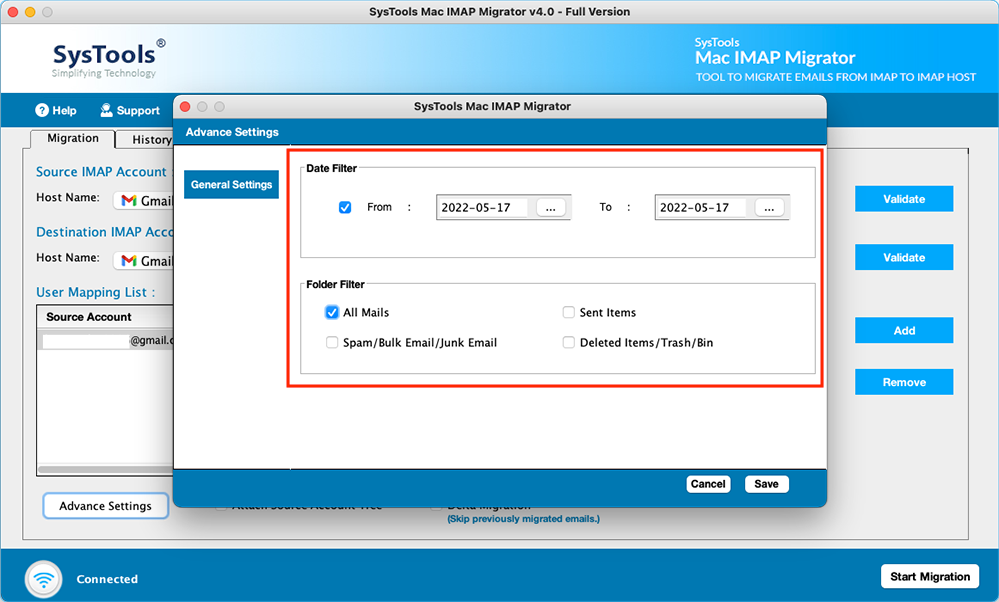 In the end, it will generate a successful migration message on the screen.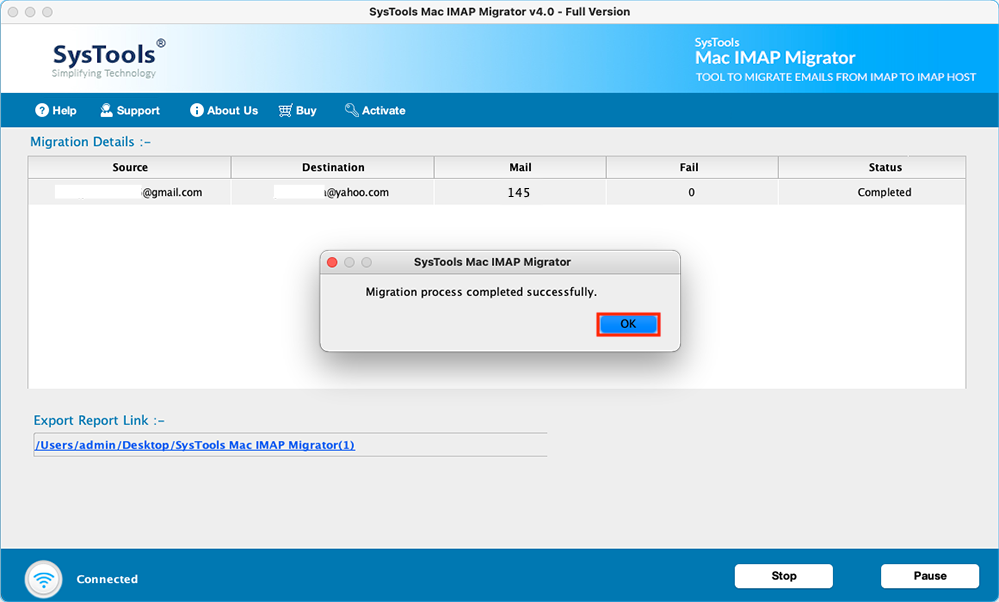 Features of the Migration Tool
The tool has the ability to migrate not only Gmail emails but also other IMAP emails.
Provides multiple to filter emails such as choosing a particular folder or date range filter option.
Preserves the entire folder structure and the hierarchy of all files or folders.
It also provides a feature of Delta migration that can skip previously migrated emails.
Migrate only the required number of emails from particular files or folders.
Self-Sustainable Utility: No need for any kind of extra installation.
In Conclusion
Migrating emails from one Gmail account to another is a tedious task and users need to face a lot of issues in that. Alternatively, while talking about both the manual as well as the professional solution. We realized that the utility will definitely meet the needs and requirements of the users. After all, the mentioned manual solution is quite complicated to use and will consume a lot of time and effort of the users.