Password Recovery
Open Password Protected Access Database Within a Few Clicks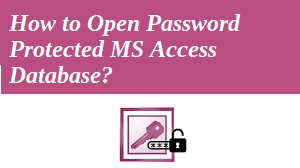 There are many users who are looking for a solution to resolve open secured access database issue. Mainly, users set the desired password to protect their Access database for any kind of delusion. But often users forgot or lost access database password due to many reasons like complexity, lengthy, etc. In this situation, they start searching an efficient way to open password protected access database without password ASAP.
So, we took this issue into consideration this issue and come up with this article. Today! We will be going to fix the issue such as How to Open Password Protected Access Database. Thus, you do not require to put extra efforts. You just have to go thoroughly to the complete blog to understand more about how to open protected MDB file topic. Let's have a look:
Open Password Protected Access Database Using VBA
Below in this segment, we will be going to disclose the manual solution to fix how to open encrypted access database issue appropriately. Here, you have to utilize VBA (Microsoft Visual Basic for Application) code to open password protected access database. Mainly, we have listed all the instructions to execute all of the steps for implementing this process adequately. Let's get started:
1. Initially, you have to create a new Access database without encrypted with the password.
2. After that, open that precise decrypted Access database. Then, press Alt + F11 keys altogether to open MS Visual Basic for Application 'VBA' utility.
3. Now, click on the Insert option from a Menu Bar and select Module.
4. Afterward, you have to copy the VBA code which is listed below and paste it by using Ctrl+V keys on the displayed module.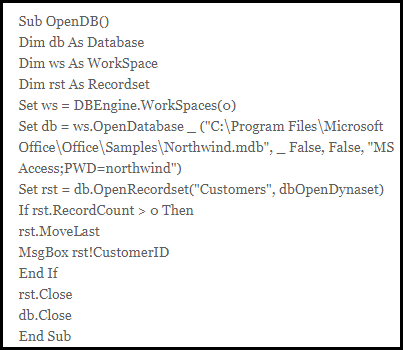 Mark: Ensure that you properly changed the destination address. Where you store your protect MS Access database with password.
5. Ultimately, click on the Run Macro button. And simply, press the F5 key, to implement the application effectively.
What If Manual Solution Gets Failed?
"The above-stated manual method to open password protected Access database is profitable when you remember an exact password of your database. If in case, the users forgot or lost Access database password. So, this manual method does not obtainable. But, do not worry! Just check out the upcoming section to know the perfect solution to resolve open MS Access database without password issue flawlessly."
Reliable Way to Open Password Protected Access Database
Many users are still ignoring fact such as the above-stated manual solution is unable to open locked access database. So, in this situation, only a single solution can help users out named MDB Password Recovery Tool. With the help of this application, you can easily remove and unlock protected access database. It consists of enriched features which helps to provide an efficient outcome.
This Access password viewer has the ability to solve this issue quickly. The tool having some more reliable features, which makes it unique. It helps to open any kind of passwords like complex, lengthy, UNICODE, and so on. Moreover, you can utilize this software to decrypt any Access database file. Because it extensively supports all versions of MS Access application. And this utility is compatible with all above and below editions of Windows Operating System.
Steps to Open Password Protected Access Database Quickly
Here, you will get the instructions to execute a procedure to open secured Access database. Mainly, we have disclosed all the steps appropriately. You just have to implement all of them to get the expected outcome.
Step 1: First of all, install and run the proficient software on your local system.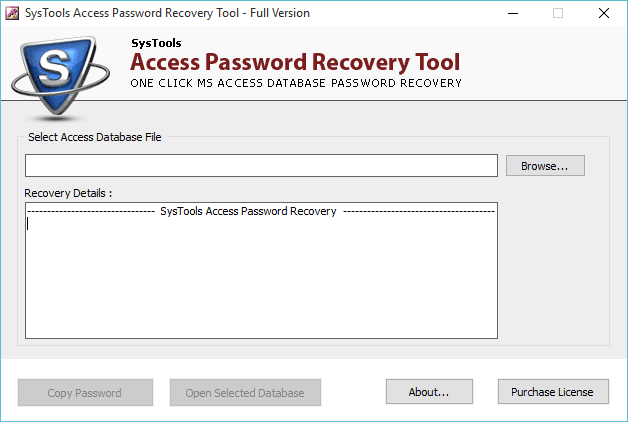 Step 2: Then, click on the Browse button to add a preferred password protected Access database.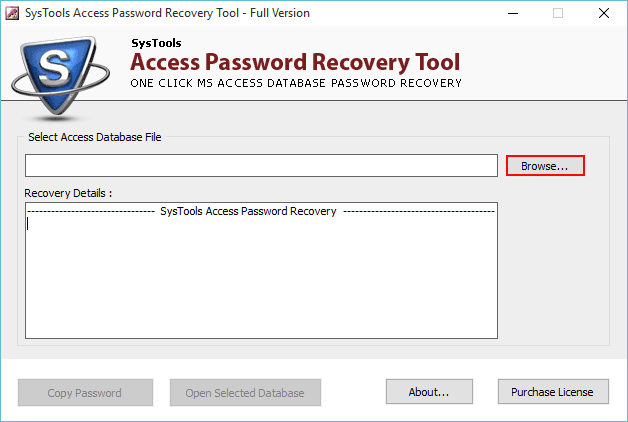 Step 3: Now, you have to choose Copy Password option to replicate the retrieved password.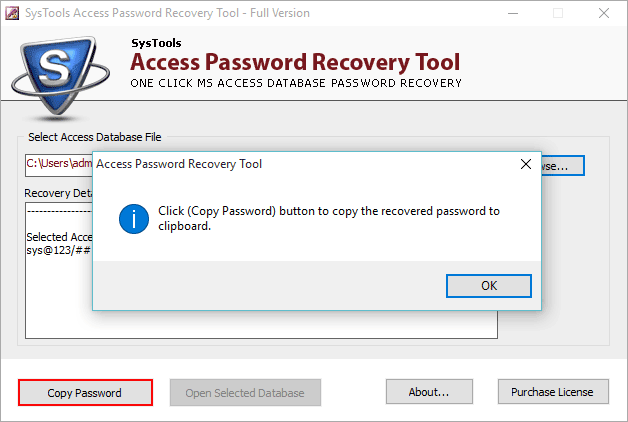 Step 4: Finally, hit on the Open Selected Database option to open a protected Access database successfully..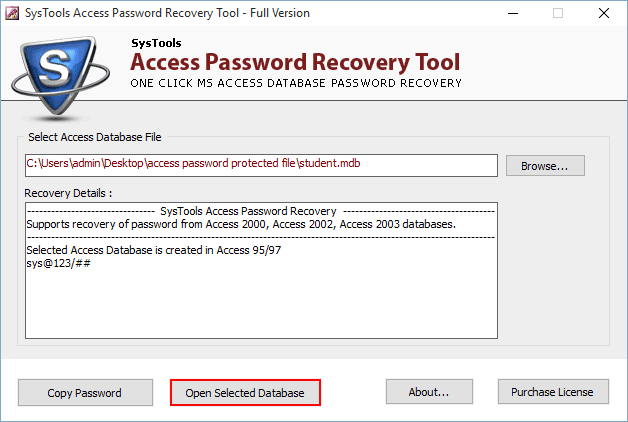 Concluding Thoughts
Here, in this blog, we emphasize the solutions to resolve most commonly asked query such as how to open password protected Access database. Mainly, we have revealed both manual and professional solution for the same. You just have to perform any method as per your choice. However, we have discussed both the approaches adequately.