Data Recovery
How to Recover Forgotten MS Access Database Password?
Raj
| Modified: May 9th, 2019 | 4 Minutes Reading
MS Access is an application which facilitates a functionality to keep database safe and secure. Users can set a complex or multilingual password to make their Access database protected. Though, many Access users are utilizing this utility and make their Access database MDB file secure. But often, users forgot their database MDB file password due to complexity. In this situation, they become unable to open a password protected Access database. At times, users start finding an instant solution to recover forgotten MS Access database password.
So, we considered this issue and come up with this flawless article. Today! We are going to disclose the proficient technique to do the same within a few minutes. Hence, just go through the complete blog to understand how to retrieve lost or forgotten MS Access database password. But before proceeding further initially, let's check the below-listed user's query. The following scenario is taken from the forum site. Have a look:
User's Real-Time Scenario
"Before two months ago, I had put a complex and multilingual password on my Access database (2007) for making that protected. Unfortunately, I completely have forgotten the password which I set up previously. And now, I require an effective solution to know how to recover forgotten MS Access database password. I had put this query because I need to utilize the database urgently. So, please suggest me an appropriate solution for the same. Thanks in advance."
Recover Forgotten Access Database Password Effectively
In this case, there is no availability of a manual solution. Because the free solution is obtainable if in case, the user remembers an appropriate password. But do not worry! You have an efficient solution named Access Database Password Recovery Tool. With the help of this tool, you can easily resolve your issue such as how to recover forgotten MS Access database password. This password unlocker tool can decrypt any kind of passwords like multilingual, complex, ANSI, UNICODE, etc., without any hassle. This software is come up with an understandable and user-friendly interface. So, a non-technical user can also implement the password recovery procedure without any external assistance.
However, it can be installed on any Windows machine. Because it does not associate with compatibility issues. It extensively supports all advanced and below versions of Windows Operating System. Despite this, it also consists of some more reliable features and functionality. Conclusively, we also mention some simple steps to implement the recovery procedure using this amazing utility.

Steps to Restore Forgotten MS Access Database Password
Below here, we are going to reveal the steps to recover lost or forgotten password of the Access MDB file. Mainly, we have discussed all the instructions adequately. You just have to follow all of them sequentially, to get the expected results. Let's get started:
Step 1: First of all, install and run the efficient tool on your local machine.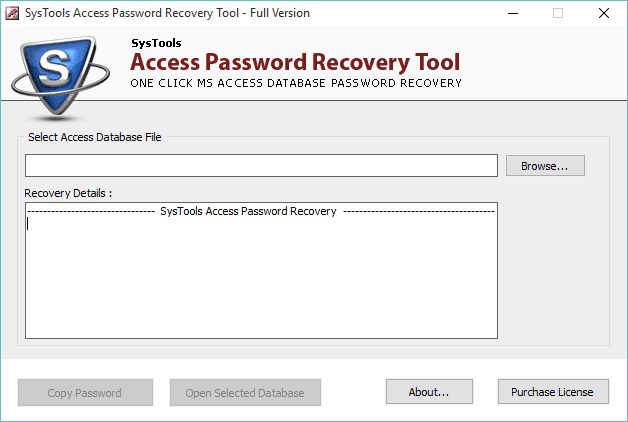 Step 2: Now, click on the Browse button, to add a password protected Access MDB file.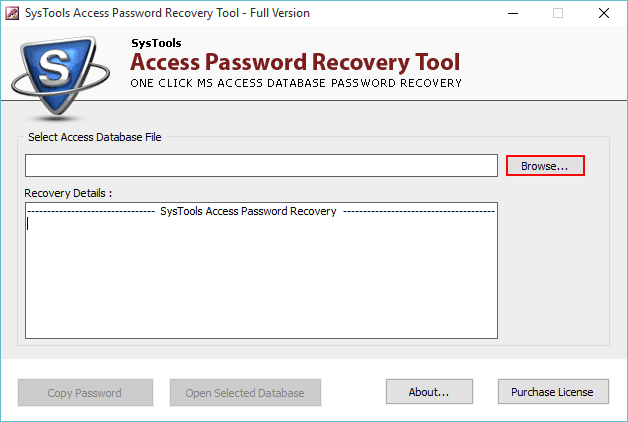 Step 3: Then, opt the desired MDB file from its relevant location, and hit on Open button which is located at the right bottom.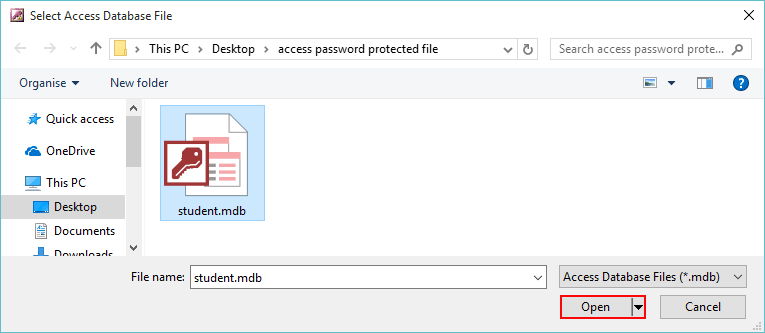 Step 4: Once you click an Open option, a dialogue box will appear on your display. From here, you have to click on the Copy Password option to proceed ahead.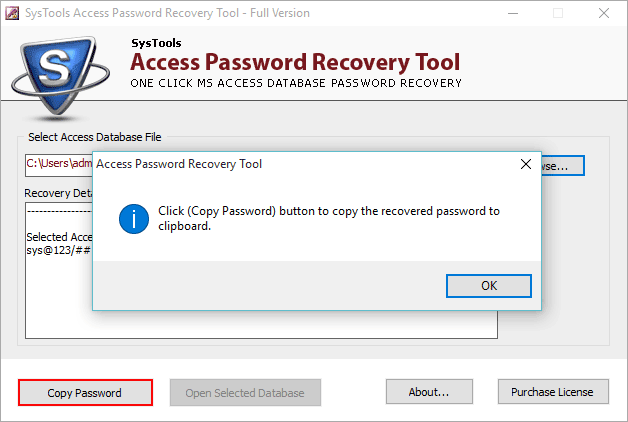 Step 5: After selecting the Copy button now, you have to select the Open Selected Database option to recover forgotten MS Access database password.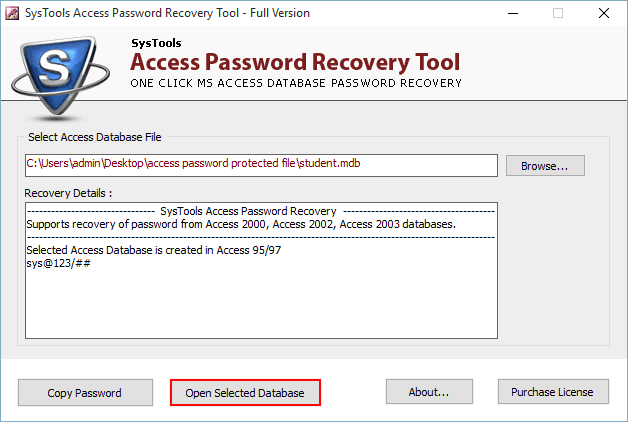 Step 6: Simply, paste the recovered password into the Password dialog box using the Ctrl + V keys together and hit on OK.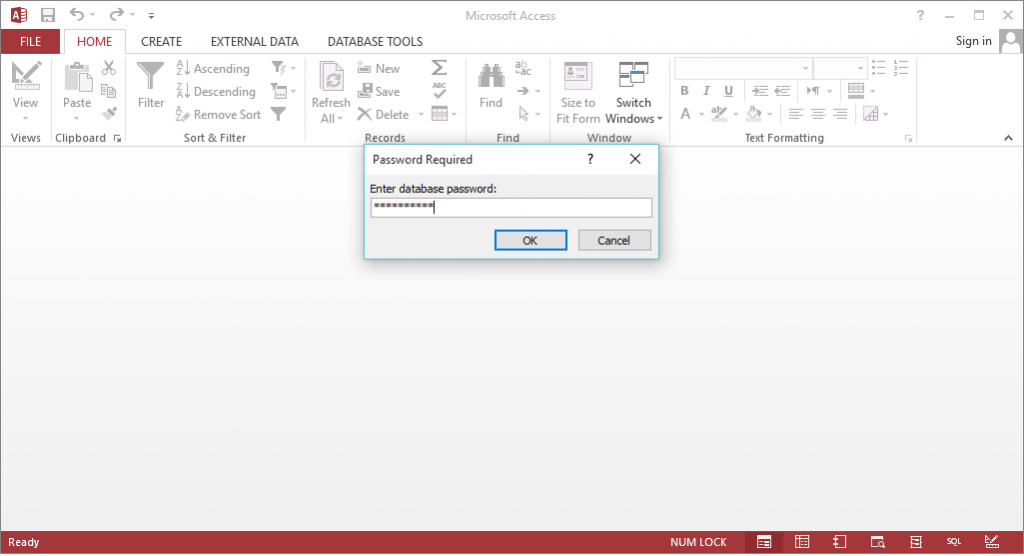 Step 7: Ultimately, the password protected Access database file will be open now. And you can view the stored database without any interruption.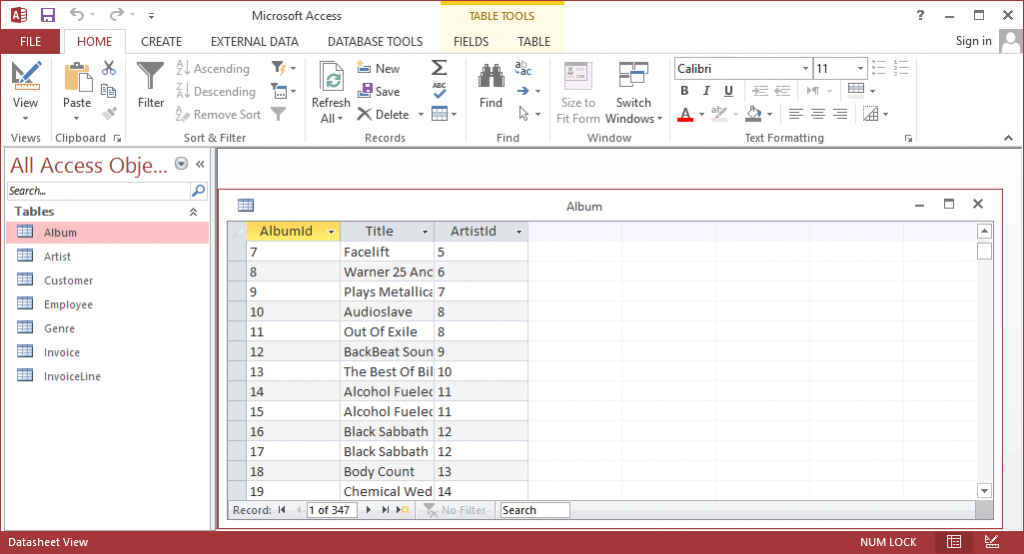 Time to Conclude
Here, in this blog, we emphasized the perfect approach to resolve how to recover forgotten MS Access database password. Mainly, we already know, many users are searching for a free solution for the same. But, there is no manual solution which can retrieve an Access database password. This can be possible by using a third-party application only. So, in the above segment, we have explained the proficient utility to recover password of protected Access database. Thus, go thoroughly to the entire post to learn more about this topic.