Data Recovery
How to Remove Password From MS Access Database?
There are endless number of users, who confronted this issue once in their entire life. Users added password to protect access database. But, sometimes, users forgot access password due to its complexity. At times, they require to remove password protected access database. So, we considered this issue and come up with this comprehensive article. Today! We will be going to discuss smart and handy techniques for how to remove password from MS Access database. Thus, just have to go through this complete post to get more information about this topic. Let's get start.
Get The Free Access Password Recovery Tool demo version by clicking Download Now.

Manual Techniques to Remove Password From Access Database
In order, to execute the manual procedure, you should remember Access database password. If you know the proper password, so you just have to follow below-outlined steps adequately. Here, in this segment, we are going to describe all the instructions sequentially. Have a look:
Remove Database Password From Access 97, 2000, 2003
Initially, you have to open your preferred protected Access database as exclusively. To do the same, simply hit on the Open folder icon, and select database MDB / ACCDB file. Then, click on the arrow next to the Open button and opt Open Exclusively option.
Hit on Tools and choose Security after that, select the Unset Database Password option.
Ultimately, add an Access database appropriate password, and hit on OK. Then, the Access DB password has been removed successfully.
Decrypt Protected Database Password From Access 2010
Primarily, open your Access database in Exclusively mode. To do so, you have to select File and choose Open.
Afterward, click on File and Info. Subsequently, choose a Decrypt Database option.
Finally, input the accurate password in the dialog box of Unset Database Password. Then, hit on OK to finish the process.
Remove Password from Access Database 2013 and 2016
Firstly, click on File option and Open then Browse. Now, on the Open dialog box, opt the protected Access MDB file and select Open Exclusive.
Now, add the proper password of Access database and click on OK to unlock it.
Ultimately, click on the File option, then Info>>Decrypt Database to remove password from MS Access database.
Note!

"The above-stated manual solution is obtainable when the users remember a correct password of their protected database. But often, users encounter with an issue such as they lost Access database password. So, in this situation, users become unable to open and view their database. But do not worry! We have also mentioned the solution to recover forgotten MS Access database password. Just keep your eye on the upcoming segment to know more."
Remove Forgotten MS Access Database Password
Often many users forgot password MS Access database due to complexity. In this situation, they started looking for an efficient solution to get the correct and password and open a protected Access database. So, here we come up with a proficient solution named Access Password Recovery Tool. Using this software, one can easily retrieve forgotten Access database password. After restoring the password, you can instantly remove password from MS Access database.
Mainly, this software is designed to retrieve a different set of password like multilingual, complex, alphanumeric, ANSI, etc. However, this tool can remove and open password protected Access database file within a few clicks. Moreover, this software can install on any Windows OS and perfectly remove password from all below and advanced MS Access versions.
Step-by-Step Guide to Remove Password of Protected Access Database
Here, in this section, we are going to disclose the instructions to implement a procedure for the same. Mainly, we have mentioned all the steps sequentially. So, just follow all of them to perform the process adequately.
Step 1: First of all, download and run the reliable software on your Windows machine.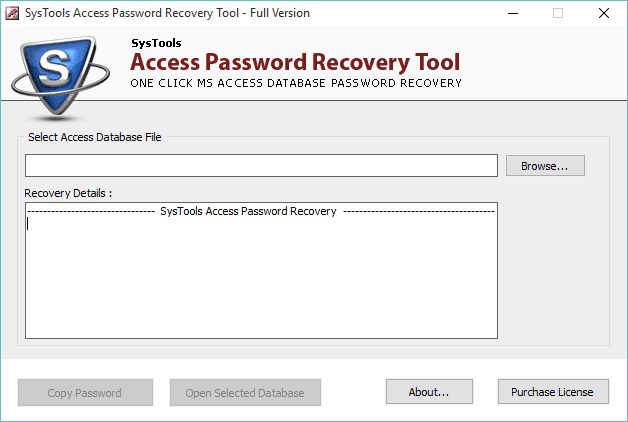 Step 2: Then, hit a click on Copy Password option to proceed further.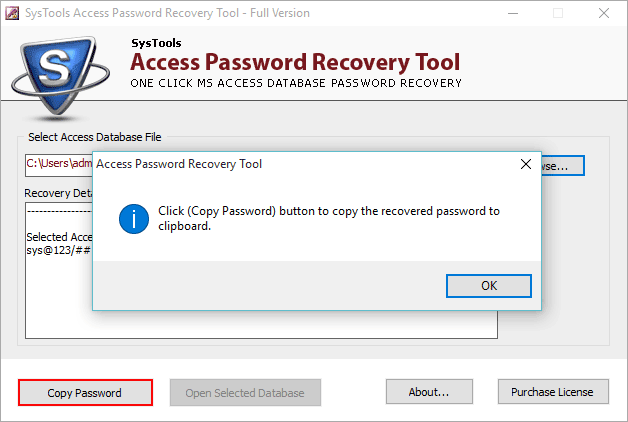 Step 3: Now, click on the Open Selected Database option to unlock the protected Access MDB or ACCDB file.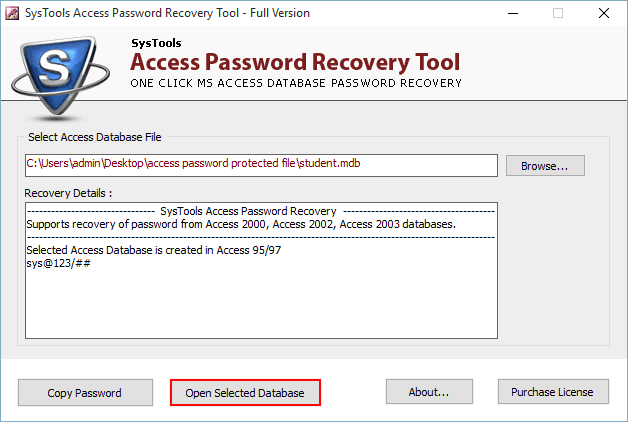 Step 4: Finally, this amazing utility removes the forgotten password from Access database.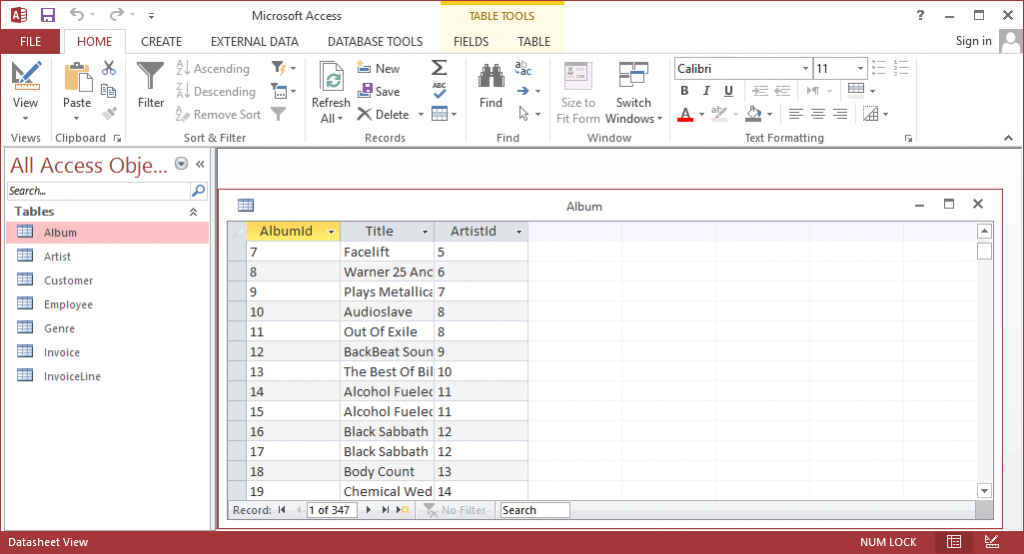 Final Verdict
Above in this blog, we have discussed the prudent manual and professional solutions to resolve how to remove password from MS Access database. Mainly, the free solution having a limitation such as it works when a user memorize an exact password. If in case, users forgot the password so, they become unable to open their protected database. But, using an automated approach, users can easily resolve their MS Access database password related issues without any external assistance. All in all, the decision is yours, which method you need to choose.