Excel
,
Office 365
How to Import Office 365 Contacts to Android Phone? Different Techniques
Are you using the Microsoft 365 platform and want to import Office 365 contacts to Android phone? If so, you've come to the right place. This article provides step-by-step instructions on how to sync Office 365 contacts with Android. After the conversion, you can easily use your Office 365 contacts on your Android phone.
Nowadays, the mobile phone has become an integral part of everyone's life. Most of the users prefer to use the Android phone due to its user-friendly interface and unique feature. Furthermore, contact has become more significant for every user as they are responsible for the communication process. Alternatively, MS Office 365 is a cloud-based email application and it provides various advanced services. It involves Exchange Online for email, SharePoint Online for collaboration, Lync Online for unified communications, etc. Therefore, users need to import their contacts from Office 365 to an Android smartphone. Here we are going to discuss different techniques to transfer contacts from Office 365 to android in an absolute way.
Two Approaches to Import Office 365 Contacts to Android Phone
There are so many methods through which users can migrate contacts from Office 365 to Android phone. Follow the below mentioned steps:
Approach 1: Sync O365 Contacts With Android Phone
Users can follow these steps to sync Office 365 contacts with Android smartphones. Let us have a look:
First, go to Settings option in your Android phone
In Settings, you can see multiple options but you have to select Accounts & Sync option
From the Account & Sync option, click on Add account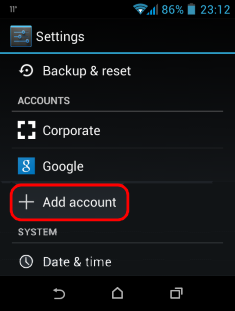 Next, choose Corporate, Microsoft Exchange or Exchange option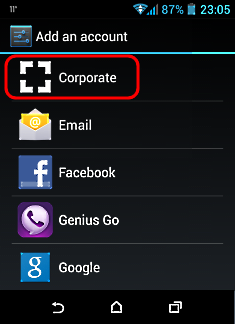 Now, Enter the Office 365 email address and password. Also, you can set this email as default account when sending mail from this device and press Next button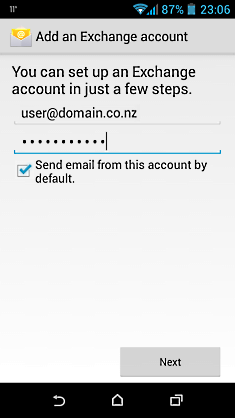 Depending upon the smartphone and configuration for DNS records, your Android phone may be automatically configured. If it is not simply configured, then you have to fill the below information:

Domain\Username
Password
Server
Remember: In some Android phones, the username and domain fields are separate. In that case, users should leave that domain field blank
Make sure you should use a secure connection (SSL) and accept the SSL certificates checkbox get selected. After finishing the Account Setup, click Select >> Next
After that, your device will verify server settings online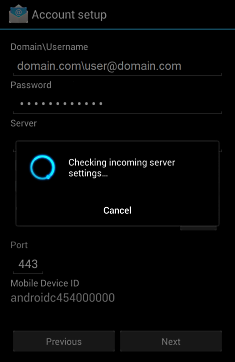 Then, you would be asked to accept the IT policy for an organization. Further, you have to accept the policy by clicking OK button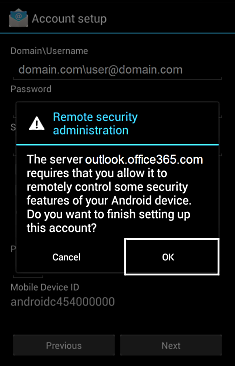 You must have to select the required syncing options and press Next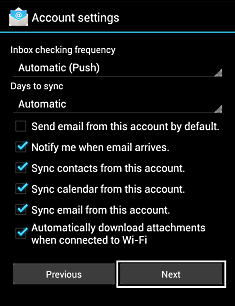 Enter the name of a particular account and tap Next
Select Activate option to activate the account. Once your account has been activated, all contacts will start to download to device and you can sync Office 365 contacts with android phone successfully.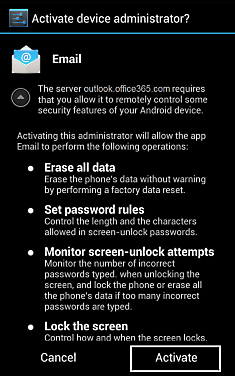 Approach 2: Automatic Way to Import Office 365 Contacts to Android
The Export-Import method is the most reliable method. The solution is divided into three simple steps explained below. The first exports are called .csv files so that they can be converted to vCard format in the second step. The last section has instructions on how to import event files to your Android phone. So let's start with this process.
Step 1: Transfer Office 365 Contacts
First of all, sign into Outlook on the web
Then, open App launcher tool in the top corner of Outlook
Go to People option. On the toolbar, click on down arrow next to Manage and choose Export contacts
After that, hit on the Export button. Once the export process is completed, a .csv file will be downloaded on your desktop according to the browser settings.
Step 2: Convert Exported Files to vCard
As soon as your CSV file is saved on your local machine, you must use FreeViewer Software to and convert this file to vCard format to import Office 365 contacts.
There is an option provided by the tool to create a VCF file for each contact with an empty email address. You can create an Excel spreadsheet to meet your needs with a variety of naming options. Let's see how to convert the file to the required format.
Steps to Import Office 365 Contacts to Android Phone
Download the Software to your Windows computer and click the Browse button to select your contact file
Preview a CSV file with all your contacts
Match the Excel fields with the vCard fields and click the Next button
Select your vCard version and check the Import blank email address box. Press Export button.
Step 3: Import VCF Contacts to Android Phone
After the conversion of CSV file into VCF, users have to import VCF contact file into Android phone. Users can transfer vCard contact file to the smartphone by following the given below steps:
Click on the Contacts icon on your Android mobile phone
Now, a list of contacts will be shown on the screen. Now, you have to click on the 3-dots vertical icon available on the top right corner
Then, tap on Import/Export option. Multiple options will display in Import/Export contacts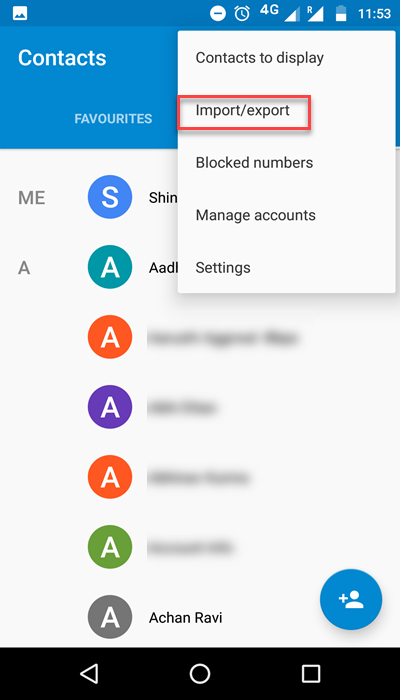 Select an option Import from .vcf file and click on the desired location where your VCF files are saved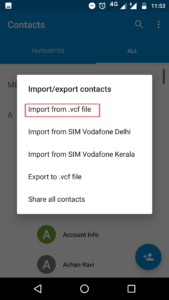 Next, a notification appears on your mobile screen All VCF contacts will be imported shortly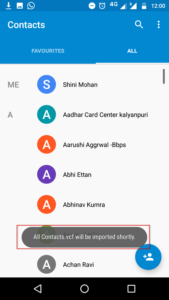 After the completion of the import process, you can easily access all vCard contacts from the Android phone.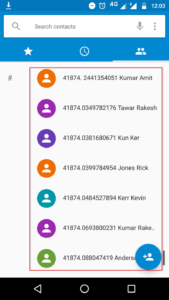 Bottom Line
At a certain time, users want to import Office 365 Contacts to Android Phone due to various reasons. But they are unable to find a reliable and efficient solution to move Office 365 contacts. Thus, in this blog, we have discussed multiple techniques to transfer contacts from Office 365 to android. Make sure you should follow each step very carefully. If you need to transfer Excel contacts to iPhone directly then you can use this software