Excel
How Can I Convert Excel to VCF Without Software | Verified Technique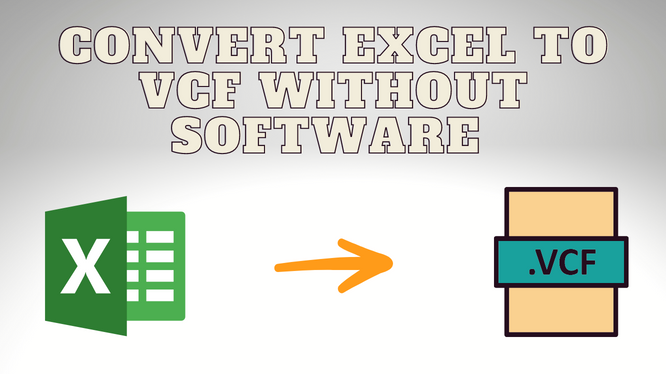 Summary: Stuck in a situation, where you have to convert Excel to VCF without software? If the answer is yes, and you are keen to know the right approach to complete this task, so you are at the right place. Here you will get a great solution to resolve your query, we talk about some great solutions to complete the conversion process in a hassle-free way. Read this article, to get a perfect technique.
Excel Files are one of the most used applications worldwide, it is popular due to their features and capabilities. Excel store a huge amount of data with maintaining the integrity of data files. But Excel files get an issue that Excel files can be opened only with the help of an Excel application. You can not access your Excel files if you don't have an Excel application.
There are multiple reasons why users convert their Excel files into VCF format above we said that it can be open with application only. There are some other limitations, Excel store its data in XLS /XLSX format and XLS files are not supported in any email client or application. Don't get confused let's get straight to the conversion process.
Free Solution to Export Excel Files into VCF File Format
Before starting the conversion process to convert Excel files to VCF without software, you should know that this solution is divided into 3 parts. As we mentioned above Excel files have their files in XLS format, there is no solution available to convert Excel files to VCF directly. So first, you have to convert your XLS files into CSV format.
Part 1: Convert Your Selected Files to CSV Format
First, open your Excel files.
Click on the File option.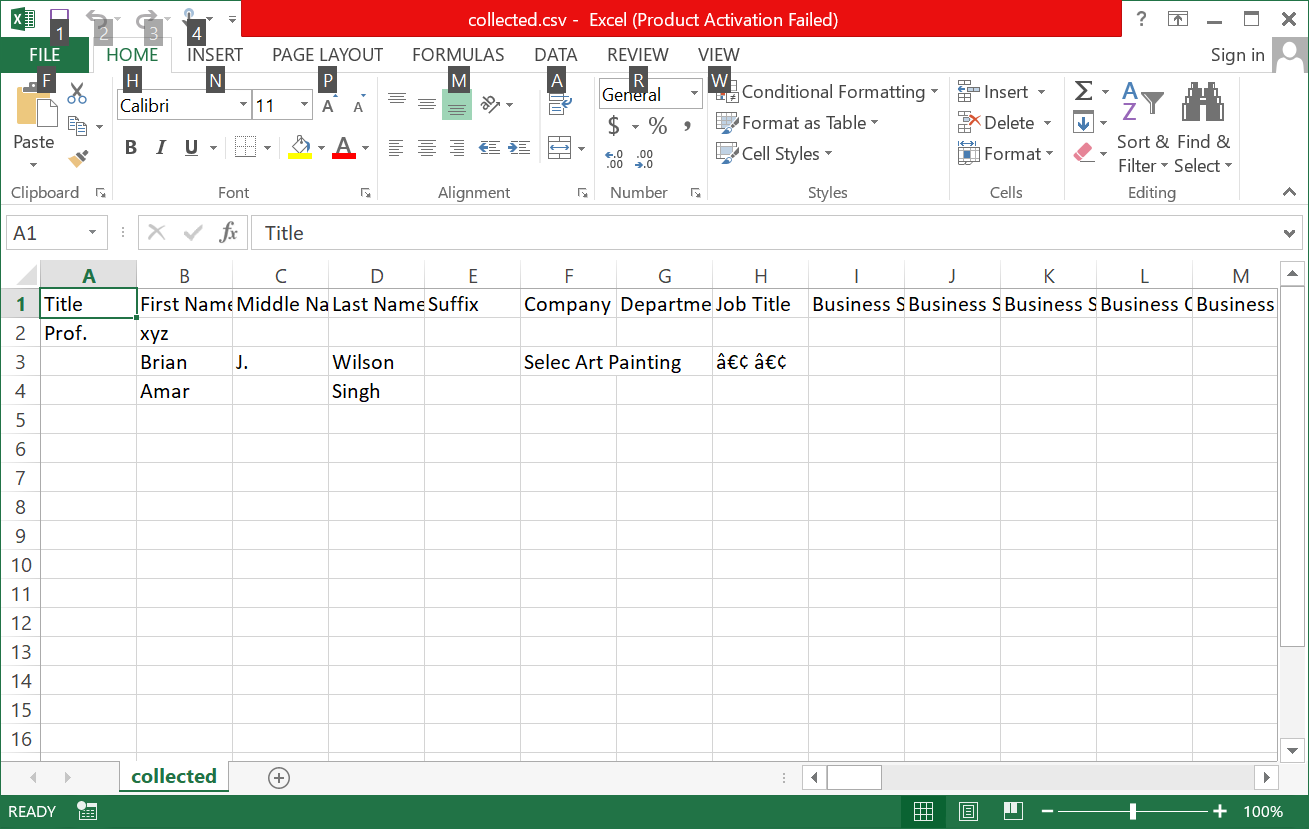 After clicking the File option, you will get the CSV option.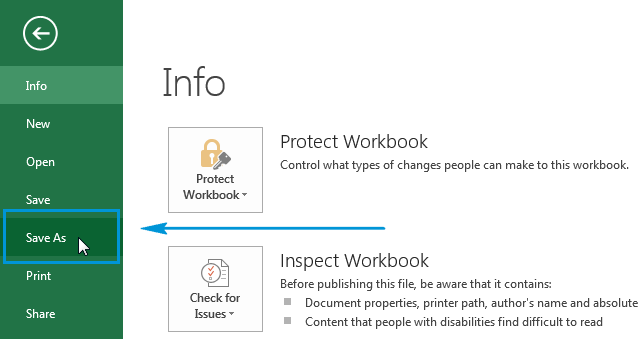 Click Save to complete the conversion.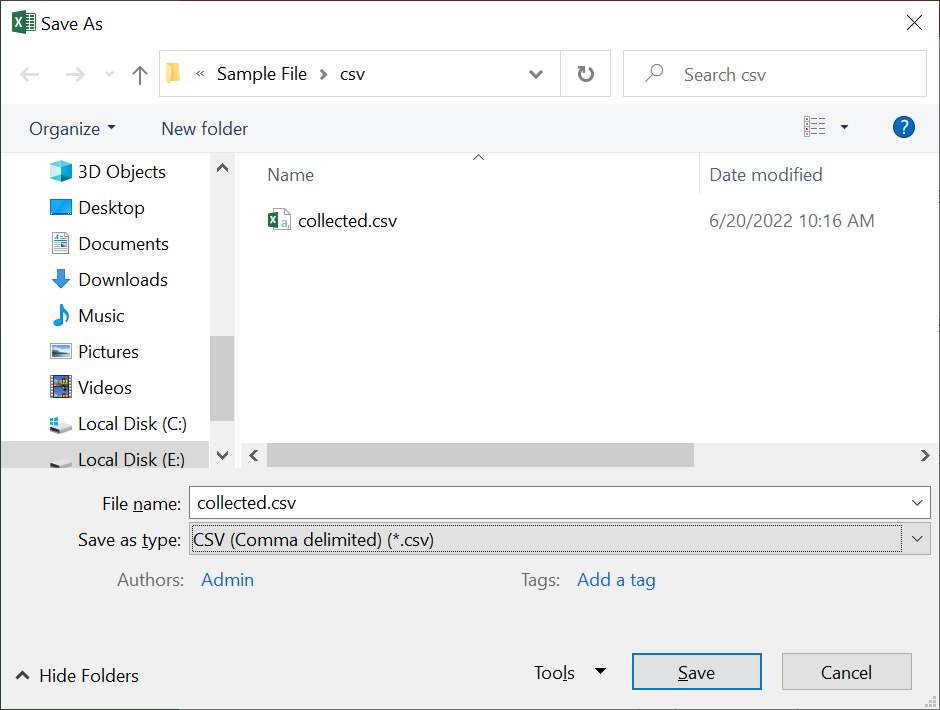 Part 2: Import the Contacts From the CSV File
After the conversion of the Excel file to CSV format, the user has to import the contacts from the converted CSV files. Follow the steps mentioned below.
First, click the Start button and type contacts from the search bar.
Go to Contacts Tab, from the displayed result.
Then, you will get an Import option from the ribbon bar.
Go to the Import Windows Contacts option & click the Import option.
After this, Browse the selected file & go to the next step.
At last, click on the Finish button to complete the solution.
Now finally, you can convert Excel to VCF without software by using the solution.
Part 3: Export your Convert Excel Files to VCF file Format
Move your contacts by searching contacts on the search bar.
After this, click the Export option and select vCard/VCF file format.
Click the Export button and browse the Destination for the converted VCF files.
Click OK to complete the conversion.
Also Read: Import Excel Contacts into Google Contacts 
Limitations of Manual Approach
I know you get bored by reading this lengthy solution but there is no other option to convert Excel to VCF without software. This solution is compatible but it is so lengthy to perform, time-consuming and you have you implement 3 steps. There is also a huge risk to data integrity. We know that is capable to complete conversion but these limitations are huge barriers.
Efficient Technique to Convert Excel Files into VCF file
If you are looking for a convenient way. Then, the manual technique is not your cup of tea we provide you with the best technique to complete this lengthy conversion in a few minutes and in a few clicks. Excel to vCard Converter Software. Best utility to convert Excel to VCF format.
This software is authorized not only to convert Excel files into VDF format it can also convert the Excel files into multiple formats like PST, TXT, MSG, PDF, etc. This tool will not waste your time and there is no need for technical knowledge. There are multiple features that are required by this tool go check out the software and you can also check out our demo version of this software.
Steps to Convert Excel Files to vCard Format
Install or Run the software and select files by using Add file option.
Get a Preview of your selected Excel file.
Then, select the vCard version.
Provide the location of the converted files by clicking the Change button.
And finally, click the Convert button.
Conclusion
In this article, we discuss the query to convert Excel to VCF without software. We provide the best possible manual technique but the manual solution is quite long and confusing. SO, we also provide you with the automated technique to complete this conversion without any hassle or in a just few clicks.