Office 365
How to Forward Emails to Multiple Accounts Office 365 – Best Way to Do It
Being an Office 365 user,  you might get into situations where you might need to forward emails to multiple accounts Office 365. Addressing this query, the article covers the step-by-step procedure to perform this entire task easily. It also describes a trustworthy and reliable alternative, using which you can carry out this task more efficiently. 
Before getting into the solution, let's have a quick overview of the user query. 
User Query

"Hi, there! I have a bunch of emails that I urgently want to forward to a different Outlook account. And, I have no idea how to do it without causing any errors. So, I was wondering, can Office 365 forward email to multiple users? If there is any simple method available then please let me know. I would really appreciate it. Thanks."
5 Steps Alternative to Forward Emails to Multiple Accounts Office 365
Step 1. Download, Install, & Launch Software.
Step 2. Choose Office 365 as Source & Destination.
Step 3. Select Required Workload & Apply Filter.
Step 4. Use Admin Credentials to Login & Vliadate.
Step 5. Select Users & Click on Start Migration.
We've come across various similar types of user queries on the internet. You know, emails play a crucial part at an individual as well as a business level. So, whatever method you follow to forward email to multiple addresses Office 365 admin, you should be careful while doing the same. Otherwise, you might end up losing your sensitive information due to minor errors.
Anyway, if you wish to forward your emails manually then here is the method that Microsoft supports.
Also Read: How to Migrate Shared Mailbox to Office 365 User Mailbox? 
Manual Method to Forward Emails from One Account to Another Outlook
Below is the step-by-step procedure that the tech giant supports for forwarding emails.
Step 1. Enter the login credentials for the source user account.
Step 2. Open Outlook and go to Home. 
Step 3. Browse in the Rules section and select Manage Rules then choose Alerts.
Step 4. Next, click on New Rule >> choose to Apply rule on the message I receive located near the bottom of the list.
Step 5. Then click on the Next button.
Step 6. After that, select the Yes option when Windows appears asking "This rule will be applied to every message you receive".
Step 7. Now, select the actions to redirect the messages to persons or a public group and hold the procedure of processing more rules from the next list.
Step 8. Next, click the underlined phrase people or public group in the bottom part of the window.
Step 9. Finally, enter the Email ID to forward mail to the To field, then click OK>> Finish.
The above procedure may feel like it's enough. However, it's not.
Why so?
Well, it might be feasible to forward a few emails. Besides, using the manual approach, you can't forward old emails present in the source user's mailbox. So, you can forward only upcoming emails by setting up email forwarding in Outlook.
Furthermore, the emails that you forward get merged at the destination and it becomes difficult to manage & find the emails.
So, What Can You Do Instead Of Forwarding Emails to Multiple Accounts Office 365?
Well, the best thing you can do to avoid all the complexity of email forwarding is to migrate your emails from one account to another. It solves the problem of manually forwarding emails as well as ensures complete data protection and integrity at the destination account. Moreover, using this approach you can also transfer old mailbox databases without any hassle. 
Best Alternative for Office 365 Forward Email to Multiple Users
For that, you can take the help of the Most Trusted Office 365 to Office 365 Migration Tool. Yes, this tool is trusted and used by many experts around the world for its ease of use and user-friendly interface.
Above all, instead of forwarding emails to multiple accounts in Office 365, if you migrate your emails then you will have various other options that you can do with the software. Such as;
Along with emails, you can also migrate contacts, calendars, and tasks.

Further, you can filter out the elements that you want to migrate by applying a Date Filter.

Additionally, you can migrate multiple emails at once using the software.

The advanced feature of the tool lets you perform an account-based priority migration.

It allows you to execute a Re-run migration for the items that were missing during the initial run.

On a technical note, domain migration can be possible in different domains as well as in the same domain.
These are just a handful of features. There is more to it. 
Now, let's understand the procedure for effectively migrating your Office 365 content.
Easy-to-Conduct Steps for Office 365 Forward Email to Multiple Users
Below is the straightforward working procedure of the tool with screenshots.
Step 1. Install the tool from the given link and launch it on your system.
Step 2. Next, in the 'Setup' section, choose 'Office 365' as both the source & destination to forward emails from one account to another Outlook.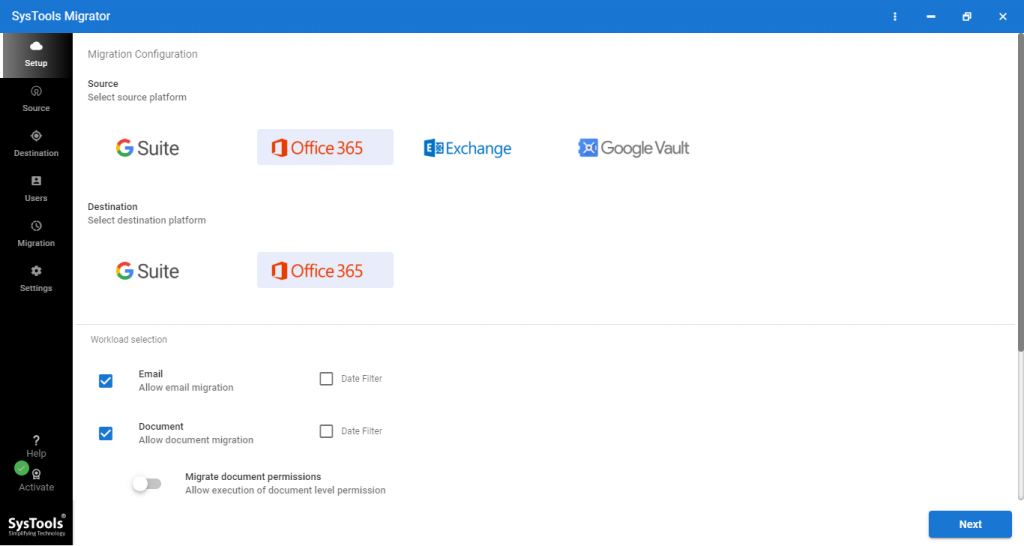 Step 3. After that, scroll down, and click on the Email checkbox. (You may also tick the contacts, calendars & tasks checkboxes)
Note: You can apply the 'Date Filter' and migrate only the selected items.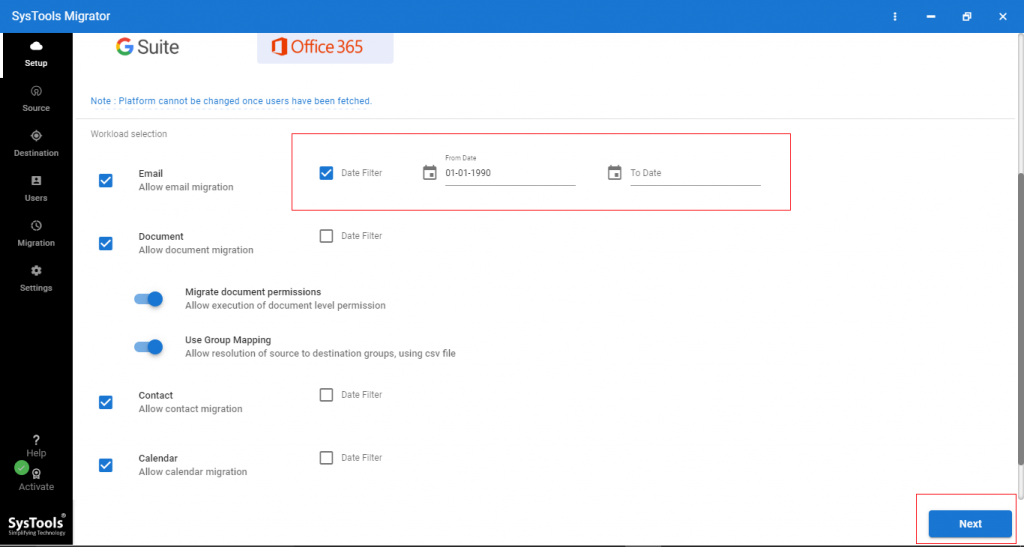 Step 4. Then, go to the Source section, and enter Office 365 admin ID & application ID for the source. Next, click on the Validate button & authenticate the required permissions.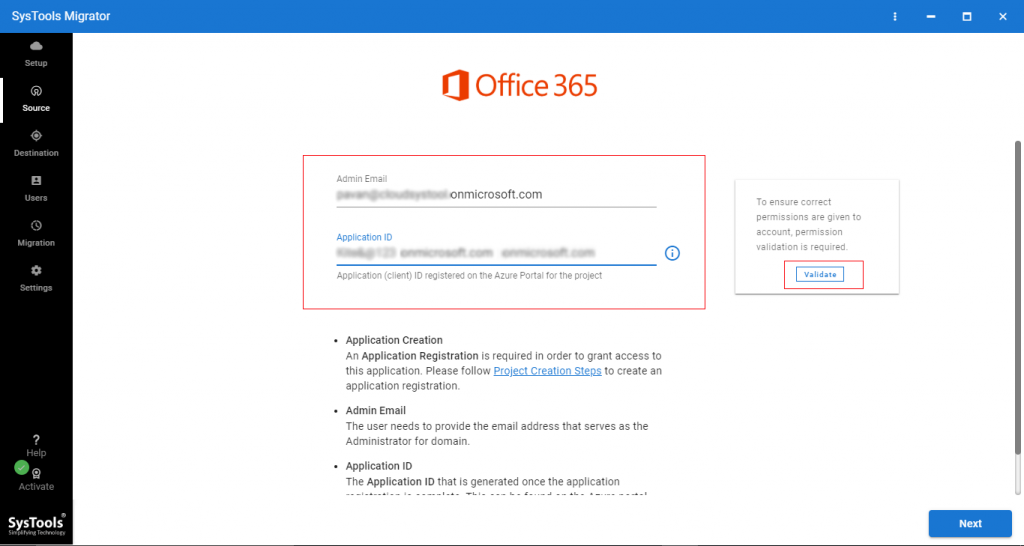 Step 5. Once you see that all the necessary fields turn green, you can press the Next button.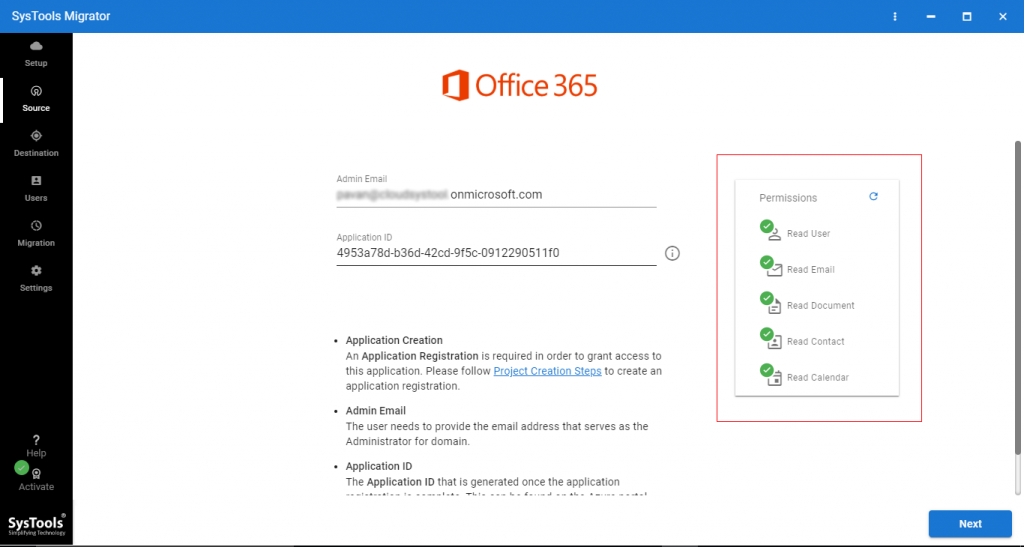 Step 6. After that, move toward the 'Destination' tab. Provide the Office 365 admin ID & Application ID for the destination then click on the Validate button.
Step 7. Once you verify the necessary permission, click on the 'Next' button to proceed further.
Step 8. Next, map the source users with the destination by specifying the source users from any of the three options: fetch users, import users, and download the template.
Step 9. Then, both the source and destination users appear on your screen like this.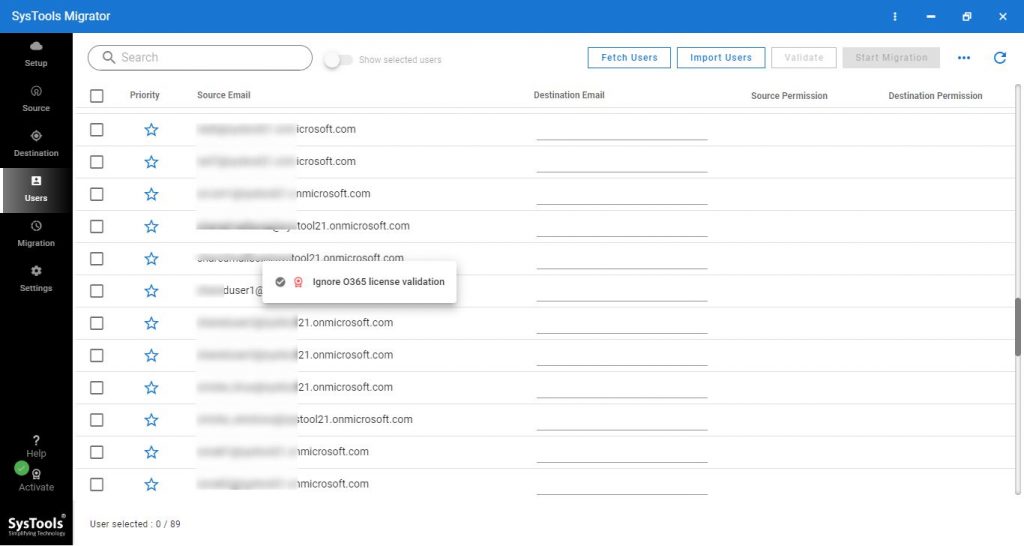 Step 10. After that, run a final verification of the source & destination permissions by clicking on the Validate button.
Step 11. After all the necessary permissions turn green for source and destination, press the Start Migration button to forward emails to multiple accounts Office 365.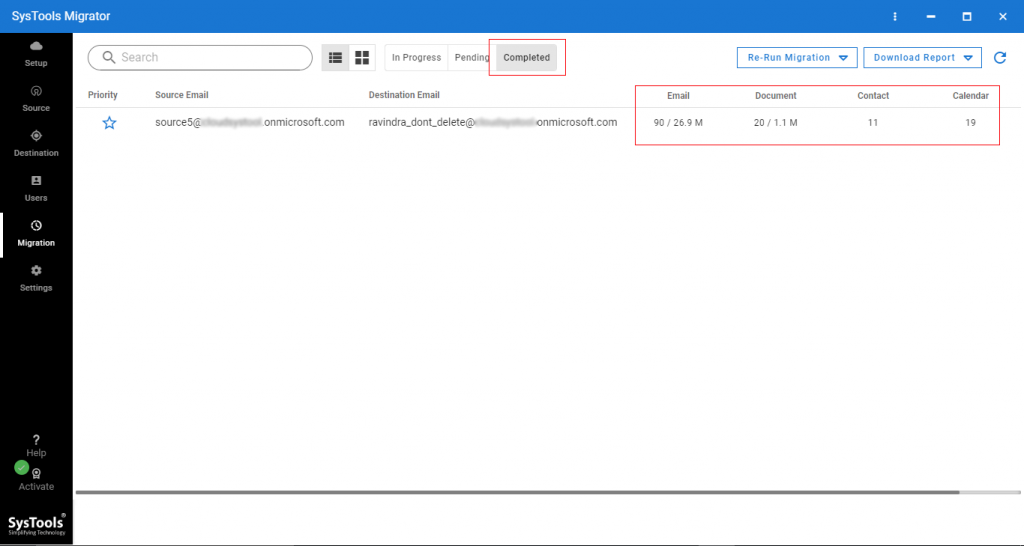 Also Read: How to Export Office 365 Mailbox to PST using eDiscovery?
Bringing It All Together
In the end, you can say that whether you have a few emails or a large number of emails to forward, setting up email forwarding is not going to help as it will only forward the upcoming emails. So, migrating emails from one account to another Outlook is the best alternative solution to forward emails to multiple accounts Office 365.