Migrate Office 365 Shared Mailbox to Office 365 User Mailbox – It's Resolved
There is end number of users who need to resolve the most commonly asked query such as how to migrate Office 365 shared mailbox to Office 365 user mailbox? Office 365 Shared mailbox and user mailbox both are different terms and some users are still unaware of these terms. So, the Office 365 shared mailbox is defined as that mailbox which can be utilized by various users to read and send email messages. On the other hand, When an admin assigns the user account a license. Then a mailbox is automatically generated for the user. Each and every member of any organization require a user account before they sign in and access Office 365. Now, most of the users are curious to know the reliable and effective solution to get rid of this issue. You just need to read this write-up continually.
How to Migrate Shared Mailbox to User Mailbox in Office 365 Manually?
Here, in this manual solution, you will get the cure for the issue. You can implement the procedure of migration from Office 365 shared mailbox to Office 365 user mailbox using the below-listed steps. You need to simply follow all measures in a sequential manner to get the efficient outcome.
First of all, sign in to MS Office 365 account as administrator. And then go to the Office 365 Admin Center and choose Exchange.
Now, navigate to Recipients after that Shared. Here, choose the shared mailbox and click on Convert under Convert to the regular mailbox.
Afterward, a warning message will prompt up asking for confirmation. You have to hit on Yes to proceed forward.
Special Note:- After the migration procedure, you require to assign a license and then reset the password for your mailbox.
Here, the migration will take a few minutes. Once the procedure is being completed a completion message is appeared. Simply click on Close to quit.
Lastly, when you log in Office 365 again. So, you can find that this shared mailbox has been moved to a user mailbox. The migrated mailbox consists of all the data of the shared mailbox.
A Reader's Query
"I am working in an enterprise and for connecting with other employees we utilized Office 365. Recently, our joining with another organization which also utilized the Office 365 to stay connected with their colleagues. Now, we need to migrate our Office 365 account's entire data to that tenant account. Primarily, we need to migrate shared mailbox to a different Office 365 tenant. Is it possible to do the same?. If yes then provide me an alternative which executes all this instantly. Any help would kindly be appreciated. Thanks."
Instant Way to Export migrate Shared Mailbox to Office 365 User Mailbox
As per the above-stated user's query, we have taken into consideration. And come up with an alternative to resolve the issue such as how to migrate Office 365 shared mailbox to Office 365 user mailbox. It is a third party application named Office 365 to Office 365 Migration Tool. This is a standalone utility to migrate Office 365 shared mailbox to a different tenant. With the help of this application, you can export several Office 365 mailbox. This utility is not associated with any kind of data loss activity. A novice user can also implement the migration procedure without losing a bit of data. Using this tool you do not require high technical knowledge. Moreover, in the upcoming segment, we are going to discuss how does it work.

How to Migrate Shared Mailbox to User Mailbox in Different O365 Tenants?
Here, are some simple steps to perform the migration process. Have a look:
Step 1: Initially, download and run the utility. And then click on the radio button named as with impersonation.
Step 2: Then, add the Admin account password & ID
Important Note: This software facilitates you two options before starting the migration procedure. One is with impersonation and without impersonation. So, you have to opt an option i.e., with impersonation. Because it directly transfers the data without requiring the specific user ID and password. Mainly, it is specifically handled by admin. And is a sudden way to migrate Office 365 shared mailbox to Office 365 user mailbox in different tenants.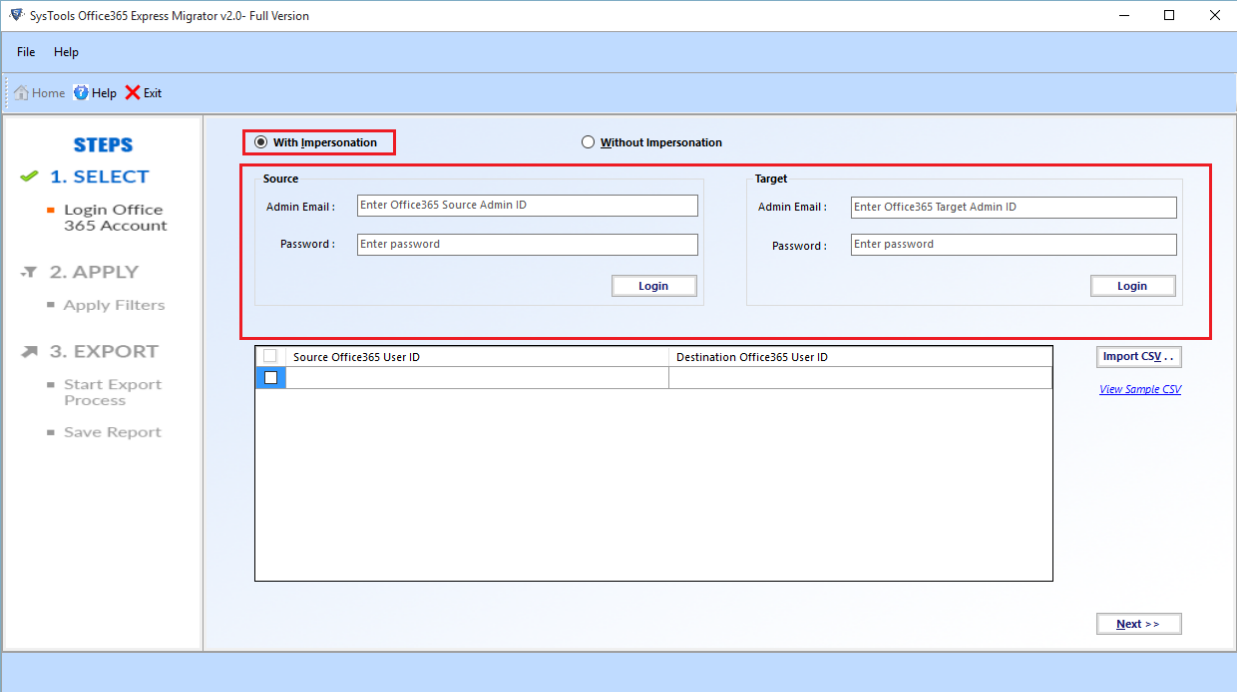 Step 3: After filling the credentials in given fields. Click on the Login button. The application will start verifying both accounts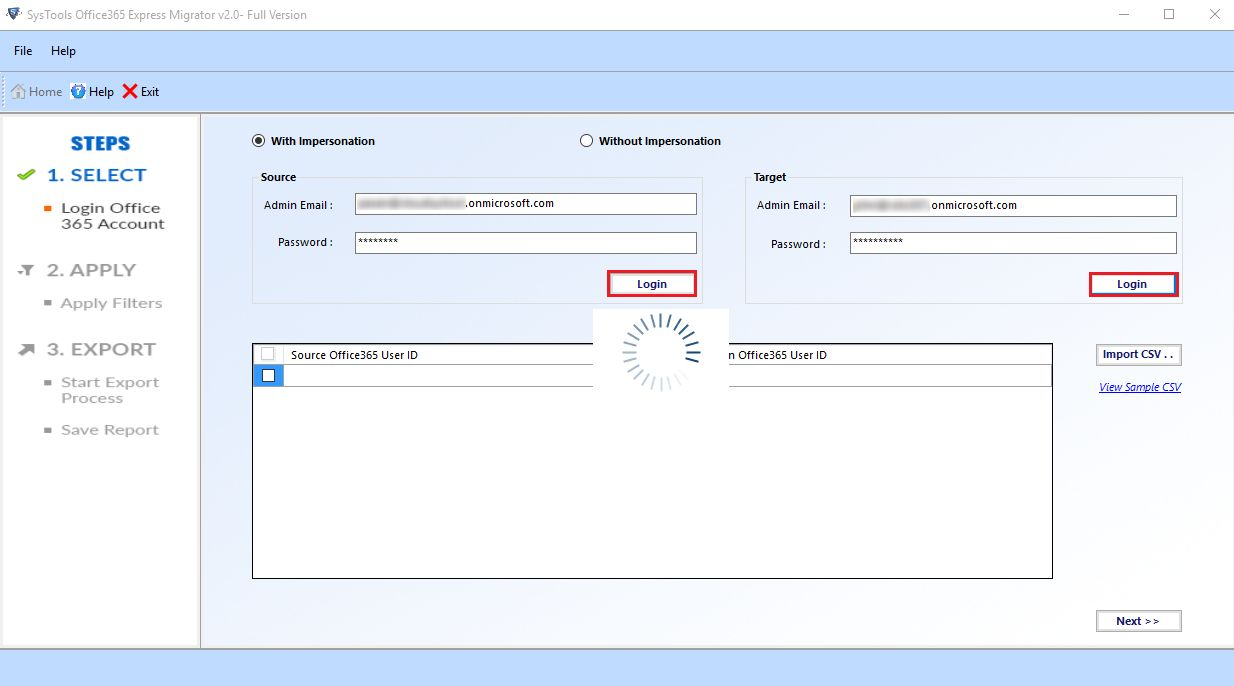 Step 4: Now, enter shared mailbox ID and User mailbox ID, then click on Next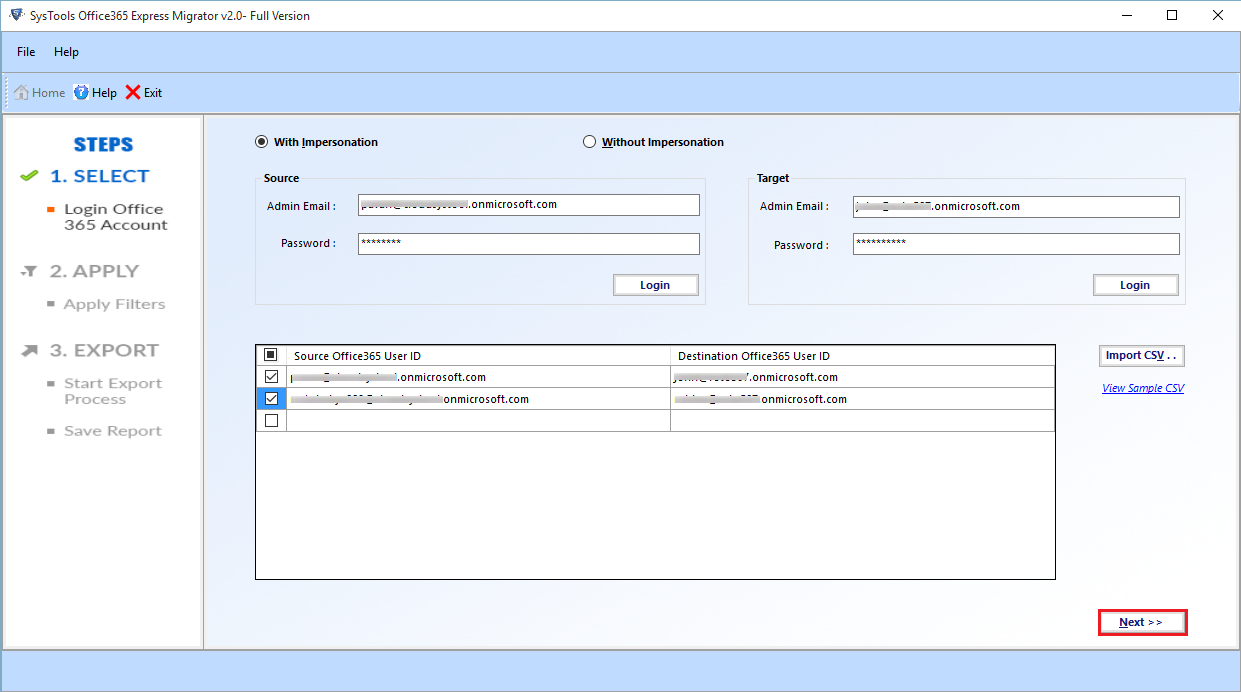 Step 5: Subsequently, on the net menu, you have to choose the particular elements that are to be exported from one account to another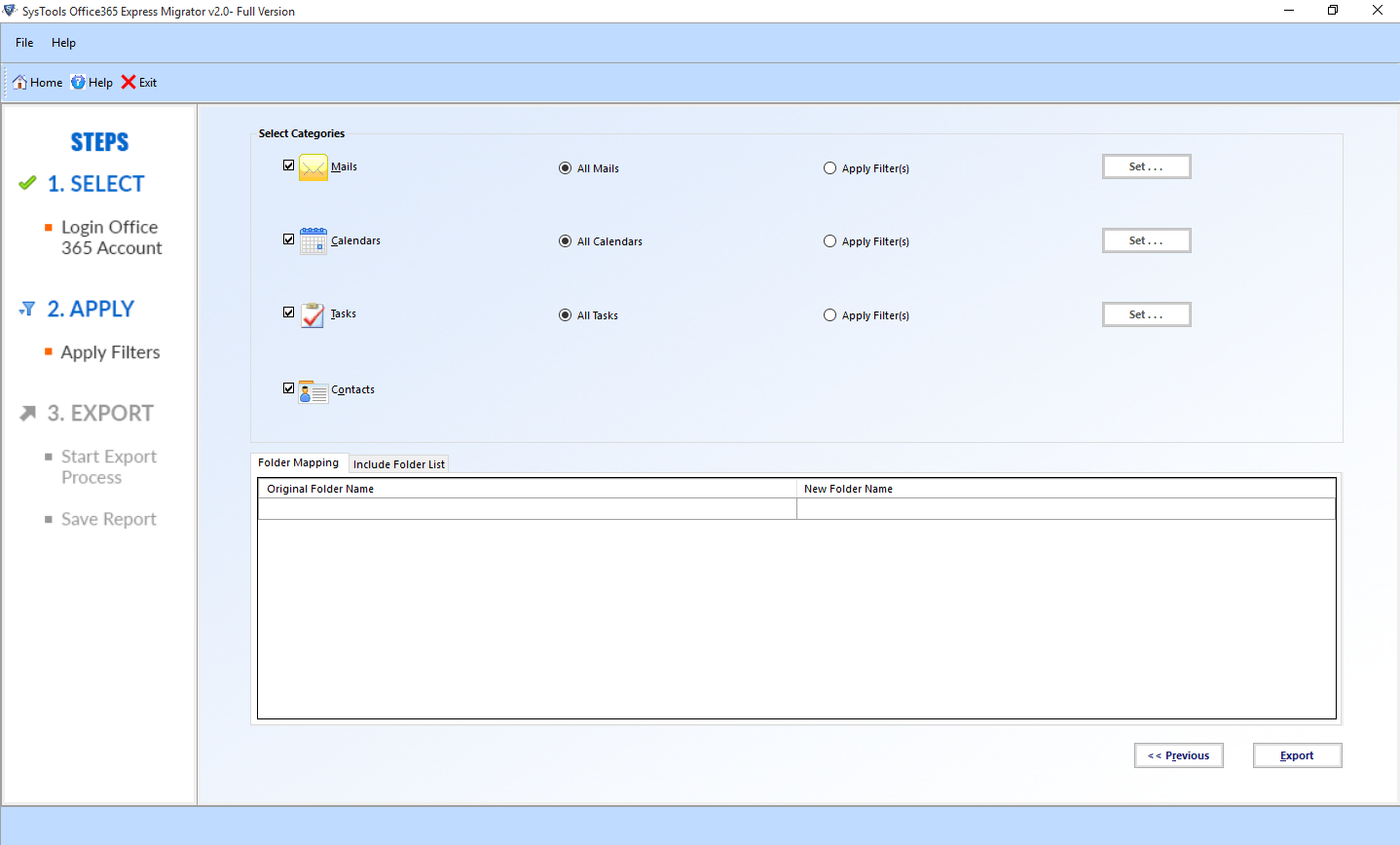 Step 6: Click on the Export button to begin the migration procedure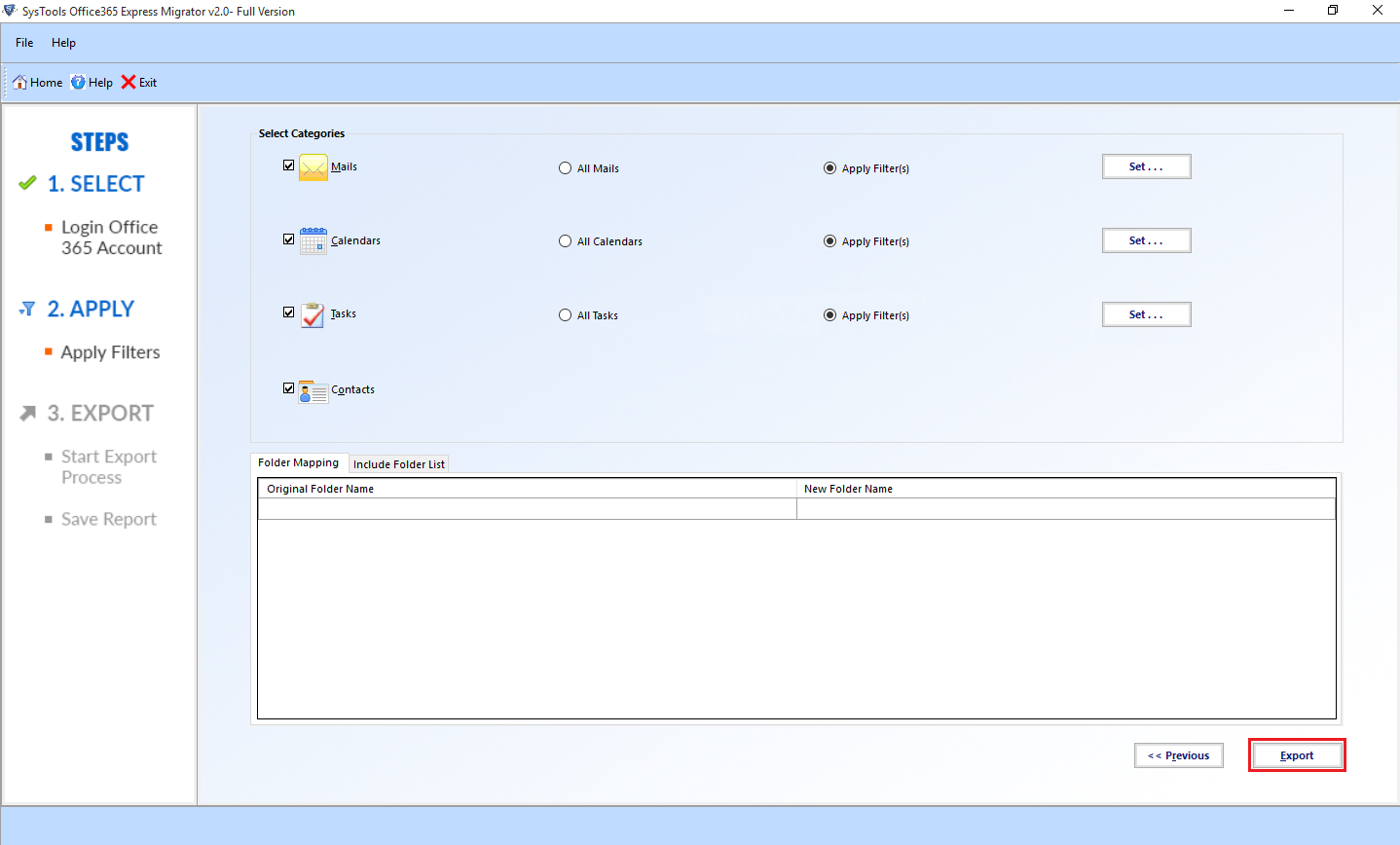 Step 7: At last, when the software completes the export process successfully. You can save the export report in CSV format by selecting the Export Report button.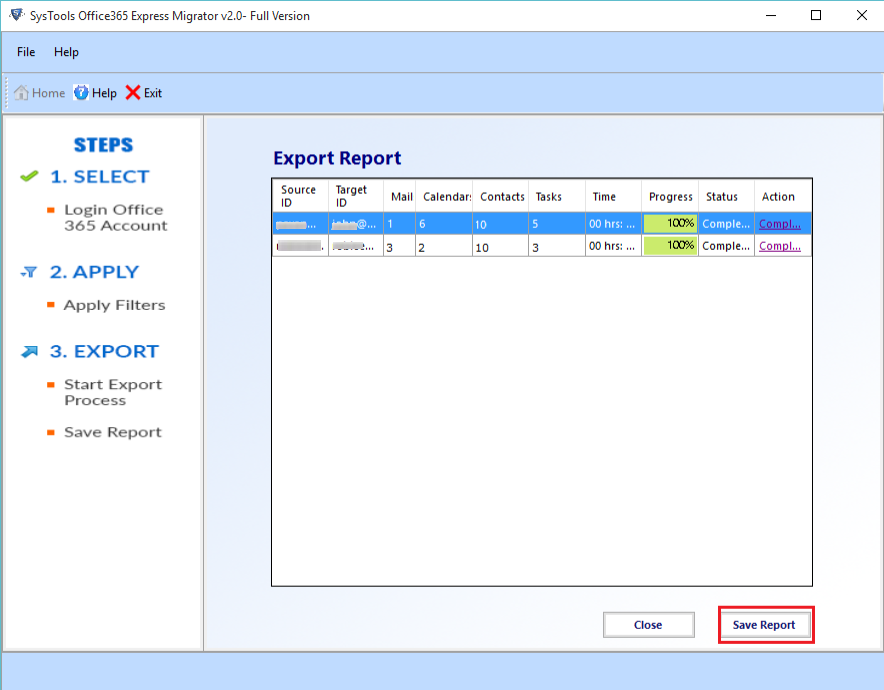 It's Time to Conclude
The article highlighted on a general query – how to migrate Office 365 shared mailbox to Office 365 user mailbox. We have discussed the manual solution but, as well know, that the manual solution having some limitations. One of them is you cannot export shared mailbox to another Office 365 tenant account. So, we recommend an alternative solution. With the help of this software, you can easily export shared mailbox to Office 365 user mailbox. Moreover, you can select any one of them as per your ease.