Excel
How to Import Excel Contacts to Yahoo Mail Directly?
Raj
| Modified: January 7th, 2023 | 4 Minutes Reading
Overview: Are you looking for a suitable solution to import Excel contacts to Yahoo Mail? Or wondering how to extract Excel contacts directly to Yahoo contacts? If so, continue reading this article. Below in this blog, we describe a reliable step-by-step process to convert Excel contacts to Yahoo supported formats.
Technology is raising day by day, and people changing their email clients quickly due to their needs and features provided by email clients. And Yahoo is already a popular email client that offers many advanced features to users. 
On the other side, contacts are also very crucial for the users and when we are moving from one email service to another contacts migration is also important. Now, if you have saved your contacts in an Excel spreadsheet and want to move to Yahoo Mail, this migration journey is for you.   
Monitoring your contact information database is imperfect and difficult for anyone. There are many ways to do this. Address books, notebooks, postal reports, Excel programming are all fine.
On the other hand,  Yahoo is probably the most popular free email provider. Among other things, Yahoo apps help the Network Display Association deliver targeted messages for email campaigns. However, this is probably the best level where you can safely store 1TB of data.
Automatic Solution to Import Excel Contacts to Yahoo Mail
Before proceeding with the process to transfer Excel file to Yahoo account, we like to tell you that this procedure is divided into 2 parts. Where first, you have to convert XLS files into CSV format to make it compatible with Yahoo mail. And in the second step, the user has to import converted files into Yahoo Mail. Let's proceed with the first step. 
Convert Excel XLS Files into CSV Format 
As you know contacts are very precious to every user, and nobody wants to lose them. But the conversion process of Excel files to CSV is quite a risky method. There is a chance of data loss. But we are here with one the best Excel Contacts Converter Software, highly recommended and expert verified software. Specially designed for these types of conversions without any data loss and losing data integrity. as well as it can also convert Excel file to HTML, but you can also convert Excel to VCF, TXT, and multiple formats. 
Note: The trial version of the application can export only 10 contacts from Excel to CSV format. For more information, you must purchase a solution to complete the conversion process.
Few Quick Steps to Import Excel Contacts to Yahoo Mail
Install the tool and Add the files to select them for conversion
Then this software provides you Preview of your XLS files
Now, select the CSV option and respective settings
Also, go through the Auto Map option for mapping automatically
Finally hit the Export button. 
After hitting the export option, your all selected Excel files are successfully converted into CSV format. Now, you are getting close to completing the process to import Excel contacts into Yahoo Mail. 
Import Converted CSV Files to Yahoo Mail 
Now in this section, you will see the process to import converted CSV files into Yahoo Mail. Follow the mentioned below guidelines. 
First, Log in to your Yahoo Mail account

Then get into the Contacts
After this, select the drop-down and then hit the import option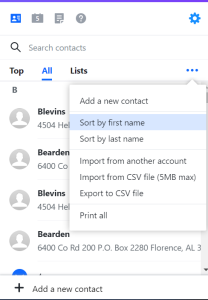 Select a file to Browse the CSV file
And hit the Import option at the end. 
Now your process to import Excel contacts to Yahoo Mail has been completed. You can easily access your Excel contacts on Yahoo Mail. 
Why Not Choose Manual Solution?
Professionals do not recommend the manual solution for this conversion because there are a few limitations that can cause huge problems. All the reasons are described below. 
Data Integrity

– The manual solution is easy, but after the conversion, the formatting of the data list can be interrupted. 

Data Loss – There is a huge risk of data loss while implementing manual techniques. We already explained how crucial contact is for the user.
Required Excel Application – The user cannot be able to complete this task if they don't have an Excel application.
Last Words
That's it, guys! We hope you'll get all the information, we want to deliver to you. We provide you with the best way to complete this task to import Excel contacts to Yahoo Mail. If you want to go with the manual procedure, read the last paragraph which removes the thought from your mind to convert manually.