PDF
How to Fix Won't Able to Open PDF in WhatsApp Issue?
The user often complains that they are unable to open the PDF file in the WhatsApp application. Are you also facing the same issue? If yes, then read this entire article. You will learn how to fix the query "won't able to open PDF in WhatsApp".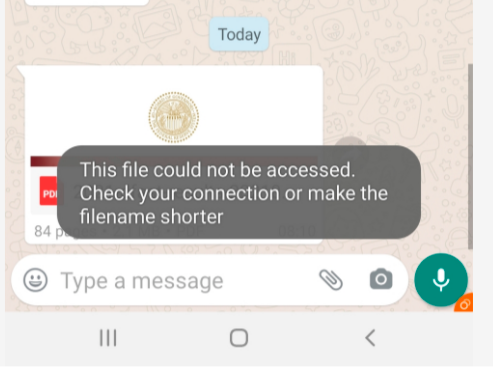 Table of Content
PDF File Not Opening in WhatsApp – Reasons
First, let's go through the most probable reasons why users are unable to open the PDF file in the WhatsApp application. Here most of the reasons are explained in detail.
The PDF document is corrupted – PDF documents that are corrupted cannot be opened. A corrupted PDF file cannot open on any application until it is repaired. The device becomes incompatible due to a mix-up or a specific code in the file format. It occurs when a file is not correctly downloaded. Or when downloading is interrupted due to an unforeseen event such as a loss of internet connection or a fluctuating connection.
The PDF document is encrypted – You must first decrypt it or enter a password before you can open it. If you ignore it or don't encode the password, the window will be blank or won't open or it will throw an error saying "file could not be accessed".
File formats are not supported by the Android phone – Even applications can't always override a phone's basic functionality and limits. That's why no matter what, users won't able to open PDF in the WhatsApp application.
Inadequate internet connectivity – Check to see if your data connection is up to date, or if your Wi-Fi signals are strong enough. WhatsApp has a tendency to stop downloading when you have a slow connection.
File availability on server – When a file is not downloaded from the receiver, it is sometimes removed from the server to save cloud storage space. So it's possible that you took a little longer and are now unable to download it. Enable background download and don't restrict background data for future reference so that when you receive a PDF, it automatically downloads to your smartphone without you having to activate the program.
WhatsApp no longer supports your Smartphone – If you're using an older smartphone, regardless of platform, check the list of supported devices under "WhatsApp support for mobile devices". A device that isn't supported progressively ceases operating. That's why make sure you're not off the grid.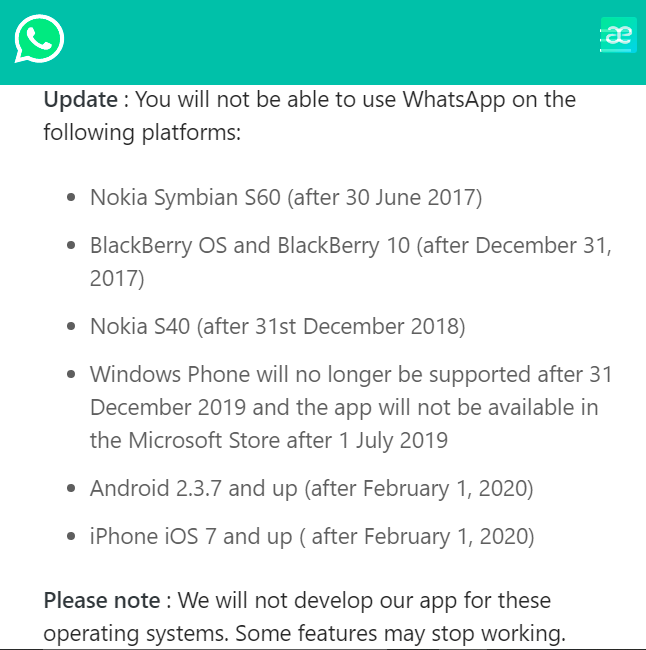 So what is the solution to fix this issue? In this segment, we are going to discuss major potential solutions if you are unable to open the PDF file. Execute them and see if your issue is fixed or not.
Unable to Open PDF in WhatsApp – Solutions
Assuming you're using an Android or iOS device. According to the WhatsApp Help Center:
Method #1. Check the Storage Space of the Device
Android: So, when you download a document, it is immediately saved in the storage/WhatsApp/Media/WhatsApp documents folder, which you can retrieve with a file explorer app.
For iOS: The files kept on your iPhone/iPad WhatsApp app may be found by going to "Settings" > "General" > "Storage & iCloud Usage" > "Manage Storage" on your iPhone, then tapping "WhatsApp" to see the "Documents & Data". Simply open the PDF in iBooks and it will store a copy there.
Method #2. Keep Your Device Up-to-date
1. Update your WhatsApp to the latest version. And try to send a message.
2. Use an antivirus to scan the PDF. Check to see if there are any hidden.exe files or other security risks.
Read More: Guided Methods to Extract Multiple Pages From PDF Files
Method #3. Why PDF Not Opening in WhatsApp with Ultimate Solution
It's best to test the PDF file online using a PDF Viewer or Editor to see if the PDF file is truly available. To test, you can use online available web-based editors and viewers that can be accessed via a browser.
If a PDF opens in a web browser, it suggests the phone is unable to support it. If it won't open online, it's the file that's the issue. Now you will have to fix the PDF file by repairing it using PDF repair tools.
Method #4. Use Professional PDF Repair Tool
The best professional application is PDF Recovery Tool, which repairs corrupted files and regenerates them in a healthy state. The tool will recover data in its original format without making any changes. Also, it retrieves as much data as possible, including photos, tables, and pie charts, among other things. Works with Adobe Acrobat PDF files in all versions.
Firstly, download the utility to eliminate the issue unable to open the PDF file in WhatsApp. Now insert the files using the Load PDF option.
An Auto Scanning process will be initiated once the user adds the files.
PDF databases will be shown once the scanning process is done. Preview the data and hit the Save PDF button to restore the recovered files.
Also Read: Bypass PDF Permissions Password From PDF – Solution Explained
Final Thought
Users often face the issue that they won't be able to open PDFs in the WhatsApp application. We discussed reasons and solutions to fix this problem in this article. There are various ways to repair corrupted PDF files online. However, not everything is safe. We've included manual workarounds and well a few professional tools in this lesson.
Some Questions Asked by Users
How do I open a PDF file in WhatsApp?
If you want to open a PDF file in WhatsApp then try above mentioned solution. This tool explores PDF file from any Adobe edition without any trouble.
Is it possible to Open PDF files in WhatsApp?
Yes, it is possible with a professional solution. This application can view information on PDF files. Users can browse any size of PDF files without any file size limitations.