Data Migration
,
Mac OS
Export Apple Mail to HTML – Method to Save Mac Emails as HTML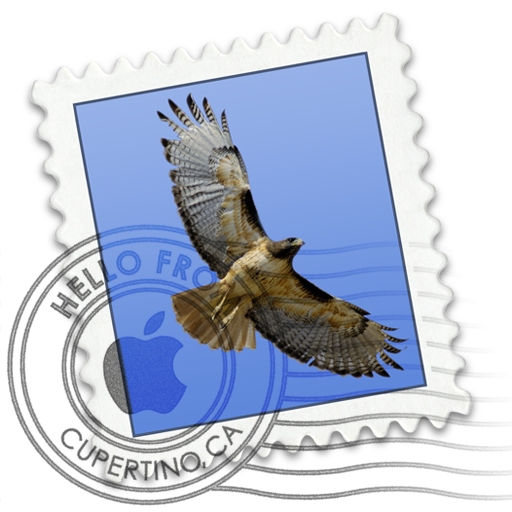 Find the simplest of ways to export Apple Mail to HTML format. An easy to use method which overcomes the lack of any native option to save emails as .html files in Mac Mail. Convert the files now and choose to update, send, or archive them as per requirements.
HTML emails have a distinct advantage of preserving formatting in messages. In fact, they are used by a number of organizations and businesses for marketing and communication purposes. Apple Mail – the Mac email client does not provide users with a way to send or save emails as HTML files. This is a big letdown, considering the fact that some other email applications have this facility. In this blog, we will overcome this issue and provide users with a sure way that will let Apple Mail export to HTML.
Also Read: Save Mac Mail Emails as PDF Files
In Apple Mail Save Email as HTML – Common Queries
HTML emails have a better design which gives a certain level of visual impact on the data. It actually enables a reader to engage with the email via clickable links and buttons. The best thing about them is the preseverance of formatting. Also, emails saved as HTML files are easier to process. Their size is low, hence they are quick to download or archive. Users may want to Apple Mail to save emails as HTML so they could customize and send these messages later on. The given queries will further convey the reasons behind exporting Mac Mail to HTML:
"Is there any way for me to access the HTML emails in my Mac mail and export them as HTML files. So I could use them for email updates. I know about viewing the raw source code of each email but it is not providing me with correct data. Any ideas about how I could export Apple Mail to HTML files?"
"So how can I save an email as .html file in Mail.app? I need to archive all the messages on my client's website. There is no native option in Apple Mail to save email as HTML and the source code display hex values all over the place. I wish it had a saving option like Outlook did. A quick method would be very appreciable. Thanks."
As you can see, the reasons may vary from user-to-user but the need of saving emails from Mac Mail to HTML remains the same. Lack of any native option further complicates this issue and people are forced to look for alternatives.
Also Read: How to Export Apple Mail to Outlook
Easy Way to Export Apple Mail to HTML Files
There is some workaround that you may find on the internet after hours of deep searching. One may ask you to save the emails in text or .rtf format, then open it with any text editor and save the file as .html. But this is only feasible for saving like eight or ten emails, not more a larger number. Furthermore, it strips the messages of some formatting which is not acceptable for business needs.
Anyways, it is time to move onto the proper solution which would be using a third-party tool. It will allow you to save multiple Mac Mail messages as HTML files in bulk. If you require to move only some emails falling under a specific date range, that is possible with the utility as well.
How about you make sure that everything is falling under your acceptable quality by trying out the free trial version of Mac MBOX Converter? With an array of 6 different file formats including HTML, the free version allows to export 25 emails. Of course, the full version has no such limitations.

We will first export the required mailboxes/emails to MBOX format as per requirements, then transfer them to HTML format.
Step 1: Export Emails from Mail.app – Both Bulk & Selective Ways
If you want to export entire mailbox emails from Mac Mail to HTML, follow the given steps:
In the Mail App, select the required mailbox folder(say Inbox)
Choose Mailbox from menu and click on Export Mailbox option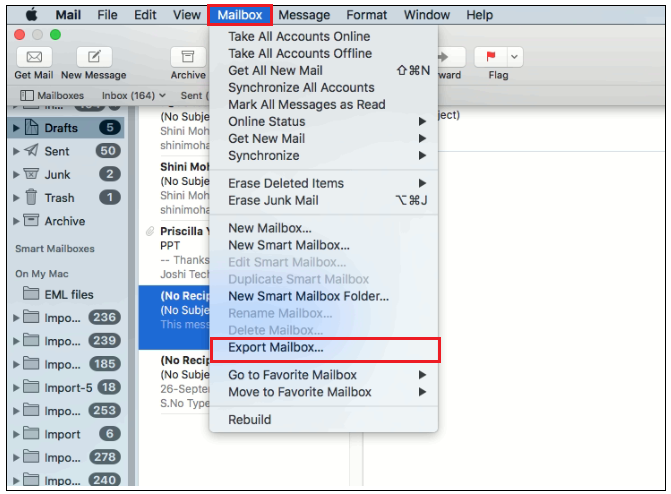 Set a destination location to save files and hit Choose button.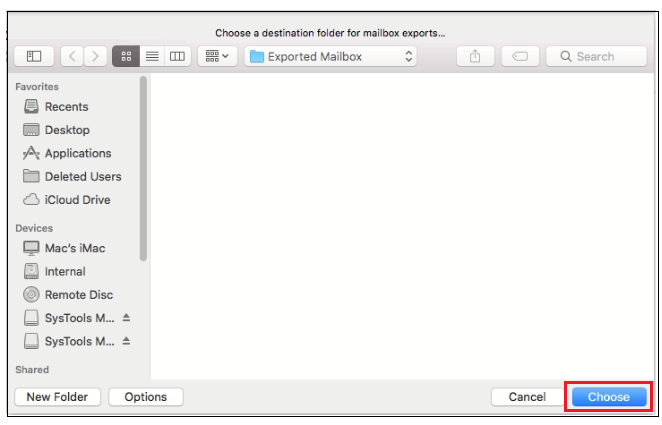 For exporting selective emails, you can simply create a new mailbox folder, copy the emails in that folder, and follow the above-given steps by selecting this new mailbox.
Once you save the mailbox items, move onto the next step.
Step 2: Export Apple Mail to HTML via Conversion Utility
Run Mac Mail converter and click on Add File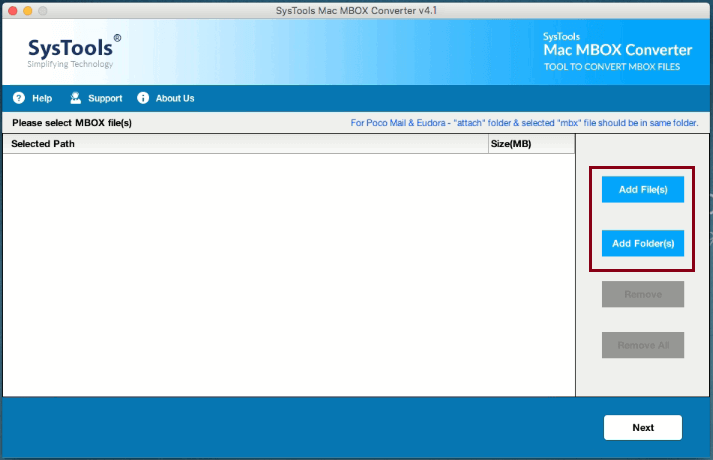 Select the exported Apple Mail mailbox file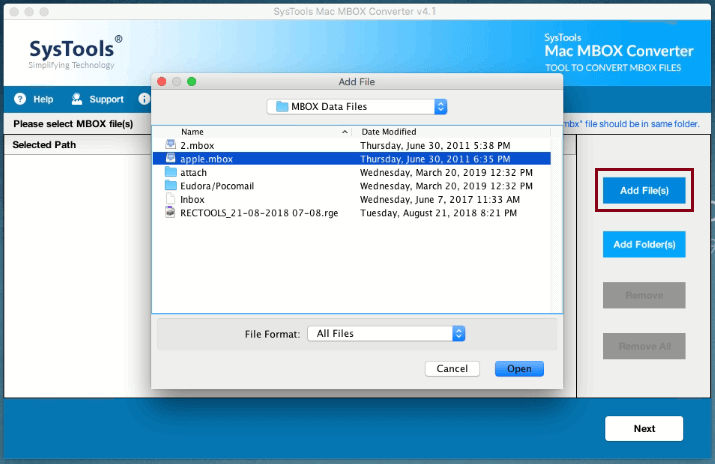 Choose HTML format and apply advance settings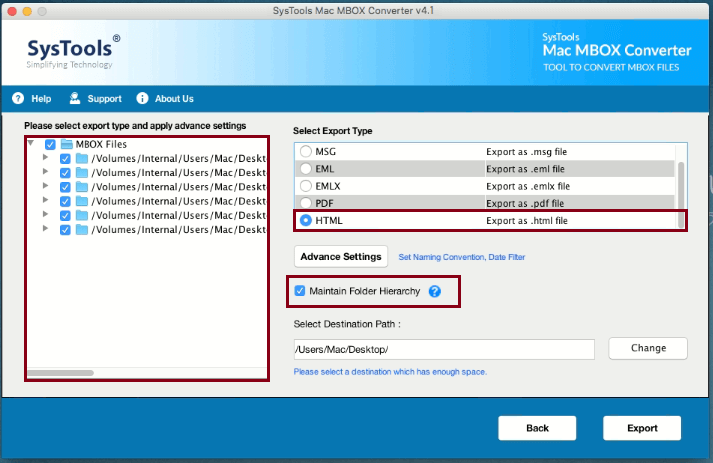 Hit Export button to save email as HTML in Apple Mail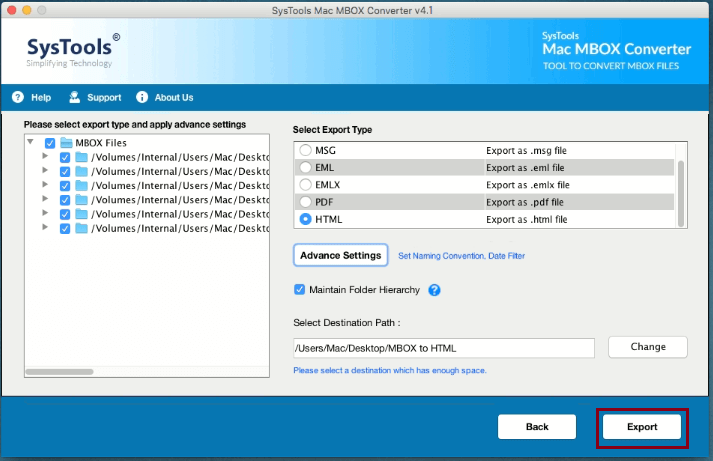 Note: The attachments are saved on the local system along with the HTML files. View the complete process here: https://www.freeviewer.org/guide/mac-mbox-converter.html
Benefits:
No loss of header information.
No loss of email formatting.
Complete preservance of inline images.
Attachments are exported as well separately.
Availability of proper Naming conventions and filters.
Conclusion
There are a variety of reasons for users to save emails as HTML in Apple Mail. It is generally misunderstood as creating HTML email in Mac Mail. The process for both differs completely. In this article, we talked about how Mail.app does not have any native option to export Apple mail to HTML. Henceforth, an easy-to-use automated solution is also given for users to easily save Mac Mail emails as HTML files.