Office 365
SharePoint Online Migration Project Plan for Fail-Proof Migration
Raj
| Modified: May 25th, 2023 | 4 Minutes Reading
Summary: Many organizations who plan to migrate their SharePoint Online data don't know a proper plan for error-free transition. Thus, to make their job simple, we have listed a 7-phase SharePoint Online migration project plan in this article.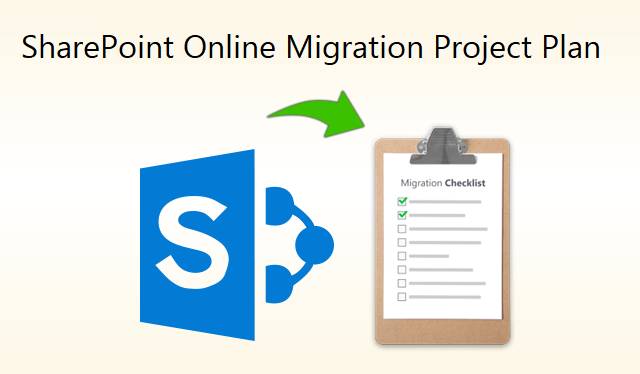 Microsoft offers a cloud-based service named SharePoint Online that helps organizations store, organize, and share information with their employees. There is also an on-premise version of SharePoint, but due to the increased adoption of cloud technology, many organizations have moved to SharePoint Online.
Table of Contents

Project Plan for Seamless SharePoint Online Migration
Migrating your data across platforms is a daunting task as any miscalculation might land you in a very bad position. If you are also planning to migrate your data to SharePoint Online must have a foolproof project plan as any mistake in the process might result in crucial data loss.
In the following section of this article, we have discussed a result-oriented SharePoint Online Migration Project Plan. You can also go through this checklist and prepare a fail-proof blueprint of the migration process.
Proven Project Plan for SharePoint Online Migration
Phase 1 – Scope Definition
The first step in any project is to define its scope i.e. what would be done and what will be processed. Likewise, here we will define what data will we migrate, who will be the stakeholders, and what will be the procedure for success. This step is also important because it helps organizations ensure that the project participants are clear with what you expect from them.
Phase 2 – Architecture Planning
The second phase in SharePoint Online Project Plan is to plan its architecture. This includes defining the required features, defining the site structure, and defining the required permissions for each site. A thorough understanding of the architecture is essential to ensure that the new environment meets the needs of the organization and is set up for success.
Phase 3 – Prepare Data for Migration
This is one of the crucial steps in a foolproof project plan for SharePoint Online as it determines the efficiency and success rate of the project. Here, you need to identify the type of data you want to migrate, ensuring that your data is clean and compatible with the new environment. This step will help you decide how much data you are going to migrate and give you an idea of the time the migration project is going to take.
Phase 4 – Pilot Migration
Another important phase of this project plan is testing your migration process before executing it in full flow. In this phase, you need to verify the site structure, the migration tool, and the data you are planning to migrate. This step helps administrators identify any loopholes or possible issues that could occur during or after the migration.
Phase 5 – Migration Process
Once the testing process is over and you are ready to migrate SharePoint Online to another tenant or another site. Here, you can use any trusted and reliable professional tool like SharePoint Online Migration Tool. This software will make the migration process simple and the batch migration option will get the job done efficiently.
Moreover, an in-built dashboard helps administrators track migration progress on the go.
This is the fifth phase of the SharePoint Online Migration project plan and in this phase, all the migration will take place.
Phase 6 – Train End Users
The migration process is not considered as over until the end users are trained for the same and are using the platform. In this phase, you need to train the users on how to use the environment, introducing them to new features and answering their doubts and concerns.
If your team will be well-trained for the new environment, then they will be able to use the environment to its maximum extent.
Step 7 – Monitor & Optimize Environment Post Migration
It is important to monitor the environment regularly and keep optimizing it accordingly. This step in SharePoint Online migration project plan template will ensure the long-term success of the new environment.
The monitoring and optimizing process involve issues identification, site structure optimization, and many such tasks. This activity helps organizations meet their needs for an effective collaboration and information-sharing tool.
Conclusion
As we discussed here, a result-oriented SharePoint Online Migration Project Plan is a must for a seamless transition to the destination site. The major steps in a foolproof migration are Scope Definition, Architecture Planning, Prepare Data for Migration, Pilot Migration, Migration Process, Train End Users, and Monitor & Optimize Environment Post Migration.