PDF
How to Remove Printing Permission From PDF Files?
Often PDFs come with certain security implementations like password-protected or editing, PRINTING restrictions, etc. If you possess some secured PDF that you want to print but can't due to some printing restrictions, then look no further. Here, we will solve the question: How to Remove Printing Permission from PDF documents? So you can print your files anytime you want.
PDF documents are platform-independent, portable and one of the most secure file formats to store data in. Often, users come across PDFs that show a disabled print option when opened in any PDF viewer. This happens when the document is restricted using printing permission. Other than printing, several other security permissions can also be implemented on PDF files.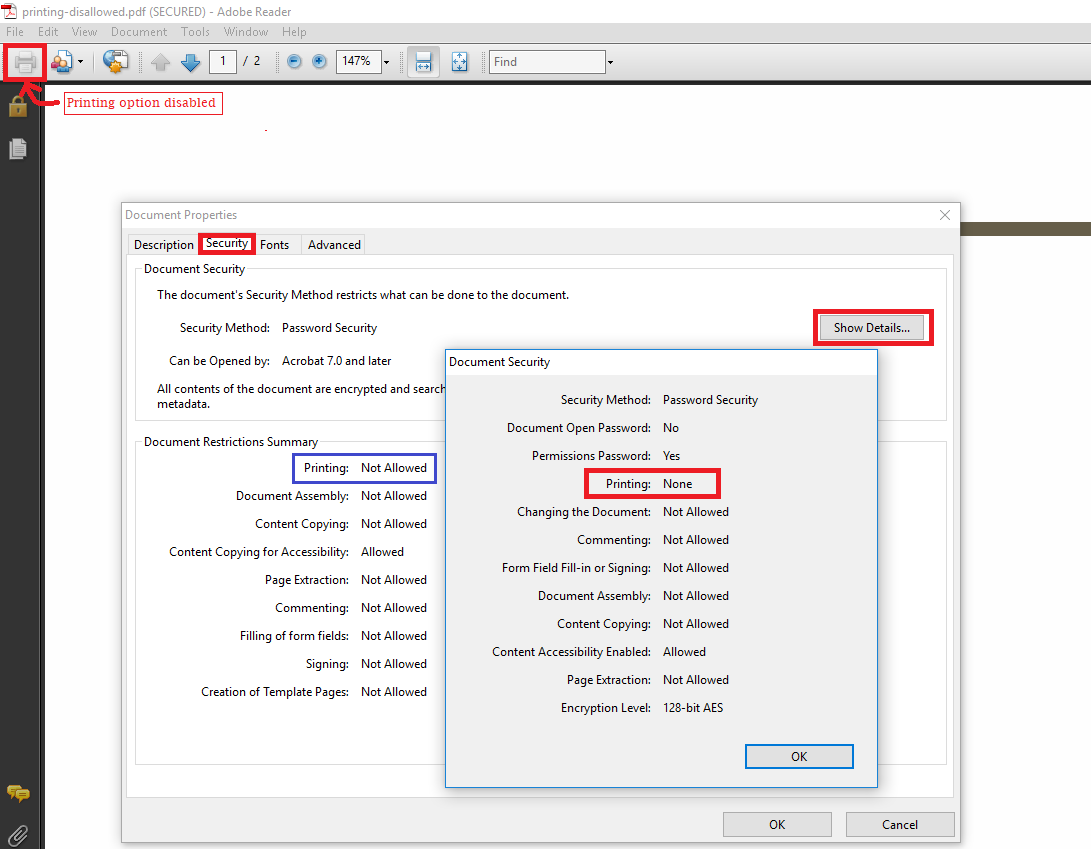 There are two different ways to make a PDF secure. Setting a password required to open the PDF file at the user level or implementing owner-level restrictions on PDF to disable editing, copying, and printing of PDF documents. As you can see in the above example, the printing option is disabled for the secured file. You can hit Ctrl +D in Adobe Reader to look at all the permissions restricted on a PDF document.
Some User Queries
"Next week, I need to give a presentation as well as submit some documents as reports in an important meeting. Now, the problem is that the documents are in PDF format and have printing, and copying restrictions on them. I simply cannot attend the meeting without the reports. Can anyone share how can I remove printing permission from PDF files? I'll be ever grateful!"
"Today, I opened all my confidential PDF documents for a quick view. Right then I realized that the  print option was disabled on Adobe Reader due to which PDF printing not allowed. I also tried pressing Ctrl+P but to no avail. Any idea of how I remove print restriction from PDF? It's important for me to have a hard copy of them. Thanks!"
How to Remove Printing Permission from PDF documents?
To get rid of PDF file printing restrictions or any other owner-level security permissions, you can use the PDF Security Remover Tool. This simple yet powerful software enables printing options on any secured PDF file. In addition, it has the capability to remove print restriction from PDF and other restrictions such as copying, editing, extracting text, etc.
This way you can remove restrictions from all your files quickly. You don't even need a PDF viewer such as Adobe Reader for the removal process. It is available for both Windows & Mac operating systems.
The following way is for users to operate on one PDF document at a time. You can process multiple PDF documents in batch mode with a Business or Enterprise license. The process is fast and flawless with no issues whatsoever. It's a feature that no free method can match.
Download and Install the software application and click on the Add Files button to insert PDF files.
Now, select the other Browse button to give a destination location to save print-enabled file.
Click on Unlock PDF and the tool will resolve the issue of PDF printing not being allowed, as it disables the restrictions.
This way you know exactly how to remove printing permission from PDF in the fastest way possible.
You can open the output file and print it anytime you want. Also, the entire process is advanced so that no changes are made to the PDF document content. It Only remove print restriction from PDF for the user's convenience.
Free Way to Resolve the Issue of PDF Printing Not Allowed
Now, there are cases when users may have PDF documents that do not have any Print restriction, but you cannot copy or edit its contents. The software above can remove all such restrictions with ease. But there is a free way by which you can remove printing permission from PDF Documents. Before implementing the below steps, you should keep in mind that, it will be time-consuming if you have multiple PDF files. And also affects the original PDF formatting.
Open the PDF with Google Chrome. You will have to enter the password if it is user-locked. Otherwise, it won't work.
Press the Ctrl+P or Command+P key to open the Print window.
In the next window, click Change >> Save as PDF.
Select the destination location and save the file.
Note: This method will only work if Print permission is allowed on the document. If it is restricted, then the Print command will not work at all.
Also Read: How to Add Text Watermark to PDF Using 3 Simple Ways?
Final Words
PDF is a portable document file, which provides a sophisticated level of security features unmatched by other formats. Its platform-independency makes it one of the most widely used document formats globally. These files can be secured with either the user-level password or multiple owner-level permissions. Sometimes users need to get rid of these restrictions to perform certain tasks such as printing. Hence, in this article, we have covered the fastest solution on how to remove printing permission from PDF files. The mentioned software is also capable of removing various other owner-level restrictions apart from printing.
FAQ
Q1. How to resolve the issue of PDF Printing Not Allowed?
You can simply use the professional version of Adobe Acrobat or Google Chrome to enable printing in PDF files.
Q2. How to know that there is print protection for a particular PDF file?
Use Adobe Reader to view PDF files. Then select File >> Properties. Security Method and Check it.
Q3. With the help of this utility can I remove printing permission from PDF files?
The tool comes with features that help to remove the Print and other types of protection from multiple PDF files at the same time.