Outlook
How Far Back Can I Recover Deleted Emails in Outlook? Overview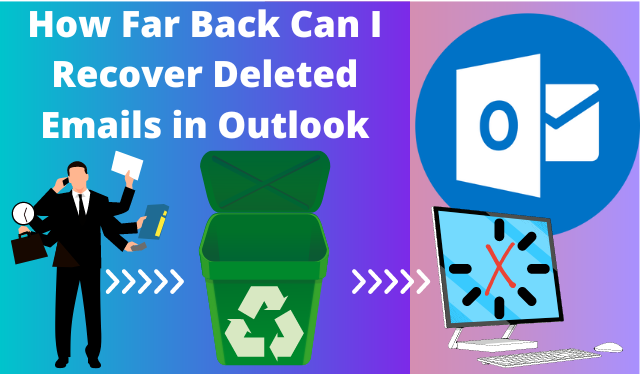 Have you ever deleted your important email or data file accidentally? This has happened to a number of users all around the world. Then a majority of users get confused & ask how far back can I recover deleted emails in Outlook. They usually fail to recover their emails due to a lack of expertise, knowledge & the right tool.
In this blog, users can easily get the solution to all of these queries. We are going to answer their query along with the practical solutions. Moreover, we will provide them with both automated & manual methods to get their crucial emails back. The pros & cons of these methods are also mentioned at the end to make it easy for users to select a better option.
How Far Back Can You Restore Deleted Emails from Outlook Answered
If you've deleted your email from Outlook then you can find that email in the deleted items folder. However, emails older than 30 days automatically get deleted from your deleted items folder in Outlook.
This means if you've accidentally deleted the email within the last 30 days, you can restore it from the deleted items folder. However, there is no way that you can get the deleted email back beyond that time frame. Then the situation gets a little complicated.
To prevent these scenarios, users must keep a backup of their Outlook emails. You can easily get your emails if anything goes wrong.
If you do not have backups & want to recover the permanently deleted files, there is a solution available that we are going to unveil next. Stick to this article till the end to recover your emails after 30 days.
Automated Method to Solve Query "How Far Back Can I Recover Deleted Emails in Outlook"
The FreeViewer PST Repair Tool is a practical solution for users to get their permanently deleted Outlook emails back in their system. Users need to download the automated tool & follow the steps mentioned below along with the respective images.
Note:- This utility can also be used to repair the corrupted files along with repairing them
Step-1. Click on the Add File button >> Add PST Files with deleted data.
Step-2. Click on the Quick Scan/Advance Scan option.
Step-3. Select Deleted Files (Highlighted in Red) >> Click on the Export button.
Step-4. Browse Destination Location & Set resultant File Format as PST.
Step-5. Apply Date & Category Filters in the advance setting window. 
Step-6. Click on the Export button at the bottom to start recovering your deleted files.
Emails being deleted in Outlook can be recovered within the deadline using advanced features present in this dedicated tool. The sole purpose of this utility is to just recover & repair users' PST files.
If you work on Mac OS having an Outlook account on the Apple device, then you shouldn't download the above-mentioned tool. Here is the Mac version of the same tool with almost the same steps Download the MAC Outlook Recovery Tool.
Manual Method to Restore the Deleted Files Back in System
Knowing how far back can I recover deleted emails in Outlook & the automated method, it's time for the manual method. The manual method can also recover lost Outlook data files but only within 30 days of the deletion of the email. Here, users can get their emails out of the deleted items folders.
To opt for this method, users must have Outlook installed on their system. Without the Outlook application, users can not execute this method.
Step-1. Open the MS Outlook in the system.
Step-2. Go to the Deleted Items Folder & Search for your Email item. 
Step-3. Restore your Email if present. If Not then Follow the Next Step below.
Step-4. Under the menu bar, Go to the Folder tab >> Click Recover Deleted Items option.
Step-5. In the Pop Window, Select the Emails & Click on the Recover button.
Step-6. Now, check your deleted items folder & move this email to the desired location.
Pros & Cons of Both the Methods
Now that we know both methods, it's time to have a look at the Pros & Cons of these methods. After this, users will be able to make the perfect choice among the two available options.
Answering how far back can you restore deleted emails from Outlook isn't as difficult as solving recovering these emails. Choose wisely.
Manual Method
Pros
It is free to use. Users do not have to pay anything to operate on the manual method.
Cons
The manual method is slow when it comes to recovering bulk emails as it does not have filters.

This solution does not provide results every time. It may be incorrect sometimes.

This is not an all-time solution. Sometimes it works & sometimes it doesn't work.

The major issue with this is that emails deleted more than 30 days ago can't be recovered.
Automated Method
Pros
It can recover permanently deleted emails from Outlook PST/BAK files.

There is no file size limitation in the automated & you can recover files in bulk.

This tool safely recovers the emails in their original folder hierarchy maintained.

Recover virus-infected, corrupted, password-protected emails & also repair them.

Date & Category filters make the task, even more, simpler with selective recovery.
Cons
This solution isn't free. Although it is affordable & also provides a demo version to recover 25emails/folders to test the utility.

 
Conclusion
Now we know how far back can I recover deleted emails in Outlook & what to do after that. Both the methods work but safety & precision are more in the automated method. In addition, it also provides a variety of features that help users to customize the results as per their preference.
The right tool & method is very important to restore Outlook emails. In a recent survey, several IT experts, Microsoft's MVPs & Outlook users stated that the automated method is just smooth & has minimum to no limitations. It's the ideal solution for all users to recover their crucial emails back.