File Conversion
,
Outlook
How to Transfer Outlook Address Book to New Computer Instantly? – Explained
In this how-to guide, we'll cover an instant solution to
transfer Outlook Address Book to new computer
without any hassle. It's going to be a straightforward method that can be adapted by both Windows and Mac users. 
Before diving into the step-by-step procedure explaining the transfer process, let's first understand what is Outlook Address Book?
Outlook Address Book Overview
It is a feature in Microsoft Outlook that acts as a personal information (contact) manager. This is used to store and manage information such as name, email address, phone number, business address, company details, etc. 
For different reasons, users would like to transfer Outlook Address Book to new computer. Some of them are:
Upgrading to a new system

When changing offices or you can say office migration

To maintain contact list in the new account

Want to sync Outlook address book across different devices
The reason may be anything but knowing exactly how to transfer the contacts is the real task. But, fret not! Shortly, we're going to discuss a straightforward & automated method to accomplish the task. Let's begin!
How Can You Transfer Outlook Address Book to New Computer?
If you're wondering whether Microsoft provides any method to transfer the contacts to a new computer. Then yes, it does. However, some users complained about getting the following error message.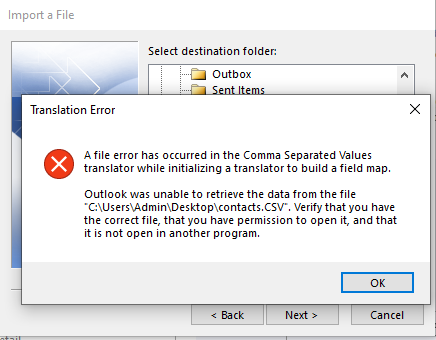 Besides, if you manually attempt to transfer your Outlook contacts then it may take ages to complete the process. And, if anything goes wrong then there are chances of data loss. That's why experts suggest using automated software through which you can create VCF file from Outlook contacts in the PST file such that you can easily import Outlook address book to new computer. For that, you can take the help of PST Export Tool for Windows & Mac OS.
The tool is user-friendly and very easy to use. Even a non-technical person can seamlessly play with the tool. So, let's cover how to use the tool.
Transfer Outlook Address Book to New Computer  Step by Step [For Windows Users]
Bonus Tip – The steps that we're going to discuss will be applicable if you have any Outlook address book contacts in a corrupt PST file.
Step 1. Download and install the software on your computer system and select the desired language.
Step 2. Click on the Add File option present in the top left corner.
Step 3. Now, click on the Select File or Search File radio button as per requirement.
Step 4. If your file is highly corrupted then you can click on the Advance Scan checkbox.
Step 5. After that, press the Export Selected option as highlighted in the screenshot.
Step 6. Now, select the export type as vCard.
Step 7. Click on the advanced settings and choose the version accordingly.
Step 8. Next, Browse the location where you want to save the VCF file.
Step 9. Finally, click on the Export button.
Now, you have the Outlook Address Book file of your old computer. Next, you need to follow the below steps to transfer it to a new computer.
Import Outlook Address Book to New Computer through Import/Export Wizard
Open the Outlook application on your new computer.

Go to File >> click on Open & Export >> press Import/Export

Next, click on 'Import a VCARD file (.vcf)'

After that, click on Browse, select the file you exported earlier and click Next/
The steps explained above are applicable to the Windows system. Let's proceed further and discuss the same for the Mac system.
Transfer Outlook Address Book to New Computer Effortlessly [For Mac]
If you have your contacts in the Outlook PST file then you can directly import the same using the Import option. The steps are:
Open Outlook for Mac

Go to File >> Import >> click on Outlook for Windows archive file (.pst) >> Continue

Choose the Outlook data file >> click Import
In case you want to transfer Outlook Address Book to new computer and open it in a new email platform then you can download the following tool.
It provides multiple Export options. (Refer to the screenshot)
Also Read, How to Extract Contacts from Outlook PST Files
In a Nut Shell
Outlook provides a direct method i.e. Import/Export wizard to export Outlook Address Book in CSV and PST format. But when you transfer/import it to a new computer, it may show an error message. Thus, it is recommended to go with automated software to transfer/import Outlook address book to new computer effortlessly.